Date/Time
11/24/2018
3:00 pm - 9:00 pm
Address
Emerald Drive & Mangrove Drive
Emerald Isle
,
NC
28594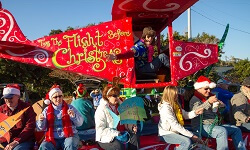 If you're in the area during the holiday season, be sure to take part in the Emerald Isle Christmas Parade and Tree Lighting.
Watch as amazing holiday-themed floats go by and catch a glimpse of Santa Claus at the end of the parade. After the parade, hang around for snacks and cider while the Christmas tree is lit up at Merchant's Park.
Where does the event take place?
The fun begins the Saturday after Thanksgiving on Hwy 58, Emerald Drive.
Need help finding a place to stay in Emerald Isle, NC?
The Christmas Parade and Tree Lighting is a great event for your next family vacation! Plan and book your stay with over 700 vacation rentals in Emerald Isle to choose from.