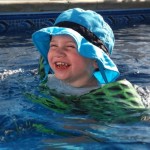 When our children were young, we regularly scheduled our summer vacations for the eastern coast of North Carolina, Topsail Island. We loved the family atmosphere and the cleanliness of the beaches there. Over the years, we tried several of the condos in the area, but we settled on one in particular and felt that we had found a "home" away from home for our summer vacations.
In 2006, my husband was diagnosed with multiple sclerosis.  Along with the diagnosis, came extreme fatigue and muscle weakness, intolerance for heat, severe muscle spasticity and rigidity.  By 2010, his mobility was restricted to the use of a motorized wheelchair. Finding a location that was handicap accessible was next to impossible.  Many of the vacation homes advertised that they were handicap friendly but all too often that meant handrails in the bathroom but no other accommodations.  Though we searched multiple listings to find a place that was truly accessible, we had no luck and had decided that 2012 was to be our last family vacation at the beach….until we were told about Emerald Isle!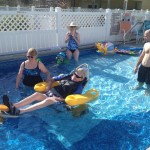 A friend shared that she had a family member who used a wheelchair and that the Emerald Isle Fire Department loaned floating wheelchairs to families at no charge!  The chairs could be used to actually get into the ocean or to roll across the sand.  We were so excited!  My husband had not been in the ocean for many years and he loved the waves. We borrowed one of the wheelchairs several times that summer of 2013 and we were successful in getting him into his beloved ocean.  The firefighters were so friendly and helpful!  I was so impressed by their generosity and understanding.  During that week I was able to get out and meet others from the island and wherever I went the people were kind and friendly.  The island had lots to do, great places to eat, and all the resources we needed for a wonderful family vacation.  Even the house we rented seemed almost perfect for our needs.  One of the bathrooms was bigger and the doorways large enough to accommodate the width of his power wheelchair.  Not only that, but the house had a ramp that allowed direct access to the beach! It was just what we were looking for.  We had a great time and my eighty-year old parents, who had never been to the beach before, were also able to come and discover the joys of the beach.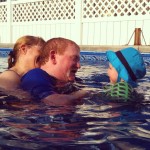 Though I really liked the house we rented that year, I decided to look for a place that also had a pool.  The ocean was a little rough for my husband causing him to tire out after a short while in the waves. I thought that having a place with a pool would allow him to get in either the water or the ocean depending on how much energy he had and a pool might allow him even greater time in the water.  I searched the beach house listings provided by Emerald Isle Realty and found the perfect place!  Not only did it have a fully accessible pool, but an access ramp to the beach that was wide enough for either his wheelchair or the floating wheelchair the house owners provided for our use.  There were ramps available to fully access all aspects of the house; an elevator that allowed direct access to the second floor, and a roll-in shower!  This place was awesome! The kitchen was well equipped allowing many banquet style family dinners.  The house had a wrap-around deck that was covered so that Lynn could sit outside with the rest of the family without being exposed directly to the sun.  On the ground floor, it had an outdoor hot/cold shower as well as the roll-in shower with shower chair in the room designed for those who are mobility challenged.  Though we did not need it, the ceiling had tracking for a lift to assist with getting someone up and out of bed if assistance was needed.  The halls and doorways were wide and furniture was spaced so it was easy for him to maneuver, but the best feature was that the pool had a ramp that allowed easy access for Lynn and a fun place for our two-year old grandson to play. It was wonderful.  The pool was the perfect size for allowing my husband to join the rest of the family in the water and actually be part of the fun with everyone else.  It was the best vacation we have had as a family since his diagnosis.
The house had more rooms than we usually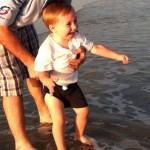 rented but this allowed us to invite both his Mom and my parents, all over eighty years old. Two of our children and their families joined us as well as our two-year old grandson who was loved the water and would certainly have grown gills if we had stayed there much longer.
Emerald Isle saved our family vacations.  The island is beautiful; family oriented, and has everything we could want for a week away from work and responsibilities.  The joy we experienced as a family cannot truly be described. Working full time and simultaneously being a 24/7 caregiver, I do not have the opportunity to relax and actually enjoy my family.  Finding this handicap accessible beach house has once again given me that opportunity and I am truly grateful. I plan to tell others of this amazing find and my family and I plan to return for many years to come.
The Steigleder Family