So Thankful to Have Found Emerald Isle – our new place!
Our journey to Emerald Isle began with a wedding invitation.  A very close friend of ours, Kate, was getting married in August 2014 in her hometown of Pikeville, NC.   Being from Brooklyn, NYC, this was an extremely foreign place but we knew we'd make sure that we would attend that wedding.   "You know", I said to my husband, Joe.  "Let's make this a full week's vacation"!   And on we went… searching islands nearby to see where we could spend our week leading up to this wedding!
Add into the mix an almost 2 year old daughter, and here we are deciding where we are going to drive 11+ hours to!  I had a few recommendations: Atlantic Beach, Topsail Island and Emerald Isle.  After hours of navigating through websites, seeing so many homes that were way too big for our small 3 person family….I stumbled upon Emerald Isle Realty!   We found the perfect 2 bedroom beachfront condo (thanks to a very helpful woman named Elizabeth).  The reservation was made!!!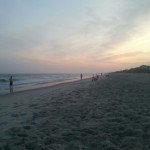 Fast forward to August 16th, 2014…after 12 hours plus of driving we finally made it.  It was like we landed on heaven's doorsteps.  "Welcome to our beach home" read a sign by the entry way. We could see views of the ocean from the second we walked in the door.  We immediately knew we made the right decision.
Many days in Emerald Isle started with an early jog for me down the beach towards the water tower and back, nice and early before the sun heated up (how peaceful that was, a few fisherman and a couple looking for shells but the beach would be otherwise empty)!  I'd come back and my daughter and I would go walking around in the sand, finding shells, letting the warm water lap at her feet while she giggled and
splashed mommy.  Finally after a good breakfast (all the while watching the ocean), we made our way down the stairs onto the beach to enjoy the day!  Pelicans would fly by, minnows would swim by our feet.  The water is SO super clean and what a pleasant, warm temperature…our daughter never wanted to get out of the ocean!
This is how we spent most days (with a break for a nap when the sun was the strongest)….sometimes we'd pay a visit to the amazing ice cream shop, Sweet Spot, in the afternoon.  A few times when we felt lazy we'd take a break from cooking and would hit the fun family spot, Flipperz, for some fried fish and cool drinks.   I even got adventurous one day and took a private surfing lesson from a local instructor!  As it turned to evening , and our daughter would fall asleep so early as she had SO much fun during the day (chasing seagulls is quite exhausting)…I'd go back to the beach at night and read my book as the sun went down, glass of wine in hand.  There is simply nothing better than that!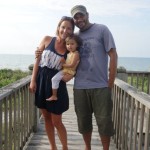 My husband and I are true beach bums at heart.   We could not have loved the beach more.  It felt so private and the vacation was SO easy….lots of relaxing, lots of beautiful sunrises and sunsets….and most importantly, lots of laughing and smiles for our little girl.
Emerald Isle is going to be "our place" for that week in August every year going forward….we want to continue to build many special family memories there, year after year!  We've already booked 2015 and counting down the days until we feel that beautiful warm water come lap at our feet again.  So thankful our friend got married in NC so we were given the opportunity to find our special place!!!
The Valu Family