Wow…where to begin. In the fall of 2013 we decided to visit Emerald Isle for the first time as a family. We heard so many great things from friends about the white sand beaches, crystal clear water, restaurants, things to do and friendly community.  After letting Google guide us in finding information about the region and places to stay, we decided to contact Emerald Isle Realty to help us with reserving a place that we could call "home" while we vacationed.
Talk about top notch customer service, everyone we spoke with was so helpful with helping us with our decision, giving us great information about the area, and making us feel like a welcome guest.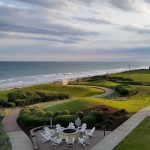 Upon arriving at our vacation home we knew that we had selected the right place for us. The condo unit was incredible and had such beautiful views of the ocean; the pictures could easily pass for a Caribbean island resort! We saw dolphins swim by as we sat outside having breakfast on the porch of our condo almost every morning. The staff at the Grande Villas were tremendous. Whether it was painting the grills or setting out beach chairs and umbrellas for guests every morning, they always greeted us with a warm smile and a friendly hello.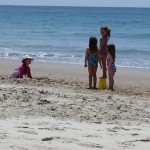 We had a terrific time on the beach. Even though it was late May, the water temperature was nice enough to get into the water. The first day on the beach our daughter found a sharks tooth…and a pretty big one at that! Making new friends wasn't a problem either, other vacationers greeted us and our daughter quickly met new friends on the beach, built sand castles, scheduled "play-dates" at the pool and hung out together in "Kids Club" in the afternoon for a movie and pizza!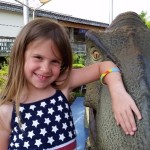 When we weren't on the beach or at the pool, we did a little bit of island exploring.  Some of our favorite stops were The Crab Shack, Sweet Spot, The Village Market and the North Carolina Aquarium. The Crab Shack…What a find!  Scallops that melted in your mouth, shrimp cooked to perfection and hush puppies that were addictive. Sweet Spot hit our ice cream cravings along with our salt water taffy needs!
The aquarium was a great way to take break from the beach and sneak in some fun learning time with their great hands-on activities for kids!  Needless to say, all these places will be on our "need to visit" when we return.
In all, our first trip to Emerald Isle was a vacation that we will cherish and remember for quite some time. We were able to enjoy precious family time together, in a beautiful place, experiencing some amazing things. We can't wait until we are able to return to see what kind of adventures and memories the Crystal Coast will offer us on future visits.
The Durrer Family