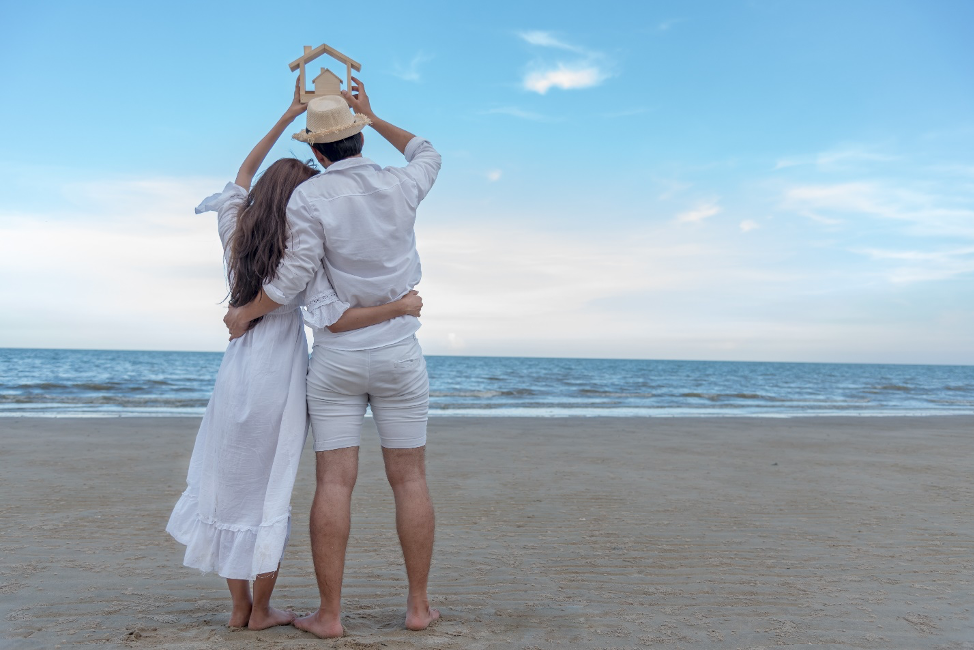 So, you've been visiting North Carolina's Crystal Coast for years with your family now and you're considering the option of buying your very own vacation home. But purchasing a vacation home is a huge investment, so how do you know if it's the right decision?
In order to help you make the most informed decision possible, we've put together a list of factors to consider before moving forward with buying a vacation home.
Buying a Vacation Home for Retirement vs as an Investment
Sure, you're ready to buy a second home now. But what about next year? Or in five years? Is this a home you intend to use for many years to come? Purchasing a second home needs to align with your long-term goals.
Are you ditching life as you know it, packing up and retiring? If that's the case, you may want to buy now while you're still working so it will be easier to get financing. And if you start paying off the home debt now, it will be easier for you to relax and enjoy it once retired.
If you're buying with the intent to sell later, market conditions and location are critical factors to consider. Locations such as Emerald Isle, North Carolina, where vacation homes are already popular and in high demand, will help to ensure that your resale demand remains high.
Home size and amenities may also be a factor, so use an expert. Find a local real estate agent that truly knows the area. The folks at Emerald Isle Realty have been helping investors for almost 60 years – they know the market and they know what sells.
Costs of Owning a Vacation Home
The costs of owning that dream vacation home must be factored into your decision. It can cost as much, if not more, to purchase a second home.
How will you finance the home? Are you still paying a mortgage on your first home? Lenders may require larger down payments and interest rates tend to be higher when purchasing a second home.
Will you need to make upfront renovations? Any upgrades to the house, such as replacing flooring, can be costly, and are not always something factored into initial expenses. If you plan on renting the home out, a good vacation rental agent like Emerald Isle Realty may ask you to make upfront renovations so that the home is up to par with the rest of their inventory.
Don't forget about ongoing maintenance costs. There will be several routine costs for maintenance and upkeep of the property such as cleaning, painting, gardening and security, in addition to paying for cable/utilities, HOA fees, etc.
Could you afford to replace all the furnishings in your vacation home if lost during a natural disaster? Probably not, which means the costs of homeowners' insurance must be factored in. And depending on the location of your home, there may be additional costs.
Where to Buy Your Vacation Home
Isn't there a saying, to try it before you buy it? If you're planning on buying a vacation home in a location that you visit often and are already familiar with, then you can sit back, relax and revel in the thought of never having to decide where to go again. You get to go home to your second home. A place that you chose and have decorated to your taste. A place that is stocked just for you. The search for the perfect getaway is over – you've found it! It's your vacation home!
If you're looking at homes in an area that you are not as familiar with, then spending some time there is a huge first step. Rent a home in your desired area and spend time getting to know the area and your neighbors. Is this a place you can see yourself coming back to year after year?
And keep in mind, proximity matters. The closer your second home is to your first home, the easier it will be to return not only for your getaways, but also to check in on the home and ensure that it is maintained properly.
Tax Implications of Owning a Second Home
Keep in mind that tax laws vary state-by-state and whether you choose to rent out your vacation home to offset the costs of ownership is another factor. If you rent your home out more than 14 days out of the year, you must report all income, but will likely be able to deduct expenses up to the level of income you report. So, check with your CPA to make sure you're not setting yourself up for any tax surprises down the road.
If you are planning on renting your home out, make sure you're willing and able to put the time in to monitor and maintain the property, as well as market the property and keep it occupied enough weeks out of the year to make it worth the while. If this sounds like a big hassle, you do have alternatives. Consider working with a trusted local property management company, like Emerald Isle Realty. Find a company that has been around a while and can truly maximize your investment while maintaining your beloved second home.
So now that you have a better idea of what things you'll need to consider before purchasing a vacation home, it's time to start searching for that perfect home away from home. And Emerald Isle Realty is here to help! Search real estate and homes for sale in Emerald Isle and throughout North Carolina's Southern Outer Banks. Or contact our award-winning sales team at (800) 304-4060 with questions or for more information.