The winner of our 2010 Family Traditions contest is Andrew Jensen from Cuyahoga Falls, Ohio. Andrew has won a one week stay on our beautiful island courtesy of Emerald Isle Realty.
Enjoy reading Andrew's winning entry below:
Emerald Isle Vacation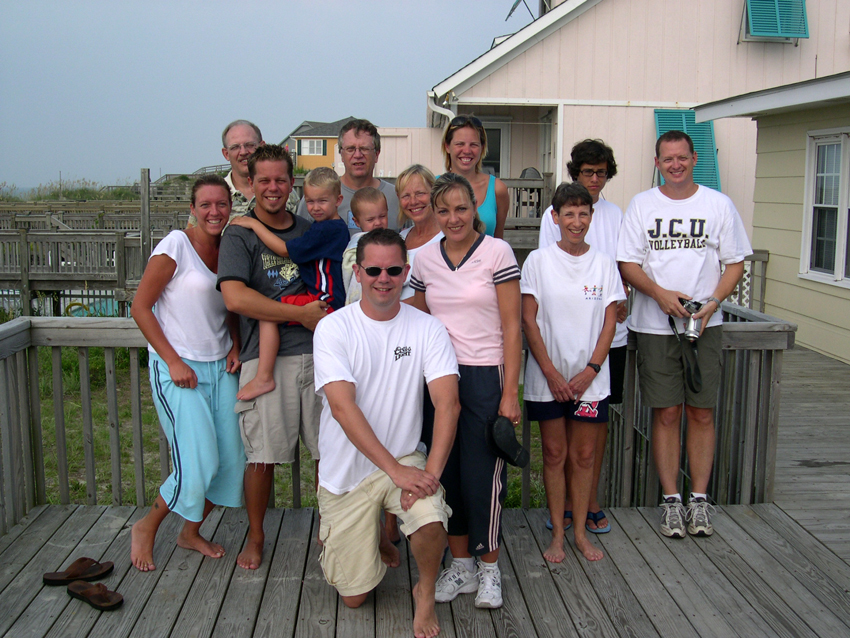 In 1982 we took our first Emerald Isle vacation. My sister Aimee was 2 years old, my brother Eric was 6 and I was 9. I'll never forget that trip and how it felt to be in a car that long; it was our first such excursion. My baby sister got sick on Oreos, my mom got sick eating too much watermelon from a roadside stand. I got stung by a jellyfish and Dad's left arm got sunburned after driving all that way with it out the window. Ah, we were such newbies back then. Looking at the pictures we must have saved a lot of money on sunscreen, because after seven days everyone was red as a stop sign.
Over a succession of years we got a lot better at the Emerald Isle vacation. On the first day dad would ceremonially put his watch away in a sock drawer for the week. Time of day doesn't matter anyway, he reasoned, so why pretend. There are still 51 other weeks in the year to Be Somewhere. On vacation, you eat when you're hungry and sleep when you're tired. Things like the date, the day of the week-on the beach those are little more than dry, meaningless concepts. The only real date in your head is the nagging idea that at some point you'll have to leave all this and go home.
In 1986 we staged a whole family reunion, mostly because everyone had heard all our stories a thousand times and had to see this place for themselves. The venture was called Sea Track '86, thanks to an error by a screen printer who misspelled "Trek" on our custom t-shirts. I remember my dad took one look at those shirts, laughed and told the man they were perfect. We still call each other by the nicknames on the backs of those shirts even to this day.
And so it went, year after year, with slightly varying casts of characters. We sank an inflatable boat, overturned a catamaran and lost contact lenses on jet skis-laughing all the while. We fished, we drank and we certainly ate. For us, food is the biggest tradition of all. I don't feel I've truly unpacked without a big plate of spaghetti and garlic bread afterward.
There are two kinds of people in life: those who can lay out on the beach and those who can't. Very few are on the fence. I'm content to sit under an umbrella and guard the cooler with dad; the rest of the family lays out like bacon. When we overheat it's time for Frisbee or maybe football in the surf. So it has gone for years on end. My cassette Walkman has been replaced by an iPod now, I'm the one hauling luggage and complaining about the price of gas instead of my dad, but the long walks on the sand are every bit as enjoyable.
It takes a couple of days to settle in, some in our group call it 'decompressing.' After that stage you talk a little bit differently, you think differently… the sun and the sand beat up on your body, while your head clears out . By the end of a week you're no longer the same person you are at home. Suddenly lots of things seem possible. The perspective it gives you is amazing-and there's something to be said for the fact you really can't be in a truly bad mood when you see a boat.
It wasn't long before we discovered the fun of bringing first-timers with us on vacation. It doesn't take long to make an Emerald Isle believer out of someone; for most it's one trip-in extreme cases, two.
After that point they find themselves like everyone else: memorizing street names on the way back from the store and scouting for next year's cottage. Drive down 58 with my mom in either direction and you'll hear "Ooh, that place looks nice!" at least thirty-five times.
We even have Emerald Isle parties in January, where we throw on beach clothes and sit in lawn chairs to eat seafood that has to be flown in for the occasion. To an outsider we probably look like a bunch of crazy people, and they'd certainly have a case, but after three months of shoveling snow a person in Ohio will do just about anything for even the tiniest taste of the beach. That's when the traditions come in handiest of all.
Vacation traditions at Emerald Isle take on a life of their own, and become as much a part of vacation as the beach itself. We have favorite things we all do together, by ourselves and in small groups. It gets ridiculous, but it's so much fun. My dad always has peanuts out on the kitchen counter, all because of one year he had tried it and we all loved them-after that, peanuts on the counter were an absolute staple. If I were to walk into any cottage and stand in its kitchen, it wouldn't be long before I got a sudden craving for peanuts. They're just one example. I could write out next year's shopping list right now and tell you what everyone would want on there. I can't drive to the beach without a big box of cheddar crackers. No trip to the beach is complete without a walk to the pier so everyone can get ice cream, and we always get the same ice cream-for me it's the Push-up, but there are those who remain loyal to the Drumstick.
Years get behind you. We're all grown up now, some married with families of our own, and we all still love our vacations at the beach. The place is magic because it's yours, whoever you are, and all the people around you feel the same way. The beach inspires and invites tradition. My sister was always the baby before, now she's almost thirty and making plans to get married on the beach. Our daughter Alaina holds that title now, and has yet to make her own footprints in the sand.
For us Emerald Isle has taken on a mystical quality you can feel the minute you see that big bridge over the sound. People come and go because that's just the way life works… but Emerald Isle is a place where anyone can be-if only for one week-who they truly are, and do it all together at once. Sometimes, when I'm on vacation with my family and friends I'll stop for a moment and just see the looks on their faces as they go about their fun. I realize I have no idea what day it is and the vaguest idea of the hour… but I know for sure I'm where I'm supposed to be and right on time. That's when I think to myself how very lucky I am to have shared this time, this place, with these people.
Sincerely,
Andrew Jensen