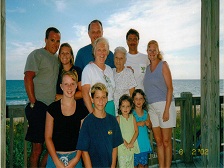 There is something to be said about maintaining a constant in your life despite all of the changes going on around us. For me, that constant is Emerald Isle. It is one of the only things I can count on every year and know it will never let me down. My family has been coming for generations (four to be exact). It started with John and Edie Kendrick (Grandma and Grandpa Kendrick) camping here in the 50s. In 1965, John and Edie's son, Jim, and my aunt, Joyce Dimitriou, began camping at Emerald Isle Camp Ground. Their kids have been coming since they were only a few months old, and now they are bringing their own children. The family started our tradition with Emerald Isle Realty in 1982 and stayed in the Harris. Since then, we have stayed in King of The Sea (my first house), The Williams, and Island Time, which has been our "home away from home" since 2002. Many of us have been coming since we were babies, but the rest of us got here as soon as we could! It's something we hold onto, look forward to, and cherish all year.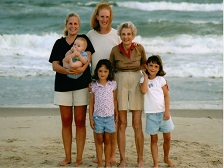 Nothing beats the tradition, the memories, the security, and closeness of this place. There's an overwhelming feeling you get as you cross over that bridge. Ask anyone that's been here. Things don't matter like they did up to that point. All you care about is being with your family, the ones you love the most. You feel like you're finally HOME.
I used to roll my eyes at my cousins when they would give me the "you're so lucky" speech. "We used to sleep in tents at a campground," they'd say, ". They've been coming since the seventies, when Emerald isle wasn't anything like we see today. Now, after 20 years of coming here, I find myself telling my own little version of that speech. "I used to have to sleep on a blow up raft on the floor that'd be flat by morning," I say. It goes without saying, that the younger ones will have their own versions someday too. Over the years, many things have changed, but so much more has stayed the same. It's that sameness, the tradition, that I love the most. Every year, I wake up on the day that we leave for the beach and put on the same "Goin' down the ocean hon" T-shirt I wear on this day and this day only. It was given to me when I was five. Back then, it fit more like a nightgown as it went all the way down to my ankles. Now, at age 25, I'm STILL growing into it. We still battle with the long, eight hour drive, as it seems like it'll take forever to get there. We stop at the same breakfast place and laugh about how something always goes wrong there, but we stop anyway. Now it's a joke about whose food is going to be wrong, come out late, or not at all. We always get on the island too early to get into our house, so we head to the shops to walk around and get a bite to eat. And those butterflies we get as we drive over that hill on our way to the beach house and see the ocean for the first time, well, that's just pure magic.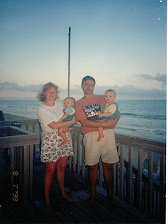 Once we have arrived, our family turns into a small army. Everyone helps out in whatever way they can. Whether you are unloading the cars, unpacking and putting things away, putting sheets on the beds, or entertaining the little ones so the rest of us can get things done, everyone has a place and we all work together. The rest of the week is followed with sun, sand, and unity. We all sit down as a family every night and eat the best home cooked meals you could ever imagine. After dinner, we take a family walk on the beach. The younger kids get the "you've already had your shower so don't get sandy and you better stay away from the water" lecture even though everyone knows that it's near impossible for that to happen. And the family walk just wouldn't be complete without the constant pointing out of different houses as we all dream about one day having that big oceanfront mansion with the pool. After our walk, it's time for dessert! TVs, computers, and cell phones are replaced with family quality time and some of the best conversations we've had all year. It's amazing.
On the day we leave, there isn't much talking. Everyone is slowly coming to terms with having to say goodbye to what has been the best week of their year. We pack up our things and say our goodbyes to each other, the ocean, the sand, and the home that has once again proven to us that the love of family is all that matters. Emerald Isle has changed my life and the lives of those around me. I just couldn't imagine NOT coming here every year. In fact, my cousin and her family come every Thanksgiving as well. Waiting an entire year to come back is just too long for them! I can't wait to start my own family and watch my children grow up here as I have. I look forward to many more years, memories, and traditions on Emerald Isle.