My name is Manuel Pinto, I'm 72 years of age and I celebrate my birthday every year at Little Annie. My Daughter and her family visit us at the house every year with her two daughters. We started a tradition of coming to Little Annie over 20 years ago. Another tradition we started began when the youngest of my grand- daughters, Kate, called the shrimp boat a pirate boat. That utterance started the tales of Pirate Pete. Pirate Pete comes every year and leaves a treasure chest hidden in the sand that the girls must find. The little gifts found inside have extended from the grand-daughters to their mother and father. My son also comes now with his family so for the first week we have a full house. We stay two weeks and the second week is for us to just relax and enjoy.
We have seen Little Annie transform itself from what I would call a fishing shack to a luxurious looking home.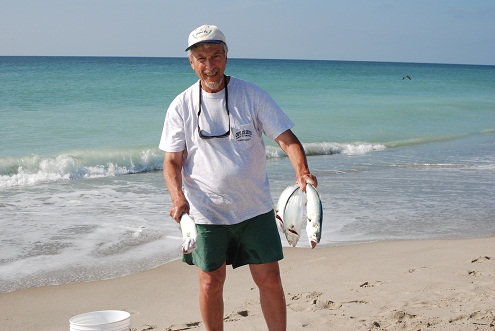 What do we enjoy about the Crystal Coast, The radiant colors of sunrise and sunset, the wonderful constant sound of the ocean rolling in to meet the ever waiting shore. The unexpected sea life that might appear for a moments glance and then it's gone, everything from a bagpiper playing at sunset to a wedding party. We have shoveled our way into the driveway because we were the first guests in after a hurricane, we have experienced just about all that life could have brought to us in the two weeks we stay at Little Annie. One cannot express completely the beauty of the area and all the wonderful experiences that we have had while at the house but one can say thank you to the people that have worked so hard to get us into the house and who maintain the property. Never have I heard a fowl word or experienced a grumpy workman/woman. The response to a complaint is rapid and repairs or replacement are always done in a professional manner. You may not hear it enough but you all do a great job for your customers and that's what keeps us coming back.
Every year and visit brings a new found experience from the ever changing mother nature.