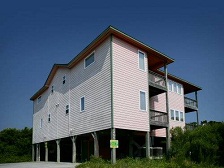 Vacations are a time to relax and rejuvenate, and in some cases, just do nothing. At Emerald Isle Realty's featured property of the week, the Lazy Whale East, you can do just that. You'll have plenty of room to laze around in this four-bedroom, three-and-a-half bathroom duplex, located right on the beautiful Bogue Sound.
When you wake up each morning you'll have spectacular views of the water from your bedroom and even better views from the spacious decks on both levels of the duplex. Sit outside with a cup of coffee and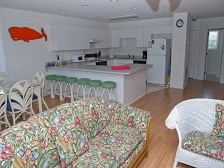 your breakfast as you watch the calm waters pass you by.
There are also rocking chairs and a picnic table on the porches/deck for the whole family to enjoy as well as an enclosed hot/cold outside shower. Nearby is a private sandy beach with a 270-foot pier and crab pot.
Enough about the outside, the inside is just as good! You and your loved ones will enjoy an open living room area right off the fully-equipped kitchen. There are two TVs, a DVD player, portable stereo/CD player and high-speed internet service.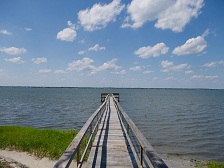 The bedrooms are spacious; three of the bedrooms include queen-size beds while one includes a double-size bed. The master bathroom includes a Jacuzzi tub, perfect for relaxing at the end of the day.
Take a look at these images of the Lazy Whale East to get a better idea of what your stay with Emerald Isle Realty would look like You can also read customer reviews below:
"The house was great.  Enough room for an army. I liked that it was in the middle of the Isle. So  either way you went was not far. Loved the south end of the Isle shopping  better than the north end. The beach was good. I live in Florida and you don't  see shells on the beach like that. Fun to search for. To be in between the  intercoastal and the Atlantic was wonderful. Great trip." – K. Mayo
"Our extended family  rented both Lazy Whale East & West, which suited us very well—-easy walk  to the ocean, even for those with young children and gear; wonderful to have  the dock and sound access for sailing and kayaking. Bedrooms were all good  sized; kitchen very large with an impressive array of large pots. The free mid  vacation cleaning was a nice treat; and not having to vacuum before leaving  made packing up an easier process. The communicating door on the deck made the duplexes  work well for the whole family. We would rent this again!" – LKK