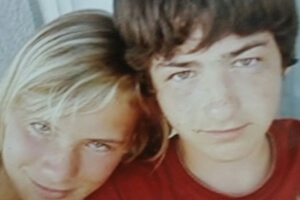 This year would be special. Every summer in July, my mom's side of the family would vacation at the beach, but who knew a whole new summer tradition was about to begin?  It all started in the summer of '08 when I was just twelve years old.  My aunt, uncle, two cousins, and parents were all sitting out on the beach when we saw someone come crashing to the beach strand—a boy on an inner tube was heading straight towards our chairs. He scrambled awkwardly to his feet, rubbed the salt water out of his eyes, and began reaching out towards my aunt's dog, Oliver. My heart froze.  Here's the thing about Oliver:  he's a dachshund and he bites.
"Don't touch him!" Aunt Laura squealed—too late. For some reason, Oliver's tail was wagging and Paul did not get bit.  Our friendship was instant.  We walked down to his beach tent, sat down, and immediately began asking each other questions and exchanging stories. We talked about anything and everything. Nothing was left unsaid.
"Do you have any scars?"  He asked.
"Yeah, here's my favorite!" I showed him the scar on my left leg I got from skim boarding.
"Oh, nice! Check this one out," he raised his right elbow directly in front of my face.
"I can beat that, look at my forehead…doesn't it remind you of Harry Potter?" I laughed.
"Woah, how'd you get that?"
"When I was an infant I hit my head on the corner of our fireplace," I replied.
Our conversation went on like that for an hour.  Paul and I did everything together that week. I was convinced he was the coolest boy on earth.  I dreaded the day he would have to return to Ohio.  Paul came to the beach for one week every summer for the Fourth of July.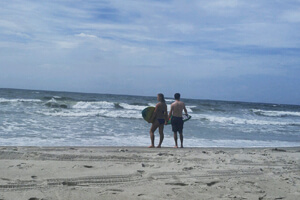 The next summer was even better than the first. I saw him each year for six consecutive summers.
I don't know the exact moment I knew I liked him, you know…  like-liked him, but I thought he like-liked me too.  He smiled at me the way couples did in the movies like he saw something special.  As we got older, things started to change, but the way we felt about each other really didn't.
I had this big inflatable raft that we used to sit in out in the ocean-it was barely big enough to fit us both.  One day we were carrying this raft into the water and we decided it would be better to carry the raft over our heads. Once we were a few feet deep, we just stood there looking at each other. He gave me that smile again and I smiled back
"Do you want to kiss me?" He asked.
And I guess that's just how it happened. It was quick, but the memory has lasted a long time. Once we got back on land, my entire family was giving us the look—you know the look, it's the look you get when you're in trouble. My cousins were smirking. "You two kissed under that raft didn't you?" Michael blurted. His sister Rachel laughed. I felt my face flush.
Paul and I always sat together to watch the fireworks on the Fourth of July. We built a friendship I thought would last forever.  As the years went on we kept growing. He grew taller and skinnier, I grew smarter but other than that I sort of stayed the same.  He was different now. When I first met him he was a pale funny boy with a goofy looking bowl cut who seemed as though he would never take life seriously.  Fast-forward a few years and he was a tall and athletic young man who was studying astronomy in college, making new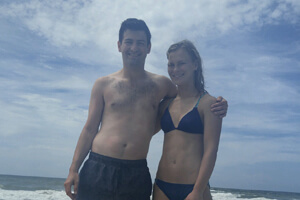 friends, and all of that was great—until I found out he had a girlfriend.
We are still friends but don't stay in touch much outside of seeing each other on Emerald Isle every summer. I will never forget the way I felt like sparks were flying with him, even when it wasn't the Fourth of July.
Now he's engaged.
You never know who you'll find on the beach.  You never know what you'll become. All I know is the beach is a beautiful place where you can create memories to last for years afterward.
So why not join us at Emerald Isle to start creating your own memories? Reserve your getaway today!