Emerald Isle Woods Park is located along Coast Guard Road. The sound side park is 41-acres and features walking trails, natural birding trails and boardwalk access to Bogue Sound with a floating dock and kayak launch. The park is dog-friendly; just make sure to bring a leash.
The Emerald Isle Woods Park trail is rated easy to moderate with some inclines and declines. Currently, a half mile is open to the public to explore, with additional nature trails in the planning stage. Bring your camera as you may see white-tailed deer, osprey, egrets, wading birds, woodpeckers and other shore birds.
New Disc Golf Course at Emerald Isle Woods Park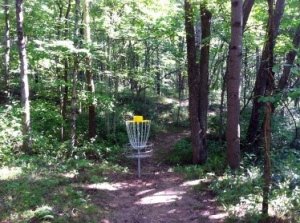 A new disc golf course has been installed in Emerald Isle Woods Park. Bring your discs and play a round at the new and enchanting 9-hole course that meanders through the natural maritime forest and ends near the Bogue Sound shoreline.
This new recreational amenity is the result of efforts by US Coast Guard members and resident Andy Johnson, in addition to other volunteers and sponsors.
Visitor Information
Directions:
Take NC 58 into Emerald Isle and take the 1st right onto Coast Guard Rd. Go 1/4 mile and Emerald Isle Woods Park is on your right.