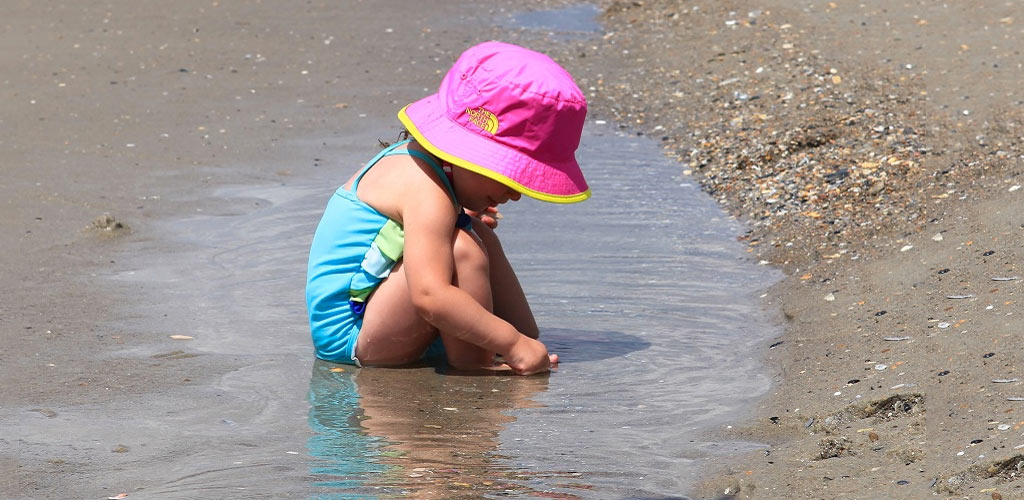 2020 Family Traditions Contest
We invite all Emerald Isle Realty guests to enter. First place prize is a free one-week vacation on Emerald Isle during our Islander or Sports season!
Submission Format Rules:
Tell us your story in an essay format, either printed or in a Word document.
Scrapbooks, calendars or other special items are welcome.
High-res photos can be emailed. Limit of 10 MB total per email submission.
Video entries can be a maximum of 2 minutes in length and cannot have music. The preferred files are .avi and .mov, however, all submissions will be accepted.
Include the date of your vacation and the name of your vacation rental property.
Submissions can be emailed to SummerFun@EIRealty.com: 
Deadline is September 1, 2020. By submitting your stories to Emerald Isle Realty's Family Traditions contest, you acknowledge and agree that text, photos, videos and all other related material may be used at our discretion including, but not limited to, advertising purposes by Emerald Isle Realty. 
2019 Family Traditions Winner
Emerald Isle is the Best Place to Meet!

What was happening 25 years ago? The year was 1993. Jurassic Park was the summer blockbuster, we all 'Got Milk,' and our family had its first reunion at Emerald Isle beach. This was special because when we were little (my 3 siblings and myself), our parents took us to Nags Head several times. Then, we moved to Missouri and it was too far. Two decades go by, my sister moves to North Carolina, and my parents decide to rent a house on Emerald Isle for a family reunion. There were 9 of us that first year (the original 6, one in-law and two babies). We rented one house and had an amazing week. For the next 20 years, this one week was the highlight of our year. Then our family grew from 9 to 19, and we needed two houses. Then we needed two weeks – you just can't get a good visit in with that many people in just one week! So, the last five years we have had the joy of two weeks at the beach. At some point during these years, the balance of adult and children shifted. The first year it was 7 adults and 2 children. In about 2007, we had 10 children under the age of 10. Those were years of non-stop activity, joy, and memory-making. This year, our family was at 24 people. Wow! We actually needed three houses — and a flannel board — to figure out who was sleeping where!
About 10 years ago, the girl cousins began producing a performance each year, planning short skits or songs from musicals. This year, these cousins, now in high school, offered an opportunity for the "audience" to share memories of the last 25 years at EI. Everyone shared. Every time someone shared, it reminded someone else of something. Memories included observing the release of baby sea turtles, ladies' day outings, burying kids in the sand, crabbing, deep sea fishing, shelling, and on and on. Emerald Isle has been such an important part of our family history. These weeks have kept me close with my siblings and enabled the cousins to become best friends. It is the thing each one of us looks forward to all year long, and we feel blessed to have continued this tradition for 25 years. In thanksgiving to my dad, whom we call Papa and my mom, whom we all call Grammy, my sister and I wrote this adaptation of the classic Clement C. Moore poem, "Twas the Night Before Christmas."
Twas the First Day of Vacation


2018 Family Traditions Winner
The Pampered Wives of Emerald Isle

The Booth and Marsico families' (Ronnie, Robin, Roy and Joy) yearly journey from the mountains of southwest Virginia to Emerald Isle started in 2009. We previously vacationed at a fast-paced, overpopulated destination that just was not what we were looking for in our search for a slow lane vacation.
We had heard stories of a quiet place on an island just off the North Carolina shore. Could this be the place we longed for? The decision was made to make this magical place our next vacation destination. We made contact with Emerald Isle Realty as suggested by a friend. They helped us choose a house that was just right for our first stay on the island. This first taste of the amazing shoreline had us hooked! We could not wait for the next summer to spin around!
We start making plans at the beginning of October for the following July. We have visited every week in July for many years. To be clear—this is just not any week at the beach—this is the girl's week at the beach. The boys come along to make it happen.


A typical day begins with an early morning bike ride. Back at the house, the boys are setting up the beach camp to include tents, chairs, towels, books, sunscreen, cooler, etc. Around 9:00 am, once the camp is complete, they are hard at work getting breakfast ready. We are talking a real breakfast, not fast food – eggs, bacon, potatoes, toast, coffee and juice. We don't fool around when it comes to the most important meal of the day! After breakfast, it is time to get the girls all covered up with just the right amount of sunscreen. Finally, it's time to hit the beach, or as the boys would say, "finally, they are gone!" On the beach the sunbathing begins as books are read, waves are rode and naps are taken every day for six glorious days!

What are the boys doing? Well, as stated, this is the girl's week. Sometime mid-day lunch is served on the beach complete with fresh sandwiches and ice-cold sweet tea. As a mid-afternoon treat, there may be an ice cream break or some other sweet surprise. Again, served on the beach! Then more books, waves and naps.


By late afternoon, the day is done and the girls head back to the house for a fabulous evening meal—yes, prepared by the boys! They can actually cook when they put their minds to it. There has been meatloaf, grilled burgers, pasta, tacos, salads, and much more—the menu is carefully planned months in advanced; recipes are gathered and tested to make sure they will be a hit! The grocery list for the entire week is meticulously made before the trip begins and ordered on-line for pickup at a local grocery store on day one. Upon arrival at our "summer home," the menu is posted on the refrigerator at the beginning to our fabulous week!
The boys gather the beach camp and all the paraphernalia that goes with it from the beach. It is rinsed off and readied for the next day. The towels are collected and run through the laundry so they will be fresh and ready to go the next morning.
By now, you are probably feeling sad for the boy's—there seems to be nothing for them but chores! Not so! Between all of their beach responsibilities, they manage to pawn shop/thrift store hop for miles and miles and miles. It is amazing what can be bought at a pawn shop.

Most evenings are spent at the beach house. They are filled with evening walks through the neighborhood, dominos, DVDs and ball games. Occasionally we will venture out to one of the island's local restaurants, but it is so relaxing for us to just stay still and enjoy the quiet neighborhoods and the sounds of the ocean.
We have been friends since we were children playing in the sandbox in the back yard. As we grew into adulthood, it became harder and harder to make time for the simple things of childhood. So now, if for just one week, we continue our childhood friendship by playing in your "sandbox," each year as unique as the one before and the next one to come. We have made a "beach bottle" and a memory book each year to capture the fun times we have had. At the end of each week, it is back to the real world; but for one magical week sometime in July, the girls are pampered beyond imagination. The boys will have about 51 weeks of pampering to follow, and then…girls week spins back around!
All of this would not be as stress-free and smooth if not for the dedication of the Emerald Isle Realty family; they are our vacation partner. When we arrive on the island they are the first faces we make contact with and are always eager to help us get to the beach as quickly as possible.
2017 Family Traditions Winner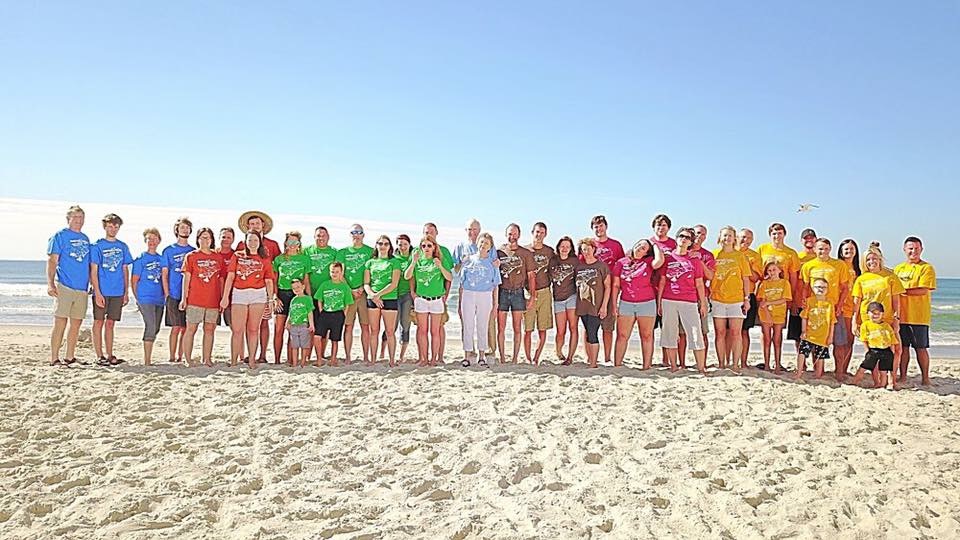 For the last 22 years, I told everyone that my favorite place is in North Carolina. Not the Outer Banks that most people go to, but a special place a little more south and tucked away. This place has the most beautiful, clean and peaceful beaches that are never crowded and always welcoming. Many times, the water is so warm and calm like a bathtub, which makes it easy to float and relax – leaving reality and its demands behind. This place is Emerald Isle, a hidden gem so full of precious memories for all that visit.
When I was 12 my grandparents (and life-long cheerleaders) decided to leave New Jersey and retire here at the beach. I cried when they moved 12 hours away, as I hated to lose them. Visiting most all spring breaks and summers quickly became a tradition. At the beach, we learned to collect seashells to make Christmas ornaments and jewelry boxes. We learned to hunt ghost crabs by flashlight. We learned to ride waves and bury each other in the sand. We learned to slow down and enjoy the beauty in each other and all around us.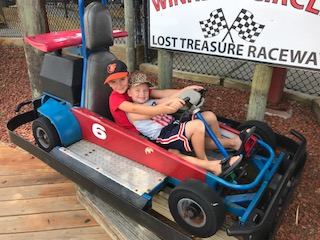 As the years passed, I always made time to visit my grandparents. It was my escape. So many memories fill the roads, beaches, shops, and walkways. I shared my first kiss and summer loves here. I brought friends and had family reunions. Many years later, my husband and I now bring our boys to Emerald Isle. At age 4 and 6, they have visited more times than they are old. The tradition is contagious and is now passed down to them, as it is now their favorite place too! We play mini-golf, ride the race cars, cruise on jet-skis and play games at the pool. We kayak and paddle board in the sound while looking for nature's beautiful creatures all around. We learn about North Carolina's precious landscapes and animals at the aquarium. We soak up the sun, swim, and play along the beach. We take naps while listening to the waves crash with the refreshing ocean breeze. We feast on pig pickin's with hushpuppies and sweet tea. We cheer on fishermen with their latest catch at the piers. Emerald Isle is our paradise, a precious time capsule of memories.
While I thought I was just vacationing and filling up on the sunshine, I now realized that I was learning life lessons that would carry me through the years. I learned to enjoy the beauty all around us while reflecting and enjoying this life. I learned to be present and disconnect from distractions and rushed schedules. I learned how to play golf and make spaghetti sauce with my Grandpa. I learned how to cut french green beans, how to really listen to someone, and how to give and value unconditional love from my Mom-mom. And that is why Emerald Isle will always be full of love.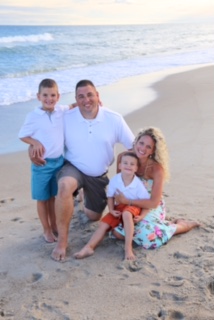 This is my story, but the stories are infinite as four generations of our family now gather here. Our whole family not only visits throughout the year but gathers for Smetana-Rama Family Reunions every other year. Just last month we had 40 of us at the beach together. All of us have made and cherished our own precious memories throughout the years. My Aunt could tell a story about how her wedding was almost canceled due to Hurricane Fran, but how the whole family fought to make it down anyway. The beach houses in Emerald Isle are our gathering spot where we come from Maryland, New Jersey, Pennsylvania, Texas, and Tennessee. Our week together is full of swimming, shopping, nightly meals, and games. We sing karaoke, go on neighborhood scavenger hunts, and really take the time to enjoy each other.
Unfortunately, life also is full of its hardships too. My stepmom and grandfather were both hospitalized this summer. My grandfather, who is one of the strongest, smartest, and caring men I know, cannot read due to a stroke this year. He continually practices his letters and frustrates at his deteriorating health. He is always smiling and most happy watching all his kids, grandkids and great-grandkids loving and being together at the beach house. In July, right before our planned family reunion, my stepmom passed at age 51. My dad, siblings, and the whole family were devastated. But we came to the beach. We came to heal, to be with each other, and to soak up the love. We came to make memories and carry on the tradition of being at our favorite place together. No matter what life throws at us, the beach is always there waiting, listening, and giving us peace of mind. I am forever grateful for this vacation spot for it has molded me into the woman, wife, mother, sister, teacher, and friend I am today. It will always be our most precious and cherished tradition!
Congratulations to our 2017 Family Traditions Contest winner we always love seeing and hearing about our guest's traditions and sharing them. If you have made a tradition of visiting Emerald Isle over the years, we want to hear about it. We invite all Emerald Isle Realty guests to enter for a chance to win a free one-week vacation to Emerald Isle during our Islander or Sports season! Submit your story here, the deadline is September 1st, 2018.