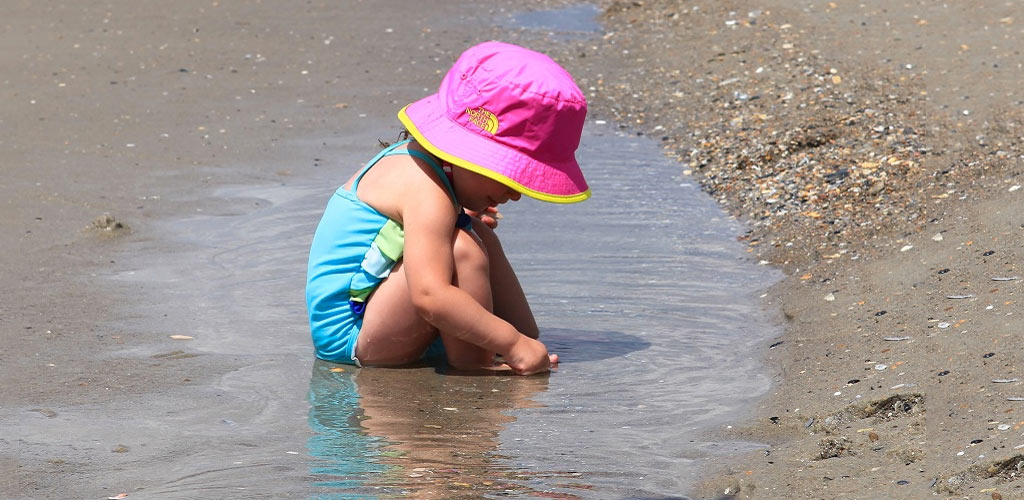 2022 Family Traditions Contest
We invite all Emerald Isle Realty guests to enter. First place prize is a free one-week vacation on Emerald Isle during our Islander or Sports season!
Submission Format Rules:
Tell us your story in an essay format, either printed or in a Word document.
Scrapbooks, calendars or other special items are welcome.
High-res photos can be emailed. Limit of 10 MB total per email submission.
Video entries can be a maximum of 2 minutes in length and cannot have music. The preferred files are .avi and .mov, however, all submissions will be accepted.
Include the date of your vacation and the name of your vacation rental property.
Submissions can be emailed to SummerFun@EIRealty.com: 
Deadline is September 1, 2022. By submitting your stories to Emerald Isle Realty's Family Traditions contest, you acknowledge and agree that text, photos, videos and all other related material may be used at our discretion including, but not limited to, advertising purposes by Emerald Isle Realty.
2021 Family Traditions Contest Winner
Traditions and Legacies
The year was 1986, and the day began with a long road trip through the country. Bob and Shirley Moberg were looking for a new vacation spot to take their family to, when they came upon the soft green waters of Emerald Isle and instantly fell in love with the rolling waves and soft white sandy beaches. The town itself: adorable and quaint, a cozy and happy vacation spot that feels like 'home'. Immediately, they booked a small cottage on the water, the 'Concord', and brought their three grown children and their spouses, along with their 10 grandchildren for a week of family fun and relaxation.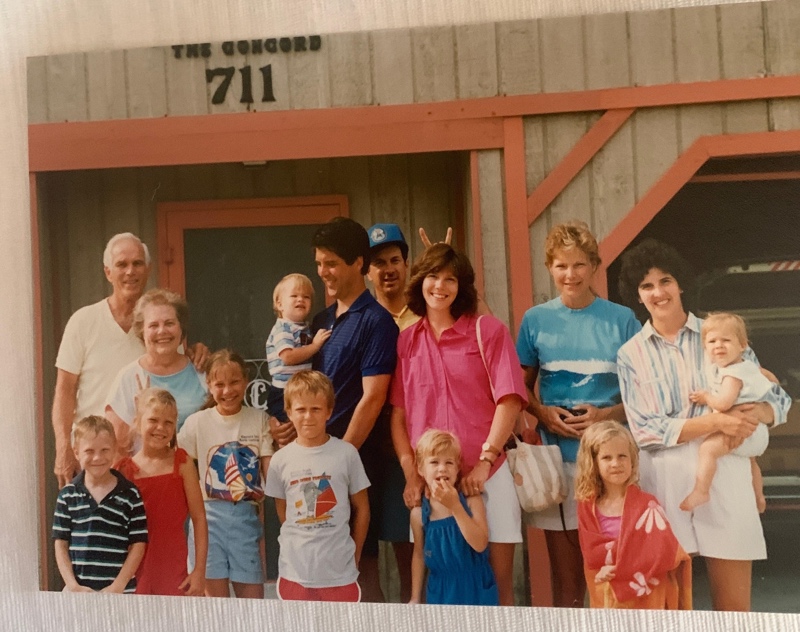 From that point on, our family became bonded to our little vacation spot—a true gem amongst all other beaches. We'd wake up early and spend every minute down on the beach together: taking long walks as one massive clump of people, hunting for the good shells in the morning with Shirley, building incredible sandcastles with Bob, and playing hours of 'keep away' in the calm, rolling, perfectly warm waters of the ocean.
One year, our beach week was interrupted by two tropical storms that brought a lot of rain and wind to our vacation. Not to be deterred by bad weather, the uncles worked together to make an incredible obstacle course in the sand and surf. For one of the obstacles, Bob sat in a chair on the beach and about 50 yards up the beach sat Shirley in another. The goal was simple: wade into the waters in front of Bob, go in about thigh-deep and no deeper, fight the incredibly strong current that pulled completely sideways, and fight for as long as you could. Last one to cross the 'finish-line' where Shirley sat, won. I can't remember what we won, probably just bragging rights, but this week of incredibly bad weather was one that we never forgot.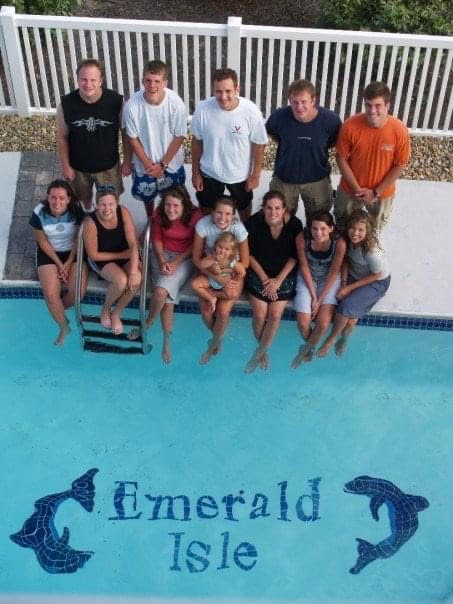 As the years went by, and the cousins got older, we'd spend our week doing all the things that teenagers love to do, like pulling pranks on each other, swimming out to the sandbar where the biggest waves crashed, and watching Jaws and then daring each other to run quickly to the moonlit water and jump in and out before being eaten. Things that I'm not sure our parents should have let us do, but the kinds of things that make a childhood unforgettable.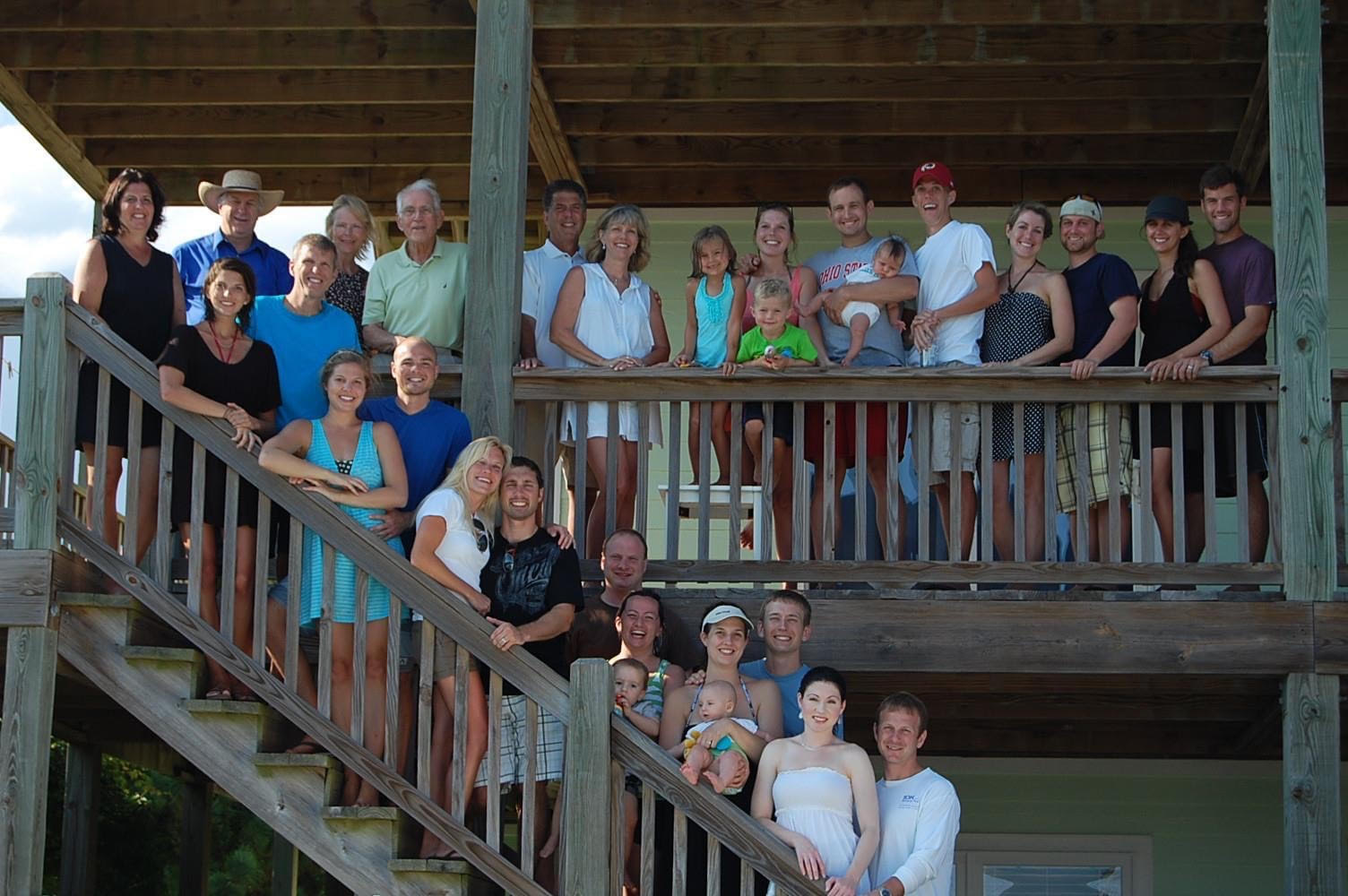 We began to expand our group to include serious boyfriends and girlfriends, and, eventually, spouses. Within just a few short years, we'd completely outgrown our beloved 'Concord' cottage, so we started to look for a bigger home to fit us all. We jumped around quite a bit, year after year, looking for cottages that fit our growing needs. And every year, we'd get back together for one week at the beach, new family members added to the group, to spend our nights playing 'Murder in the Dark', and our days searching the beach for turtle nests that might boil over during our week.
In 2007, Shirley passed away, leaving our Moberg family without its matriarch. We continued to vacation together over the next few years, bringing Bob (Grandad) with us, helping him get to and from the beach, swapping old stories, and reassuring him of how missed our 'Dinnie' was. 2011 was the last year that Bob came with us to the beach. He was 89 years old at the time. The beach trips were never the same without him but were also infinitely better because of the traditions he'd begun and the legacy he left our family.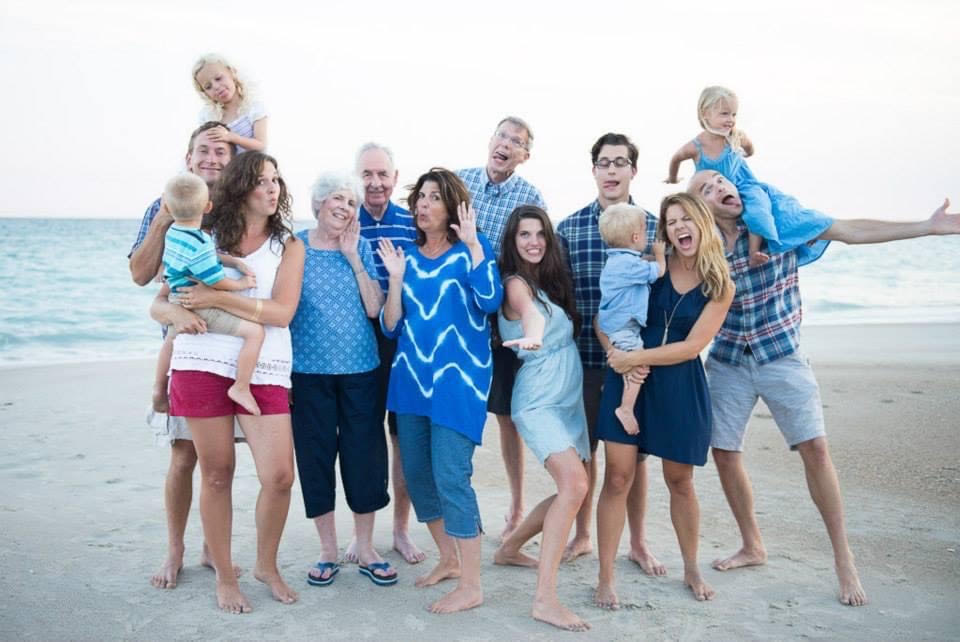 After that year, Bob and Shirley's three children and their families continued to go to the beach, but now, we were so large of a group, we had to get three cottages in a row. We'd meet down on the beach during the day and gather at each other's cottages for dinner. By this point, there was a good amount of fourth generation second cousins in the group. We enjoyed showing the next generation all of our favorite things to do at Emerald Isle – Michelangelo's pizza, the shell store, and the Lost Treasure golf course and go-karts. Over the years, we went deep-sea fishing, rented sailboats in the sound, and explored every inch of the island. We'd seen Runaway Bride for the first time as a large group at the island's movie theatre, and tirelessly searched for all the perfect stickers at the Scrapbook store, in preparation for the hours we'd spend together scrapbooking our week of vacation.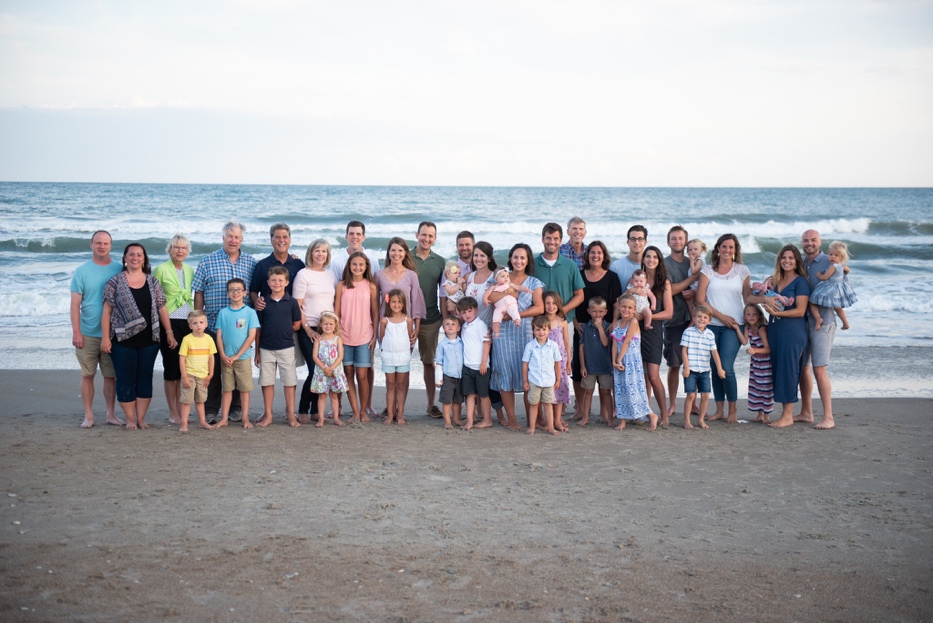 Our last full-fledged, wild and crazy family vacation was in 2018. The three families gathered in their three cottages next door to each other. This group included 6 aunts and uncles, 10 sets of cousins and their spouses, and 21 second-cousins. Our family had grown quite a bit from that first year in 1986. After 30 years of vacationing together as an extended family always bursting at the seams, nothing has blessed me more than to be able to bring my four children to the beach and watch them play with not only their first cousins, but their second cousins, as well. To know so intimately what they are receiving from this special time together. To know the stability, and sense of belonging, that this family brings. As I've gotten older, I've been able to see how rare and special this family of ours is. And our yearly trips to Emerald Isle together played such a significant role in building and sustaining that strong bond.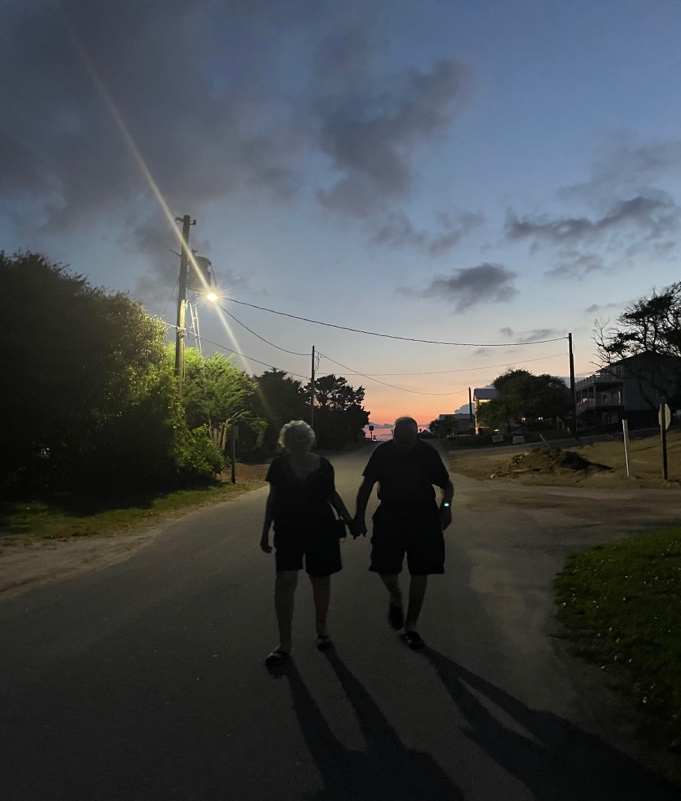 Three months after our 2018 vacation together, my beloved uncle passed away unexpectedly and much too young. This rocked our entire family to the core. Since then, his wife and children have not been able to return to the island without him. My own family, led by my dad—Bob and Shirley's son—have continued to go back to Emerald Isle, year after year. We just wrapped up a week together at the end of August, squeezing it in right before school started. For nearly the last 10 years, we've enjoyed bringing my mom's parents with us. They're 87 and 86 years old, and still make the walk to and from the beach while holding hands like high-school sweethearts. They patiently wait until we get all of the little kiddos to sleep—it takes much longer than it should, considering that all the time in the sun and waves should've zapped their energy—and then we sit in a cozy living room that is 'home' for the week, and play games together. Brewing coffee at 10pm to reenergize, not willing to waste even a minute of this precious week together.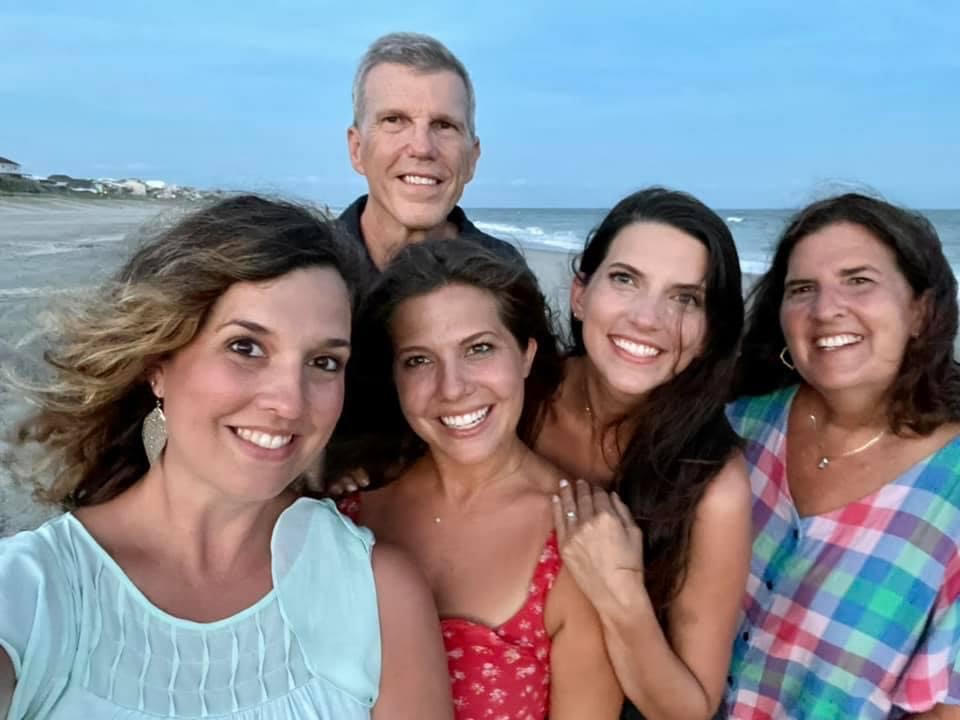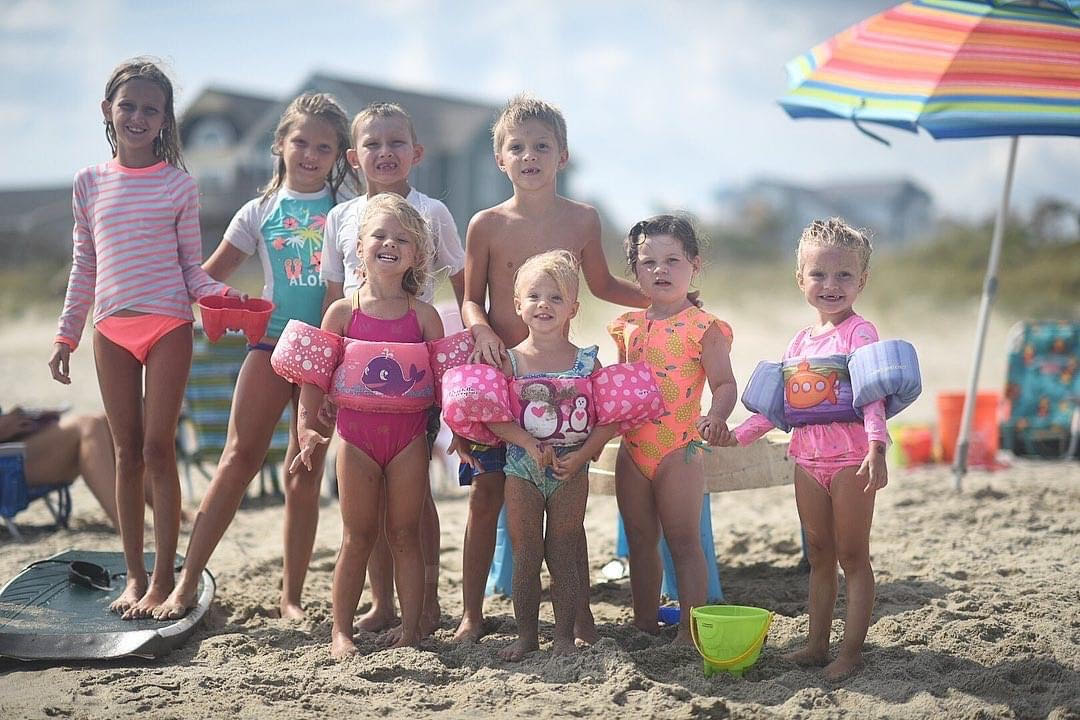 This year, as we were driving off the island, the kids all yelling "Good-bye, beach!!" out the windows, I called my sister—she was only a few cars ahead, but I asked her if there was a way to convince all of my cousins to come back to the beach with us. And she told me that one of my cousins is, in fact, bringing his wife and kids to Emerald Isle this September. His mom, my uncle's wife, would be going with them. This news made me tear up as I imagined them all, eventually, making their way back to our beloved island, and reliving all of our favorite memories. And maybe, one day, we would all be renting three cottages in a row again. Side-by-side, together. One big, happy family blessed with the very best of memories thanks to a car ride that Bob and Shirley took in 1986.
Past Family Traditions Contest Winners