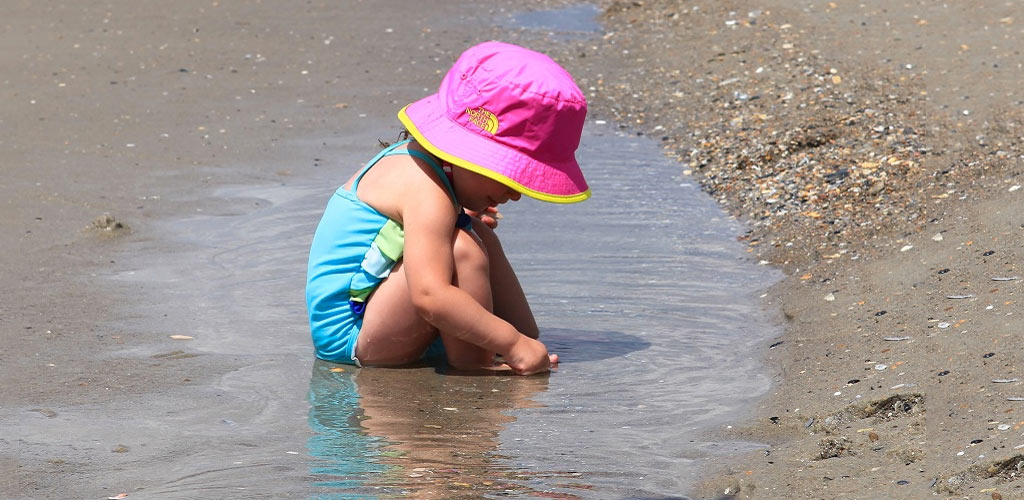 2019 Family Traditions Contest
We invite all Emerald Isle Realty guests to enter. First place prize is a free one-week vacation on Emerald Isle during our Islander or Sports season!
Submission Format Rules:
Tell us your story in an essay format, either printed or in a Word document.
Scrapbooks, calendars or other special items are welcome.
Maximum of 5 photos can be emailed. Limit to 2 MB each or 10 MB total per email submission.
Video entries can be a maximum of 2 minutes in length and cannot have music. The preferred files are .avi and .mov, however, all submissions will be accepted.
Include the date of your vacation and the name of your vacation rental property.
Submissions can be emailed to SummerFun@EIRealty.com: 
Deadline is September 1, 2019. By submitting your stories to Emerald Isle Realty's Family Traditions contest, you acknowledge and agree that text, photos, videos and all other related material may be used at our discretion including, but not limited to, advertising purposes by Emerald Isle Realty. 
2017 Family Traditions Winner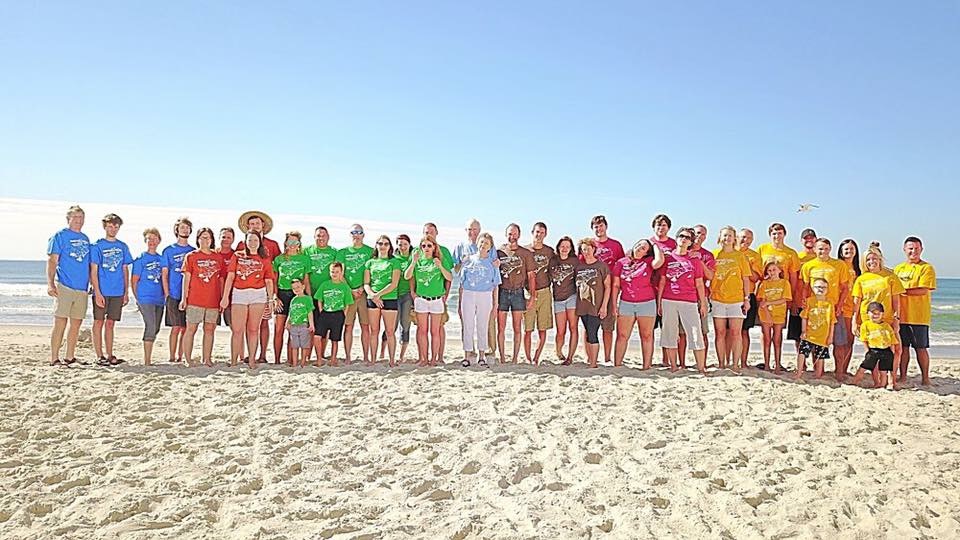 Traditions usually revolve around unforgettable experiences and cherished moments. Although these experiences may seem small, they carry great significance with them for a lifetime. These fond memories often lay the foundation for creating new family traditions. The Smetana-Rama Family is no exception, learn more about our 2017 Family Traditions Contest winner below.
For the last 22 years, I told everyone that my favorite place is in North Carolina. Not the Outer Banks that most people go to, but a special place a little more south and tucked away. This place has the most beautiful, clean and peaceful beaches that are never crowded and always welcoming. Many times, the water is so warm and calm like a bathtub, which makes it easy to float and relax – leaving reality and its demands behind. This place is Emerald Isle, a hidden gem so full of precious memories for all that visit.
When I was 12 my grandparents (and life-long cheerleaders) decided to leave New Jersey and retire here at the beach. I cried when they moved 12 hours away, as I hated to lose them. Visiting most all spring breaks and summers quickly became a tradition. At the beach, we learned to collect seashells to make Christmas ornaments and jewelry boxes. We learned to hunt ghost crabs by flashlight. We learned to ride waves and bury each other in the sand. We learned to slow down and enjoy the beauty in each other and all around us.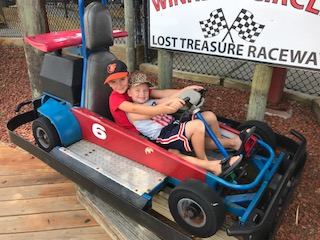 As the years passed, I always made time to visit my grandparents. It was my escape. So many memories fill the roads, beaches, shops, and walkways. I shared my first kiss and summer loves here. I brought friends and had family reunions. Many years later, my husband and I now bring our boys to Emerald Isle. At age 4 and 6, they have visited more times than they are old. The tradition is contagious and is now passed down to them, as it is now their favorite place too! We play mini-golf, ride the race cars, cruise on jet-skis and play games at the pool. We kayak and paddle board in the sound while looking for nature's beautiful creatures all around. We learn about North Carolina's precious landscapes and animals at the aquarium. We soak up the sun, swim, and play along the beach. We take naps while listening to the waves crash with the refreshing ocean breeze. We feast on pig pickin's with hushpuppies and sweet tea. We cheer on fishermen with their latest catch at the piers. Emerald Isle is our paradise, a precious time capsule of memories.
While I thought I was just vacationing and filling up on the sunshine, I now realized that I was learning life lessons that would carry me through the years. I learned to enjoy the beauty all around us while reflecting and enjoying this life. I learned to be present and disconnect from distractions and rushed schedules. I learned how to play golf and make spaghetti sauce with my Grandpa. I learned how to cut french green beans, how to really listen to someone, and how to give and value unconditional love from my Mom-mom. And that is why Emerald Isle will always be full of love.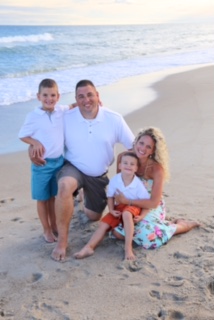 This is my story, but the stories are infinite as four generations of our family now gather here. Our whole family not only visits throughout the year but gathers for Smetana-Rama Family Reunions every other year. Just last month we had 40 of us at the beach together. All of us have made and cherished our own precious memories throughout the years. My Aunt could tell a story about how her wedding was almost canceled due to Hurricane Fran, but how the whole family fought to make it down anyway. The beach houses in Emerald Isle are our gathering spot where we come from Maryland, New Jersey, Pennsylvania, Texas, and Tennessee. Our week together is full of swimming, shopping, nightly meals, and games. We sing karaoke, go on neighborhood scavenger hunts, and really take the time to enjoy each other.
Unfortunately, life also is full of its hardships too. My stepmom and grandfather were both hospitalized this summer. My grandfather, who is one of the strongest, smartest, and caring men I know, cannot read due to a stroke this year. He continually practices his letters and frustrates at his deteriorating health. He is always smiling and most happy watching all his kids, grandkids and great-grandkids loving and being together at the beach house. In July, right before our planned family reunion, my stepmom passed at age 51. My dad, siblings, and the whole family were devastated. But we came to the beach. We came to heal, to be with each other, and to soak up the love. We came to make memories and carry on the tradition of being at our favorite place together. No matter what life throws at us, the beach is always there waiting, listening, and giving us peace of mind. I am forever grateful for this vacation spot for it has molded me into the woman, wife, mother, sister, teacher, and friend I am today. It will always be our most precious and cherished tradition!
Congratulations to our 2017 Family Traditions Contest winner we always love seeing and hearing about our guest's traditions and sharing them. If you have made a tradition of visiting Emerald Isle over the years, we want to hear about it. We invite all Emerald Isle Realty guests to enter for a chance to win a free one-week vacation to Emerald Isle during our Islander or Sports season! Submit your story here, the deadline is September 1st, 2018.
2016 Family Traditions Winner
The Rives Family Reunion: A Tradition


My family has a habit; a nearly 60-year-old one. We can't stop it and there seems to be no cure.  Honestly, none of us want to stop. Some folks might call it an "addiction," but we call it a "Family Tradition"; Webster's Dictionary calls it "something that is handed down one generation to another."  We always do it at the beach.
Currently 5 generations are involved and everyone that hears about what we do is surprised, shocked even. Some folks think we're crazy; others think it's a phenomenon. Lots of people simply don't believe it. We're getting ready to do it again next summer, in July 2017 for the 22nd time in 57 years.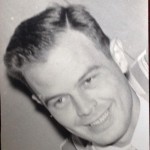 It all started in the early 1950s quite by accident. A North Carolina Mother, Florence Rives, who happened to be my Grandmother, wanted to see her son.  He lived in Arizona and barely got home once a year. He had fought in WWII on the North African and Italian fronts and had been one of the lucky ones to return home. She wished he were nearer. My grandfather, Arthur Rives, died in 1944, while my Uncle A.R. (Alston Ramsey) Rives was still fighting on the frontlines.
The remaining 7 of the 9 children she'd birthed in the modest Lee County home that she shared with my grandfather were much closer by; 5 girls and 3 boys living, 1ne small son buried as a child.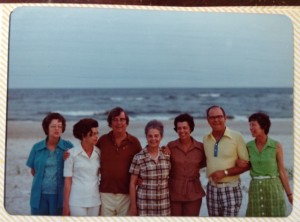 In the hot piedmont summer of 1954, one of her daughters, my Aunt Julia, suggested to their mother (my grandmother) that perhaps whoever was able could gather at the North Carolina coast for a nice long week at the beach and share a cottage. That way my grandmother could see her beloved son A.R. and any siblings that could make it could spend time with their beloved brother. Cousins could get to know cousins and a long easy week of calm breathtaking beauty at the North Carolina coast would provide a perfect backdrop for luxurious, nourishing visits.
Well it would take 6 years to make the first gathering happen; plans got interrupted by the nearly total devastation of Hurricane Hazel in October of '54 and the ever busier lives of the siblings with growing families and careers.  But at long last in the summer of 1960, a single, simple and very crowded cottage held 7 adults and 7 children;14 of 35 Rives descendants of my Grandparents; and that included my strong and beautiful Grandmother, Florence.
The following summer of 1961 all 35 Rives' (my grandmother, all 8 of her children, their spouses and 20 little ones, including me) gathered for a week-long reunion, happily crowded into 3 old-fashioned cottages side-by-side on the North Carolina coast. Our incredible tradition was born!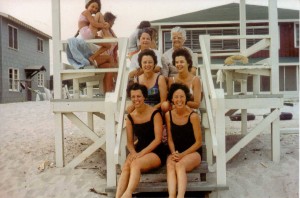 Fast forward with me to right now….to 2016. Currently, nearly 200 descendants of my grandparents, Florence and Arthur Rives, are putting holds and deposits on approximately 25 cottages, condos, duplexes and houses at the Crystal Coasts' Emerald Isle.  During the week of July 22-29, 2017,"Rives" flags bearing our family's Coat of Arms will be flying high from each of the cottages filled with our people (our cottage rentals are too many now to be side by side.)
So you might be wondering how it is that our family has "re-unioned" 21 times in the last 56 years and are planning our 22nd of those reunions for 2017? As our family grew (exponentially it seems) our summer beach reunions moved from yearly to every two years, and then in 1972 became triennial, every 3 years. Counting the upcoming July 2017 reunion, we will have met 16 times in the last 45 years (1972 – 2017) and 6 times in the 10 years before that (1960–1970).
And you can bet I'll be back there in 2017. I wouldn't miss it for the world. I have a lifetime of profound memories etched in my soul, years of having the privilege to know…to really know my family, my cousins, my aunts and uncles….to hear the stories…to witness and be a part of the rich history of the Rives family.
I usually don't tell my age, but I was 5 years old at my first "Rives Family Reunion" in 1961 and I've only missed one since. (That little girl hugging her knee sitting on the railing in the picture with my Grandmother and all of her beautiful daughters is me.)
My Grandmother died when I was 10; I've had the honor over the years at our reunions of sitting on the beach for hours and telling the younger ones who their Great Grandmother Florence was and telling stories about their great uncles and aunts. I also get to share about their Great Aunts, Julia, now 96, and Sarah Lynn, now 88; the last 2 remaining of the original 8 siblings.  We've discussed at length the difference between a 2nd cousin twice removed, a 3rd cousin by marriage, and whether some of the people who come to the reunion are actually our cousins at all. (Actually I don't really understand that last part but we've all spent many an hour at the Rives Family Reunions talking about it.)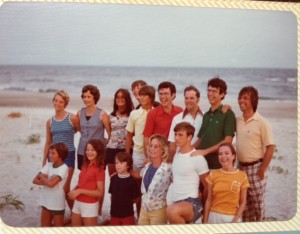 I've welcomed countless babies, new brides, grooms and boyfriends, stood fast with family through tragedy and triumph, honored the lives of the family members who have gone on; won and lost many a Rives Family Olympic event, and danced 'till the early morning hours on Cousins' Night Out.  At the 1987 reunion, I baby sat for a sweet little cousin who is now married and pregnant with her first child. She will be bringing a precious new Rives to the reunion in 2017, a new great-grandchild for my Aunt Julia. And my mother, Sarah Lynn, also welcomed a new great-granddaughter (a great niece for me) on August 21,  2016. What a profound privilege to be a part of this family that gathers on the coast every three years and loves on one another.
Though I could fill more volumes than the Harry Potter books with the stories of our adventurous weeks together at the beach, I'll "cut to the chase." In July 2017 if you happen to be on Emerald Isle, North Carolina you'll see my "Rives Family" flag flying proudly from Emerald Isle Realty's cottage, "Buena Vista." And if by chance, while on a stroll down the beach you run into an unusually large group of folks in and around multiple umbrellas and beach tents, sporting matching "Rives" t-shirts with "#RivesRule" koozies in hand…..or you see a great big tug of war going on with 25 kids and adults on either side…….by all means, jump right in…..introduce yourself…..become a part of our Rives Family tradition.
 2015 Family Traditions Winner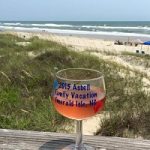 Just imagine the sea breeze stirring your hair and the waves lapping at your feet and you're halfway there. As we have every year for over thirty years, this is the image in our minds as we make the trek to Emerald Isle. But this year I kept thinking: Emerald Isle gives me so much…peace of mind, precious time spent with my loved ones, and a sense of well being that only the beach can capture. What do I take back with me each year?
Of course I take a few seashells, nice tan and usually a few more pounds. But what is it about the beach that makes me thirst for more? I decided that I receive a type of wisdom every time I go. I call it beach wisdom.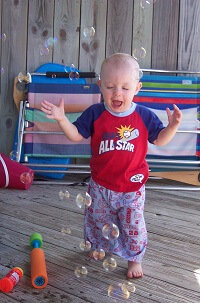 That is what the beach does. It gives us a chance to hear the truths of our own heart's whisper and to slow our careening inner pace to something that more closely matches the rhythms of the tides. Our lives slow down for a few days and take on a more peaceful pace, like the tides ebbing in and the tides ebbing out.
The beach also reminds us of the playfulness of childhood and even makes us childlike again. That inner child comes alive as we play with our children in the sand or the surf. A streak of joy that resides in us comes alive in the brilliant sunshine.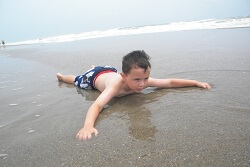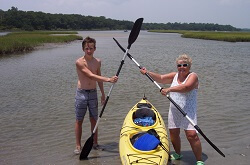 A trip to the beach has the power to restore us to ourselves, to even our keels, to lighten our hearts…at the very least, to put a little color in our cheeks. Our daily lives go at breakneck speed with work, family and everyday life. At the beach we tend to grasp the days less tightly, to let life flow more easily, like the warm sand sifting through our fingers. We begin to realize the things that make us so uptight and gnash our teeth are not that important at all, in the grand scheme of things.