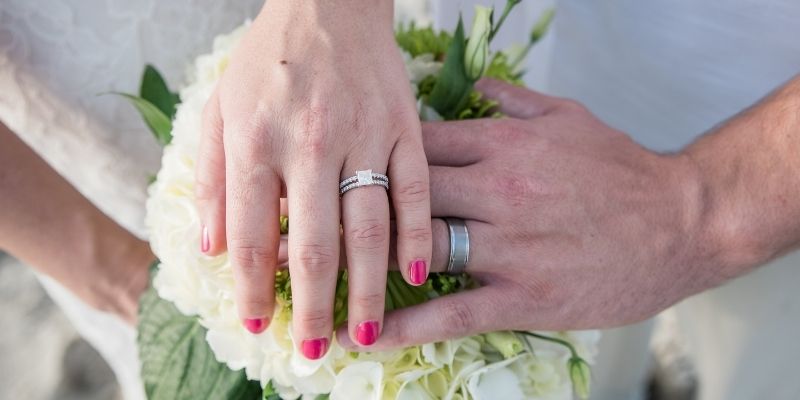 Saying "I do" all over again. It can be a joyous occasion, a reminder of all you've gone through and the promises you made on your original big day. But planning a vow renewal shouldn't be a stressful experience. It's much easier than your original wedding, especially if you have the right help.
There are many questions that arise when planning a vow renewal ceremony. Here are some suggestions to make saying "I do" again a memorable experience.
What is a vow renewal ceremony?
A wedding vow renewal ceremony is a ceremony where a couple renews or reaffirms their wedding vows. Many couples hold these ceremonies on important anniversaries. Some couples hold a vow renewal ceremony because they didn't have a wedding ceremony the first time around.
How often should you renew your vows?
There is no designated time of when you should renew your wedding vows, so there is no right or wrong time. However, don't hold a ceremony every year or too often. It's best practice to reserve the ceremony for milestone celebrations, such as anniversaries.
Who should host a vow renewal?
The common thing is for the children of the couple to host the renewal. However, if your children are still young, you might take on the responsibility yourself.
What do I wear for my vow renewal?
If you can still squeeze into your wedding dress – go for it! But for the rest of us, it's an excuse to go shopping! Depending on your taste you can choose from a nice cocktail dress, evening gown or even a nice suit. Above all, lose the veil and keep the flowers.
Who should we invite to our vow renewal ceremony?
You can invite whomever you want to your special ceremony. If you eloped the first time, you could invite family members who weren't at the original ceremony. For a quieter and more intimate gathering, consider inviting only a select group of family and friends. No matter what you choose, Emerald Isle Realty can help you select a beachfront cottage or spot on the beach that will be perfect for your event.
What is included in a vow renewal ceremony?
This is your big day (again!), so you can plan the celebration however you choose. Usually, the bride will walk down the aisle – this time you can be escorted by children or with your spouse – and then you'll exchange vows. You can repeat your original vows or create new ones. If you choose, friends and family can stand and do readings or share stories about the two of you. It can be as intimate as you want!
Where should I hold my vow renewal ceremony?
Both destination and beach front ceremonies are prime choices for wedding vow renewal ceremonies. One location that embodies these two ideas is the beautiful shores of Emerald Isle, North Carolina.
Emerald Isle Realty has ample choices when it comes to selecting the perfection location for your wedding vow renewal ceremony. If you are planning a larger ceremony, we suggest one of our wedding-friendly homes that can accommodate up to 50 guests. We also offer homes that are perfect for smaller groups as well. If you're the outdoorsy type, we suggest renewing your vows on the beach! There's nothing better than the sand under your feet and the sparkling emerald waters in the background as you reaffirm your love for each other. 
Whatever your desires, Emerald Isle Realty's Event Services Department can help you make your second special day a magical one with one of our lovely simple ceremony packages.
Contact our team via email today if you'd like to know more about holding your wedding vow renewal ceremony in Emerald Isle! You also can call us at (252) 354-6155.