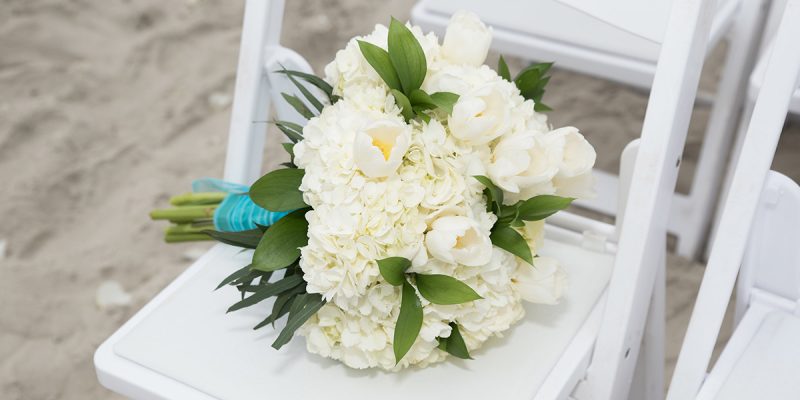 Below are testimonials from couples whose weddings we have helped plan, organize and/or manage. We couldn't be happier to know that we contributed to their happiness!
Read all of our 
Wedding Sites & Locations Reviews
 at 
Read our destination wedding reviews now:
Everything was wonderful! I highly recommend sea side wedding and events. Krystal went above and beyond to help us and make our day a dream come true. – Danielle
Krystal was very helpful. We were from Ohio and it is not easy to plan a long distance wedding but Krystal helped us by letting us see our venue, beach house, several months before our wedding. She also put up with my many phone calls and answered all my questions. She helped with suggesting my Cake person , Maria whom I loved. The officiant was awesome, Rev. Tillman. Island Esentials was smack on. They were great. Thanks Krystal. – Kathryn
We rented "Boat House" thru Emerald Isle Realty for our wedding, and we couldn't be happier that we did!!! We got married on the Ocean and had the reception at Boat House. It is an ideal setting for a wedding reception. The big lawn was a great place for the tables, the pool deck worked out so well for cocktail hour and the poolside patio was the perfect place for the DJ and dance floor. The house is BEAUTIFUL! It is well appointed, well stocked and gorgeous. Everyone fell in love with it! We look forward to renting it out again sometime. The wedding coordinator from Emerald Isle realty did a nice job. – Marta White
Krystal was an absolutely rockstar. We loved having her expertise as we planned our wedding in Emerald Isle. She worked hard to make sure that our wedding was everything we wanted and more. If we had a question or request, Krystal made sure it got handled. The Emerald Isle Realty beach home was perfect for the wedding and reception — it even had an ice maker and two fridges!!! (this obviously wasn't their first rodeo) I also loved having the event attendants during the wedding to help make everything run smoothly. We can't say enough about our experience. It was fantastic. – Janelle
Krystal was a perfect wedding planner. We worked with her from about 100 miles away and started planning about a year and a half ahead of time. Krystal responded immediately to any questions we had. She lined up the best vendors on the island. Everything went absolutely perfectly on our end, and we couldn't be happier. Krystal was worth every penny (and more!). – Amy
Krystal was such a joy to work with. We fully appreciated her calm, level-headed approach. My husband and I live out of town, and before we even came to Emerald Isle before our reception, Krystal was busy looking at our wedding venue, coordinating with our reception site, and making sure all of our vendors were on the same page. Hurricane Arthur came through the night before our beach wedding, and Krystal was prepared several days ahead of time with several back-up plans, coordinating with our rental companies to make sure the deliveries would still happen on time, and making sure we had everything we needed. It was such a load off to know that she was coordinating the chairs, the country club, the officiant – all those last minute details that pile up!
It was so fun spending our day with Krystal. She really brought a level of enthusiasm (without being overly gushy!) to our special day. Even before we had officially hired Krystal, she was willing to be helpful and give me so many wonderful contacts to help make our day happen. The fact that she was willing to help us like that before officially becoming our Wedding Coordinator was a big part of why we wanted to have her with us as our coordinator. We knew that she was dedicated to making things run smoothly the day of and all the days leading up to it. Without Krystal, we couldn't have done it! – Hester
A Seaside Wedding & Events made planning our wedding a breeze!! They helped us every step of the way, from choosing a venue, to helping us pick the right vendors, and making sure that our wedding was everything that we wanted it to be. I cannot thank them enough!! – Mr. & Mrs. Anthony Anderson
We rented the Anna Victoria house through Emerald Isle Realty for our wedding, and we absolutely loved it! EI Realty was very helpful through the whole process, and their staff was always available when we had questions. We will definitely use them again in the future. – Lippert Wedding
Krystal at Seaside Wedding and Events was so accommodating and it was a pleasure to have someone so knowledgeable. She always returned my calls and emails quickly and recommended the best vendors. I would highly recommend anyone planning a wedding to use her. She knows her business! – Lisa