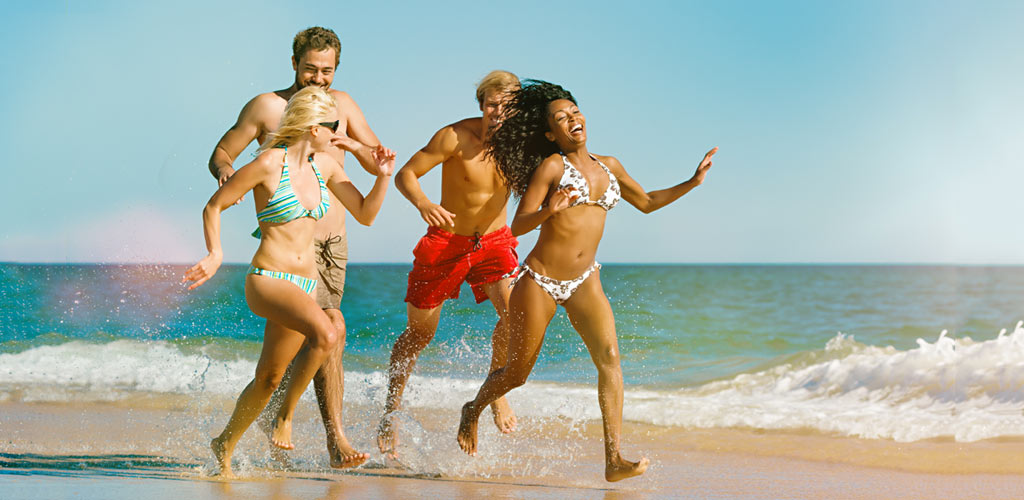 1. Your home away from home
When you reserve your stay in one of Emerald Isle Realty's vacation rentals, you get more than just a vacation rental, you get a luxurious home away from home. With rentals that can accommodate small to large groups of people, you're sure to find the perfect one that gives everyone a cozy place to relax and socialize at the end of each day. From oceanfront rentals with stunning views of the Atlantic Ocean and easy beach access to elegant and luxurious vacation villas with more amenities than you can imagine and plenty of space to enjoy time away with your friends.
2. A variety of entertainment options
Our vacation rentals offer a variety of amenities that are sure to keep the group entertained. Select from a number of vacation rentals with pools, perfect for swimming or just enjoying some quality time with your friends. Or choose from a great selection of vacation rentals with game rooms, which are perfect for card games, and some even have pool tables. End the evening with a relaxing soak in a hot tub, perfect even on those chilly Crystal Coast nights!
3. Relaxing days on the beach
Emerald Isle boasts some of the most beautiful beaches on North Carolina's Crystal Coast. Go swimming in the brilliant emerald waters, go shell combing or just grab some chaise lounges and relax with the sounds of the waves crashing over you.
Add some fun to your Crystal Coast friend's vacation with a bike ride around town. Enjoy the area's beautiful scenery along the coastline with bicycle paths stretching from Indian Beach all the way to The Point at Bogue Inlet.
4. Unwind with a day at the spa
Emerald Isle is the perfect place for a couple's vacation. Send the guys off on a fishing charter while the girls spend the day at one of the area spas. The Crystal Coast is home to several amazing spas that will leave you feeling relaxed and refreshed. Make sure to book ahead of time as most of the massage times book up fast!
5. An abundance of outdoor adventures
Friend vacations are full of adventure on the Crystal Coast where you'll find an abundance of outdoor activities. Learn how to surf, go kayaking or take a paddle boarding lesson. If you'd rather spend your day under the sea, the Crystal Coast is one of the top scuba diving destinations in North America.
Then hop onto the ferry at Harkers Island and head to Cape Lookout National Seashore where you can climb the iconic Cape Lookout Lighthouse and enjoy the amazing views. Or head to Shackleford Banks for a day of hiking and to get a glimpse of the magnificent wild horses that roam the island. Find the excursion that best fits your groups adventure side!
6. Plenty of things to do
Spend a day exploring the local shops in Emerald Isle for beach themed souvenirs or any beach essentials you may have forgotten to pack. Then head over to Swansboro to peruse the many quaint boutiques and home décor shops.
Experience the rich culture and history that the Crystal Coast has to offer with a day at Tryon Palace, where your group can take a guided tour through the Governor's Palace and 16 acres of stunning gardens. Visit one of the area art galleries to take in artwork from some of the local artists who specialize in coastal art.
7. Fun festivals and events year-round
Make sure to plan your friends vacation during one of the many Emerald Isle events taking place throughout the year. We have a variety of festivals for everyone in your group to enjoy. From foodie festivals to several art and music festivals, you'll find a variety of unique coastal events for you and your friends to enjoy.
8. Great lunch and dinner spots
Take the night off and enjoy the company of your friends after a fun day at the beach. A fresh seafood feast is a requirement when you stay on the Crystal Coast! From family-style waterfront dining to fine dining, you'll find a variety of restaurants in Emerald Isle and the surrounding beach communities that are sure to please. As you explore the Crystal Coast, stop for a relaxing lunch, or start your day off with a hearty brunch!
9. Explore the area on a tour
Discover the beauty of the Crystal Coast with a variety of tours offered in the area. Explore the charming and historical town of Beaufort on a food and wine focused bike or walking tour from Hungry Town Tours, where you'll get an inside look at where the locals go to eat and play.
Have an adventure on the ocean as your group explores the natural hidden treasures of Emerald Isle through one of the many ecotours. These excursions can be a full or half day and include snorkeling, dolphin watching and more!
10. Amazing views of the sunset
Enjoy magnificent sunset views from just about anywhere. Take a leisurely stroll down the beach after dinner. Have a cocktail a thousand feet offshore at the Barnacle Bar, located at the end of the Oceanana Fishing Pier. Or had back to your vacation rental to "wine down" and watch the beautiful sunset from one of the large open outdoor decks. Emerald Isle Realty's vacation rentals are the perfect place to share memories of the day, a bottle of wine and a stunning sunset.