Our name may be "Emerald Isle Realty", but as many of you know, we offer ideal vacation rentals and homes for sale in many vibrant and welcoming areas of the Crystal Coast. In fact, the Crystal Coast communities make up a large portion of the 85 miles of coastline on the southernmost part of the Outer Banks. So, if you're ready to plan your visit, but would like to know a little more about the area, then keep reading this guide to discover what makes these communities so unique. You're sure to put together a robust list to explore the best events and things to do in each community.
Atlantic Beach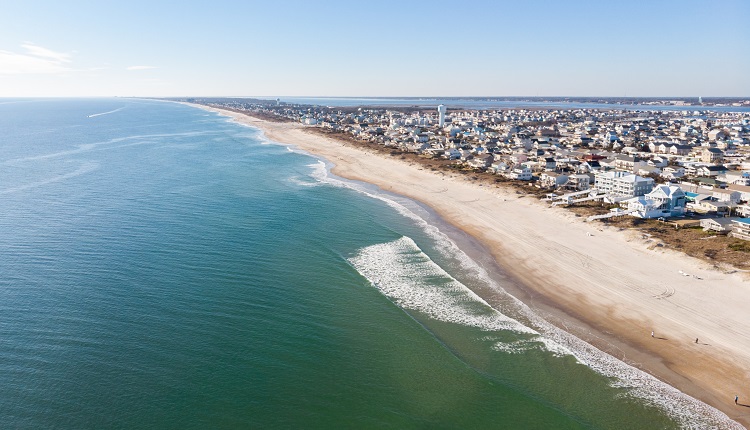 Atlantic Beach is located on the eastern portion of the island of Bogue Banks. As the name suggests, Atlantic Beach is known for its sparkling waters and wide sandy beaches, in addition to the can't-miss Boardwalk. But it's also an area rich with history and culture for visitors to explore. Atlantic Beach is home to Fort Macon State Park. This historic Civil War fort attracts more than one million people a year and is the most-visited park in North Carolina.
The commercial district of Atlantic Beach is a popular area with an array of local shopping and dining options. This coastal beach community also offers plenty of adventurous activities for those visitors looking for a thrill such as boating, fishing, surfing and more. The town really comes alive with local events that take place throughout the year such as the Carolina Kite Fest. If this all sounds like your cup of tea, then a stay near Atlantic Beach is in order, so be sure to check out our Atlantic Beach vacation listings as you plan your next visit.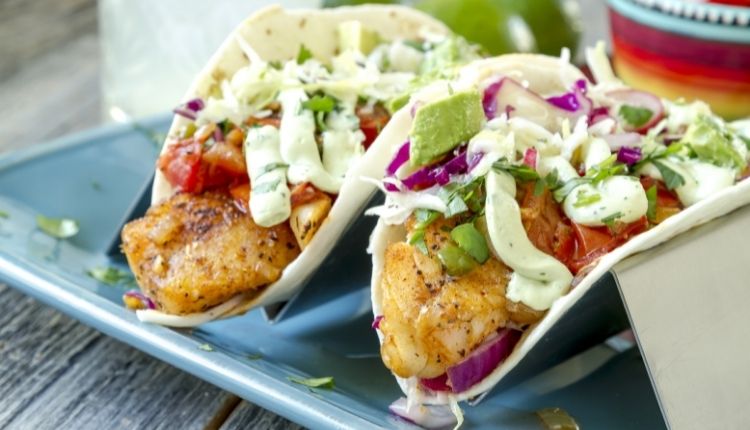 Best Things to Do in Atlantic Beach
Discover even more things to do in Atlantic Beach, NC.

Top Events in Atlantic Beach
Beaufort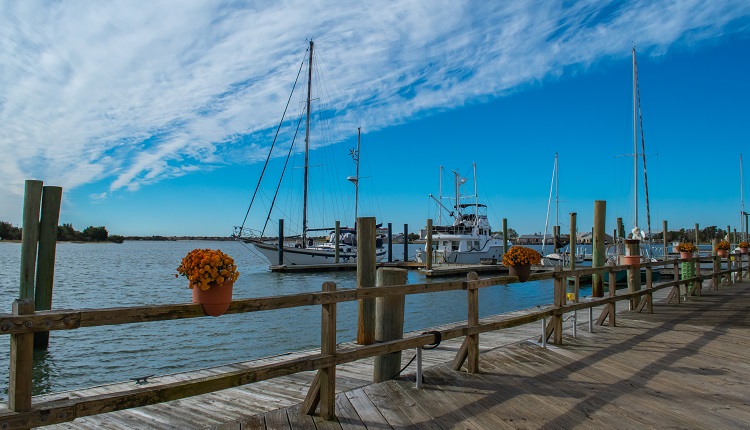 SEE ALSO: Top 10 Things to Do in Beaufort
Located about 20 miles from Emerald Isle, the town of Beaufort is one of the most popular towns on the Crystal Coast. It was voted #1 Favorite Small Town in 2014 by Travel + Leisure readers, and with good reason! As the third-oldest town in the state, Beaufort has a history rich in maritime culture. From the famous underwater pirate ship of Blackbeard to the North Carolina Maritime Museum, Beaufort's extensive maritime history dates back more than 300 years.
Surrounded by water in nearly every direction and located on Taylor's Creek, Beaufort offers visitors fantastic waterfront views and plenty of fun outdoor activities such as kayaking, fishing, standup paddleboarding and boating. For nature lovers, you'll find trails and boardwalks, wild horses, more than 200 species of birds, bottlenose dolphins and sea turtles. Be sure to stroll the waterfront in downtown Beaufort as you take in the amazing views of vessels going in and out of the harbor while browsing unique coastal shops and boutique gift shops. Book a vacation rental during the late spring or early summer when the town is hopping with food and music festivals, boat shows and more.
With so much to see and do in this charming, Crystal Coast town, it's easy to see why you'll want to explore the full list of rentals available in Beaufort for your next vacation or getaway.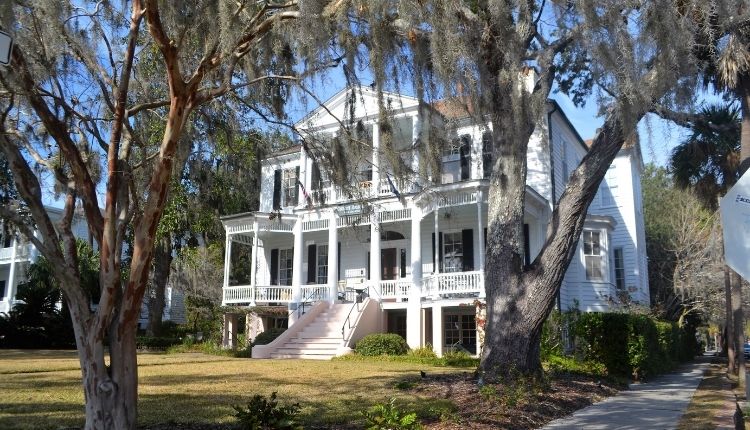 Best Things to Do in Beaufort
See Queen Anne's Revenge, which was Blackbeard's famous pirate ship, and hear the stories of the pirates at sea at the NC Maritime Museum.
Take a boatbuilding workshop at the Watercraft Center located directly across from the maritime museum.
Hop aboard a 1967 English double-decker bus for a live-narrated tour of the Beaufort Historic Site. See the restored homes, courthouse, county jail, apothecary shop, and even an art gallery featuring pieces from local artists.
Enjoy live music and sample local craft beer on the Beaufort waterfront after a long day on the water at a local-favorite hot spot: Clawson's Restaurant & Pub.
Enjoy artwork by local artists at the Mattie King Davis Art Gallery during your visit to Beaufort Historic Site.
Go birding at Rachel Carson Reserve, located in an estuary, and take in the scenic views from the Carrot Island Boardwalk. You might even spot turtles or bottlenose dolphins.
Tee off on the world-class par-72 course at Beaufort Club which features five tee boxes, expansive bunkers, wooden bulkheads, lakes and ponds. You'll get great views of the area to go along with your game!
Come hungry and leave happy as you pedal through 300 years of history or sample Southern culinary dishes from a variety of local Beaufort restaurants on a guided history or culinary biking tour with Hungry Town Tours.
Discover even more things to do in Beaufort, NC.

Top Events in Beaufort
Emerald Isle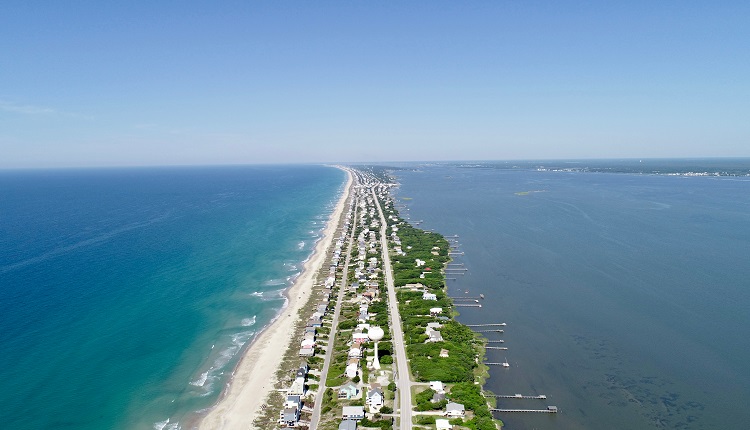 Emerald Isle is a truly remarkable 12-mile stretch of island found on the western portion of Bogue Banks. This laid-back beach community is one of the most popular along North Carolina's southern Outer Banks. Appropriately named after the lush maritime forests that surround it, Emerald Isle is home to amazing beaches, cherished wildlife, a multitude of local flavors and an abundance of activity offerings for every member of the whole family.
Experience the refreshing air outdoors with activities ranging from kayaking and paddleboarding to fishing and scuba diving. Drop a line to catch some local fish at Bogue Inlet Fishing Pier or simply take in an unforgettable sunrise or sunset. The views here are unlike any other!
Spend an afternoon shopping at some of the most adorable specialty boutiques with local, hand-made goods or head out for a friendly game of golf. When they're not at the beach, the kids are sure to love visiting the numerous attractions and amusement parks sprinkled throughout the area. The town is especially lively during the busy season, starting with the annual St. Patrick's Day Festival and celebrations, and the 4th of July Fireworks show is one of the most popular events in the area for visitors and local residents alike.
Emerald Isle offers a relaxing, family atmosphere and one of the largest selections of vacation rental homes on the Crystal Coast. From quaint beach cottages to luxurious sandcastle homes and everything in between, you're sure to find the perfect accommodations to suit your needs and your budget. It's easy to see why visitors return to Emerald Isle year after year!

Best Things to Do in Emerald Isle
Hit up the matinee with the family or have a romantic movie night out just for two at the Emerald Plantation Cinema with the newest cinema releases.
Cast a line off the Bogue Inlet Fishing Pier, a popular spot to catch anything from wahoo and king mackerel to speckled trout and red drum, and cook up your favorite for a coastal-inspired meal for you and your family.
If you're looking for another form of refreshing water activities, let the kids splash and play on water slides and rides at Salty Pirate Waterpark.
Gather a group of friends for a friendly competition during a round of disc golf at Emerald Woods Park.
Bike your way along the Emerald Isle Bike Path for a little family time as you view the surrounding communities from two wheels. Choose from a number of shops offering bike rentals in Emerald Isle.
Putt your way around one of the mini-golf courses in the area such as Emerald Forest Putt-Putt.
Catch a wave on the pristine beaches at Emerald Isle; you can find surfboard rentals and lessons at South Swell Surf Shop.
Head out to The Point in Emerald Isle during the evening for a spectacular view of the sunset Don't forget to pack your camera!
Shop for unique gifts and local collectibles to take home for family and friends at the shops at Emerald Plantation Shopping Center. Or even do some seashell gathering on the beach!
Cool off with some sweet treats after a day spent frolicking on the beach at the Sweet Spot.
Take the family out for a fresh seafood dinner at one of several popular restaurants in the area such as Flipperz Family Bar & Grill or Caribsea. You can't go wrong with local seafood fare!
Browse stunning pieces of original sea life coastal art by the artist, Glenn Lamp, a local Emerald Isle artist who moved to North Carolina in the 80's at Day Five Art Gallery.
Go boating and take in the stunning views on Bogue Sound. Spend the day fishing or just exploring the variety of intertwined waterways. The Emerald Isle Boating Access Area is a great place to launch your boat and is conveniently located on Bogue Sound.
Get great rates on an incredible selection of vacation rentals in Emerald Isle featuring stunning water views, gourmet kitchens, game rooms, pools, hot tubs, elevators and so much more.
Discover even more things to do in Emerald Isle, NC.

Top Events in Emerald Isle
Harkers Island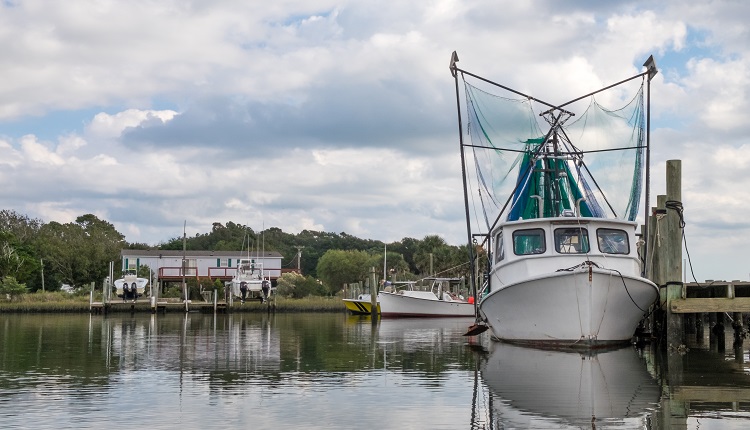 Harkers Island is located just a short 30 miles away from Emerald Isle. Located in a marshy region in Carteret County, known as "Down East", and totaling only a short 3.8 square miles, more than 1/3 of this Crystal Coast town is covered in water! The town is made for tourists who love adventures and exploring new activities.
One of the most popular draws to this region are the Shackleford Banks, part of the Cape Lookout National Seashore, where you can see wild horses, go shelling, fishing, or kayaking. Locals treasure these wildlife offerings and make sure that visitors also respect the natural offerings of the area. The Cape Lookout Lighthouse, also known as "Our Diamond Lady", was named Best National Park Beach in 2016 by readers of USA Today and 10Best!
The Island also offers the Core Sound Waterfowl Museum & Heritage Center where you'll find carvings, waterfowl art, music, storytelling, boat-building and more activities. Make sure you make a plan to take a day trip to this beautiful community and experience all it has to offer, or browse our rentals to find the best place to stay in Harkers Island!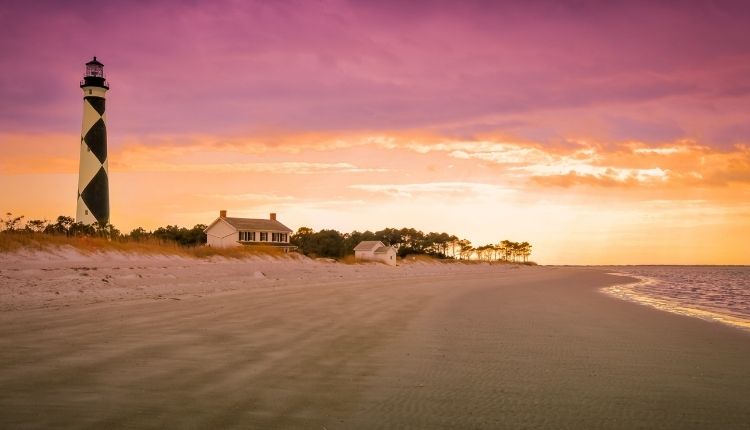 Best Things to Do in Harkers Island
Visit Cape Lookout Lighthouse to see one of North Carolina's gems along the Crystal Coast. You'll be mesmerized by the diamond pattern that creates an optical illusion of sorts that has aided sailors and ships from meeting their fate due to unsuspected hazards in the waters that surround the island.
Go shelling at the Cape Lookout National Seashore. And make sure to stop at the Cape Lookout National Seashore Visitors Center for maps and information about the area.
See carvings and waterfowl art, listen to music and storytelling, and then try your hand at carving or quilting at the Core Sound Waterfowl Museum.
Experience the beauty of the maritime forest on a hiking adventure at the Willow Pond Trail, located at the Core Sound Waterfowl Museum, and is open to the public daily from dawn to dusk.
Take a ferry ride to Shackleford Banks to catch a glimpse of the famous wild horses that roam the island. Be sure to snap some photos to add to your memory book!
See dolphins swimming alongside the ferry on your way to Shackleford Banks.

Top Events in Harkers Island
Indian Beach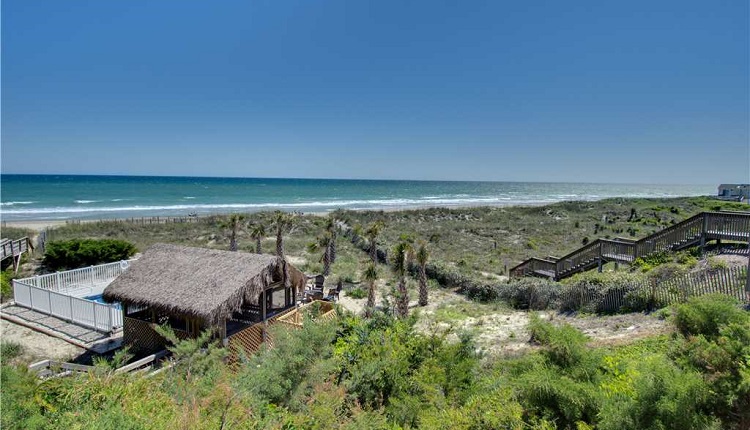 Indian Beach is a small, upscale town that is situated in the middle of the island of Bogue Banks near the tail end of the Crystal Coast beaches. Taking up a total area of only 2-square miles, the town was officially established in 1973. Here, you're sure to find lush coastal forests and beautiful emerald green waters unlike any other.
The most popular place to vacation in Indian Beach is the Grande Villas, an 86-unit luxurious beachfront condominium property overlooking a 22-acre nature preserve. Grande Villas can accommodate families big and small, with a convenient location to nearby town amenities. The Indian Beach area is very private and serene, with delicious restaurants offering the best local fare and adventurous outdoor activities taking place in the nearby towns. Whether it's a condo or a cottage, find your next vacation rental for a family or friend's getaway in the lovely town of Indian Beach.

Best Things to Do in Indian Beach
Watch baby sea turtles hatch. Indian Beach has a turtle program dedicated to educating the public and protecting the nesting population of sea turtles, which are an endangered species. Visitors and locals alike say that there is nothing quite like experiencing the start of sea turtles' life.
Catch a wave or go fishing in the beautiful emerald waters that line the coast. Or just spend the day laying on the glistening gold sands of the beach.
Enjoy breathtaking views of the lush maritime forests that line the neighboring area of Salter Path as you enjoy a leisurely walk or bike ride.
Plan a trip to the NC Aquarium in Pine Knoll Shores, located just a few minutes down the road. This amazing aquarium is designed to take you on an aquatic journey "from the mountains to the sea."
Plan your stay at Grande Villas and enjoy resort-like amenities such as a private beach and multiple pools, an oceanside fire pit, and a state-of-the-art fitness facility and game/rec room.
Morehead City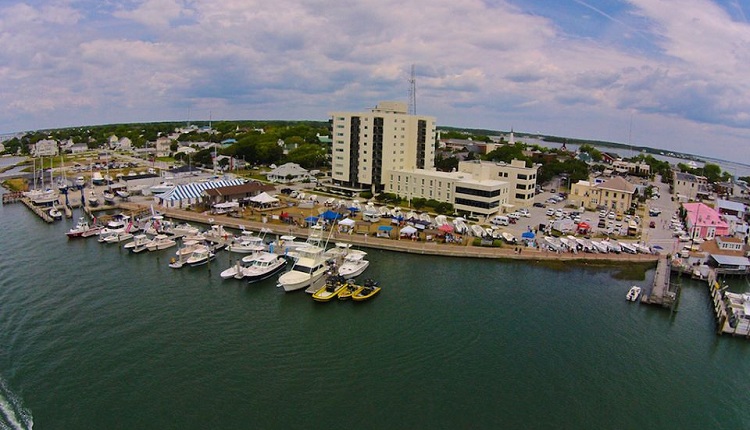 Morehead City is a fisherman's dream and has come to be widely known as one of the best fishing spots on the coast. People come from far and wide to attend and participate in the "Super Bowl of Fishing", aka the Big Rock Blue Marlin Tournament, that takes place each October. Year-round, numerous fishing charters offer deep sea fishing trips and ecology tours in the area that are perfect for small to large groups. If you haven't experienced deep-sea fishing on the Crystal Coast, this is one adventure that you won't want to miss!
Because of all the great fishing in and around Morehead City, you'll find plenty of flavorful seafood dining options that can't be beaten. Even the pickiest of eaters are sure to find something that they enjoy! Plus, there's the famous NC Seafood Festival that takes place every fall. During this event, all of the downtown streets are lined with trees and benches, offering the perfect spot to take in the views of the picturesque downtown scene during an afternoon of local shopping along the waterfront. Plan your stay at one of our great vacation rental offerings available throughout the year or make Morehead City your home with one of our real estate properties for sale!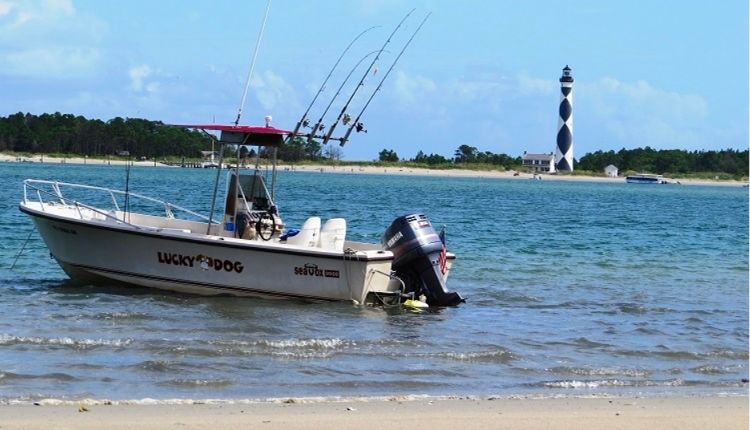 Best Things to Do in Morehead City
Discover even more things to do in Morehead City, NC.

Top Events in Morehead City

Pine Knoll Shores
Pine Knoll Shores is centrally located on the Crystal Coast, offering miles of pristine and secluded beaches. You'll find an abundance of homes for rent and for sale in this well-sought-after town, nestled on both the ocean and the sound side. The small coastal town is home to one of the area's most popular attractions, the North Carolina Aquarium. It's also home to sea creatures such as otters, sharks, sea turtles, stingrays and more. Surrounding the aquarium is the untouched reserve known as the Theodore Roosevelt Natural Area, where the whole family can enjoy a hike along this scenic nature trail as you explore the area's natural wildlife and unparalleled beauty.
Pine Knoll Shores is known for its beautiful and luxurious homes, ranging from oceanfront cottages to duplexes and condos. Pine Knoll Shores vacation rentals feature some of the best amenities for family vacations, and the convenient location close to the peach is unmatched! Be sure to browse through vacation rentals in this area as you plan for your next beach getaway.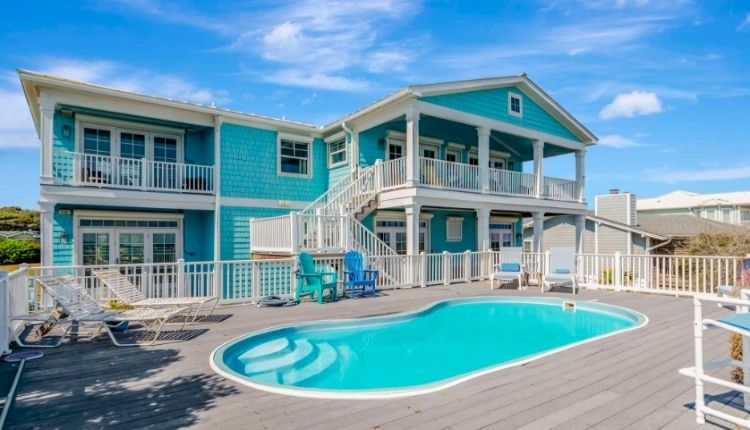 Best Things to Do in Pine Knoll Shores
Salter Path
Salter Path is located on Bogue Banks next to Indian Beach, just minutes from Emerald Isle. While staying in one of our vacation rentals in Salter Path, enjoy the beauty and tranquility of the pristine beaches. It's also a perfect area to go surfing, fishing, kayaking, and more. And with its proximity to a multitude of nearby communities, visitors can enjoy all the great and unique shopping and coastal dining options available, in addition to fun family attractions and experiences that are available throughout the Crystal Coast area.
Salter Path has a great history and is still known as a fishing village, with its heritage still visible in the traditional, eye-catching single-story cottages that pepper the landscape. During your next visit, be sure and chat with the locals, who still carry the pride of the area and that unique Baroque accent. You're sure to find out some interesting history and maybe even a few sea stories!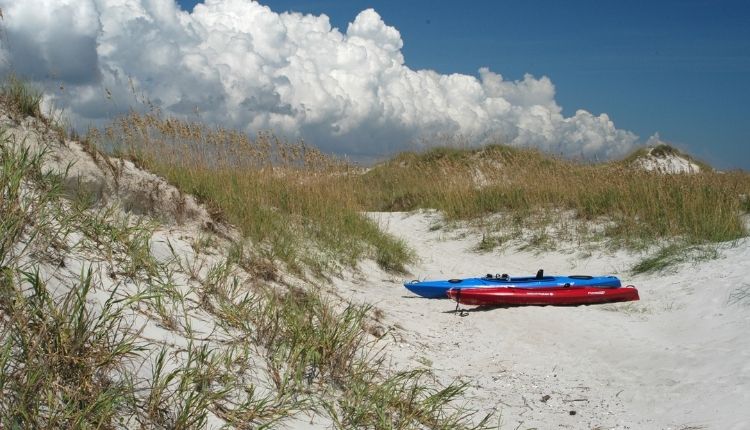 Best Things to Do in Salter Path
Swansboro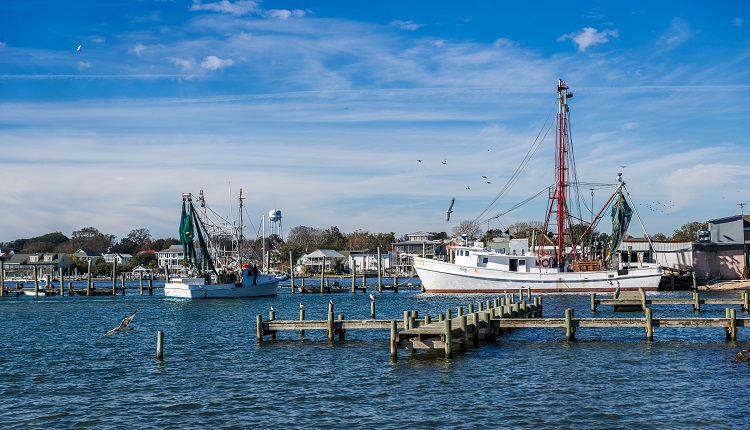 Swansboro, the town known as the "Friendly City by the Sea" is located just a short 5 miles from Emerald Isle and sits along the Water Oak River and Intracoastal Waterway. Visitors enjoy picturesque shopping, dining, beaches, kayaking, and water views as far as the eye can see. Many tourists flock to the area because of its historic downtown district and antique shops offering unparalleled finds.
The town also hosts several annual festivals and events, offering family fun and entertainment for locals and visitors while also experiencing the rich history and culture of the area. Each calendar year ends with the infamous event Swansboro by Candlelight. This can't-miss event is the area's kickoff to the holiday season, where all of the downtown streets are decorated in whimsical wintery scenes and storefronts adorned with beautiful ribbons and bows for the various winter holidays. Whether you choose to visit in the winter or the sun-drenched months of summer, you'll find your perfect vacation rental and time of year to visit the charming town of Swansboro.
Best Things to Do in Swansboro
Go boating down the White Oak River or just cruise up and down the Intercoastal Waterway on a boat tour.
Venture to Hammocks Beach State Park. Spend the day fishing, swimming and shelling. And pack a picnic lunch to enjoy under the covered shelters that are available in the center of the island. You're sure to work up quite the appetite after a day splashing around the waves.
Paddle your way along the trails that lead to Bear Island or the unspoiled maritime forest at Huggins Island, and keep your eyes peeled for local wildlife!
Shop for antiques or keepsakes from your vacation on the downtown waterfront at the Swansboro Antique Center and Pier 58 Outlet.
Take a stroll down the boardwalk at Bicentennial Park and take in the views of the tall shrimp boats that mark the horizon.
Plan a group deep sea fishing trip with Nancy Lee Fishing Charters and Captain Lee Manning.
Enjoy a unique dining experience at one of the delicious waterfront restaurants such as Saltwater Grill.
Discover even more things to do in Swansboro, NC.
Top Events in Swansboro
Now that you've learned a little more about the amazing beach communities that make up North Carolina's Crystal Coast, it's time to start planning your next adventure with your friends and family. Whether it's your first time visiting, or you've already spent some time on the Southern Outer Banks before, hopefully this guide will give you some new ideas for places to go and things to see. The local coastal cuisine, miles of pristine beaches and endless opportunities for adventure are sure to make your trip to the Crystal Coast one to remember. Plan your trip with Emerald Isle Realty for an unforgettable experience each visit.
Save it for Later