Our name may be "Emerald Isle Realty", but as many of you know, we have vacation rentals and homes for sale in many different areas of the Crystal Coast. In fact, our communities make up a large portion of the 85 miles of coastline on the southernmost part of the Outer Banks. So, if you're interested in visiting, but would like to know a little more about the area, then this guide is for you. Discover what makes each of the Crystal Coast beach communities unique and then explore the best events and things to do in each community.
Atlantic Beach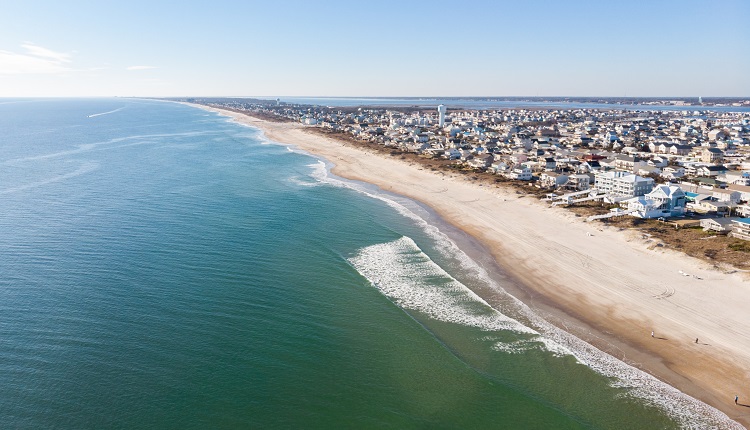 Atlantic Beach is located on the eastern portion of the island of Bogue Banks. As the name suggests, Atlantic Beach is known for its sparkling waters and wide sandy beaches, in addition to its Boardwalk. But it's also an area filled with history and culture. Atlantic Beach is home to Fort Macon State Park, a historic Civil War fort, one of the most visited state parks in North Carolina.
The commercial district of Atlantic Beach is a popular area with its array of shopping and dining options. This coastal beach community also offers plenty of activities such as boating, fishing, surfing and more. The town really comes alive with local events that take place throughout the year such as the Carolina Kite Fest and the Crystal Kai SUP Cup. If this all sounds like your cup of tea, then a stay near Atlantic Beach is in order.
Best Things to Do in Atlantic Beach
Top Events in Atlantic Beach
Beaufort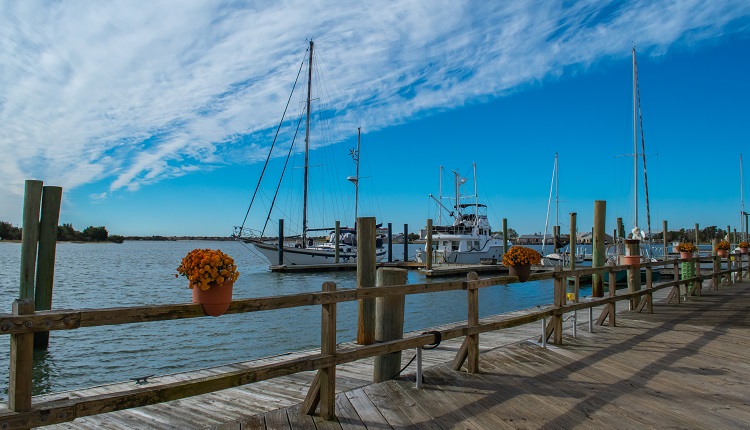 Located about 20 miles from Emerald Isle, the town of Beaufort is one of the most popular towns on the Crystal Coast. It was voted #1 Favorite Small Town in 2014 by Travel + Leisure readers! As the third-oldest town in the state, Beaufort has a rich history. From the famous underwater pirate ship of Blackbeard to the North Carolina Maritime Museum, Beaufort's extensive maritime history dates back more than 300 years.
Located on Taylor's Creek, Beaufort offers visitors fantastic waterfront views and plenty of fun outdoor activities such as kayaking, fishing, standup paddleboarding and boating. For nature lovers, you'll find trails and boardwalks, wild horses, more than 200 species of birds, bottlenose dolphins and sea turtles. Book a vacation rental during the late spring or early summer when the town is hopping with food and music festivals, boat shows and more.
Best Things to Do in Beaufort
Top Events in Beaufort
Emerald Isle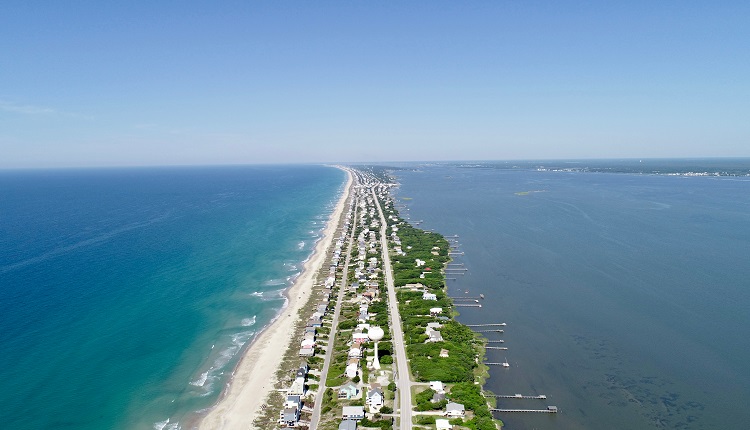 Emerald Isle is a 12-mile stretch of island found on the western portion of Bogue Banks. This laid-back beach community is one of the most popular along North Carolina's southern Outer Banks. Named after the lush maritime forests that surround it, Emerald Isle is home to amazing beaches and an abundance of activities.
Play outdoors with activities ranging from kayaking and paddleboarding to fishing and scuba diving. Go fishing at Bogue Inlet Fishing Pier or simply take in an unforgettable sunset. Spend an afternoon shopping at some of the most adorable specialty boutiques while the guy's head out for a game of golf. And the kids will love visiting the numerous attractions and amusement parks sprinkled throughout the area. The town is especially lively during the busy season, starting with the annual St. Patrick's Day Festival, and the 4th of July Fireworks show is one of the most popular local events in the area.
Emerald Isle offers a relaxing, family atmosphere and one of the largest selections of vacation rental homes on the Crystal Coast. From quaint beach cottages to luxurious sandcastle homes and everything in between, you're sure to find the perfect accommodations to suit your needs and your budget. It's easy to see why visitors return to Emerald Isle year after year!
Best Things to Do in Emerald Isle
Top Events in Emerald Isle
Harker's Island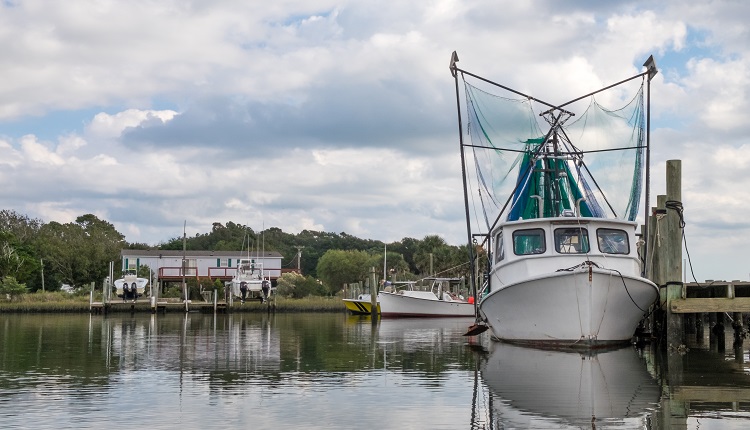 Harker's Island is located just 30 miles away from Emerald Isle. It's located in a marshy region in Carteret County, known as "Down East", totaling only 3.8 square miles, with more than 1/3 of that being water! The town is made for tourists who love adventures.
One of the most popular draws to this region are the Shackleford Banks, part of the Cape Lookout National Seashore, where you can see wild horses, go shelling, fishing, or kayaking. The Cape Lookout Lighthouse was named Best National Park Beach in 2016 by readers of USA Today and 10Best! The Island also offers the Core Sound Waterfowl Museum & Heritage Center where you'll find carvings, waterfowl art, music, storytelling, boat building and more. Make sure you take a day trip to this beautiful community and experience all it has to offer.
Best Things to Do in Harker's Island
Top Events in Harker's Island
Indian Beach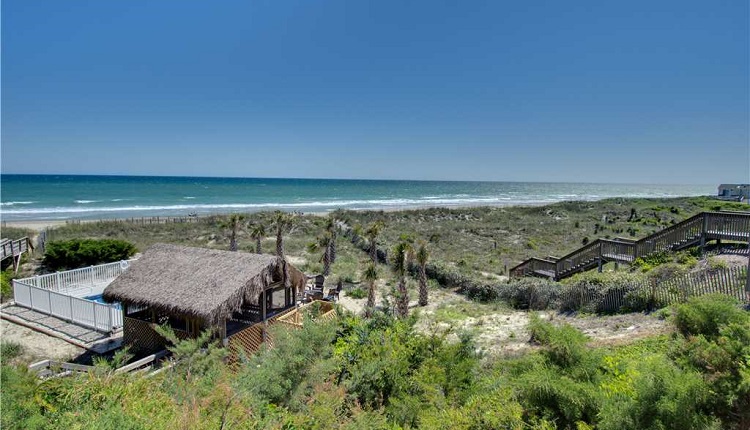 Indian Beach is a small, upscale town that sits in the middle of the island of Bogue Banks near the end of the Crystal Coast. Taking up a total area of 2-square miles, the town was officially established in 1973.  You'll find lush coastal forests and beautiful emerald green waters.
The most popular place to vacation in Indian Beach is the Grande Villas, an 86-unit luxurious beachfront condominium property overlooking a 22-acre nature preserve. Grande Villas can accommodate families big and small. The Indian Beach area is very private and serene, with delicious restaurants and outdoor activities taking place in the nearby towns. Whether it's a condo or a cottage, find your next vacation rental in the lovely town of Indian Beach.
Best Things to Do in Indian Beach
Morehead City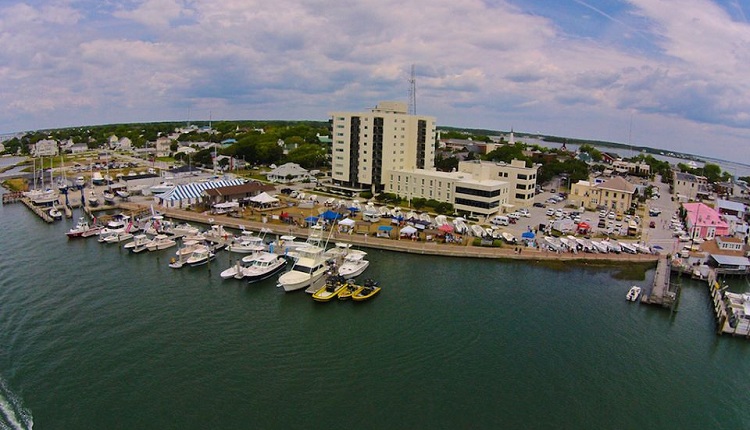 Morehead City is a fisherman's dream, widely known as one of the best fishing spots on the coast. People come from far and wide to attend and participate in the "Super Bowl of Fishing", aka the Big Rock Blue Marlin Tournament, that takes place each October. Year-round, numerous fishing charters offer deep sea fishing trips and ecology tours in the area that are perfect for small to large groups.
Because of all the great fishing in Morehead City, you'll find dining options that can't be beaten. Plus, there's the famous NC Seafood Festival that takes place every fall. The downtown streets are lined with trees and benches, offering the perfect spot to take in the views during an afternoon of shopping along the waterfront. Rent out a great vacation rental available throughout the year or make Morehead City your home with one of our real estate properties for sale!
Best Things to Do in Morehead City
Top Events in Morehead City
Pine Knoll Shores
Pine Knoll Shores is centrally located on the Crystal Coast, offering miles of pristine beaches. You'll find an abundance of homes for rent and for sale, nestled on both the ocean and the sound side. The small coastal town is home to one of the area's most popular attractions, the North Carolina Aquarium. It's home to such creatures as otters, sharks, sea turtles, stingrays and more. Surrounding the aquarium is the untouched reserve known as the Theodore Roosevelt Natural Area, where the whole family can enjoy a hike along this scenic nature trail and explore the area's natural wildlife and beauty.
Pine Knoll Shores is known for its beautiful and luxurious homes, ranging from oceanfront cottages to duplexes and condos. Pine Knoll Shores vacation rentals feature some of the best amenities and their beach location is hard to beat.
Best Things to Do in Pine Knoll Shores
Salter Path
Salter Path is located on Bogue Banks next to Indian Beach, just minutes from Emerald Isle. While staying in one of our vacation rentals in Salter Path, enjoy the beauty and tranquility of the pristine beaches. It's also a perfect area to go surfing, fishing, kayaking and more. And with its proximity to nearby communities, visitors can enjoy all the great shopping and dining options available, in addition to fun family attractions that are located throughout the Crystal Coast area.
Salter Path has a great history and is still known as a fishing village, with its heritage still visible in the single-story cottages that pepper the landscape. During your next visit, be sure and chat with the locals, who still carry the pride of the area and that unique Baroque accent.
Best Things to Do in Salter Path
Swansboro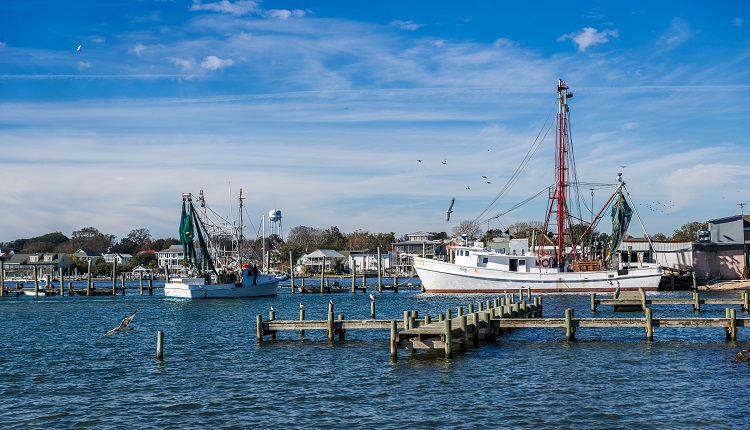 The town known as the "Friendly City by the Sea" is located just 5 miles from Emerald Isle and sits along the Water Oak River and Intracoastal Waterway. Visitors enjoy picturesque shopping, dining, beaches, kayaking, and water views as far as the eye can see. Many tourists flock to the area because of its historic downtown district and antique shops.
The town also hosts several annual festivals and events, offering family fun and entertainment for locals and visitors. Each calendar year ends with Swansboro by Candlelight, the area's kickoff to the holiday season where downtown streets are decorated in whimsical scenes and storefronts adorned with beautiful ribbons and bows. Find your perfect vacation rental and time of year to visit the charming town of Swansboro.
Best Things to Do in Swansboro
Top Events in Swansboro
Now that you've learned a little more about the amazing beach communities that make up North Carolina's Crystal Coast, it's time to start planning your first visit here. If you've already spent some time on the Southern Outer Banks before, hopefully this guide will give you some new ideas for places to go and things to see. Plan your trip with Emerald Isle Realty for an unforgettable experience each visit.