North Carolina's Crystal Coast is known for its breathtaking ocean views, plentiful activities, affordably priced vacation rentals and all-around family fun. While the summer months tend to be the most popular months to visit, the fall season is a great time of year to experience all the beauty and wonder that the Crystal Coast has to offer.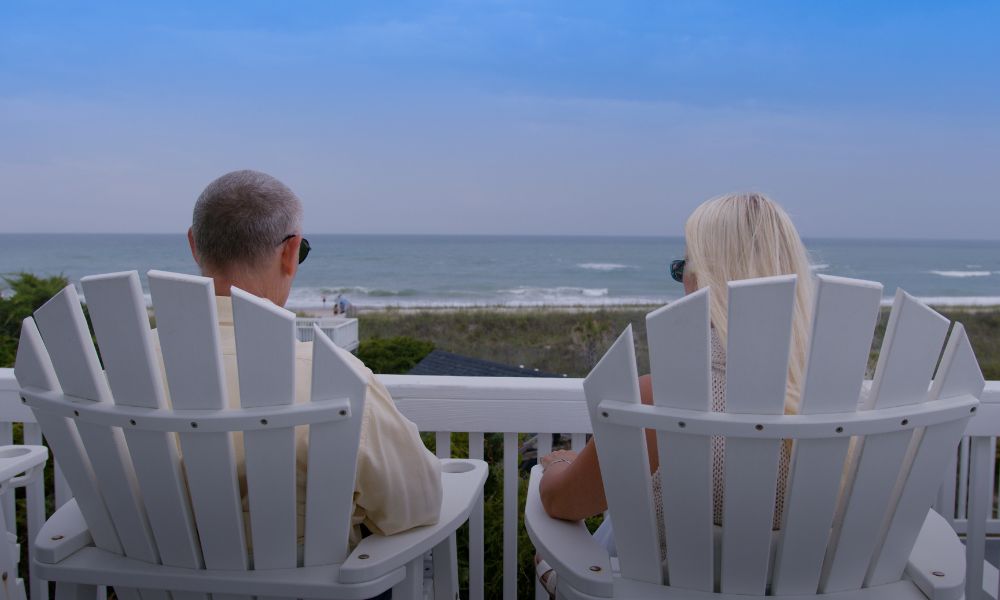 During the fall, the picture-perfect weather still allows for plenty of fun in the sun and the smaller crowds mean plenty of shoreline all to yourself. Whether you're planning a beach vacation and looking for things to do with the kids during fall break or looking for the best place to escape the city for a long weekend getaway for two, use this guide to help plan your fall getaways on North Carolina's Crystal Coast.
Best Crystal Coast fall activities and things to do
From beautiful beaches to remote islands to state and national parks and more, the Crystal Coast is an outdoor and adventure lovers' paradise. Enjoy an abundance of outdoor activities and things to do, both on and off the water.
Use the buttons to quickly navigate to your favorite things to do.
Enjoy the beautiful beaches
Do you know that relaxed, nonchalant feeling you get after coming back from a day on the beach? It's a carefree feeling you only get after basking in the glowing warmth of the sun, digging your toes into the cool sand and watching the crisp white clouds as they float across the blue sky. It's the feeling you can expect after beautiful fall days spent beachside on North Carolina's Crystal Coast.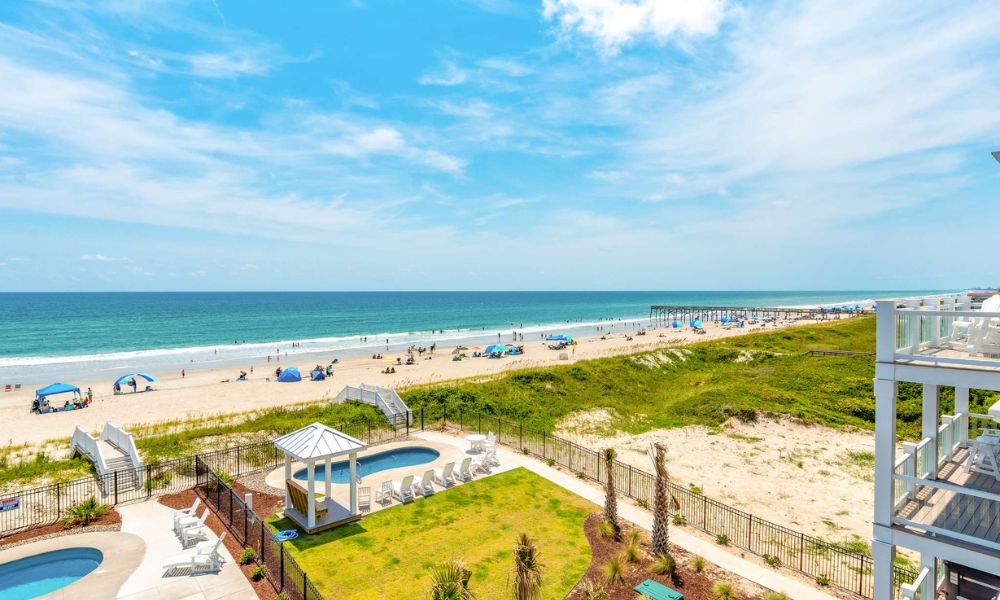 The Crystal Coast features 85 miles of pristine coastline and charming beach communities like Emerald Isle, Atlantic Beach, Morehead City, Beaufort and more. For those that prefer a more laid-back experience and a relaxing respite from the hectic pace of everyday life, the Crystal Coast is just the place to do exactly that.
The slightly cooler weather and uncrowded beaches mean plenty of space to spread out and enjoy all the 'me' time you want. Early in the fall season, the ocean is still warm enough to take a dip in the salty waters or partake in your favorite watersports. Swimming, surfing, kayaking and paddle boarding are just a few of the plentiful beach activities you can enjoy when you make the Crystal Coast your fall destination.
See the most amazing sunrises and sunsets
Sunrises and sunsets are common daily occurrences, but in Emerald Isle they are spectacular masterpieces with a vast array of colors that stretch across the sky for miles. While most East Coast beaches typically face East towards the Atlantic, Crystal Coast beaches actually face South. This unique positioning makes it the ideal location to see both incredible sunrises and sunsets.
Grab a warm cup of coffee and take advantage of the crisp beautiful mornings that come with the season. Feel the cool ocean breeze on your face, see the vast array of colors painted by the sun and embrace the true beauty that visits us daily. It's worth it to get up a little early!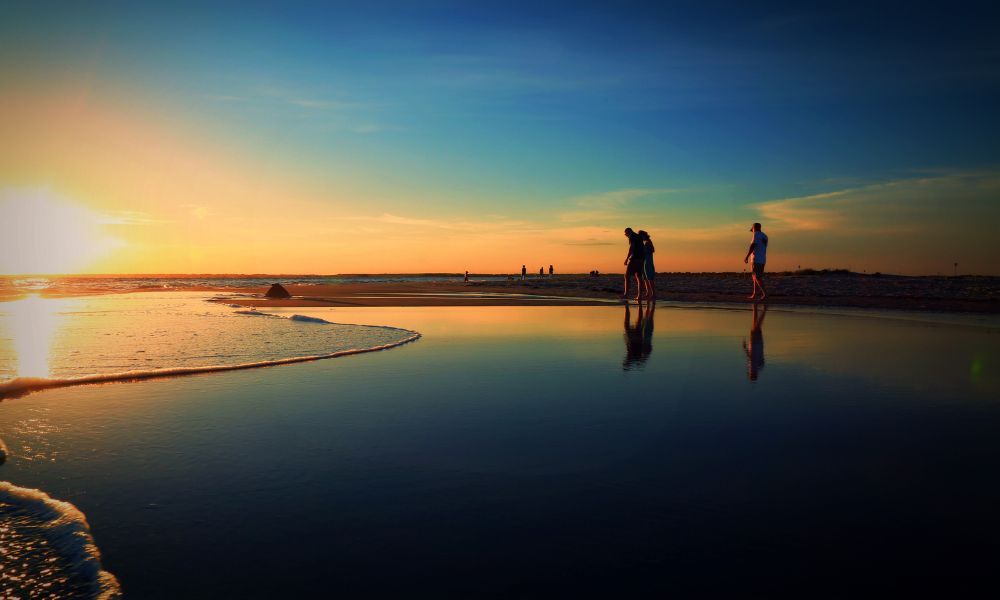 While sunrises along the coast are beautiful, golden hour along North Carolina's Crystal Coast is truly a sight to behold. The colors of the sunsets range from muted hues of purple to vibrant hues of orange, red and pink as they reflect off the calm waters of the Atlantic. These amazing natural wonders offer the perfect way to end a fun-filled day. Discover the places to see amazing sunsets on the Crystal Coast.
Go on a fall fishing adventure
Slightly cooler water temperatures bring better fishing to the coast, turning Emerald Isle and its surrounding beach communities into hotspots for anglers of all types. Whether you prefer inshore or offshore fishing, surf or pier fishing, you'll find it all on the Crystal Coast.
For a real fishing adventure, numerous fishing charters and headboats can be found along the coast that offer everything from deep sea bottom fishing for snapper, triggerfish and grouper to sport fishing trips for blue marlin, sailfish, yellowfin tuna, wahoo, king mackerel and more. During the fall, inshore fishing heats up as cold fronts begin to blow in and migratory patterns bring many more types of fish into the area. Some of the most sought-after catches include red drum, flounder, Spanish mackerel, speckled and gray trout, among others.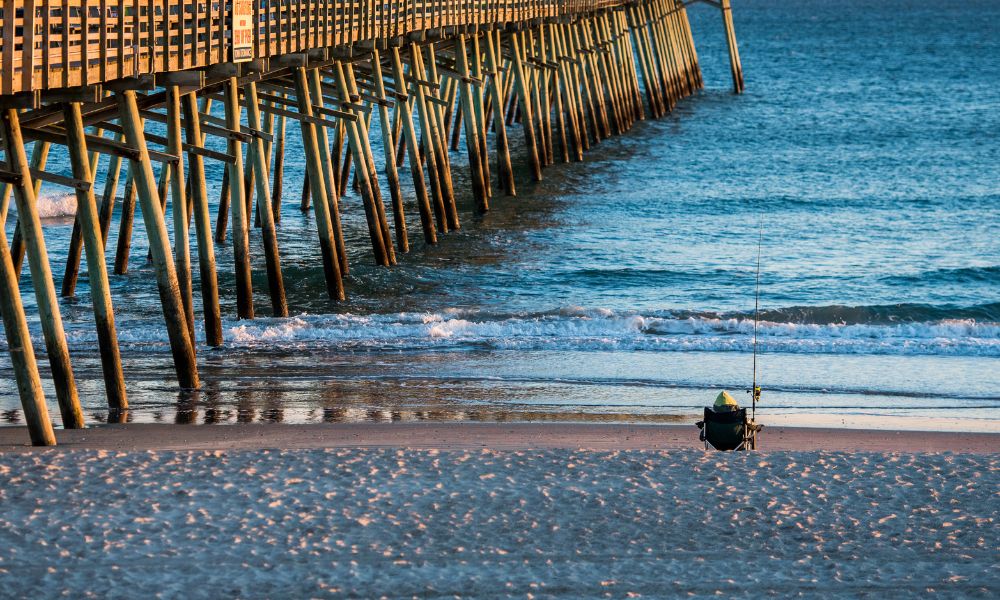 Surf and pier fishing are also exceptional along the coast, offering anglers of all skill levels a chance to reel in record-setting catches. One of the most popular fishing spots in Emerald Isle is Bogue Inlet Pier, where you have the chance to catch anything from wahoo and king mackerel to speckled trout and red drum. The pier is not only a great place to fish, but also the perfect spot for a relaxing evening stroll to enjoy the amazing views of the Atlantic Ocean from the observation deck.
Go shelling to find the perfect keepsakes
Shelling and beachcombing are some of the most popular fall activities for beachgoers. With fewer people during the fall and off-season months, you'll have more opportunities for discovering great finds along the beaches.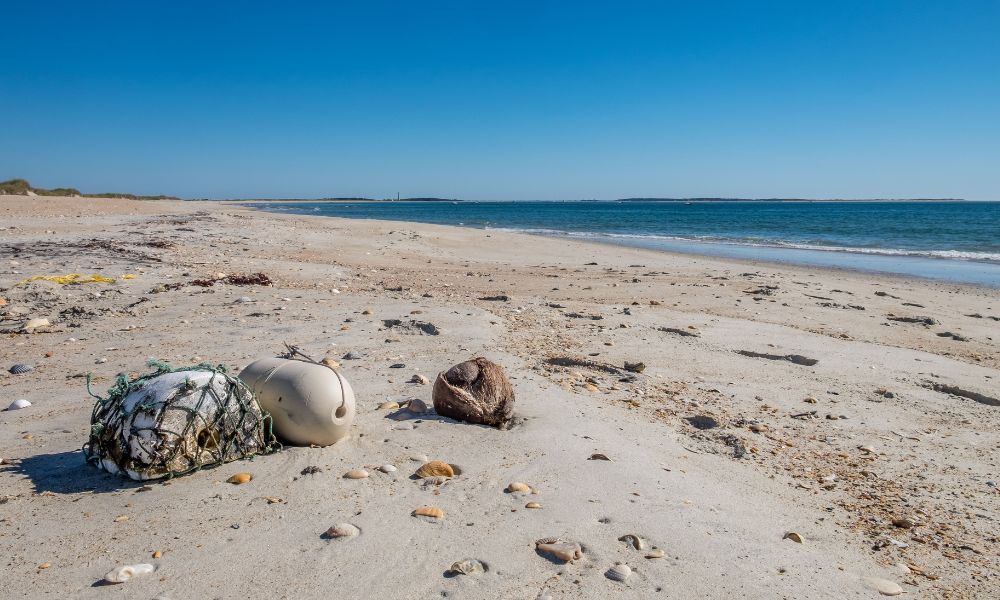 Take a free ferry ride from Hatteras to Ocracoke Island, the shining star of Outer Banks shelling. Located at the southernmost end of the Outer Banks, the shells and the wild beauty of Ocracoke Island make it well worth the trip. With 16 miles of shore to comb through, you're sure to find the perfect seashell. Another hotspot for shelling is Cape Lookout National Seashore, where you can find an abundance of Scotch bonnets, the state shell of North Carolina, especially after a big storm.
Check out even more of the most popular shelling beaches along North Carolina's Southern Outer Banks to find the perfect keepsakes during your next vacation. From the more common shells including whelks, moon snails, olive shells and scallops to the more elusive scotch bonnets, you'll find an amazing variety of seashells washing up on North Carolina beaches. If you are lucky, you might even uncover a shark's tooth or some smooth sea glass.
Enjoy the natural beauty at area parks
Another way to observe the beautiful fall scenery on the Crystal Coast is to take a road trip to a few of the scenic areas around the island. The state parks in the area are gorgeous during this time with most of the vegetation maintaining its lush foliage and wildlife becoming a bit more active as they prepare for cooler months.
For natural beauty with a historical backdrop, take a guided tour of the restored fort at Fort Macon State Park and see bunks, cannons and other historical artifacts. The park also features more than a mile and a half of preserved shoreline that is perfect for swimming, surf fishing and beachcombing.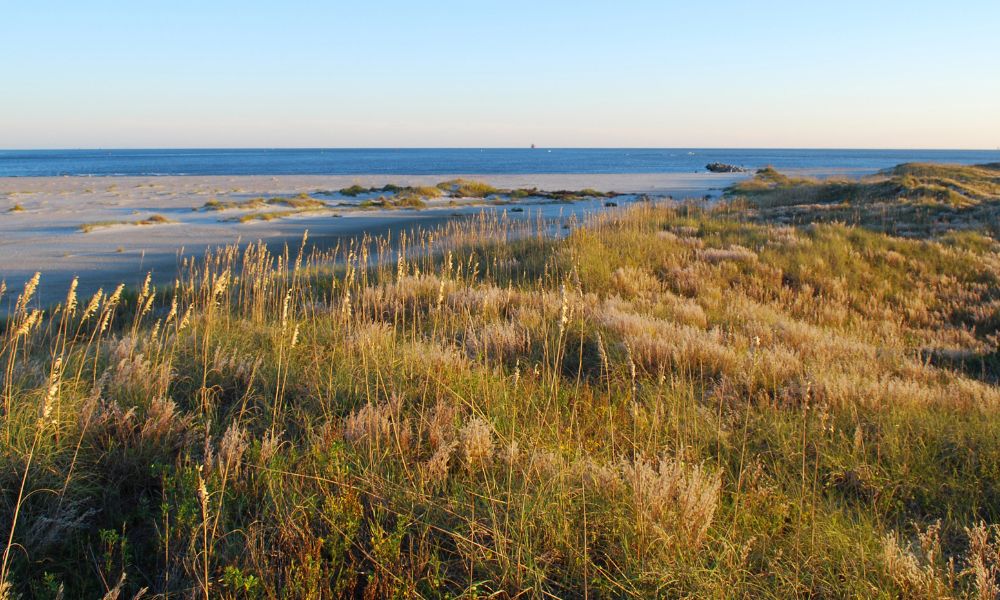 Hammocks Beach State Park is another great option to visit if you're looking for natural beauty. The park offers miles of pristine barrier island beaches and maritime forests and was listed among the Best Beaches in North Carolina by Travel+Leisure in 2022. The island is only accessible by ferry, private boat or by paddling a kayak. Kayaks, canoes and paddle boards are available to rent at the park for exploring the paddling trails that lead to marshes, Bear Island or the maritime forest at Bear Island.
Take a ferry to see the lighthouse and wild horses
Cape Lookout National Seashore stretches 56 miles from the Ocracoke Inlet to the Beaufort Inlet and is lush with green marshes and clean white sand. Located on the seashore is the Cape Lookout Lighthouse, which stands almost 12 stories high and was once a beacon for ships looking to make port along the Crystal Coast.
The lighthouse is currently closed until summer of 2023 for renovations, but the Cape Lookout National Seashore is still open for visitors. The area is perfect for a day of hiking along the seashore, fishing or shelling. Pack a lunch and find a spot to have a picnic.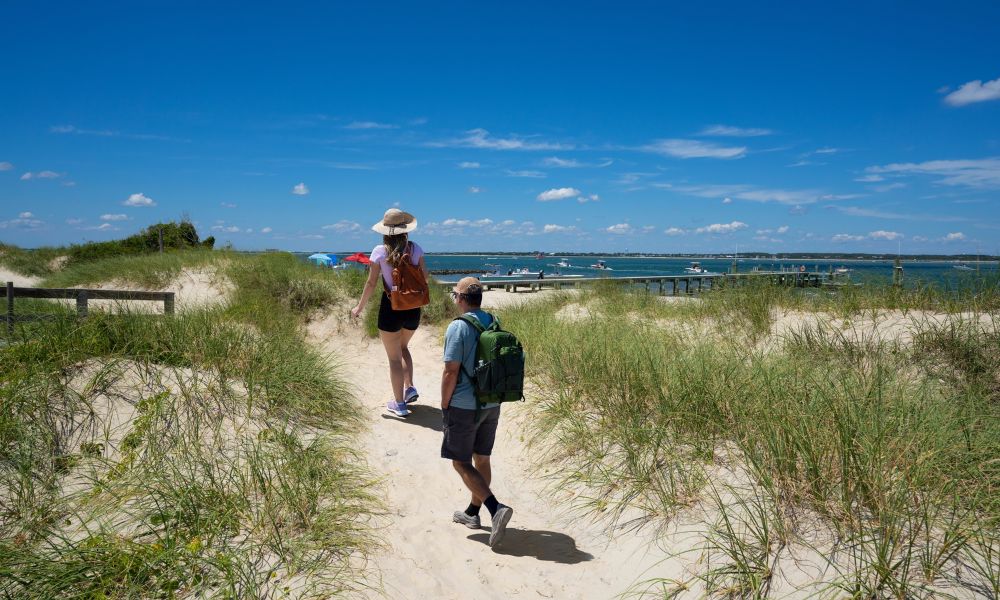 One of the highlights of Cape Lookout National Seashore are the barrier islands of Shackleford Banks. Here you'll not only find the famous wild horses, but you'll also find some pristine unspoiled beaches that are mostly empty and have panoramic views of the Atlantic. For hundreds of years, the wild horses have roamed free on Shackleford Banks. Go for a stroll along the beach or head through the dunes on paths made by the wild horses.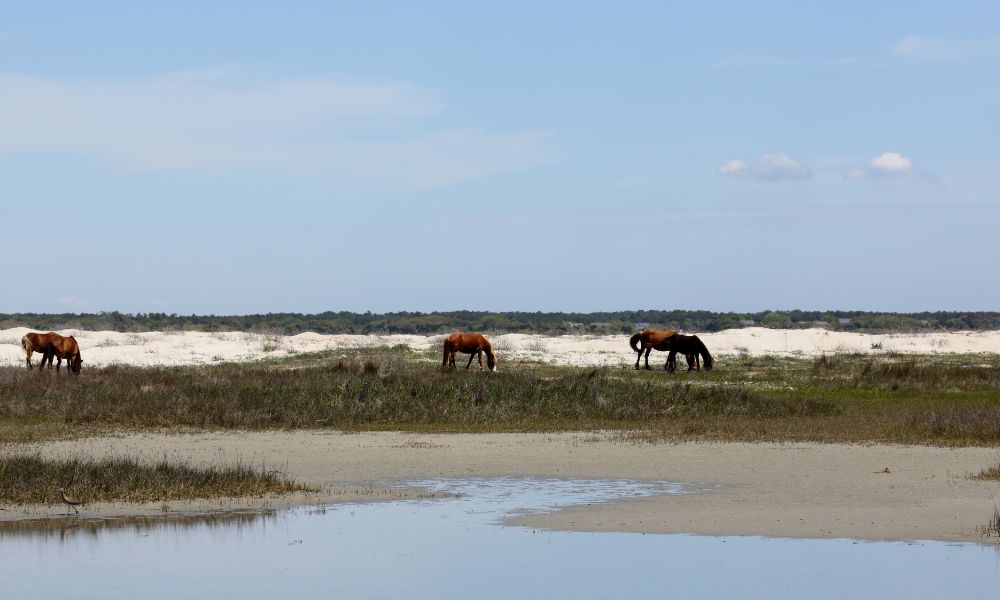 The national seashore and barrier islands are only accessible by boat or ferry. Passenger ferries operate seasonally April through November. Just make sure to book reservations in advance.
Discover the best spots for birdwatching
Emerald Isle Woods Park is one of the most popular parks in the area, offering beautiful views of Bogue Sound and the Cameron Langston Bridge. The trails are nice and worn with color-coded arrows on the trees to keep you on the correct route. With the trail being part of the NC Birding Trail, it's a great spot for birdwatching. You may encounter egrets, woodpeckers, black-crowned night herons and more bird species as they make their yearly migrations through the area. Plus, you might spot some white-tailed deer and gray squirrels, so be sure to bring a camera to capture the wildlife.
Explore area biking and hiking trails
The Crystal Coast is a treasure trove of outdoor adventures during the fall season. No matter your skill level, you'll find an abundance of hiking and biking trails that you and your family can enjoy together on your getaway.
The Emerald Isle Bike Path is a multi-use path in Emerald Isle used for walking, jogging and biking. The 11-mile trail runs from Indian Beach all the way to The Point at Bogue Inlet in Emerald Isle. The path not only offers a great way to get outdoors for some exercise, but it is also a great way to get around town and get familiar with the area.
The Theodore Roosevelt Nature Trail is set in maritime forest with trails that wind along the top of a high dune ridge and alongside interior and soundside marshes. Birds, insects, lizards, turtles, snakes and occasional mammals can be found along the trail.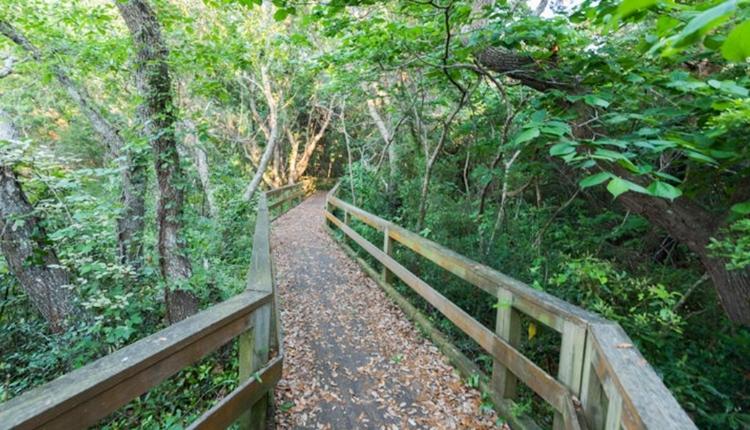 The Hoop Pole Creek Nature Trail is an area favorite for nature walks, so bringing a camera is a must! This trail runs through a maritime forest and ends along the estuarine shoreline. Since it is flat, mostly paved and less than a mile loop it is an easy walk. Along the way be sure to check out the shallow waters and catch a glimpse of the crabs and other critters. At the end of the trail there are usually shore birds and cranes by the bay. You might even see deer, red fox and raccoons.
You can bring your own bicycle or stop by one of the area's many outfitters that offer bike rentals. For an even more unique biking experience on the Southern Outer Banks, try one of the food or wine-focused biking tours offered by Hungry Town Tours in nearby Beaufort. These guided tours offer a great way to get outside, do a little sightseeing and sample some of the incredible fresh local fare.
Plan a Crystal Coast boat cruise or ecotour
For the ultimate experience during your off-season excursion, plan a Crystal Coast boat cruise or eco-tour to see everything from barrier islands to marshes. Experience the treasures of the Crystal Coast through shelling, clamming, crabbing, snorkeling or dolphin watching.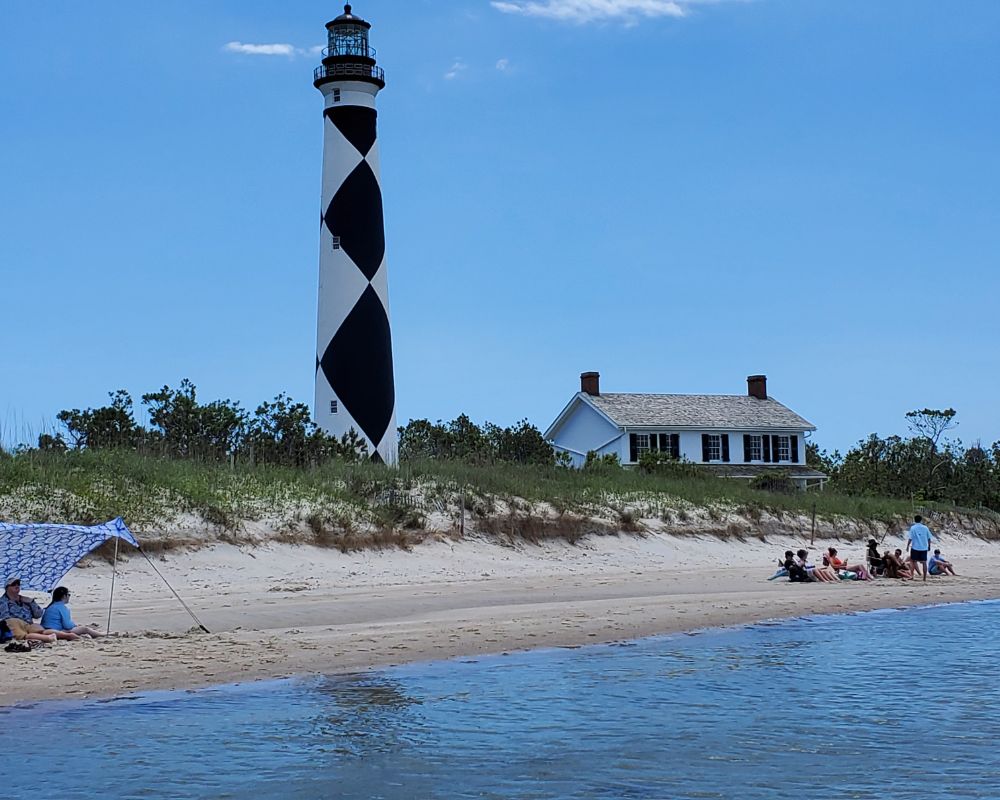 The most popular wildlife in the area to spot are the wild horses of Shackleford Banks. The horses have roamed the barrier islands for many years, and because they are only accessible by boat, a boat tour is a perfect opportunity to get a glimpse of these hidden gems.
Crystal Coast Ecotours and H2O Captain offer customized two-hour, half-day and full-day tours. The shorter boat tours are a great way to see the natural beauty of the coast, as well as some of the area's most historic landmarks or even one of the coast's infamous sunsets. The longer trips allow you to not only see but get close and interact with nature and its marine inhabitants. Your trip is planned with a consultant and includes up to six guests, so everyone in the family can pick the activities that they would like to try, making it a memorable experience for all.
Tee off at area golf courses
The weather on the Crystal Coast doesn't get much better than in the fall. The cooler, sunny days offer the perfect weather for playing a few rounds of golf. The golfers in the family have their choice of no less than eight golf courses throughout the Crystal Coast, each of which provides club rentals to guests and offers a variety of tees for all skill levels.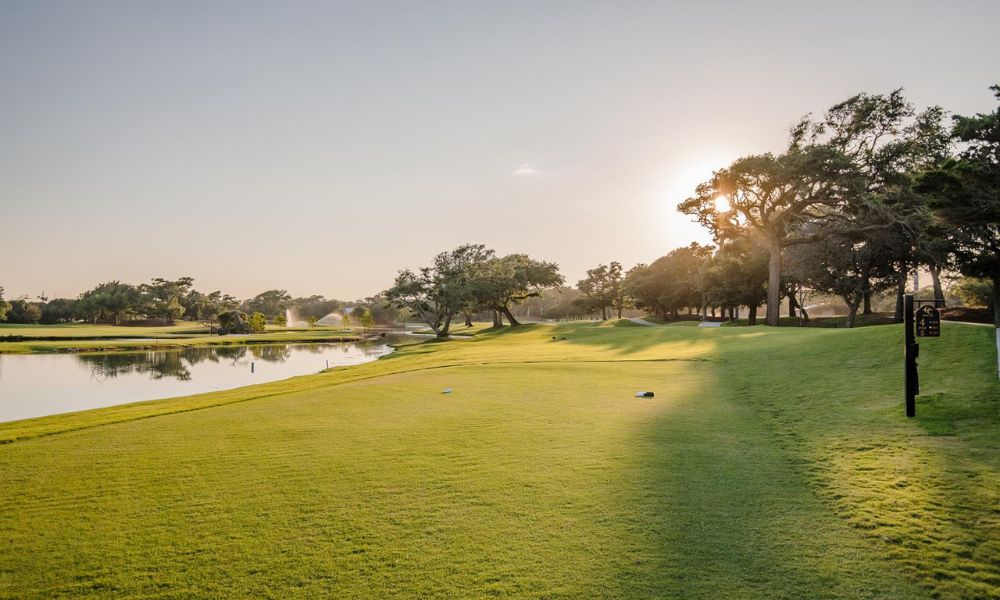 Crystal Coast Country Club, a semi-private country club nestled in maritime forest in Pine Knoll Shores, features a newly renovated championship golf course. The par-71 course runs alongside Bogue Sound and offers spectacular views, along with plentiful amenities that are sure to please golfers of all skill levels.
Another golf course that is popular with vacationers is the North Shore Country Club, located along the Intracoastal Waterway near Topsail Island. The par-72 course was ranked as one of Golf Digest's "Best Places to Play." In addition to playing golf, the club has a swimming pool and tennis courts, so you can bring the whole family along.
Visit historic sites and cultural attractions
North Carolina's Crystal Coast is filled with beautiful art galleries, historic sites and museums that share the story of the area's past. Vacationers can spend a few hours or several days taking in the many cultural attractions found in Emerald Isle and the surrounding beach communities.
The North Carolina Maritime Museum in Beaufort features exhibits, sailing classes, boat building and programs on the maritime history, culture and environment of coastal North Carolina. The Core Sound Waterfowl Museum & Heritage Center in Harkers Island preserves the heritage of the Down East section of Carteret County. Observe decoy carving demonstrations, quilting bees, art and photography exhibitions and more.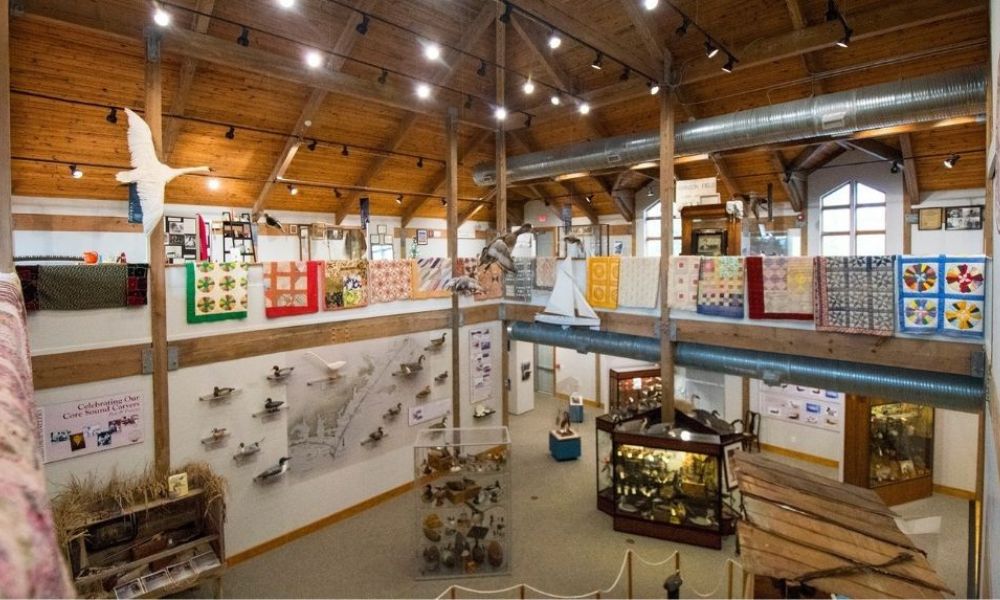 Beaufort Historic Site is filled with authentically restored homes and buildings, the Old Burying Ground and Beaufort's charming historic district. Go on a guided tour and hear the stories of what the former fishing village was like long ago. Or hop aboard the 'new' 1967 English double-decker bus for a lively narrated tour of Beaufort's historic sites. Make sure to stop in at the Mattie King Davis Gallery, located in the historic Rustell House in Beaufort Historic Site, the oldest art gallery in Carteret County.
Must-see fall events on the Crystal Coast
Fall festivals and events abound on the Crystal Coast, allowing vacationers to immerse themselves in the culture of the Crystal Coast.
Get a taste of the coast's savory local fare at food festivals. The North Carolina Seafood Festival takes place on the Morehead City waterfront and is one of the most popular annual events on the coast. Foodies will delight with a chance to sample just about every type of seafood imaginable or watch chef demonstrations to learn how to prepare some of the amazing dishes. Bring the whole family and enjoy amusement rides, concerts, a boat show and more.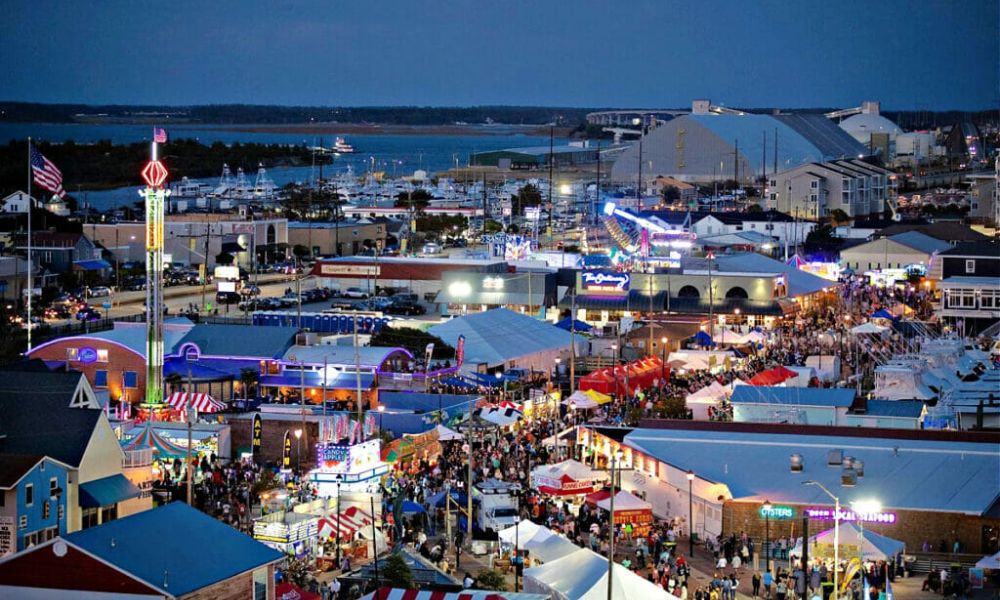 The Beaufort Pirate Invasion is another fall festival that offers entertainment for the whole family with sword fighting, living history displays and demonstrations, a costume contest and more. From fall fishing tournaments to beach music festivals to marathons that give back to the community and local charities, North Carolina's Crystal Coast offers endless opportunities to enjoy top-notch entertainment throughout the season.
Where to eat on your Crystal Coast fall getaway
Aside from the beautiful beaches and laid-back atmosphere, Emerald Isle is also known for its culinary expertise! The changing of the seasons from summer to fall brings with it new flavors and dishes that will enhance your North Carolina dining experience. There are plenty of local eateries specializing in all types of food from seafood (direct from the source!), Italian, world-famous North Carolina style barbecue, desserts and more!eediningd
When living oceanside, indulging on fresh local catches and other delicacies is a must. Many of the restaurants in Emerald Isle serve local seafood direct from Carteret County fishermen. Just look for the Carteret Catch brand when dining. Additionally, oyster season takes place from October to March, so the mid-fall and winter months are a great time of year for our oyster lovers to visit Crystal Coast area restaurants.
Restaurants with the best water views
For a truly memorable dining experience, try one of our Crystal Coast restaurants with the best water views. Enjoy a fine dining experience at Caribsea in Emerald Isle, featuring sustainable local seafood like fresh-baked oysters, shrimp scampi or a juicy ribeye. The restaurant's rooftop bar is a great place to sip a specialty cocktail while taking in a beautiful sunset. Front Street Grill is situated on Taylors Creek in Beaufort. In addition to a menu inspired by traditional Carolina cooking and Caribbean soul, the restaurant and waterfront bar offer incredible views of Beaufort Inlet, Carrot Island and those beautiful coastal sunsets the area is so well known for.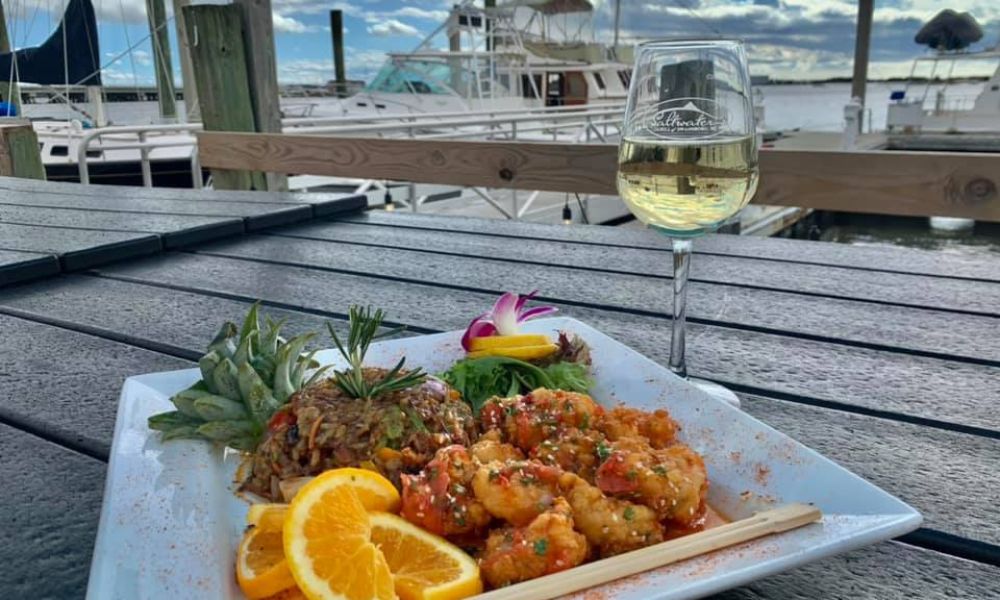 Great food, drinks and games at local breweries
The craft beer community along the coast continues to grow rapidly, allowing beer lovers to sample a variety of sudsy creations. The area's local breweries are a great spot for couples or families to enjoy great food and drinks. Many of the breweries also feature game areas with shuffleboard, corn hole and even axe throwing.
Like many local restaurant menus, breweries also serve up some creative fall-flavored libations. During this time, The Growler Bar in Emerald Isle features seasonal craft beers like Nosferatu and Oktoberfest. Wine bars in the area are also serving up various local wines that pair nicely with the changing seasonal flavors!
Where to stay for your Crystal Coast fall getaway
The fall season is an incredible time to experience the many adventures of the Crystal Coast without the hustle and bustle of the summer season. The cooler weather and uncrowded beaches allow for quiet days basking in the glowing warmth of the sun, listening to the waves crashing onto the shore and feeling those cool coastal breezes.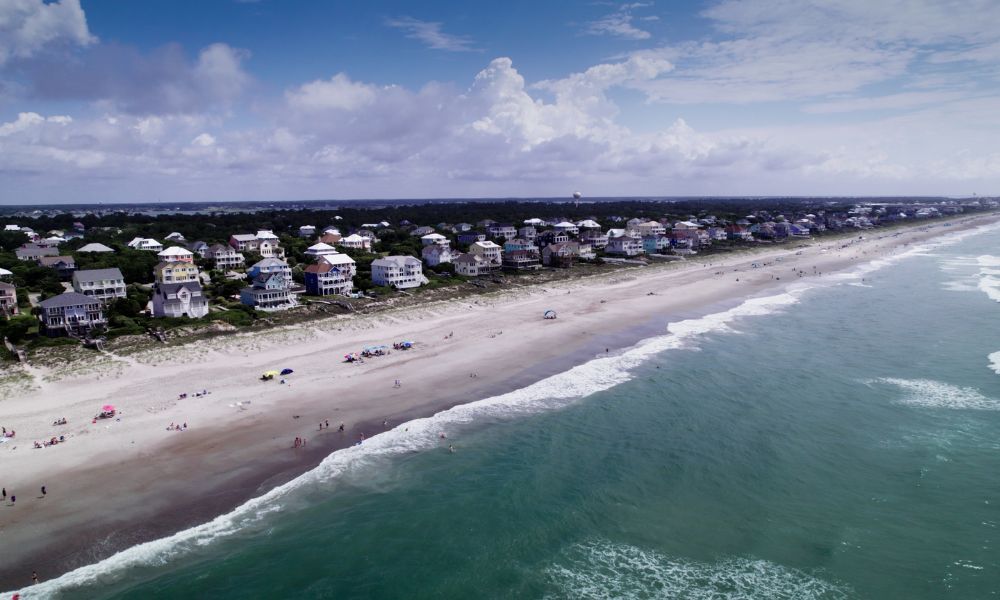 Emerald Isle Realty offers hundreds of vacation rentals with amenities that make it feel like home for an experience you will cherish for years to come. Use our guide to find the perfect Crystal Coast vacation rental for your fall getaway.
Discounted rates on off-season rentals
Emerald Isle Realty offers great specials on off-season rentals. For those that may not have time to plan or that are just in dire need of a quick weekend getaway, we have a great selection of nightly off-season rentals available.
If you are looking to extend your vacation, we've got winter monthly rentals at greatly discounted rates. Or change things up a bit by planning to work remotely from a vacation home and enjoy all the great amenities that our rentals have to offer. The rates may be low, but you can set your expectations high!
Get ready to dip your feet in the water, feel the ocean air at your back and feast your eyes on the shoreline for your next Emerald Isle vacation.
At Emerald Isle Realty, we love helping families plan and enjoy vacations that they will never forget. Contact our office today at (855) 893-1962 to learn more about renting one of our many properties for your fall getaway to the Crystal Coast.
Save it for Later