Emerald Isle is not only a wonderful destination for family reunions and friend vacations but also the perfect place for a relaxing couple's weekend getaway in North Carolina. Whether you're planning an anniversary celebration or simply looking to escape the hustle and bustle of the city, the Crystal Coast offers the perfect beachside escape any time of year.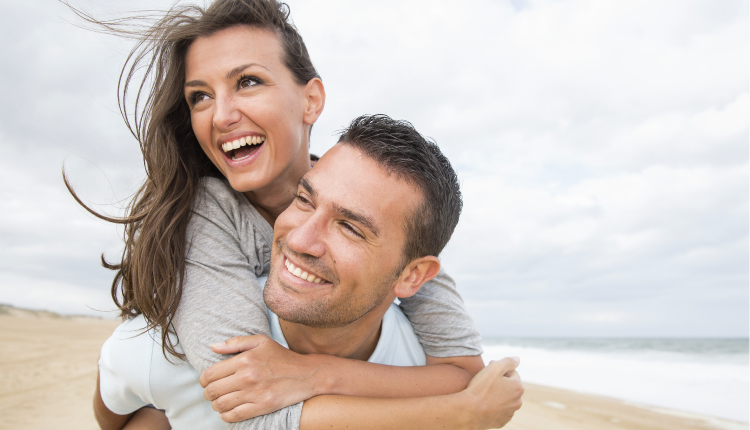 North Carolina's Crystal Coast, also known as the southern Outer Banks, offers miles of pristine beaches and quaint coastal communities with plenty of outdoor adventures and opportunities for romance that will create lasting memories. And getting to this coastal paradise is a breeze. Emerald Isle is only a three-hour drive from Raleigh and a five-hour drive from Charlotte.
Soak up the sun on the beautiful beaches in Emerald Isle
The crown jewel of the Crystal Coast would arguably be Emerald Isle. Its beautiful sandy beaches and emerald, green waters have made it a popular vacation destination for families for years, but it also serves as a magnificent backdrop for couples looking to enjoy a romantic weekend getaway without going far.
Emerald Isle, although a small beach town, is packed full of amenities and an array of vacation rentals and condominium complexes that give the town part of its charm. Couples will feel right at home in this seaside paradise offering miles of waterfront views in nearly every direction. The beaches are generally uncrowded, especially during the off-season months, so you'll have plenty of time to just soak up the sun and listen to the sounds of the waves as they roll onto shore.
Wake up each morning and enjoy your morning cup of coffee together as the sun rises over the calm ocean waters. Then grab your beach gear and pack a picnic lunch to enjoy on Emerald Isle's pristine beaches. The Village Market is a great place to grab a variety of tasty menu items, perfect for enjoying while beachside. If you're staying in one of Emerald Isle Realty's oceanfront vacation homes, you're only steps away from the emerald, green waters. There are also several public beach access areas available throughout the area, making it easy for visitors to spend as much time as possible enjoying the beautiful coastline.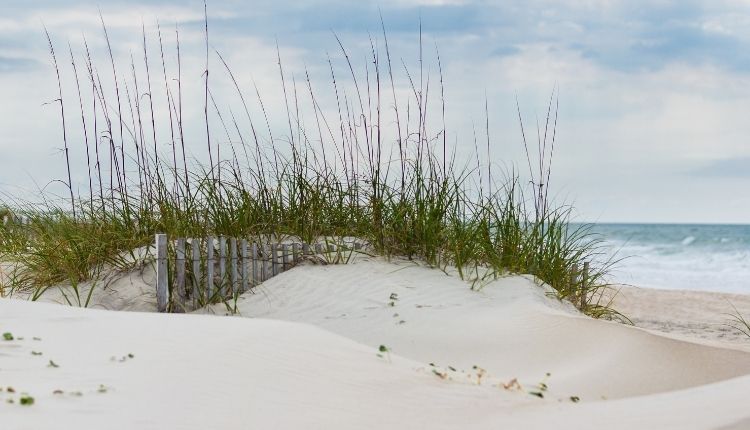 You'll find an abundance of relaxing activities to enjoy as a couple. The area is one of the best spots along North Carolina's coast for shelling and beachcombing. Go for a leisurely stroll along the beach and you're sure to find a variety of beautiful seashells to pick up along the way. Biking is another popular pastime with a number of area trails that meander through maritime forest and miles of beautiful coastline to explore.
There is nothing quite like watching a North Carolina sunset, and Emerald Isle is perfectly situated for taking in this amazing sight. The Point, Emerald Isle's western-most beach, is an iconic spot that is popular with vacationers and locals alike. The skies begin to glow with blazing colors of orange, yellow and red as the sun begins to set over the unobstructed view of the water. Enjoy a perfect evening in the sand with your special someone!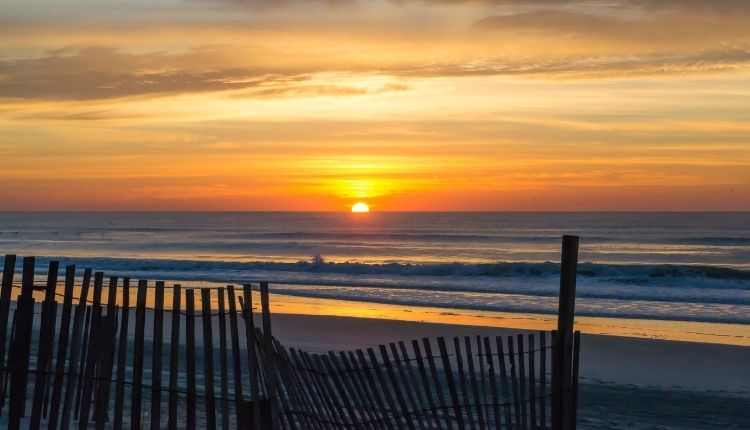 And when you're ready to grab a bite to eat, head into town and visit one of the many restaurants serving delicious coastal cuisines and signature cocktails that are sure to please. Choose from restaurants such as Caribsea, Flipperz Family Bar & Grill, Gaffer's and Snapperz for fresh local seafood, mouthwatering steaks and everything in between. If you're looking for a nightcap, there's nothing more romantic than strolling side-by-side along the gorgeous sandy beaches under the moonlight with the one you love!
Emerald Isle offers visitors an exciting lineup of annual events throughout the year. The St. Patrick's Day Festival features amusement rides, arts and crafts vendors, a variety of food, a beer garden and more. During the summer, a 4th of July Fireworks celebration takes place. There are also music festivals and an array of holiday celebrations.
Go for a stroll down the boardwalk in Atlantic Beach
Beach towns have a certain charm that you won't find just anywhere. Throw in some North Carolina southern hospitality, and you get a community like Atlantic Beach. This town may be small, but its appeal is rooted in its friendly locals, the abundance of public beaches and nearly pristine coastal environment. Visitors will find that Atlantic Beach is filled with plenty of things to do both on and off the sand.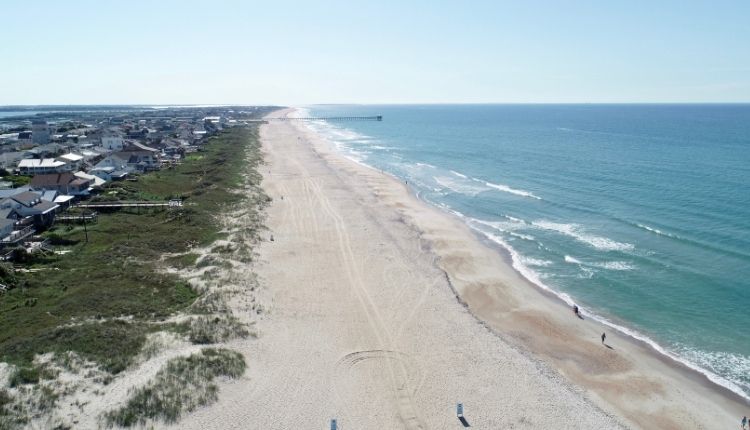 When visiting, a must-see spot is the Atlantic Beach boardwalk, located at The Circle, one of the town's most popular public beach access points. The boardwalk is great for an intimate stroll any time of day with its stunning views of the water.
There are also some fantastic eateries located in Atlantic Beach and nothing works up an appetite like some retail therapy! From gourmet foods and wines to handcrafted jewelry and boutique-exclusive fashions, the local shops and restaurants have something for everyone! Amos Mosquitos is a popular restaurant in Atlantic Beach that boasts incredible views of Bogue Sound and a full menu of delicious items made with the freshest, local ingredients.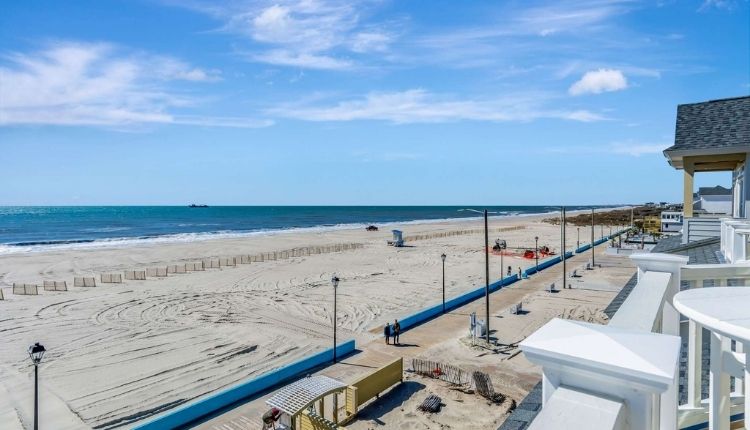 You'll find several fun events taking place in Atlantic Beach throughout the year. Kick off the year with a splash at the annual Penguin Plunge where hundreds of people bound into the icy Atlantic Ocean to raise money for local charities. Or sway to the sounds of live music while soaking up the sun and taking in the amazing ocean views at the Atlantic Beach Music Festival that takes place in early summer.
Tour your way through historic Beaufort
Beaufort, North Carolina is a great place to spend some time during your couple's weekend getaway. Like the other small towns that lie in and around North Carolina's Crystal Coast, it's charming and beautiful. Beaufort's rich maritime history, friendly locals and yearly calendar of events make it a popular destination for couples and families alike.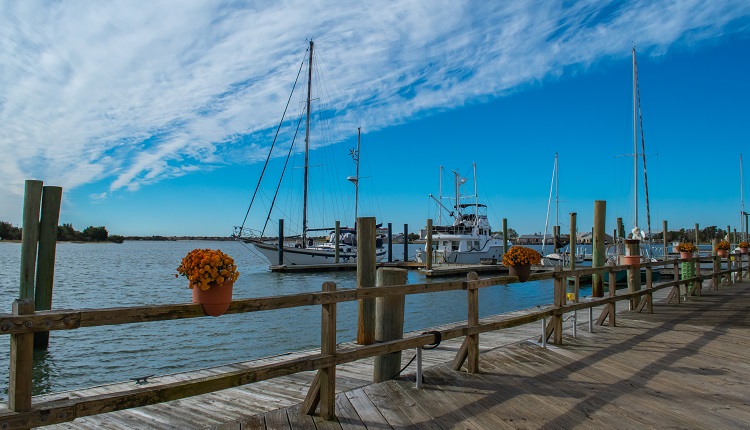 Nearly surrounded by water, Beaufort started as a small fishing village and port town and remains a popular spot for mariners and water lovers. The bustling waterfront is filled with things to do and places to explore including historic sites, great eateries and a collection of charming shops and galleries.
Discover a variety of tours that make it easy for couples to get out and explore the local history or find the best spots to take in the magnificent waterfront views. For those preferring a leisurely stroll at their own pace, start your exploration on Front Street, which borders Taylor's Creek, and then make your way through the twelve blocks that make up the downtown area.
The Beaufort Historic District, located within the heart of Downtown Beaufort, comprises numerous buildings that are listed on the National Register of Historic Places. The architectural style of many historic homes and buildings dates back to the 18th and 19th centuries with features such as gable roofs, front porches and chimneys. From the Victorian Josiah Bell House to the Federal-style John C. Manson House and more, each building depicts a different period of life in historic Beaufort.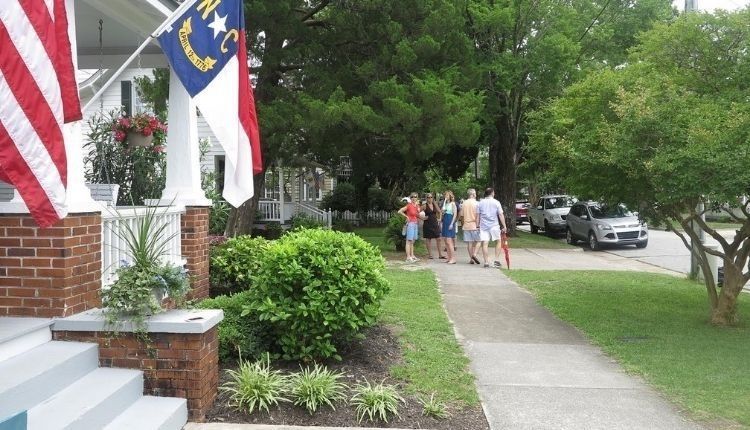 Beaufort Historic Site offers a guided Historic Buildings Tour that is given by experienced docents in period dress. Hear the tales of Beaufort's storied past of pirates, star-crossed lovers and Confederate spies. Climb aboard the double-decker bus to see Beaufort's historic district on the Double-Decker Bus Tour. Or hear even more fascinating stories about Beaufort's 300-year-old history on the Old Burying Ground Tour. Lying beneath majestic live oak trees, the Old Burying Ground is one of the oldest cemeteries in the state. Here, you'll discover hundreds of gravesites from the Civil War era and dating back before 1900.
Pedal or walk your way through Beaufort's historic district and waterfront on a history or culinary tour with Hungry Town Tours. A great way to discover the best local culinary treasures in Beaufort is on the culinary walking or bike tour. Whether you prefer to pedal or walk through the historic streets, you'll have the opportunity to stop in at some of Beaufort's best restaurants and sample some of the most delicious flavors on the Crystal Coast.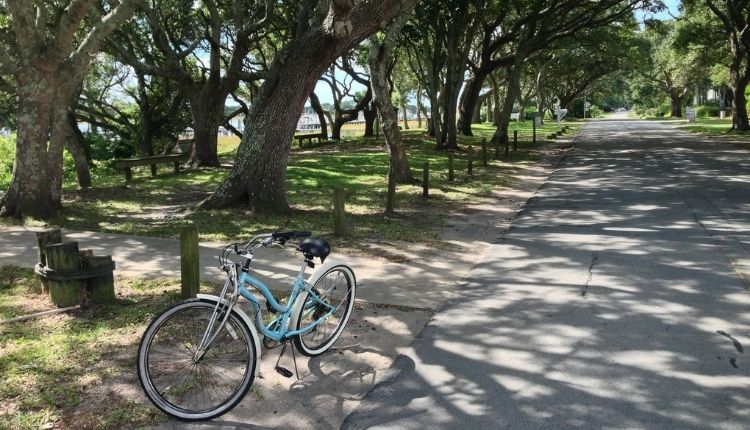 Mix in a little romance with the 'Ride to Remember' bike tour. Visitors can see the places that inspired the settings for two novels by Nicholas Spark, New York Times best-selling romance author. Hungry Town Tours also offers a Bike, Brunch and Bubbles tour on Sundays that starts off with a walking or bike tour of Beaufort's historic district and waterfront. The tour concludes with a delicious Sunday brunch at Beaufort Grocery Company, one of the region's most renowned restaurants.
Just south of Beaufort, across Taylor's Creek, is the Rachel Carson Reserve. The area is an estuary where the river and saltwater combine to create a unique and diverse ecosystem. Numerous tours and cruises are available in the area to take you across the creek to spend some time exploring the miles of marshes and open waters where a diverse set of wildlife flourish. The scenic trails at the reserve are great for hiking and bird watching, and some of the boardwalks go through the reserves, offering a more immersive experience. You can also get an up-close look at North Carolina's wild Banker horses that have roamed the barrier islands for decades.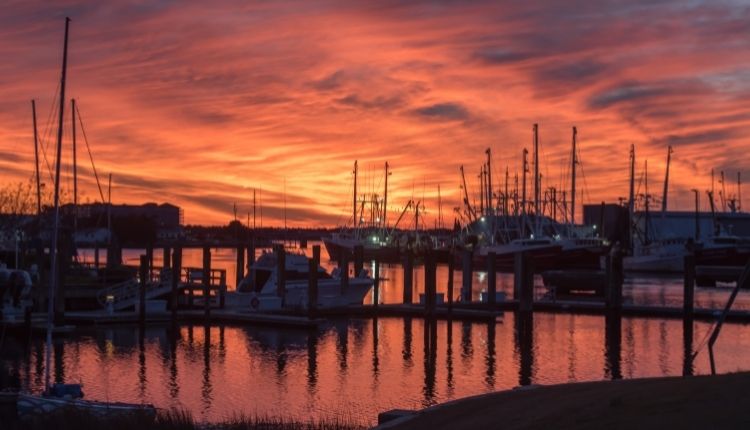 Miss Crystal Coast Lady Cruises and H2O Captain both offer scenic boat tours and excursions where you'll be delighted with some of the most magnificent views found anywhere on the coast. End your day in the most romantic way possible with a moonlit cruise along the serene waters of Beaufort. Sail under the stars with your loved one while enjoying music and spectacular lights.
Beaufort is also home to many festivals throughout the year that feature everything from music and art to food and wine. One of the more popular events is the Beaufort Homes & Gardens Tour where visitors can get a peek inside private historical homes, buildings on the Beaufort Historic Site and more on guided group walking tours. Celebrate the holidays with your special someone on the Beaufort Christmas Candlelight Tour.
The Beaufort Wine and Food Festival takes place in April and offers an incredible fine dining experience. Enjoy a romantic date night sampling some of the best chef-prepared dishes the Crystal Coast has to offer, in addition to wine pairings, live music and other fun entertainment.
Spend an afternoon enjoying the Swansboro waterfront
Known as the "Friendly City by the Sea," Swansboro, North Carolina is home to a wide variety of restaurants, shops, art galleries and events perfect for both couples and families. Downtown Swansboro is located along the waterfront, nestled between the Intracoastal Waterway and the White Oak River, just a short drive from Emerald Isle. Couples will surely enjoy the slower pace and southern charm of this beautiful waterfront community.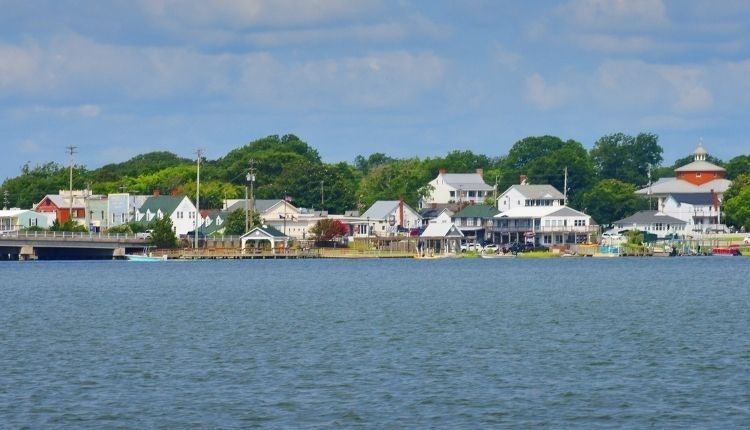 Steeped in maritime history, Swansboro offers a multitude of ways to get out and enjoy the waterfront. There are three waterfront parks where couples can enjoy some fishing or a relaxing stroll along the boardwalk, taking in the magnificent views of the water.
Downtown Swansboro is ideal for those who like to shop. The historic streets are lined with specialty shops ranging from quaint boutiques to quirky gift shops. Browse for beachy home décor at Salt Marsh Cottage, get the perfect seaside keepsake or collectible at Poor Man's Hole or find coastal gear for your next outdoor adventure at Pogies. Swansboro's boutiques offer something for everyone!
After a few hours spent browsing the eclectic waterfront shops, stop for a bite at any one of the local restaurants in Downtown Swansboro. Yana's is a popular spot with its fresh fruit fritters and 50s style décor. There's also a gift shop next to the restaurant where you're sure to find a little something extra to take home with you.
Another great spot to enjoy a romantic dinner for two is at Riverside Steak & Seafood. Start with a side of their delicious crab cakes. The shrimp 'n grits and sweet potato muffins are some of their most popular menu items. For great waterfront views paired with tasty coastal cuisine, Boro Restaurant and Bar and Saltwater Grill are other popular choices.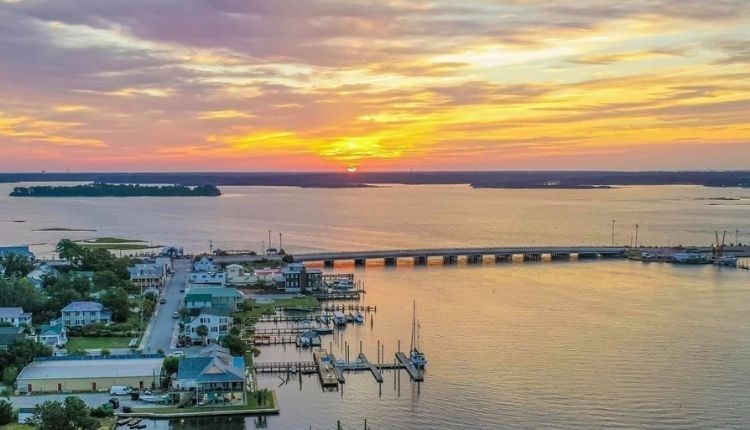 Visitors and locals alike return to Swansboro year after year to enjoy the fun festivals and events that take place throughout the year. If you're planning your couple's weekend getaway during the summer, you'll want to check out the Swansboro Arts by the Sea Festival. The historic streets of downtown are lined with fabulous art and fine crafts, delicious food and wine tastings.
During the fall, the oldest festival in the Crystal Coast, the annual Mullet Festival boasts a delightful celebration of all things' mullet. The event kicks off with a parade and includes live music, crafts and food vendors.
And during the holiday season, enjoy a candlelight celebration. Stroll through the streets of historic Downtown Swansboro, sipping a cup of hot cider and enjoying the festive décor. There's also a lighted boat parade that is sure to get you in the holiday spirit! Watch as the twinkling parade of beautifully decorated boats make their way down the White Oak River.
Escape to the perfect vacation rental for your couple's weekend getaway
You'll find a variety of vacation rentals to choose from for your couple's weekend getaway in Emerald Isle. For those looking to be luxuriously pampered while on vacation, Emerald Isle Realty offers exquisite oceanfront homes that are beautifully furnished and feature spacious floor plans and upscale amenities.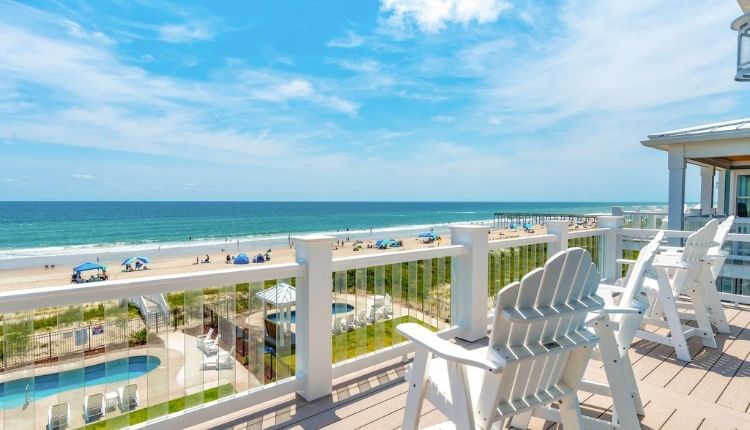 Or enjoy unparalleled splendor combined with extraordinary club facilities and services at one of the luxurious condos located on the East Coast's most indulgent coastal retreat, Grande Villas. The resort overlooks a 22-acre natural habitat area in Indian Beach, just minutes from Emerald Isle and boasts amenities such as an oceanfront Grande Pool and Pavilion, fitness center, sport and games lounge and more.
Have questions about finding a vacation rental for your weekend getaway? From determining the location to picking out a home with just the right amenities, Emerald Isle Realty is ready to help you plan the perfect couple's retreat that will be cherished for years to come.
What are you waiting for?
From relaxing spring getaways soaking up the sun, fun fall vacations filled with activities to having the beaches all to yourself during a winter stay, there's no better place for a couple's weekend getaway than North Carolina's Crystal Coast.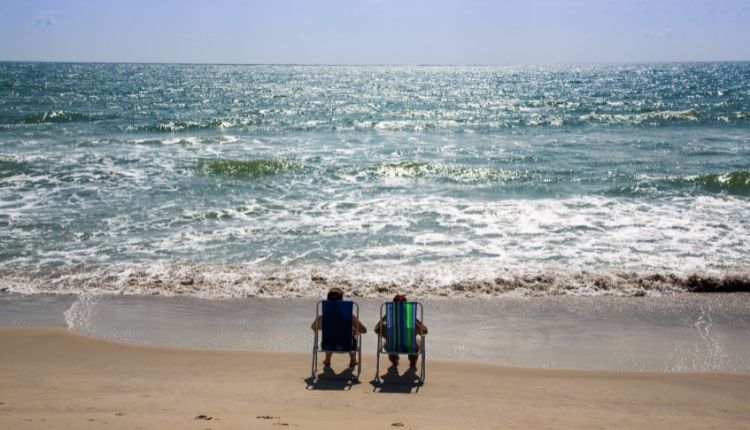 With plenty to do and even more to see, Emerald Isle is ready for you and your loved one's next vacation together. Be sure to check out our site for specials and discounts on vacation rentals and use our search tool to find the perfect place to stay for your couples getaway to North Carolina's Crystal Coast. Make your next romantic retreat a trip to Emerald Isle and see why couples escape here year after year!
Save it for Later