It's a no-brainer that Emerald Isle is a wonderful destination for family reunions and friend vacations, but it's just as enjoyable for a group of two looking for a romantic weekend getaway. Whether you're here this weekend celebrating Valentine's Day or planning a spring escape for two, we've put together some of the best places to go for a couple's weekend getaway on North Carolina's Crystal Coast that will make your time together even more special!
Go for a Stroll Down the Boardwalk in Atlantic Beach
Beach towns have a certain charm that you won't find just anywhere. Throw in some North Carolina southern hospitality, and you get a community like Atlantic Beach. This town may be small, but its appeal is rooted in its friendly locals, the abundance of public beaches and nearly pristine coastal environment.
If you visit, a must-see spot is the Atlantic Beach boardwalk. This boardwalk is great for an intimate evening stroll after a day on the beach and has stunning views of the water. There are also some fantastic eateries located in Atlantic Beach and nothing works up an appetite like some retail therapy! From gourmet foods and wines to handcrafted jewelry and boutique-exclusive fashions, the local shops and restaurants have something for everyone!

Enjoy Delicious Coastal Cuisine in Emerald Isle
The crown jewel of the Crystal Coast would arguably be Emerald Isle. This is a great place to stay when you're visiting North Carolina as its central to so many neighboring towns and has plenty to do without going far. Emerald Isle is also recognized as having some of the most beautiful and well-kept beaches in the nation.
For an evening fit for two, start by heading over to the Bogue Inlet Fishing Pier. Once you've arrived, you can either cast a line and kick back as you enjoy each other's time or simply walk up and down while you take in a famous Crystal Coast sunset. And when your appetite arrives, head into town and visit one of the many restaurants serving delicious coastal cuisine and drinks that will have you leaving satisfied. If you're looking for a nightcap, we recommend taking a relaxing moonlit stroll down the beach as the moon and stars paint an image you won't forget.
Emerald Isle Realty's search tool can help you find the perfect couple's retreat from amenity-filled condos to exclusive oceanfront cottages. You can even search for rental properties by the kind of amenities you want like hot tubs or private pools.

Explore the Rich History of New Bern
If you don't mind a short drive, you can experience one of North Carolina's most famous small towns—and a landmark in American history. New Bern is filled with a rich history that has been preserved in four historic districts that will transport you back to when the town was just founded. These districts emphasize local shops and businesses where handcrafted one-of-a-kind goods are available, so expect great shopping as well!
New Bern is also the birthplace of an American icon—Pepsi. The drink was created in 1893 as a digestion aid and was later bottled and sold in 1903. As a daytime activity, you can learn more about Pepsi's history in North Carolina and enjoy the soda directly from the source!
As the sun sets, the historic districts come alive and are great for a night on the town with an assortment of restaurants and nightlife spots to grab a cocktail or two.

Enjoy the Beauty of the Outdoors in Harkers Island
If you're both looking for a quieter and calmer side of the coast, then you should take a trip out to Harkers Island. This area has been minimally touched by man and is one of the most scenic spots along the Crystal Coast. Harkers Island is home to Cape Lookout Lighthouse, a popular landmark along the Bogue Banks with its large lighthouse, properly nicknamed "The Diamond Lady." At Cape Lookout National Seashore you'll find plenty of space to sprawl out, have a picnic or lounge on the secluded shorelines in peace.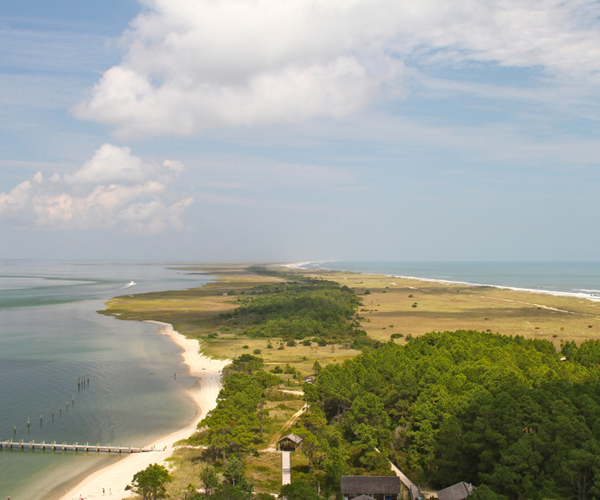 In addition to the special landmarks, the island is also home to Shackleford Banks. This area is great for watching wildlife, from the many different birds that migrate through the area, to the famous wild horses that roam the beaches.

Tour Your Way Through Beaufort
If you have a chance to visit Beaufort, definitely go! Like the other small towns in this area, it's charming and beautiful, but the history, kind locals and yearly calendar of events make it a popular destination for couples and families alike.
Beaufort has many tours throughout the year that showcase the flair of the town for originality along the North Carolina coast. One of the more popular tours is the Beaufort Homes & Gardens tour where residents open up their homes and show off not only their restored houses but also their knack for interior design. Other tours you can take in Beaufort involve food, art and even historic tours you take on a double-decker bus! Beaufort is also home to many festivals throughout the year that range from music, craft beer, food & wine and boat shows.
Just south of Beaufort is the Rachel Carson Reserve. This area is located in an estuary that combines river and saltwater to create a diverse ecosystem. The scenic trails at the reserve are great for hiking or bird watching and some of the boardwalks go through the reserves, offering a more immersive experience.

What Are You Waiting For?
With plenty to do and even more to see, Emerald Isle is ready for you and your loved one's next vacation together. Be sure to check out our site for specials and discounts on vacation rentals and use our search tool to find the perfect place to stay for your couples getaway to North Carolina's Crystal Coast. Make your next romantic getaway a trip to Emerald Isle and see why couples escape here year after year!