The Rachel Carson Reserve, located just south of Beaufort, North Carolina, consists of several small islands including Carrot Island, Town Marsh, Bird Shoal, and Horse Island. The islands are more than three miles long and can only be reached by boat or ferry.
The Rachel Carson Reserve is located in an estuary, where fresh river and salty ocean waters mix, giving it a diverse array of habitats, plants and animals. This natural area is home to a small herd of feral horses and more than 200 species of birds have been observed at the site. Atlantic bottlenose dolphins, sea turtles and numerous species of fish can also be found in the surrounding estuarine waters.
Nature Trails and Boardwalk
The Town Marsh Nature Trails begin at the northwest beach on Town Marsh. The Outer Loop Trail (blue) is a 1.1 mile long trail accessible only at low tide and may be muddy. The Inner Loop Trail (green) is a 0.9 mile long trail.
Carrot Island Boardwalk is situated on the eastern end of the reserve, accessible only by boat. The boardwalk offers scenic views of the Middle Marshes and Shackleford Banks and is also a great place for birding.
The trails and boardwalk are open year-round.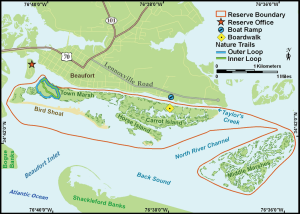 Getting to Rachel Carson Reserve
The boat launch access area is located at 2370 Lennoxville Road in Beaufort
Ferry services are located along the Beaufort waterfront on Front Street
Download a free Emerald Isle vacation catalog to start planning your stay in one of our amazing beach rentals!