As we all know, food holds a lot of power over us. Consuming a simple dish can send us on an emotional journey back to memories we cherish. Whether it's a blend of herbs used on a fire-grilled steak or the caramelized toppings on a freshly baked pie, at one point in your life the aroma and flavors left an imprint on your heart.
A vacation on North Carolina's Crystal Coast is sure to be filled with hours relaxing on the sand, waves rolling in and a few cool drinks in your hand. The desirable island vibe draws you back year after year and after each visit, you return home with new experiences filled with warmth and relaxation. While the beach is often the star of the show, the coastal cuisine is a key ingredient to make your trip unforgettable. There's a way to experience the Carolina coastal cuisine without parting from the endless ocean blues, here's a list of Crystal Coast restaurants with the best water views.
Saltwater Grill in Swansboro
There's quite a selection of places to eat along the coast, with each unique location putting its own spin on some classic dishes. In Swansboro, one of Emerald Isle's neighboring communities, you will find Saltwater Grill. This fine-dining restaurant boasts enchanting views of the Intracoastal Waterway and Bogue Sound. Their in-house chef specializes in preparing seafood with a Carolina flair. Each dish is prepared only with the top-of-the-catch local fish and they can also whip one of the best burgers you will ever order and other classic dishes. Request a seat in the spacious dining room with a breathtaking view at every table or enjoy your meal on the second story deck overlooking the docks.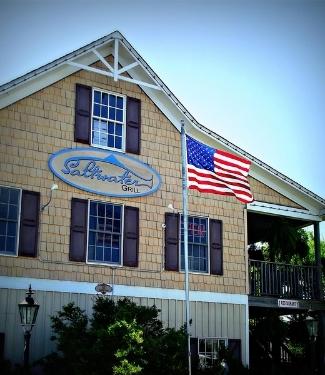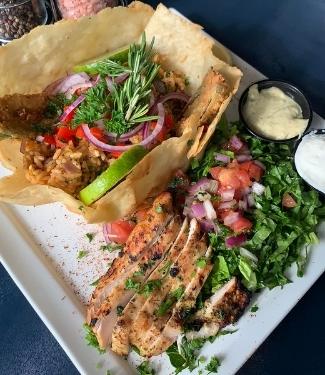 The Crab's Claw
If you're looking for a casual atmosphere and locally caught seafood prepared with an island twist, be sure to stop by the Crab's Claw Oceanfront Caribbean Restaurant. Located in Atlantic Beach, this local eatery's Chef has years of experience with food, wine and sweet pastries. Discover a new dish and experience a classic, the Crab's Claw is serving up savory homemade jambalaya with fresh shrimp, buttery crawfish, andouille sausage and okra with garlic and cheese crostini for dipping. Don't skip the appetizers here. The jalapeno cornbread pairs well with just about any meal. Many visitors return to this restaurant year after year to order their favorite creative dish and enjoy your company and view overlooking the Atlantic Ocean.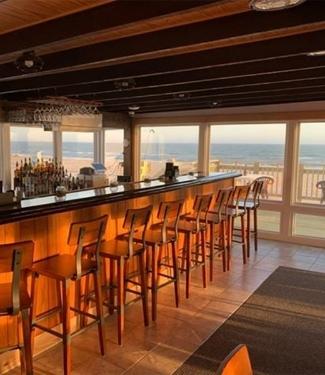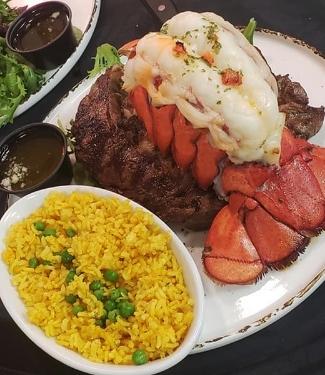 Surf's Up Grill & Bar
If you're hungry but want to keep the beach party going, check out Surf's Up Grill & Bar. Conveniently located on Bogue Inlet Pier in Emerald Isle, this spacious beach-side restaurant is locally owned and staffed with some of the friendliest faces you'll meet while on your getaway. The prime location provides you with a dreamscape filled with ocean views. There's nothing quite like cooling off with your favorite beverage as you see the sun setting on the horizon. Be sure to indulge in their appetizers. It's the perfect mix of seafood favorites and in-house creations like smokin' tots. Golden brown potatoes topped with pulled pork and hot queso will get you in the mood for any dish to follow. With grilled and fried seafood favorites, a variety of salad options and beach bowls waiting to be discovered, Surf's Up will surely become a vacation tradition. With good music playing and your favorite sport playing on a row of HDTVs, it's a culinary paradise.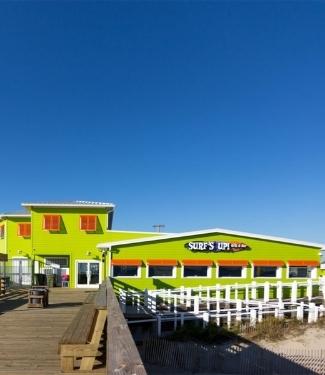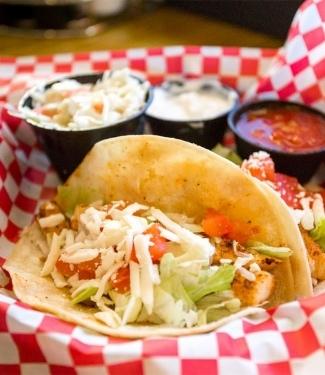 Caribsea
If you're looking for a fine-dining experience in Emerald Isle, be sure to plan a dinner at Caribsea. It's the ideal location to sit back and enjoy a glass of wine and a delectable dish as you and your friends laugh and share highlights from new experiences on the Crystal Coast. Caribsea's dinner menu boasts your surf and turf like fresh-baked oysters, shrimp scampi or a juicy bone-rib eye. After indulging in your delicious meal, head up to the Torpedo Lounge for a view of the island that you have yet to experience. The restaurant's rooftop bar provides you with an exceptional setting for admiring the sunset as you sip on one of their specialty cocktails. With live music and good company, it's the perfect way to experience the views and cuisine of your favorite vacation destination.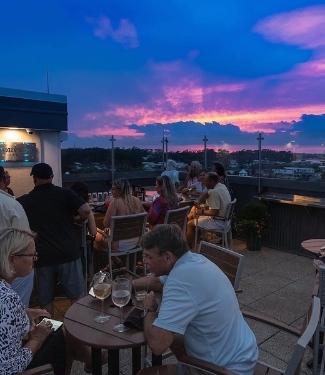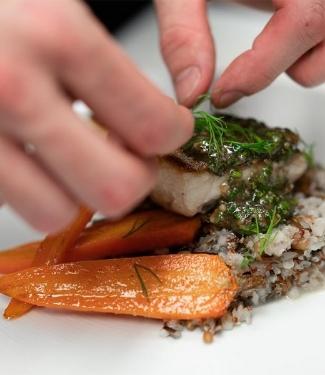 Front Street Grill at Stillwater Café
Situated in the charming town of Beaufort is a quaint restaurant that has perfected the presentation of its culinary creations and rum. With a menu inspired by Carolina cooking traditions and Caribbean soul, you will be able to enjoy a meal at brunch, lunch or dinner. From parmesan herb truffle fries and a NY strip to blackened ahi tuna tacos, a visit to Front Street Grill is a whole new island adventure itself. Front Street's Grill and Stillwater Café's location on Taylors Creek provides you with unmatched views of Beaufort Inlet, Carrot Island and those glorious panoramic sunsets. Be sure to request a seat at the waterfront bar for the ultimate coastal cuisine experience. The RHUMBAR was designed with relaxation in mind. The waterfront dock also provides a variety of options for seating and the evening atmosphere is taken to new levels when lanterns illuminate the deck and create a whole new vibe.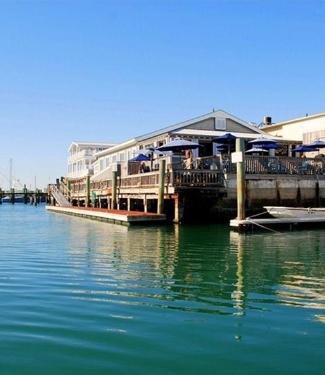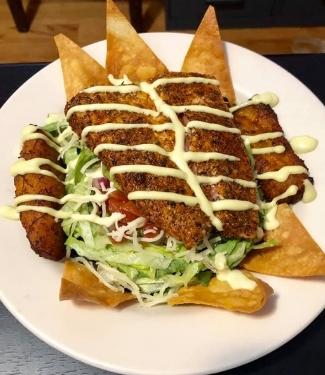 The Crab Shack
While exploring the treasures of the Crystal Coast, take a break and have lunch at The Crab Shack located in Salter Path. A unique location, this family-owned business stays afloat thanks to the hard work and dedication of the fishermen who deliver fresh-caught seafood daily. While visiting this area favorite, you'll enjoy fried, grilled, steamed or broiled seafood with a view of the Atlantic. If you're not craving fresh seafood, the Crab Shack boasts a menu with burgers, hot dogs, chicken tenders, wings and steaks as well. Be sure to ask about their daily specials, this is one eatery you must try.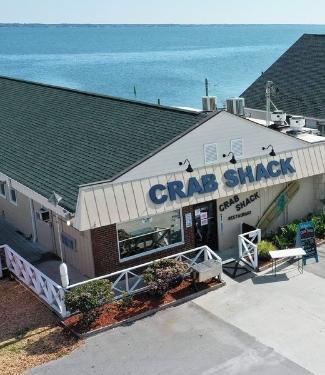 The Ruddy Duck Tavern
If you're craving a delicious sandwich or some Cajun-inspired dishes, head over to Morehead City and visit The Ruddy Duck Tavern. Locally owned, this waterside restaurant strives to support local businesses and create healthy food choices all while protecting North Carolina's coastline. This unique and eco-friendly restaurant sits over the water and the back side opens to a dock! There, you can enjoy the beautiful, scenic water views while indulging in a delicious lunch or dinner that was generously prepared with organic ingredients. From original appetizers, like their famous nachos to their Cioppino, there's something for everyone. Be sure to dine in the outside patio area so you can enjoy your meal while watching the boats come in! If you want to order an extra meal to take back to your vacation property, their friendly staff will provide low impact wrapping on request. Keeping you and the coastline healthy.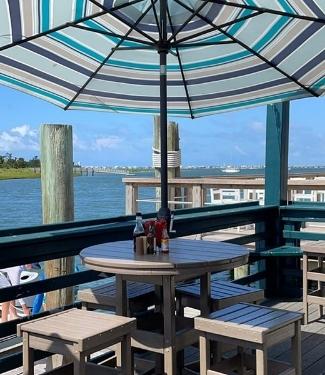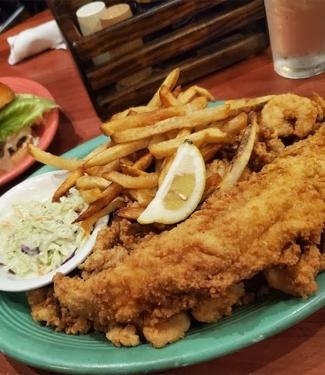 The Sanitary Fish Market and Restaurant
Another jewel from the treasure box of historic restaurants of the Crystal Coast can also be found in Morehead City. Since the 1930s, The Sanitary Fish Market and Restaurant has been a waterfront staple. Once filled with sailors and fishermen ordering their mid-day meals, the establishment is now a retreat for residents and visitors in search of fresh seafood. While their curated menu boasts Carolina classics like shrimp and grits or seared tuna, we recommend ordering the scallop linguini with lobster sauce. The pasta is perfectly prepared and the sauce is the heavenly mix of cream, butter and the perfect blend of spices needed for that welcomed kick. You're bound to find your coastal comfort food here. With a flavor as pure as the waterfront views, it'll be the heartfelt experience you didn't expect on your island excursion.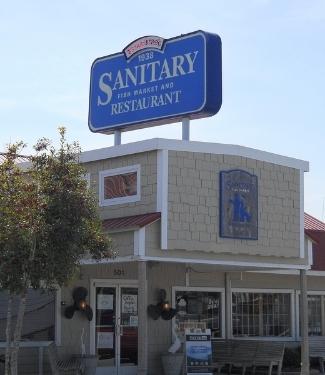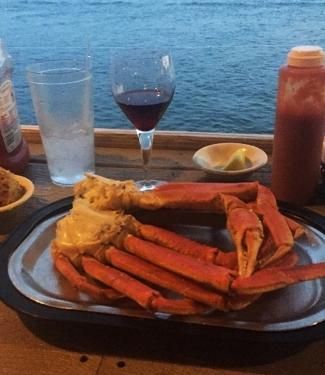 Amos Mosquito's
If you're looking for a family dining experience, be sure to grab a bite at Amos Mosquito's. The Atlantic Beach eatery's Chef infuses the latest culinary trends and creates entrees with the restaurant's style. Their unique menu provides you with entrees featuring classic seafood favorites, burgers and steaks grilled to perfection. The cozy dining room boasts jaw-dropping views of Bogues Sound and the picturesque Atlantic Beach Bridge. In a community rich with seafood spots, Amos Mosquito's stands out by offering a selection of fresh sushi. Every Thursday, enhance your culinary with the traditional Philly Roll or an in-house creation like the Liza Roll. With a variety of house made creations, exceptional service and an inviting environment, you will return home with fond memories of this restaurant.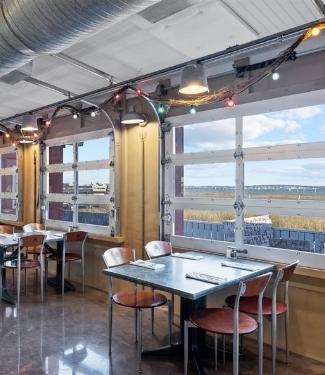 Start Planning Now
Now that you've been introduced to the culinary hot spots of North Carolina's Crystal Coast, it's time to start planning your next island excursion with your friends and family. With local coastal cuisine paired with incredible water views, miles of pristine beaches and endless opportunities for adventure, you're sure to enjoy a memorable trip to the Crystal Coast. Create a generation of memories and plan your trip with Emerald Isle Realty for a truly unforgettable experience.
Save it for Later