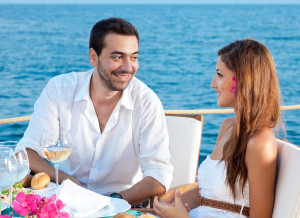 For many who go on vacation and want to eat out, the star attraction isn't always what's on the plate, but rather the views offered. Have no fear; we've put together a list of our top 10 area dining spots that offer great water views. So sit back and imagine yourself eating some freshly prepared seafood or sipping a cocktail at sunset amid the warm ocean breezes after a day of sightseeing in the Emerald Isle, NC area. A waterfront dining experience should definitely be on your to-do list!
99 Church Street, Swansboro, NC 28584
(910) 326-7300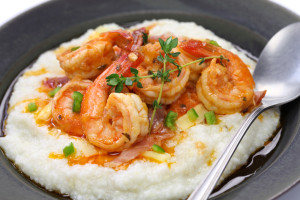 The Saltwater Grill offers some of the most beautiful views of the Intracoastal Waterway and Bogue Sound, visible from every table in the restaurant.
Located in downtown Swansboro, this waterfront restaurant specializes in seafood, though they do have the standard burger fare for those picky eaters. They also periodically offer special beer pairing dinners, so be on the lookout if that piques your interest.
Lunch pricing is very reasonable at around $7 to $13 a person, and the dinner menu is moderately priced ranging from $12 to $26 per person. Another thing to note is the wonderful customer service, as the wait staff is very friendly and attentive. View the Saltwater Grill menus.
Must Haves: She Crab Soup, Creole Style Saltwater Shrimp & Grits, and Pimento Cheese Burger
Hours:
Mon – Thurs: 11:00 am – 10:00 pm
Fri & Sat: 11:00 am – 11:00 pm
Sun: 11:00 am – 10:00 pm
218 Front Street, Beaufort, NC 28516
(252) 728-5190
Located in historic Beaufort, this waterfront restaurant is a great place for families and couples alike. Not only is the food excellent, but the views of Taylor's Creek are beautiful.
So arrive by car or moor your boat in one of the slips, and relax on the dock while you enjoy some of the most delicious sandwiches, seafood and ribs in Beaufort. You may even get lucky and spot a pod of dolphins playing in the water.
The Spouter Inn Restaurant & Bakery offers a great wine list coupled with generous pours when you order by the glass. They also have special events, wine tastings and live music.
Lunch pricing is very reasonable at around $7 to $17 a person and is comprised mainly of soups, salads, and sandwiches (made on homemade bread, yum). Lunch is served from 11:30 am to 2:30 pm. View their lunch menu.
The dinner menu is moderately priced from $10 to $28 per person and offers salads, seafood, steaks, and a couple of pasta dishes. Dinner starts at 5:00 pm. View their dinner menu.
Must Haves: Fresh Pan-fried Oysters with Aioli, Blackened Mahi-Mahi, Crab Cakes and any of the desserts
Hours vary seasonally; please call to confirm.
300 Front St., Beaufort, NC 28516
(252) 728-4956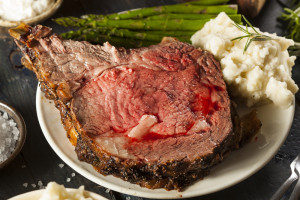 Front Street Grill at Stillwater Café, located on the beautiful Beaufort waterfront, features spectacular views and a great spot to catch sunsets. For the best views, we recommend sitting on the deck, weather permitting of course, where you can look out over the water and watch the boats come in, and possibly see some of the Taylors Creek dolphins.
From pimento cheese to steak and fish, this moderately priced waterfront restaurant specializes in dishes that start with organic, local produce and focuses on quality and freshness. Front Street Grill has a nice selection on their brunch, lunch and dinner menus as well as an impressive wine list. Expect to pay anywhere from $12 to $25 per plate for dinner. If top-notch service and fresh, tasty menu options are what you want, we recommend this fine dining establishment.
If you want a quick bite or are just in the mood for a cocktail, Rhum Bar, connected to Front Street Grill, is definitely the perfect spot. Rhum Bar features a waterfront deck with outdoor sofas and umbrellas. This is a great place to drop in for a huge variety of not only rum but specialty cocktails —we've heard the Painkiller is delicious and very similar to a Pina Colada.
Restaurant reservations are highly recommended for dinner.
Must Haves: Blackened Shrimp and Grits, Steak, Crab Cakes and Parmesan Crusted Flounder
Hours:
Tues – Thurs & Sun: 11:30 am – 9:00 pm
Fri – Sat: 11:30 am – 10:00 pm
146 Headen Ln., Salter Path, NC 28575
(252) 247-3444
The Crab Shack is a staple in the seafood community and offers a no frills seafood experience complete with great water views of the Bogue Sound and the shrimp boats.  Though you can't sit outside on the deck to eat, the windows inside provide more than ample views of the Intracoastal Waterway.
For over 30 years, the Crab Shack has been serving classic North Carolina seafood. They specialize in fried, steamed or broiled platters. Nothing fancy, and though much of the food is fried, they also grill, broil or pan fry in butter. If you're looking for a sit down suit and tie place, then this isn't it. Shorts, a t-shirt and flip flops are more than fine attire.
As soon as you sit down, you are welcomed with a basket of hush puppies, which we have to say are some of the best in the area. Each entrée comes with two sides along with tartar and cocktail sauces. The coleslaw is sweet and heavy on the mayo (yummy), and the sides are cooked in the traditional southern style (i.e. the green beans are cooked with bacon), so be sure to save your appetite for a meal here.
Prices are pretty typical for a waterfront seafood restaurant, with dinner averaging from $20 to $30 per plate, but the ample portions and some of the freshest seafood around make it well worth it. And of course, you have to eat seafood at least once during your beach vacation! The food is excellent and the service is top notch. View the Crab Shack menu.
Tip: During summer hours try to be there before 6:00 pm or you'll have a wait.
Must Haves: Hushpuppies, Blue Crab, Soft Shell Crab and Pan Seared Sea Scallops
Hours:
Open Daily: 11:00 am – 9:00 pm
Closed during the winter months
509 Evans Street, Morehead City, NC 28557
(252) 726-7500
The Ruddy Duck Tavern has a great location on the Morehead City waterfront. The restaurant sits over the water, and the back side opens up to a dock where you can enjoy the beautiful, scenic water views. For the best views, sit in the outside patio area to watch the boats come in and enjoy the fresh air.
The Ruddy Duck Tavern has a great atmosphere and a really cool antique outboard collection as part of its decor.
They serve a varied menu including salads, sandwiches, burgers, lots of fresh seafood, and some dishes with a Cajun twist. This is not your typical fried shrimp kind of place; they also grill, broil and bake. Ruddy Duck Tavern is more upscale than a lot of the area restaurants, but without the high prices. Dinner will generally cost you $10 to $20 a plate, with a few house favorites on the higher end. The tavern has a full bar with a variety of beer options, a fairly large wine selection and some specialty, premium cocktails.
This restaurant is one of our area favorites and a great place for families due to the varied menu. View The Ruddy Duck Tavern menu.
Must Haves: BBQ Shrimp, Pecan Encrusted Flounder, Crispy Duckling, Fish Tacos and Crab & Spinach Pizza
Hours:
Tuesday – Saturdays: 11:00 am – 10:00 pm
Sundays: Noon – 9:00 pm
Closed on Mondays
501 Evans St. Morehead City, NC 28577
(252) 247-3111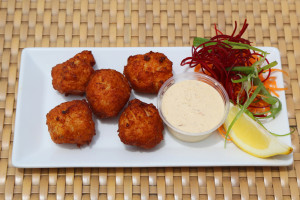 The view from this place overlooks some of the most breathtaking spots on the Intracoastal Waterway, and since it's been around since 1938, it's an annual family tradition spot. It's also great for large groups, as the dining room can accommodate up to 600.
Inside, the restaurant is filled with old photos of the area's history, so it's worth taking a few minutes to check them out.
The fare is mostly seafood, including fish, shrimp, scallops, and oysters. They do offer some additional dishes, such as burgers, pasta, prime rib and chicken. Dinner prices average $20 to $25 per plate with sandwiches averaging $10.  They also have a really nice selection of wines and of course a full bar.
There are two ways to get there: drive your car or arrive by boat and tie up at the dock.
View the Sanitary Fish Market & Seafood Restaurant menu.
Must Haves: Flounder, Oysters, Crab Cakes, Hushpuppies and Shrimp
Hours:
Mon – Tue: 11:30 am – 2:30 pm
Wed – Sat: 11:30 am – 8:00 pm
Sun: 11:30 am – 2:30 pm
703 E. Fort Macon Rd., Atlantic Beach, NC 28512
(252) 247-6222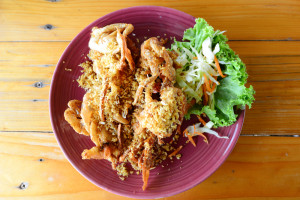 This is definitely one of the best restaurants in the area offering waterfront dining on Bogue Sound. It's got a fun atmosphere where the waitstaff dresses in uniforms that have southern nicknames, which adds a little something extra. We recommend sitting on the patio (if possible, as this place is always packed) even in the summer, as it's one of the few (if not one of the only) restaurants that has air conditioning out there, even with open windows.
The fare is definitely seafood, some of the freshest around, but there are plenty of options for non-seafood lovers. The s'mores dessert is a huge hit with both kids and adults alike. The staff is amazing, super friendly and always helpful.
Pricing is competitive for the area, ranging from $12 to $25 for entrees, and portion sizes are perfect if not on the heavy side their famous Firecrackers, little triangle cheesy bread bites served before dinner, are delish. View the Amos Mosquito's entrée menu.
Tip: Get there early, as it's not uncommon to have people lined up right before opening. Wednesday nights they reduce menu prices for locals.
Must Haves: Lobster Dip, Crab Cakes, Jamaican Jerk Chicken, Sesame Seed Encrusted Yellowfin Tuna and the Meatloaf
Hours:
Tue & Wed: 5:00 pm – 8:30 pm
Thurs – Sat: 5:00 pm – 9:00 pm
Restaurants were listed in no particular order.