The Crystal Coast is an exotic destination filled with a treasure trove of adventures. From the miles of shoreline to the breathtaking attractions, there are a variety of locations waiting to be explored by you and your family. While North Carolina's coastline has made it a favorite among beach lovers and water sports enthusiasts, the Crystals Coast's charming communities also provide visitors and locals alike with an unparalleled option to experience the breathtaking landscape.
From leisurely strolls to heart-pumping treks, we've created a list highlighting the 15 best hiking and biking trails along the Crystal Coast. Fill up your canteen, lace up your boots and take on this journey with us.
1. Theodore Roosevelt Nature Trail – Pine Knoll Shore
While visiting the Crystal Coast, stop by the North Carolina Aquarium at Pine Knoll Shores. It's an amazing experience that takes you on an aquatic journey through the different marine habitats of the state. Located just next to the aquarium is the Theodore Roosevelt Nature Trail. It's an exciting 1.25-mile-long path that is the more challenging of the two trails located at the Theodore Roosevelt Natural Area. This trail is perfect for anyone who loves taking the well-traveled path through a high dune ridge and winding around the marshes. If you need to get some rest from your outdoor excursion, there are plenty of benches along the trail. There are also wildlife viewing areas stationed along the trail route, perfect for enjoying the breathtaking views and the hundreds of birds that call these marshes home each year.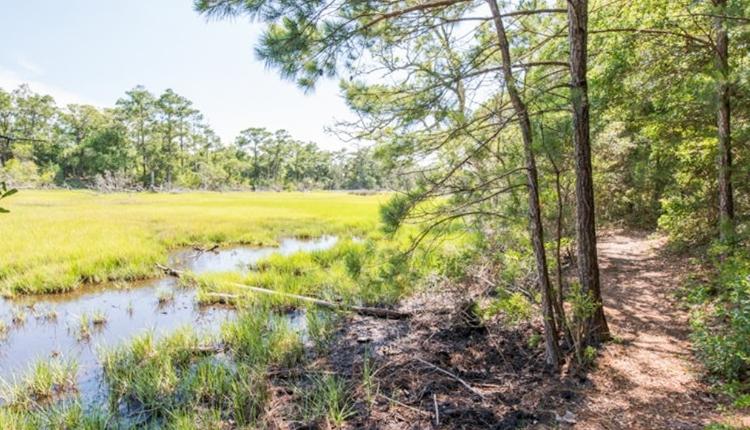 2. Emerald Isle Bike Path – Emerald Isle
While Emerald Isle has recently been named one of the best beaches in North Carolina, the quaint island town also provides visitors with a favorable trail, the perfectly named Emerald Isle Bike Path. Be sure to schedule in time and experience this 11-mile, multi-purpose trail. The path begins in the community of Indian Beach and takes you all the way to The Point. Traveling this route will take you through a variety of breathtaking landscapes, including beautiful, wooded areas and will help you discover new shops and restaurants located throughout the heart of downtown. Whether you're biking, jogging or leisurely walking, Emerald Isle Bike Path is a great way to get outdoors and sneak in a bit of exercise with the family. If you didn't bring a bike, Emerald Isle is home to several shops offering bike rentals.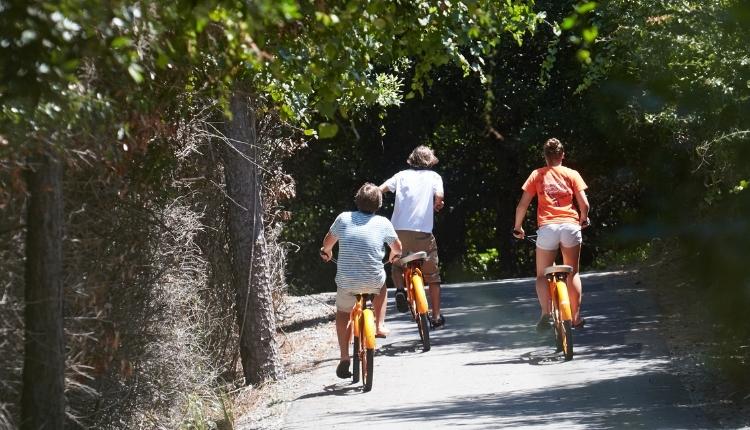 3. Emerald Isle Woods Park – Emerald Isle
Emerald Isle is also where you will find Emerald Isle Woods Park. The 41-acre park boasts a nearly two-mile walking trail and access to the peaceful Bogue Sound. This intermediate trail is an ideal destination for family members of all ages. Emerald Isle Woods Park is also part of the North Carolina Birding Trail. Pack your binoculars and be sure to keep an eye out for several native birds, woodpeckers, and shorebirds. Plus, you might even spot some white-tailed deer and plenty of playful squirrels.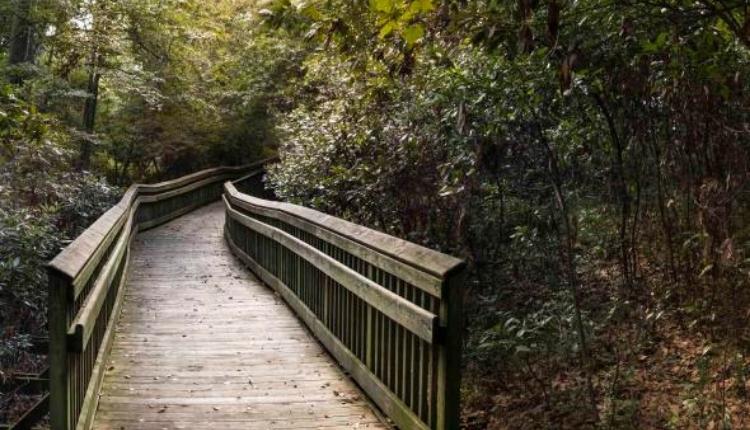 4. Elliott Coues Nature Trail at Fort Macon State Park – Atlantic Beach
The ideal weather for outdoor adventure has made its way to the Crystal Coast and created the desired conditions for taking on the trails. If you're searching for a path that provides you with a way to experience a wooded and beachy setting, plan a trip to Elliot Coues Nature Trail in Atlantic Beach. The 3-mile loop guides you through the maritime forest of North Carolina's most visited state park, Fort Macon State Park. It is shaded, well-maintained and ideal for both experienced and first-time hikers. The loop trails on dunes, through maritime forest and marsh. It's a favorite for walkers and bikers because of the elevation changes and picturesque views on the beachside. The sound side is a showstopper as well, with a canopied trail complete with a boardwalk and plenty of nature sightings.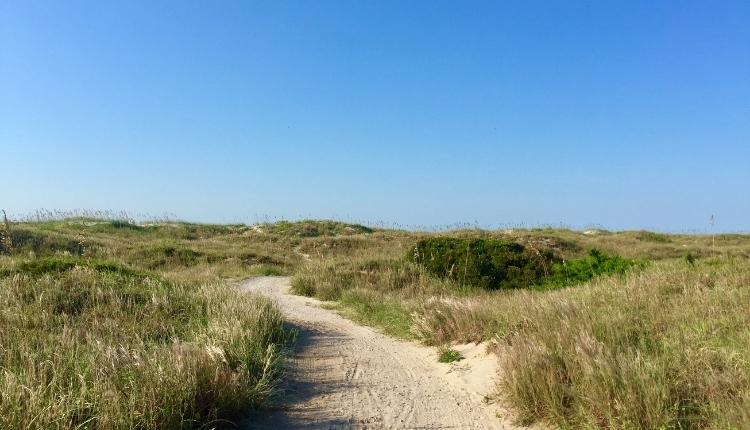 5. Alice Hoffman Nature Trail – Pine Knoll Shore
Also located on the Theodore Roosevelt Natural Area is the modest and more kid-friendly Alice Hoffman Nature Trail. It's a shorter trail that leads out to a viewing blind on East Pond and then loops around through the marsh. The preserve offers scenic views of the maritime forest and Bogue Sound. And visitors can see a variety of local wildlife including river otters, marsh rabbits, gray foxes, turtles and more. You can also enjoy bird watching along the trail, as the area provides feeding and nesting grounds for many species of birds such as egrets, ospreys, warblers and others.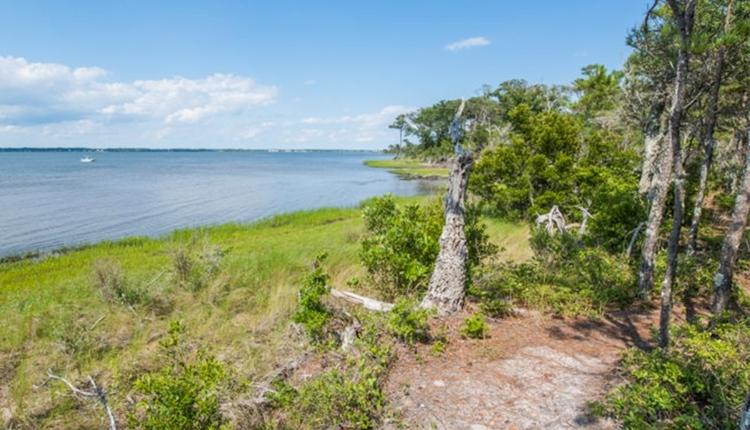 6. Calico Creek Boardwalk – Morehead City
Another way for you and your family to enjoy the sights and sounds of nature on your getaway to the Crystal Coast is by taking a walk on the Calico Creek Boardwalk located in Morehead City. It's just a bit more than a mile long and is the perfect distance for visitors of all ages. The trail provides you with breathtaking water views and the opportunity to get an up-close look at the various birds that call the natural setting home. The best time to visit this path is in the late afternoon, since the boardwalk is known for catching unforgettable sunsets. There's also a recreational center with restrooms and water fountains.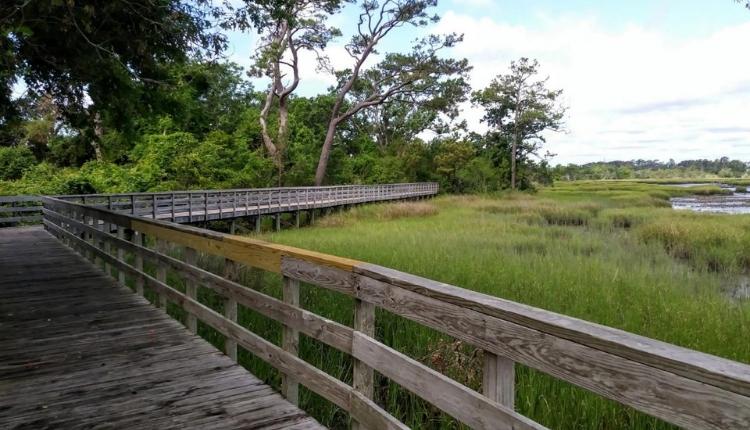 7. Patsy Pond Nature Trail – Croatan National Forest
The Croatan National Forest is an enchanting location that takes visitors through North Carolina's native woodland environment. The forest is also where you can find a trail you won't want to miss, the Patsy Pond Nature Trail. The path winds through the "Longleaf Pine Flat Woods." It's filled with bright longleaf pines and is also home to deer, a variety of birds and the elusive Red-Cockaded Woodpeckers! This coastal woodland is home to various habitats and ecosystems that any outdoor enthusiast will enjoy viewing and photographing.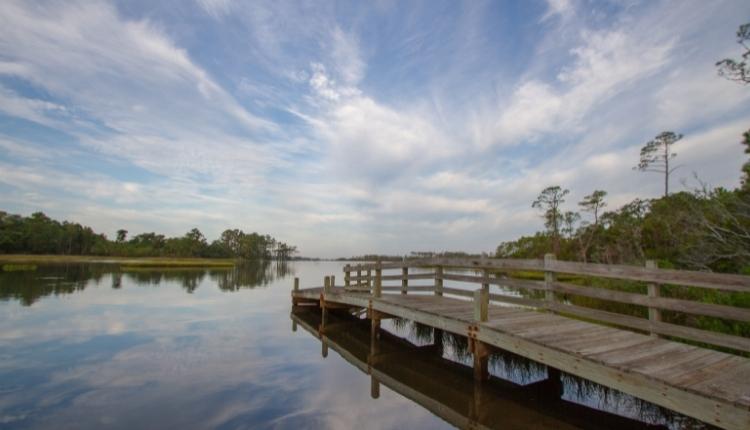 8. The Neusiok Trail – Croatan National Forest
Veteran hikers and ultimate trail enthusiasts will enjoy reading about Croatan Forest's other trail. The Neusiok Trail is a nearly 21-mile trek that will guide anyone brave enough to take it on from the sandy beach on the Neuse River to a salt marsh on the Newport River. In between, this master trail crosses the cypress swamps and shrubby bogs of the Carolina coast. The history buffs will get their thrills on the trail as well, it was once used by Native Americans, early settlers, woodsmen and even moonshiners.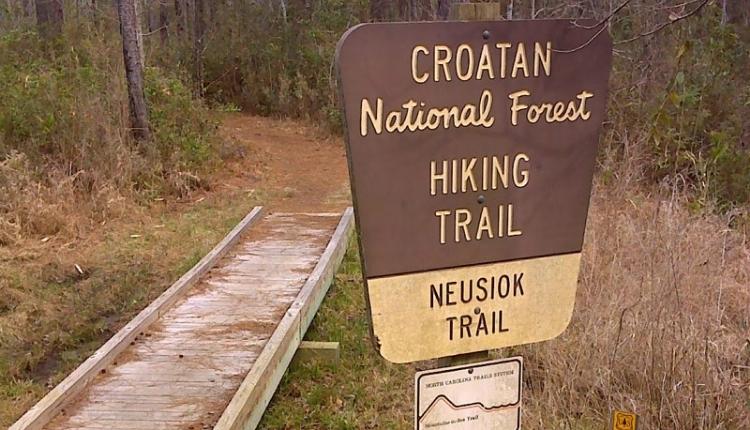 9. Cedar Point Tideland Trail at Croatan National Forest – Swansboro
Swansboro is another charming community along North Carolina's coastline. It's a quaint and historic village that has been affectionally named the "Friendly City by the Sea." Nestled between the Intracoastal Waterway and the White Oak River, it provides visitors with plenty of breathtaking and unforgettable vistas. While the town is home to plenty of delectable restaurants and fun local shops, it's also a great spot if you're looking to get your legs moving. The Cedar Point Tideland Trail, also part of Croatan National Forest, will allow you to catch a glimpse of wildlife and enjoy a rejuvenating hike. The less than two-mile path guides you over the tidal salt marsh boardwalks and loops through a hardwood and pine forest and provides you with panoramic views of the White Oak River estuary and salt marshes. Work up an appetite on this trail and stop by a local eatery for a little recharge before heading back to your vacation home!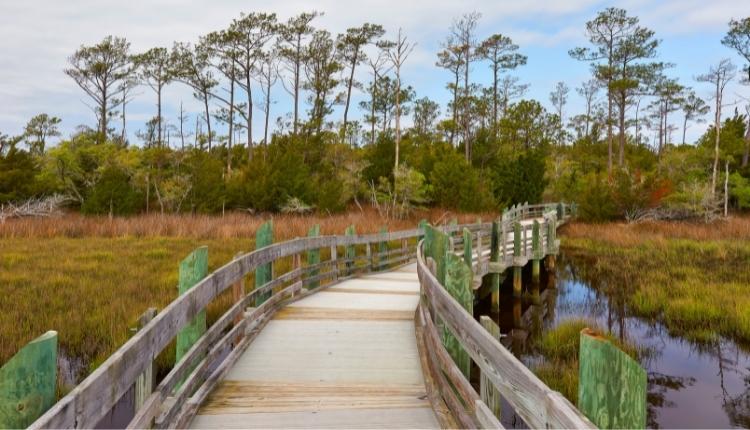 10. Weetock Trail at Croatan National Forest – Maysville
On the western edge of Croatan National Forest in Maysville, North Carolina you will find the 15-mile trail named the Weetock Trail. While it is longer than most, it is generally considered an easy route and takes about five and half hours to complete. The trail guides hikers through hardwood ridges, swamps, ponds and natural springs. It's a popular trail for birding, hiking and trail running and you can still enjoy some solo moments as well. Weetock is the original Algonquian name of the White Oak River, which the trail follows.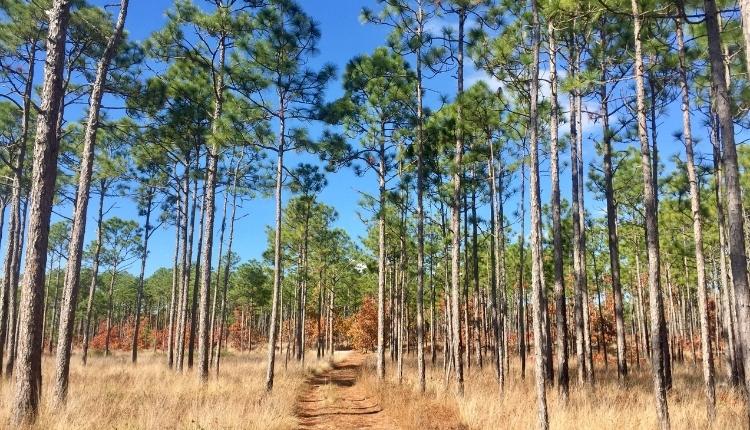 11. Willow Pond Trail – Core Sound Waterfowl Museum in Harkers Island
While on your coastal getaway, be sure to plan a visit to the Willow Pond Trail located on Harkers Island. It's an easy path and ideal for hikers of all ages. You and your family will create memories while trekking through a variety of paths and observing coastal plants in this maritime forest. The trail is also near the Core Sound Waterfowl Museum. At the museum, you can explore an array of exhibits on the communities of what the museum calls "Down East." From hands-on experiences, like decoy carving and quilting demonstrations, there's a way for everyone to enjoy the traditions of the coast at the museum.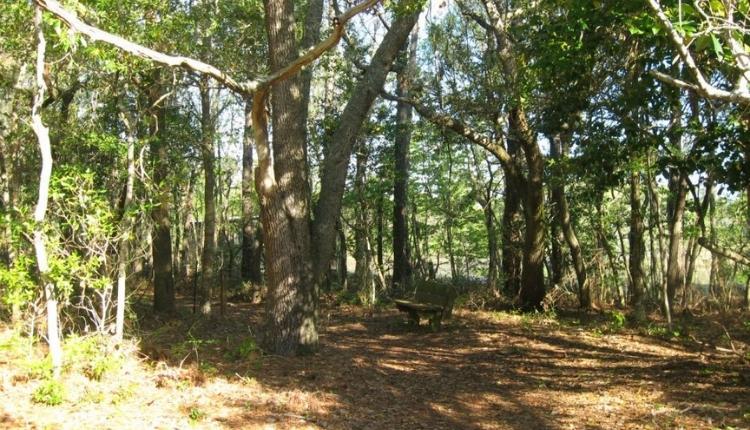 12. Hoop Pole Creek Nature Trail – Atlantic Beach
Atlantic Beach is more than a beach town, and the second trail from the community on this list proves that. The Hoop Pole Creek Nature Trail is a one-mile round-trip hike through a maritime forest that leads to views of a salt marsh and the estuary where Hoop Pole Creek flows into Bogue Sound. The path can be accessed from the parking lot of the Atlantic Station Shopping Center. It's a family-friendly trail and a well-rounded mix of boardwalk, paved trail and hard ground. Hikers can see a variety of songbirds, wading birds and birds of prey, in addition to deer, raccoons, turtles and more.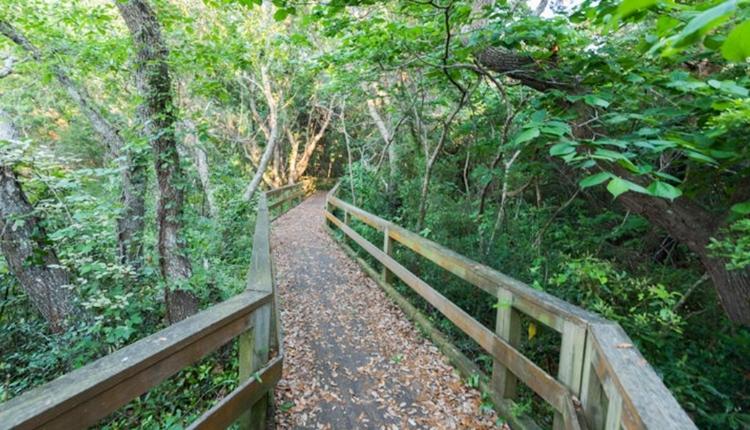 13. OWLS Nature Trail – Newport
The town of Newport is considered the entry point to the west. Located just a few miles from Morehead City, this small community is where you will find the Outer Banks Wildlife Shelter, or OWLS, Nature Trail. There are two paths, a half-mile route and a one-mile route. The trails take around 20 minutes to complete and provide an up-close look at 40 labeled native plants. There's also a peaceful duck pond, a raptor exhibit and interactive education displays. Keep your eyes open!  While enjoying your walk, you could spot songbirds, lizards, turtles and snakes. There is a small fee to take a tour or enjoy the hiking trails of this non-profit Wildlife Shelter.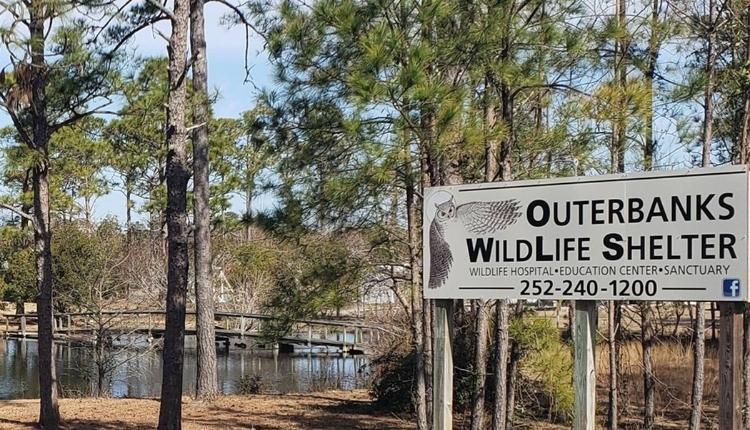 14. Trails at Cedar Island National Wildlife Refuge – Cedar Island

If going off the well-traveled path sounds exciting to you, then this next trail will pique your interest. Cedar Island National Wildlife Refuge is located in Carteret County on the end of a peninsula that marks the very southern end of the Pamlico Sound. Although the refuge is one of the more isolated national refuges on the North Carolina coast with no on-site facilities, there are plenty of rugged walking trails for vacationers to explore. The refuge is home to a variety of wildlife such as otters, foxes and even snapping turtles. Visitors can also enjoy a safe spot to launch a boat or kayak. Kayaking is another way to get out and explore the area's miles of estuaries, canals and sound waters lying in virtually every direction.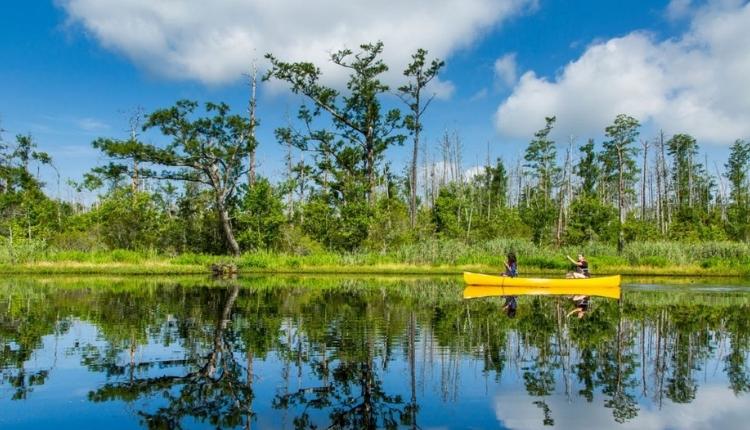 15. MATS Trail – Morehead City

Morehead City's MATS Trail, formally known as the Morehead Alternative Transportation System, is an easy trail ideal for walkers, cyclists and joggers. The asphalt and boardwalk trail is a little more than two miles long and runs along Bridges Street. The MATS trail provides visitors with fitness and stretching stations, a unique feature perfect for anyone looking to up their vacation exercise. If you need to take a break, post up on the benches or bring along a packed lunch and enjoy an afternoon at one of the picnic shelters.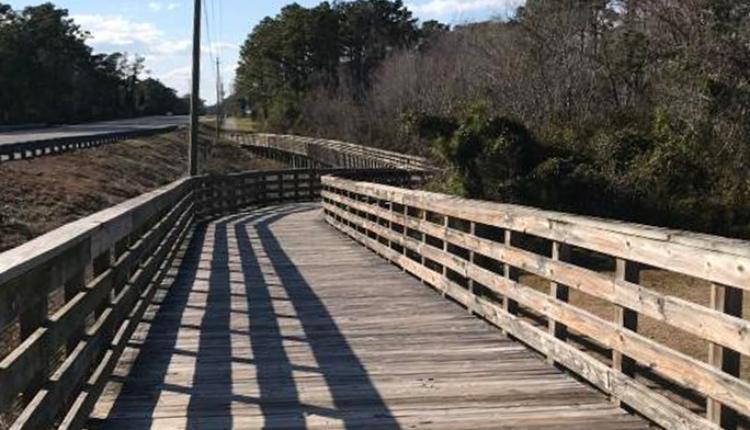 Embark on Your Coastal Journey
The ultimate way to experience any of these exhilarating trails is to plan your coastal getaway with Emerald Isle Realty. With our inventory of more than 700 vacation properties located throughout the Crystal Coast, we can help you find the right property for your next island excursion.
Save it for Later