The Crystal Coast is a popular vacation destination for many reasons. From the charming communities to the Carolina coastal restaurants, the shimmering waterways and attractions provide every visitor with the opportunity to curate their dream vacation.
While Bogue Inlet Pier is enticing and Cape Lookout National Seashore is a beacon for many, the Crystal Coast is also home to one of North Carolina's most visited state parks, Fort Macon. This historic landmark offers activities for every visitor. The history buff can immerse themselves in culture and outdoor enthusiasts can take on a trail or spend time swimming at the beach. Keep reading to discover all you can explore while visiting the beach and trails at Fort Macon State Park.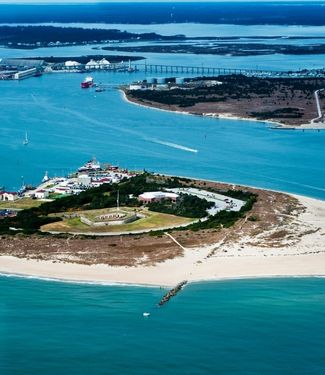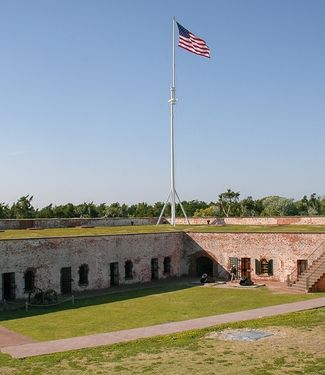 Play on the Beaches
Fort Macon State Park rests just outside Atlantic Beach. The nearly 400-acre location is surrounded by water and attracts more than one million visitors annually. Getting there is quite a visual adventure. The vibrant colors of beach houses will slowly disappear from view, and you will see the coastal landscape take on its natural form.
Once you arrive, the endless rows of dunes will remind you just how unique the Crystal Coast is. Once the exploration begins, you will quickly discover that the park is more than a museum dedicated to local history. It's a natural paradise providing gorgeous inlet views and a pristine beach. After getting insight into North Carolina's culture, dedicate the rest of your day to soaking up the sun on the pristine shoreline. Fort Macon provides visitors with a dedicated beach for swimming and fishing, so keep an eye out for the marked signs.
Much of Fort Macon State Park is undeveloped and one of the most natural parts of the region. Because the park is surrounded by water on three sides, the beach is a beachcombing oasis. Be sure to bring a beach bag or bucket, shells can be found throughout the glinting sands. Shelling is typically best near the jetties, but you may also be able to uncover a few shells on the channel side as well.
After your aquatic adventures, gather the family to enjoy a picnic. Fort Macon has gazebos throughout the park, perfect for setting up shop for a picnic. The gazebos all have great views of the park and are conveniently close to restrooms. For long days filled with fun in the sun, there's no better place for a memorable family beach day than this historic park.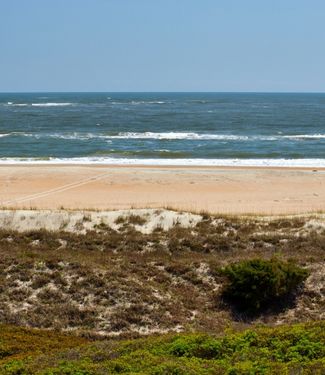 Cast a Line
The Crystal Coast is a favorite for many anglers. While there are many locations to cast a line, Fort Macon State Park provides visitors with a dedicated beach for fishing. There is a variety fish throughout the year, giving this location added appeal.
Cobia is a common catch in the spring. The ideal fishing season is usually slow to pick up, but you could also reel in a bluefish as the water gets warmer. During the summer, flounder can be found in the inlets and pompano are a popular catch. The mild-tasting fish is perfect for fish fries and can be seasoned with just about anything.
The fall is prime season for black drum and the coveted redfish, or red drum. Even though reds can be caught year-round in shallower waters, netting one at Fort Macon will provide you with a memorable story to share. Keep your lines tight, Fort Macon guarantees memories.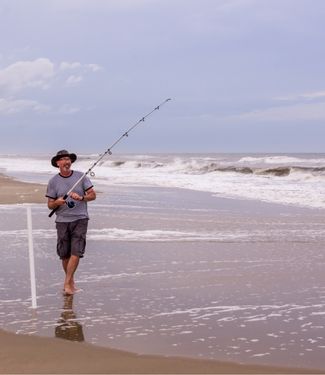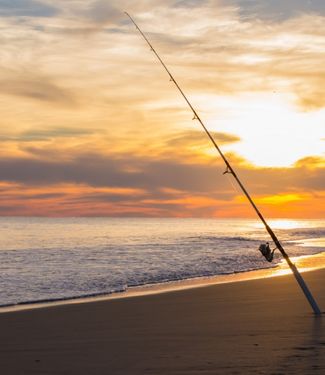 Wander the Trails
The Crystal Coast provides ideal weather for outdoor adventure and has created the desired conditions for taking on the trails of Fort Macon State Park. If you're searching for a wooded and beachy trail, plan a trip to Elliot Coues Nature Trail in Atlantic Beach. The 3-mile loop guides you through the maritime forest of Fort Macon. It is shaded, well-maintained and ideal for both experienced and first-time hikers. The loop trails on dunes, through maritime forest and marsh. It's a favorite for walkers and bikers because of the elevation changes and picturesque views on the beachside. The sound side is also a showstopper, with a canopied trail complete with a boardwalk and plenty of nature sightings. While it's the longest of the three trails, this loop is perfect for hikers of all levels.
Fort Macon's second path is popular with locals and visitors alike. The Beach Trail takes you on a one and half mile trek along the seashore. While it's a popular spot for swimming, the beach is always available for hikes. While you walk along the trail, you'll enjoy stunning coastal dreamscapes and potentially hundreds of species of birds that call the park home. Keep your eyes on the horizon, you might catch a pod of dolphins enjoying a few choice waves. We recommend bringing a set of binoculars on your Fort Macon trail adventures.
The final trail is Yarrow's Loop. It's the shortest and most accessible of the three and a perfect spot for families and beginning hikers. The quarter-mile nature trail starts and ends at the north end of the fort parking lot and takes visitors on an informational journey. Signs are posted along the trail and provide information about the plants and animals found throughout the park. Each path will surely give you a thrilling experience you will never forget.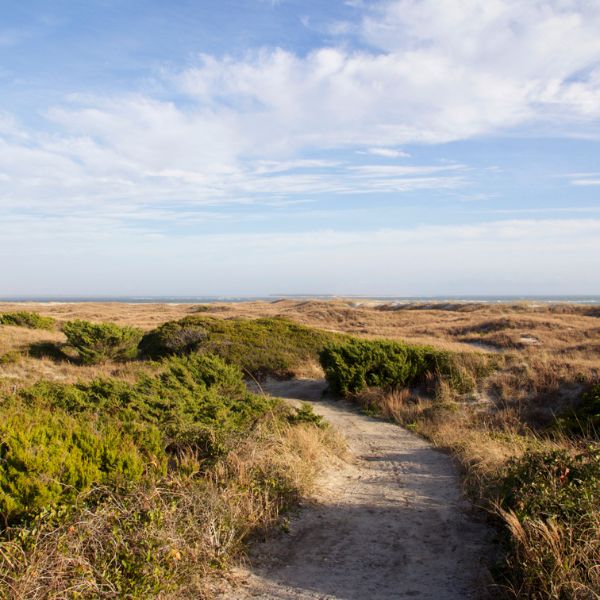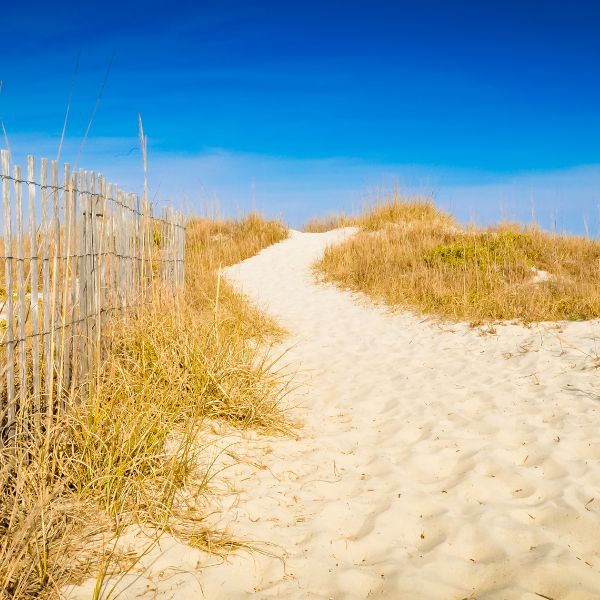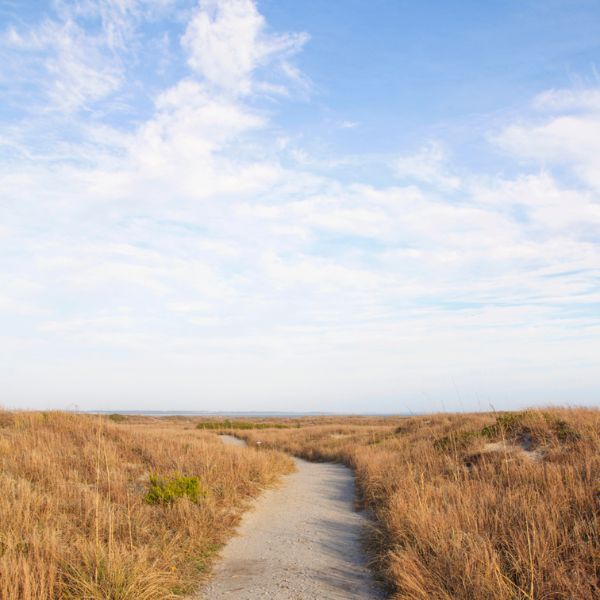 Plan Your Island Time
Visitors return to Fort Macon Park every to soak in some history, enjoy the beaches as well as various outdoor activities. North Carolina's Southern Outer Banks is the perfect location for the ultimate family beach vacation!
Let Emerald Isle Realty help you create the ideal vacation. We have more than 700 rental properties to help you relax and recharge before taking your next island excursion. With many coastal retreats located in Emerald Isle and Atlantic Beach, you can be as close to Fort Macon State park as you want.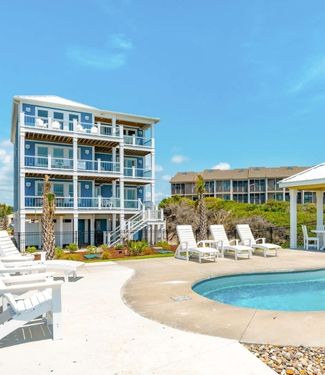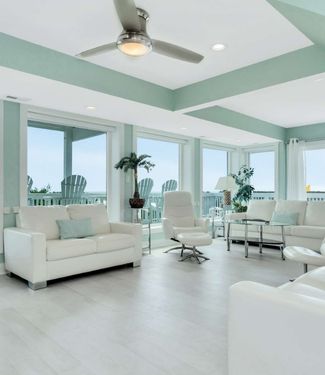 Save it for Later