The island sun is warming up and the Crystal Coast is springing into the season of renewal! Spring Break is the perfect time of year to get that early taste of summer in Emerald Isle, and it's an excellent opportunity to provide your family with some fun and beautiful scenery.
We truly look forward to seeing visitors flock to the beach after some time away, so to make planning easier for you and your family, we've put together a list of fun activities for kids this spring on t­­he Crystal Coast.
Dive Into Adventure
We are lucky to have a vast and exciting ecosystem that flourishes right here along the Crystal Coast. The best way to explore is by taking an educational excursion through one of the area's most popular family attractions, the NC Aquarium at Pine Knoll Shores. Here, you and your kids can learn more about marine animals, their habitats, and much more.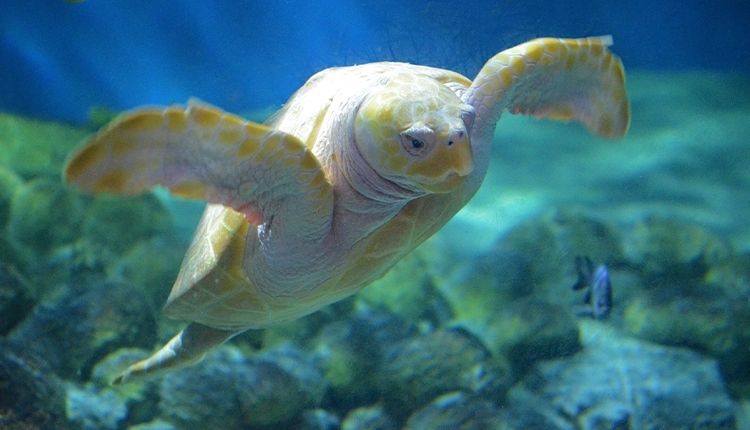 From the mountains to the sea, the family will be able to feel the spray of a mountain waterfall and watch river otters play, all without getting wet. The exhibits will surely be a highlight of your spring vacation. See Blackbeard's infamous ship, the Queen Anne's Revenge, get to know the area's eco-system and meet a rare sea turtle. While you can look a shark in the eye, there's no experience like dipping your hand in the water and touching a stingray.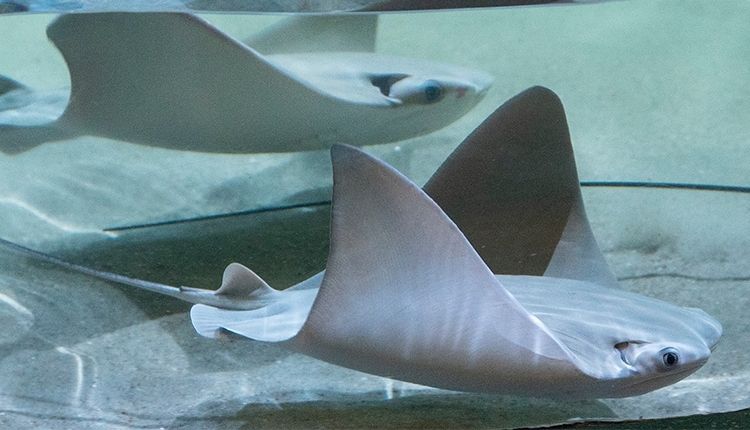 Head outside the aquarium for great views of Bogue Sound and the maritime forest. From the marsh boardwalk, follow the trail to the Nature Play area featuring a treehouse, climbing net, and more fun things for kids to do outdoors. Be sure to check out the aquarium's schedule of events. It's great fun for the whole family, and you're sure to create many memorable moments while you visit!
A Day at the Park
Spring brings some of the best afternoons. The sun is just right, and there's still a refreshing coastal breeze blanketing the island, perfect for a day at the Senator Jean Preston Memorial Park.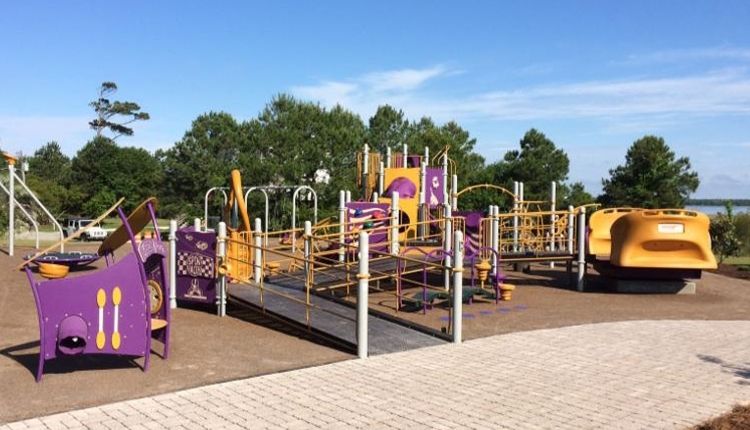 The large playground is located on Emerald Drive, just across from the public boat ramp, ideal for a memorable family outing. The park is one of the most popular playscapes in town and boasts obstacles like a ladder, slides, bridges and a lot more! The top attraction is the AeroGlider, a fun ride that sways you back and forth.
The park begs everyone to have a good time and provides specialized playground equipment that allows children in wheelchairs to join in all the fun. The sound of the waves and children's laughter will wash away the thoughts of school and replace them with memories from the best spring break ever!
Take a Walk on the Wild Side
The beach is an excellent location for shelling, sunbathing and tossing around a frisbee. To ensure your spring trip to the Crystal Coast is one your family will never forget, plan on spending a day exploring Shackleford Banks. This barrier island is located between Beaufort Inlet and Cape Lookout and is only accessible by boat. Home to various sea animals, the ideal terrain for hiking, Shackleford Banks provides nine miles of shoreline to explore.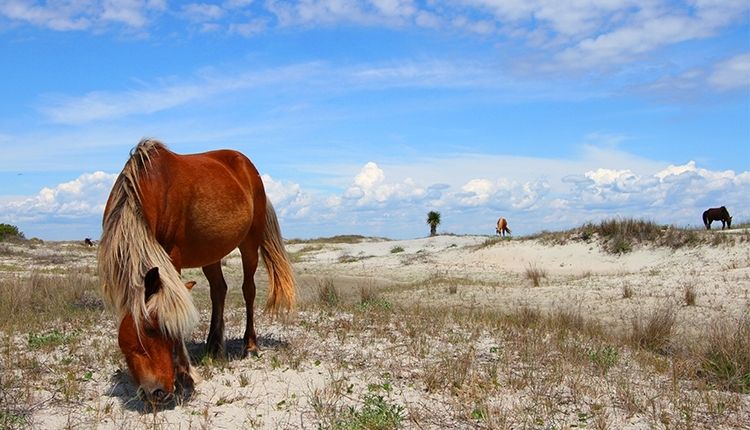 While you're enjoying a sunny stroll down the coastline, you will be treated to the sounds of seabirds and crashing waves. While the natural landscape and coastal activities are enough to entice anyone to visit, one of the main allures of this island is the wild banker horses. Wild Spanish mustangs have roamed North Carolina's Outer Banks for centuries, and today nearly one hundred still call Shackleford Banks home. While the sight of the majestic animals is sure to please any future equestrian, we guarantee the experience will be a remarkable one for the whole family. The horses, young and old, roam freely and graze during cooler morning and evening temperatures. Half of the adventure of going to Shackleford Banks is how you get there, be sure to book your ferry services in advance. Seats fill up quickly.
Start Your Engines
Suppose your kids are still looking to compete and earn another trophy, cruise on to Fun World Motorsports! The seasonal amusement park features a heart-racing go-kart course perfect for anyone who has the need, the need for speed!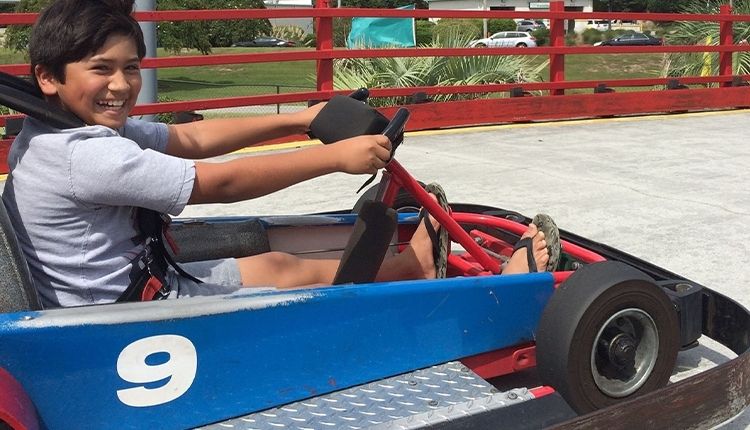 It's the perfect location to add to your list. With go-karts, games, an air bounce, fried food favorites and so much more, your family is sure to have a fun time with any of these activities.
Get Up Where the Birds Fly
Take your Emerald Isle spring getaway to new heights! Golphin' Dolphin has a new attraction that's ready to elevate your coastal experience, the breathtaking Sky Trail! Part ropes course and part roller coaster, this aerial jungle gym presents to you a variety of ways to get from one element to the other. With obstacles like the lily pad, rolling log and the zip-line, you are bound to get your adrenaline going.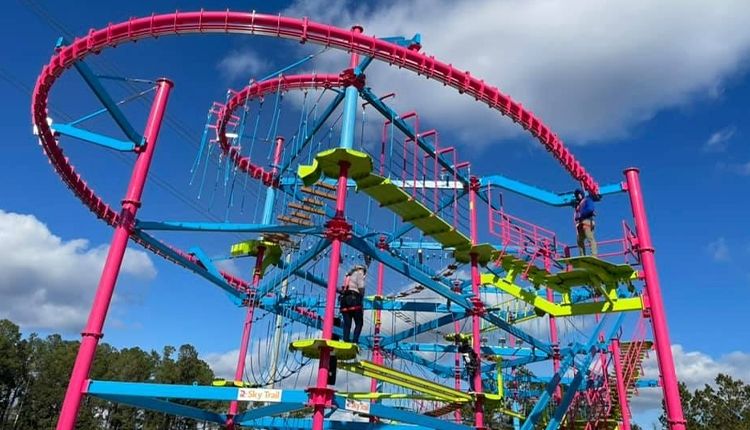 That's not all Eastern North Carolina's largest outdoor family park provides. Golphin' Dolphin boasts 24 of the fastest go-karts you can drive along the Crystal Coast, a challenging mini-golf course, a driving range and even batting cages. This exciting destination will be a favorite for your sports enthusiast and thrill-seekers alike.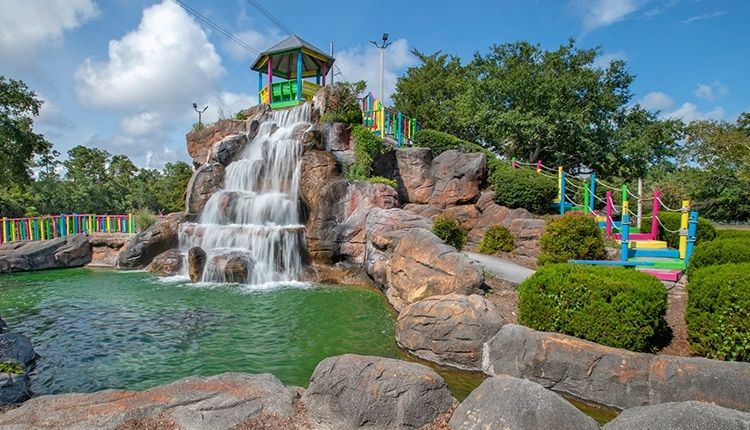 Two-Wheeled Adventure
After turning tight corners and racing to the checkered flag, a leisurely ride through Emerald Isle will be a welcome breath of fresh air. Bike your way along the Emerald Isle Bike Path for a bit of family time as you view the surrounding communities from two wheels.
The Emerald Path is an 11-mile pathway that stretches from the quaint community of Indian Beach to The Point. You and your family will trek down Highway 58 and discover some of the most picturesque views as the path winds through grassy areas and woodlands, right into downtown Emerald Isle where you'll find a variety of shopping and dining options.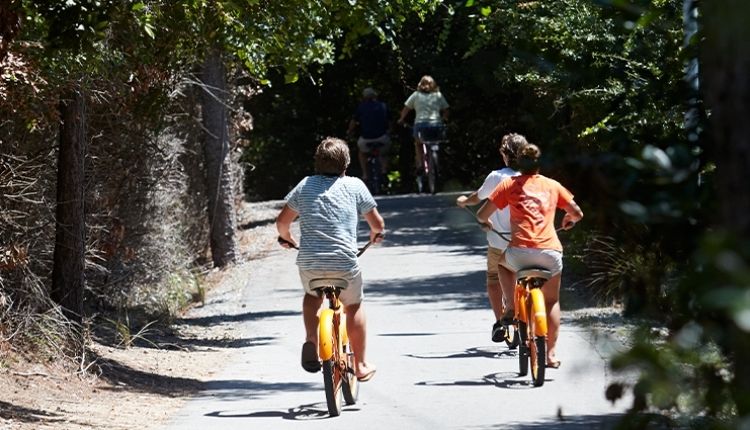 A bike ride is a great way to fully enjoy the spring weather, get outdoors and sneak in a bit of exercise with the family. If you didn't bring a bike, Emerald Isle provides several shops offering bike rentals.
Create a Your Fishing Story
There's a spot in Emerald Isle that beckons your family's attention. Whether you search for an adventurous fishing story or that perfect family vacation snapshot, Bogue Inlet Pier is the premier location.
Many families have created memories of learning to fish and catching the big one here. Fishing from atop Bogue Inlet Pier offers a great way to fish in deeper waters without a boat. The elevated location is also excellent for birdwatching and a great place to relax and enjoy the view with an endless ocean breeze.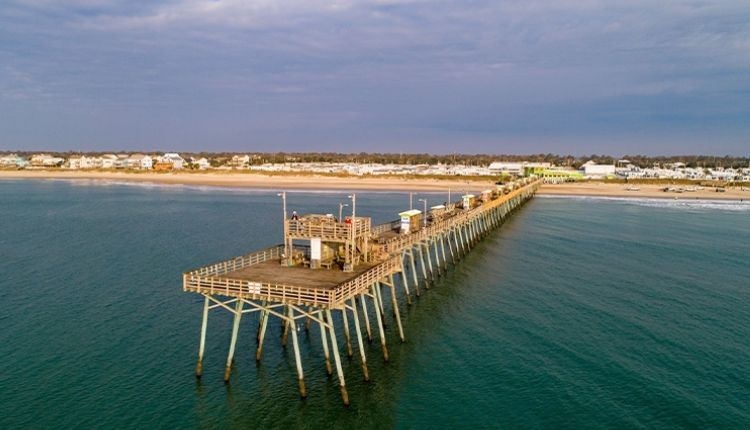 The pier provides you with breathtaking views of the shoreline that you can't find anywhere else. Wake up early and catch the sun rising over the island, or stay until sunset and witness Emerald Isle light up as the night sets in. Fishing off the Bogue Inlet Pier is the perfect way to bond with family or have some classic fun. The pier house conveniently sells snacks, drinks and any beach necessities you might need.
Surf the Rails
Sure, surfing the waves is a favorite for locals and visitors alike, but there is another way to glide across the glass waters of the Crystal Coast. Just down the road from Emerald Isle is the equally charming beach community of Atlantic Beach. A hot spot for fun outdoor entertainment is the Atlantic Beach Town Park. A dreamy ocean-filled landscape serves as the backdrop for a putt-putt course, playground, basketball court and skatepark.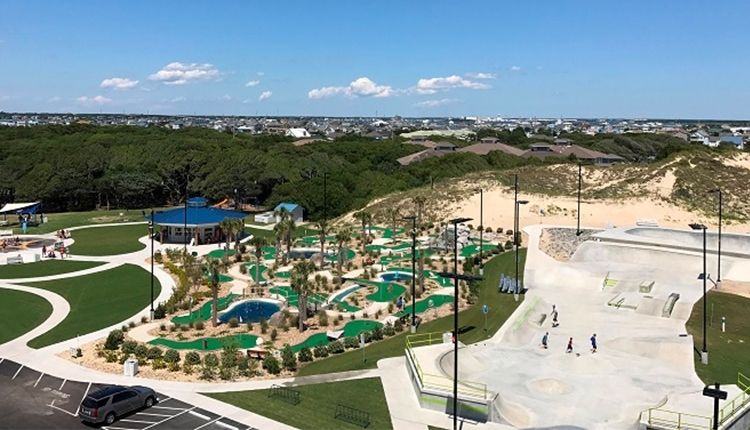 The Atlantic Beach Skatepark is one of the biggest in Eastern North Carolina and ideal for all skill levels. Let the kids skate the bowl or test out some of the moves the pros make look easy. After grinding the rails, spend some time at the playground, then cool off in the water fountain at the Splashpad. The whole family will enjoy the 18-hole miniature golf course featuring challenging obstacles, a waterfall and fountains.
Own The Lanes
After a coastal excursion at the aquarium, grab a bite and own the bowling lanes at Mac Daddy's Entertainment Center. Not only is this 4,000 square foot glorified arcade filled with plenty of options for entertainment, but they're serving up some delectable food and cold drinks as well.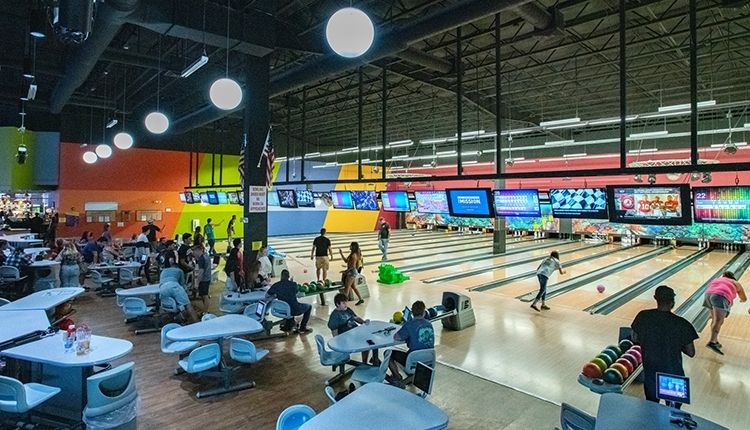 Mac Daddy's provides your family with sixteen lanes to show off your pin-dropping skills. This classic bowling setup is perfect for all ages and features plenty of options for everyone to sit down and enjoy a meal or cold beverage from the in-house bar and grill. There's even a VIP lounge if you're searching for a private bowling experience.
The beach isn't the only spot to tap into nostalgia. After racking up strikes, be sure to check out the arcade. Mac Daddy's is the Crystal Coast's largest gaming hub, and this entertainment venue has it all. From timeless shooters like Space Invaders to new classics like HALO, the whole family is sure to rack up points on any of these digital adventures. Get yourself a keepsake from the timeless experience, jump in the photo booth and grab a goofy snapshot with the family before you leave.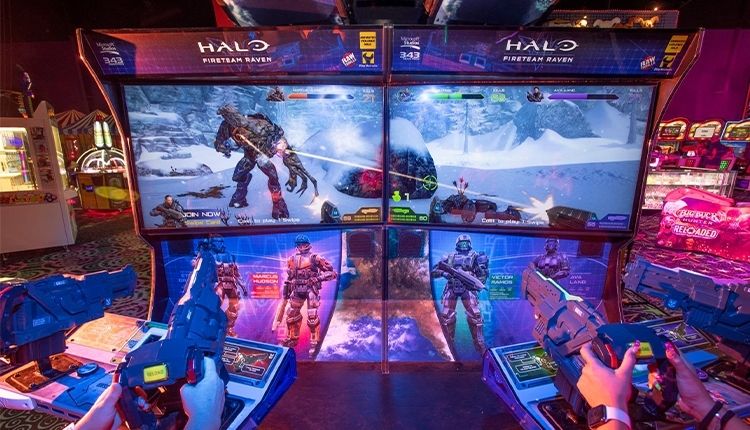 Historic Sites
Immersing yourself in local history and culture should be a goal of any vacation. A day at Fort Macon State Park will be historical fun for the whole family. This famous landmark attracts more than one million people every year and introduces kids to a part of American history that the Crystal Coast holds dear to its heart.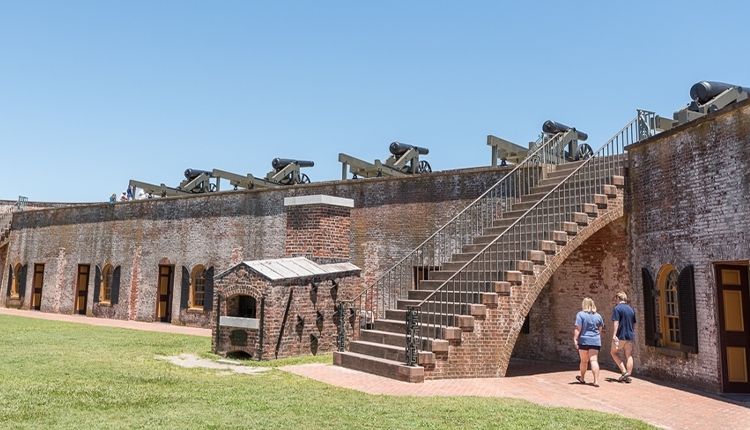 The restored war fort now serves as a museum. Your family will be able to explore bunks, cannons, a restored rations storage room, artifacts and more. Fort Macon has pavilions throughout the park, ideal for a nice family picnic. Each location boasts great park views and is conveniently close to restrooms. Be sure to pack your swimwear. The park's beach is also lifeguard-protected and perfect for some time in the waves.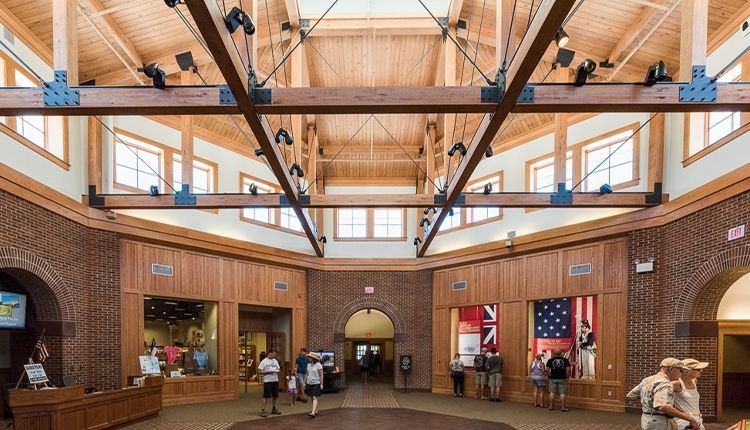 Break Away
After reading about all these attractions and activities, planning your spring getaway to the Crystal Coast should be easy. All that's left is picking the perfect vacation rental for your vacation.
.
Emerald Isle Realty has an inventory of more than 600 vacation rentals packed with amenities and plenty of space to spare. Spring is quickly approaching, and we hope you are too! Book your Spring Break vacation today!
Save it for Later