For locals and visitors alike, a favorite pastime on the Outer Banks is taking a scenic stroll along the beach, breathing in the fresh ocean air and finding beautiful seashells along the way. If you know where to look, the area can be a beachcomber's paradise, with a variety of seashells ranging in size, color and rarity that make perfect keepsakes for you to remember your trip by.
On your next Emerald Isle vacation, take some time to go shelling and beachcombing down the serene shoreline and find your own treasure.
Types of North Carolina Seashells Found on the Beach
The Scotch Bonnet is the official North Carolina State Shell, and as such, beachcombers may assume that they are easy to find all along the coastline. Unfortunately, this couldn't be further from the truth. The Scotch Bonnet is surprisingly rare and is arguably one of the best finds. A conical shell with a fat middle section and a stark white color with small, brown specks covering the body, the Scotch Bonnet is a simply beautiful shell to behold. Averaging 2″ long, it's not a very big find, but it certainly stands out in a shell pile.
If you find a Scotch Bonnet, consider yourself lucky. But don't fret, there are many seashells found on Emerald Isle beaches that are equally unique and beautiful. These popular shells include whelks, moon snails, olive shells, scallops and much more.
Whelks are a type of sea snail that have beautiful spiraled shells and are usually beige to white in color, however, some can be dark. These generally produce the most confusion among new east coast beachcombers, as they are commonly and mistakenly referred to as "conchs". While they share many similarities, they are much more common on northern east coast beaches. As you walk, you can find a brightly hued 2" whelk or even a 14-16" giant shell, which is a showpiece on any mantel. You will typically find lightning, channeled and knobbed whelks on our beaches.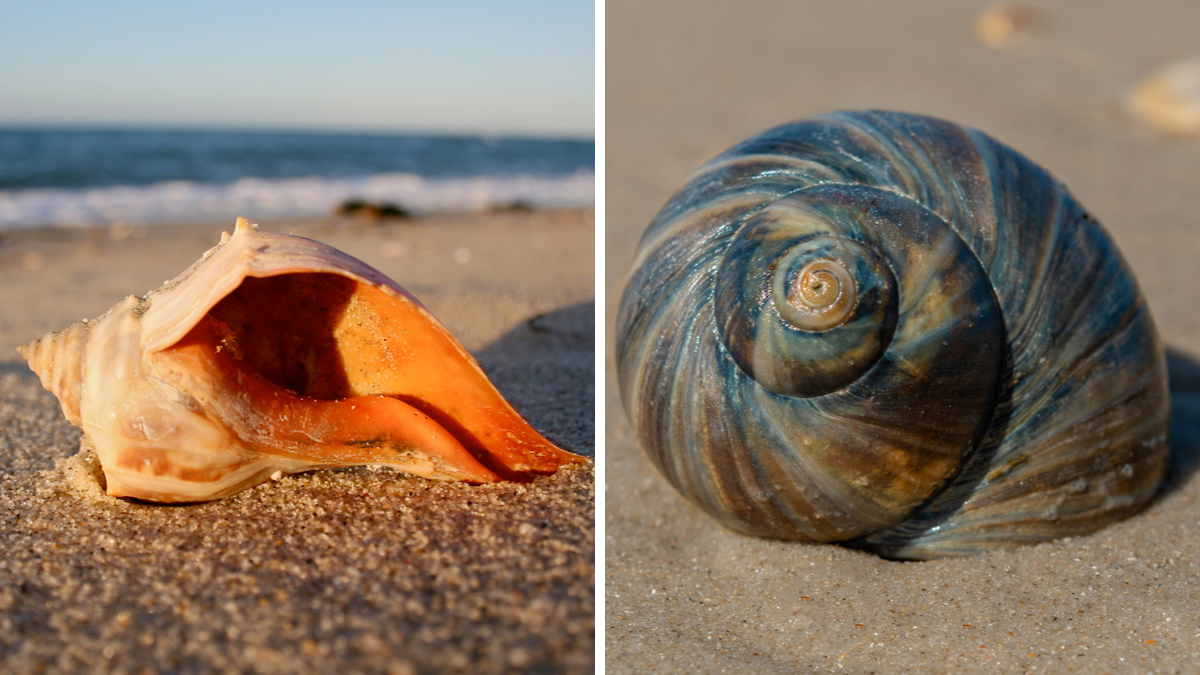 Moon snails, which are commonly known as Shark Eyes can be easily spotted because of their resemblance to their namesake. These beauties are shorter in length, a little more delicate and are spiraled in shape as well. The coloring can range from cool blues and purples to warmer orange and gold tones, so make sure you pick these up when you come across them.
Olive shells are another common find along the beaches. These shells resemble long, pointed tubes with a small number of spirals at the top, and a long opening that has shades of pink or even dark purple on the inside. A fresh olive shell, which hasn't been battered by the ocean and sand, can be patterned with hundreds of tiny triangles and abstract designs, making these shells absolutely gorgeous finds. At just 2-3″ long at most, the olive shell is a delicate find that beachcombers love to uncover.
Beachcombers can also expect to see a number of mollusks and clams along the beaches, which are bi-valve shells. These are known for their two mirroring sides and can wash up with both sides intact, or more commonly, with only one side floating along the shore. The calico and bay scallops are the most popular scallop shells on the Outer Banks, and can be a gorgeous find, ranging in hues of white, gray, pink, and even yellow, and often containing speckled patterns or lines spanning their shells.

How to Find Shells
The great thing about shelling on the Crystal Coast is that virtually any stretch of beach under the right conditions can turn into a honey hole for shell hunters.
The most important and least reliable factor into ensuring incredible shelling conditions is a good storm. While we don't encourage storms to hit the area, post-storm beachcombing and shelling usually brings out some special finds. Generally, this happens at least a day after the storm has passed, when the ocean waves have calmed down, and buckets of shells have had an opportunity to wash up on the beaches in huge piles.
On popular shelling beaches, where a shoreline or shell pile may have been picked through many times over, try getting dirty and sifting through the seaweed. More times than not, when good shells wash up, they can be accompanied by small piles of seaweed, and most casual beachcombers overlook these rare piles in favor of the more obvious finds along the shoreline.
One of our biggest tips for looking for shells is to take your time! So many beautiful shells can be overlooked when you're in a rush and you'll miss some great finds if you're not careful!

Where to Find Shells
If you're walking down the beach in front of your vacation rental looking for shells, you will likely find the more common shells, but you're more likely to discover great additions to your shell collection by visiting beaches that don't have a lot of traffic and more preservation. For that reason, the following beaches will give you the best chance to find something truly special.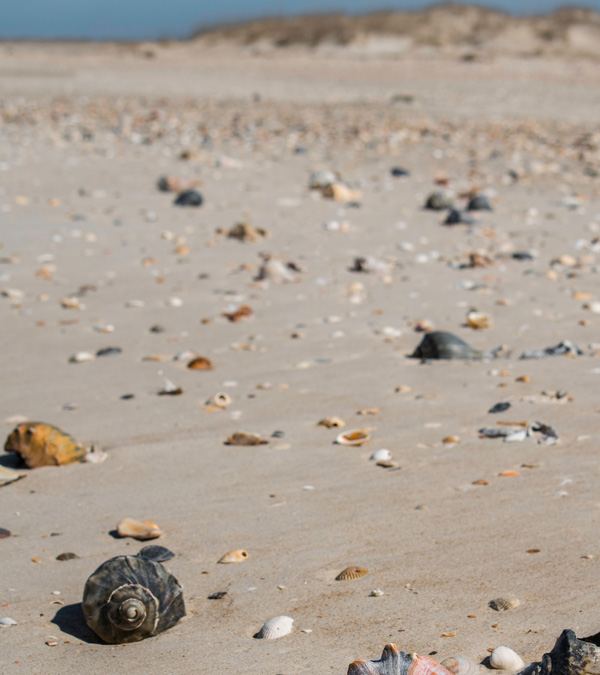 Shackleford Banks is a hot spot for shelling and beachcombing since it's only accessible by boat. This area has more than nine miles of shoreline to explore and is home to more rare shells like Scotch Bonnets and Sand Dollars. Those interested in Sand Dollars, specifically, then Sand Dollar Island is just for you. This island has a reputation for having plenty of sand dollars along its shoreline but be sure to visit during low tides as that happens to be the only time you can get there. Cape Lookout National Seashore is yet another great spot for beachcombers. This spot is virtually unspoiled, and the shoreline has an abundance of shells that are washed on the shore every day. Another unspoiled and almost untouched stretch of beach is the Hammocks Beach State Park. These four miles of shoreline are begging to be explored and the beaches are peaceful and uncrowded, so you'll likely find some shell piles to sift through. You'll have to get here by passenger ferry, private boat or by canoe or kayak if you're up for a day of adventure.

Finding Your Way Here
Regardless of what shells you uncover, they are great for crafts, containers, or simple memories of a great day at the beach.
Like finding the perfect seashell, finding the perfect vacation rental property can take time and diligence to find what you want, but as always, we've made it easy! Check out our search tool and pinpoint the perfect rentals based on the location, amenities and types of properties you're interested in. You're in for a shell of a time!