For locals and visitors alike, a favorite pastime on North Carolina's Southern Outer Banks is taking a scenic stroll along the beach, breathing in the fresh ocean air and finding beautiful seashells along the way. If you know where to look, the area can be a beachcomber's paradise, with a variety of seashells ranging in size, color and rarity that make the perfect keepsakes to remember your special trip for years to come.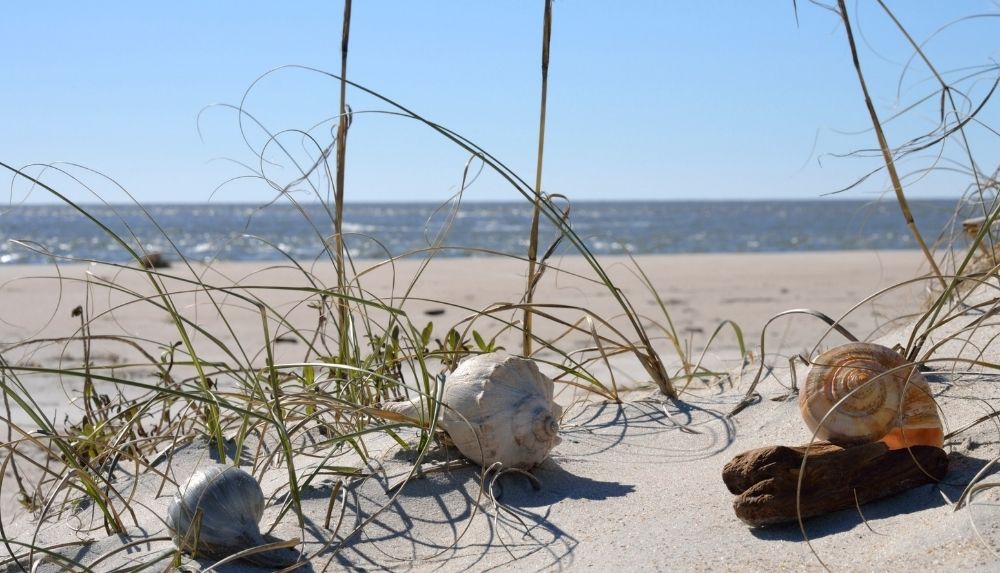 On your next Emerald Isle vacation, set aside some time to go shelling and beachcombing down the serene shoreline and find your own treasure.
TYPES OF SEASHELLS FOUND ON NORTH CAROLINA BEACHES
You'll find an amazing variety of seashells washing up on North Carolina beaches virtually any time of year. From the more common shells include whelks, moon snails, olive shells and scallops to the more elusive scotch bonnets, here are some of the seashells you'll want to keep an eye out for as you make your way along the beaches.
Scotch Bonnet
The scotch bonnet is the official North Carolina state shell, and as such, beachcombers may assume that they are easy to find all along the coastline. Unfortunately, this couldn't be further from the truth. The scotch bonnet is surprisingly rare and is arguably one of the best finds. A conical shell with a fat middle section and a stark white color with small, brown specks covering the body, the scotch bonnet is a simply beautiful shell to behold. Averaging 2-inches long, it's not a very big find, but it certainly stands out in a shell pile.
If you find a scotch bonnet, consider yourself lucky. But don't fret, there are many seashells found on Emerald Isle beaches that are equally unique and beautiful.
The queen helmet is a variety of scotch bonnet that can also be found on North Carolina beaches. The shell is similar in color but can reach 10-inches in length.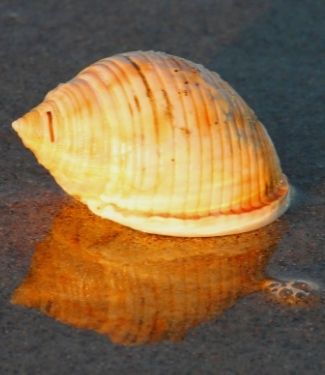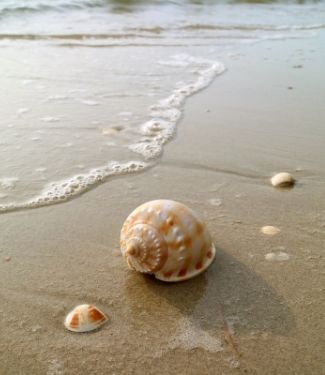 Whelks
Whelks are a type of sea snail that have beautiful, spiraled shells and are usually beige to white in color, however, some can be dark. These generally produce the most confusion for new beachcombers, as they are commonly and mistakenly referred to as "conchs".
While they share many similarities, whelks are much more common on northern East Coast beaches. As you walk the shoreline, you can find a brightly hued 2-inch whelk or even a 14 to 16-inch giant shell, which is a showpiece on any mantel. You will typically find lightning, channeled and knobbed whelks on the beaches near Emerald Isle.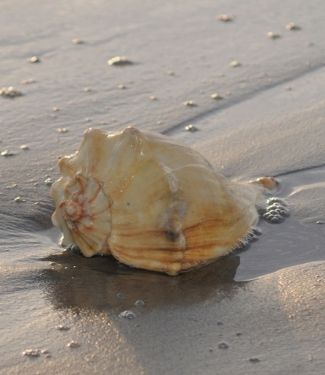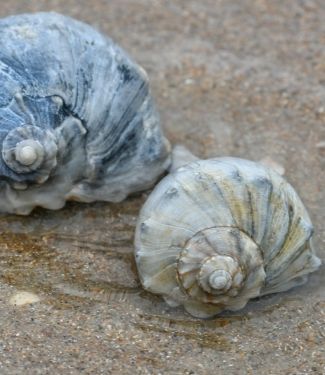 Olive shells
Olive shells are another common find along the beaches. These shells resemble long, pointed tubes with a small number of spirals at the top, and a long opening that has eye-catching shades of pink or even dark purple on the inside. A fresh olive shell, which hasn't been battered by the ocean and sand, can be patterned with hundreds of tiny triangles and abstract designs, making these shells gorgeous finds. At just 2 to 3-inches long at most, the olive shell is a delicate find that beachcombers love to uncover.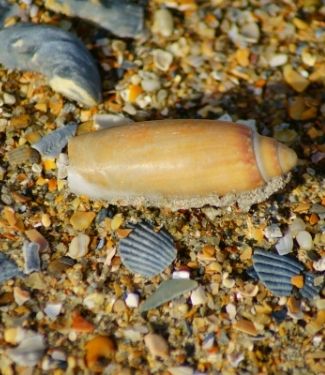 Clams
Beachcombers can expect to see a variety of mollusks including clams along the beaches, which are bi-valve shells, meaning the two shells are hinged together by a muscle inside. These shells are known for their two mirroring sides and can wash up with both sides intact, or more commonly, with only one side floating along the shore.
Coquina shells are among the smallest of bivalves that you will find on Outer Banks beaches. These colorful shells are typically less than an inch in length and live in colonies just below the surface of the sand in the surf. Coquinas appear to pop out of the sand after a wave recedes.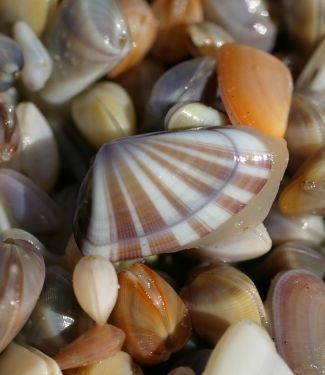 Scallops
Scallops are a type of mollusk, but unlike other bivalves, they are circular-shaped and can swim. Calico and bay scallops are the most common types of scallop shells found on Outer Banks beaches. These seashells can be a gorgeous find, ranging in hues of white, gray, pink, and even yellow, and often containing speckled patterns or lines spanning their shells.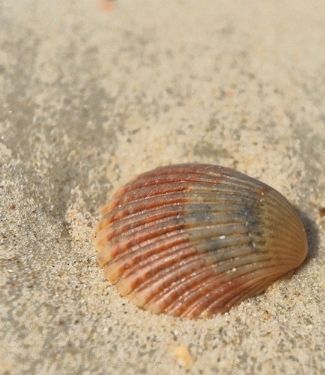 Moon snails
Moon snails are another great find you're likely to come across on Outer Banks beaches. These shells are commonly referred to as Shark Eyes and can be easily spotted because of their resemblance to their namesake. These beauties are shorter in length, a little more delicate and are spiraled in shape. The coloring can range from cool blues and purples to warmer orange and gold tones, so make sure you pick these up when you come across them.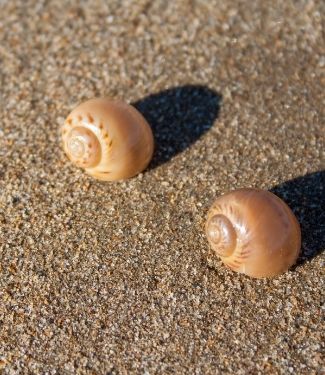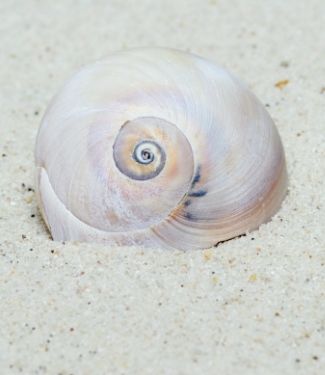 Auger shells
The auger shell is a snail shell with high spirals and numerous whorls. Colors of the auger shell vary from bands of pale gray, pinkish brown or orangish brown. These shells are typically found in sounds and on shallow sand flats.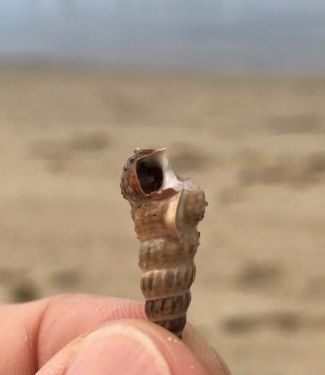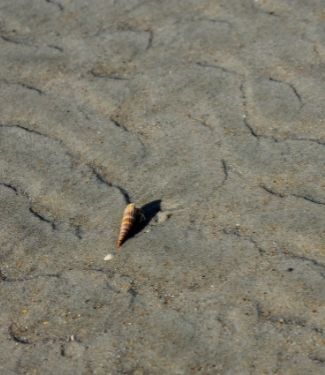 Keyhole Sand Dollars
The sand dollar is one of the most revered finds by even the most seasoned beachcombers. Sand dollars are typically found on sandy or muddy flat areas of the ocean in the shallows near land. They range in size from one to four inches in diameter. These creatures live in groups on the seafloor and burrow themselves partially into the sand to remain in place while they catch their food.
A live sand dollar is brownish in color and covered with very short, fur-like spines. It is important to remember that if you find a sand dollar that is alive, you should not remove it from the beach.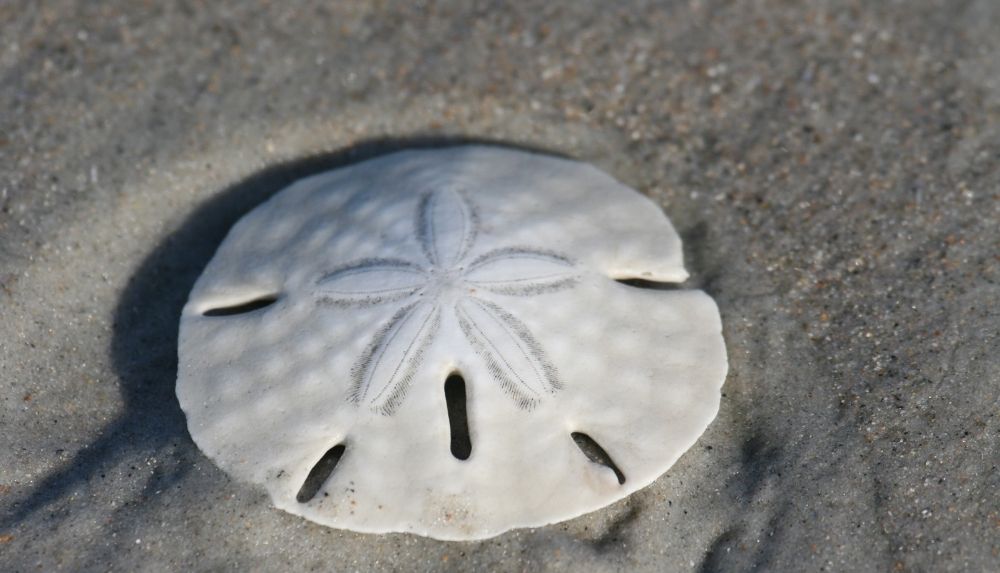 Bonus: Shark teeth
Shark teeth are one of the most treasured finds on the beach and North Carolina beaches are known as being a hotspot for finding them. Sharks produce thousands of teeth over a lifetime and lose hundreds of them daily, so while they are plentiful, you must know what to look for and where to find them. Look along the tideline of beaches for triangular shapes. Newer teeth are still white, while black teeth have been fossilized over time. Shark teeth are easily covered by sand so sifting and digging increases your chances of finding one.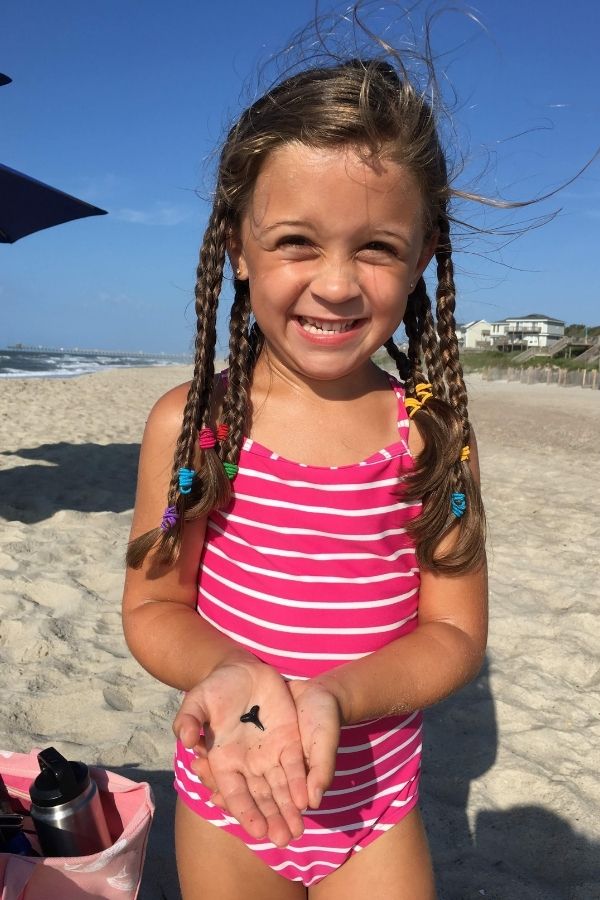 BEST TIME TO FIND SEASHELLS ON THE BEACH
The great thing about shelling on the Crystal Coast is that virtually any stretch of beach under the right conditions can turn into a honey hole for shell hunters. But knowing the best times to find seashells can increase your likelihood of finding some of the rarer treasures. Here are a few tips to help.
Early in the morning. You've heard the saying that the early bird gets the worm. Well, the same is true for seashells. The earlier you head out, the more opportunities you'll have to find seashells before others. 
At low tide. The hours just before and after low tide offer the best chances for finding more plentiful and diverse shells. The high tide washes the shells inland, leaving behind a treasure trove of seashells as it recedes. You'll want to check the tide charts before setting out on your shelling adventure to determine the best times to go.
After a storm. One of the best times to find seashells is after a good storm. While we don't look forward to storms hitting the area, post-storm beachcombing and shelling can result in some special finds. Generally, this happens at least a day after the storm has passed, when the ocean waves have calmed down, and buckets of shells have had an opportunity to wash up on the beaches in huge piles.
During the off-season. The off-season months from October through April also offer more opportunities to make some great finds with fewer people on the beaches. Just make sure to check seasonal operating schedules for ferries and boat trips ahead of time.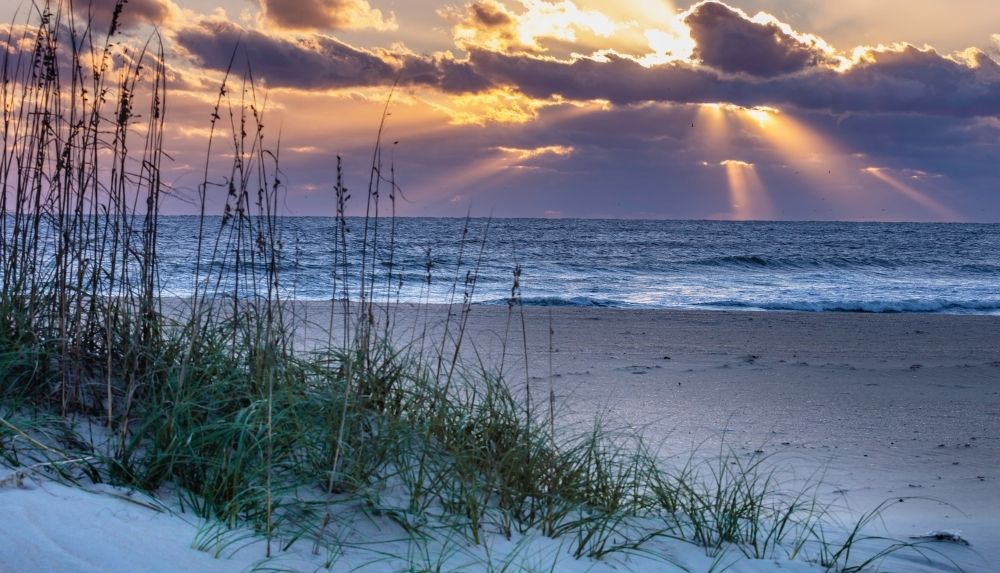 HOW TO FIND SEASHELLS ON THE BEACH
Knowing how to find seashells is also important. While some shells lay atop the sand just waiting to be scooped up, others can be much more elusive, requiring more time and patience to uncover. Here are a few tips to remember during your shelling excursion.
Wade out into the water. Oftentimes, the best shells can be found just by wading into the water. Beaches that have shallow shorelines and calmer tides are areas where wading into the water can lead to magnificent shell finds. Remember to bring a net with you to help scoop up shells before they have the chance to be pulled back into deeper waters. 
Look through small piles of grass and seaweed. On popular shelling beaches, where a shoreline or shell pile may have been picked through many times over, try getting dirty and sifting through the seaweed. More times than not, when good shells wash up, they can be accompanied by small piles of seaweed, and most casual beachcombers overlook these rare piles in favor of the more obvious finds along the shoreline. 
Dig into the sand. As shells are washed onto the shoreline, they can become partially or even fully covered by sand. Digging into the sand can also help you discover more great finds. Make sure to bring a small shovel to make digging easier and fill in any holes that you dig up. 
Search tidal pools and marshes. Tidal pools and marshes are great places for starfish, sand dollars, mussels and other sea creatures to hide. A net is also helpful for scooping up seashells in these areas. 
Look during a full moon or new moon. The waves during a full or new moon can often bring more diverse shells to the shore, just as they do during a storm. Just remember to wait until low tide to begin your search. 
Take your time. One of our biggest tips for looking for shells is to take your time! So many beautiful shells can be overlooked when you're in a rush and you'll miss some great finds if you're not careful! 
Pick a good spot. While ample shelling opportunities can be found on many of the beaches that line North Carolina's coast, knowing a few good spots to start can save you a lot of time. To get your shelling expedition off to a great start, we'll cover some of the most popular shelling spots in the next section.
 Just remember, if the animal that lives in the shell is alive, leave it there. Do not pick up and take home any live shells.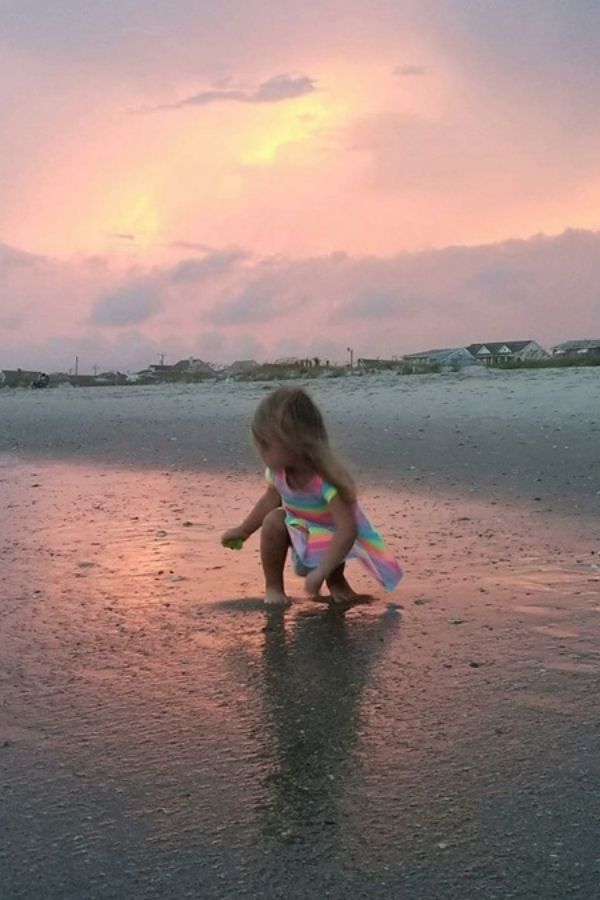 BEST SHELLING BEACHES ALONG NORTH CAROLINA'S OUTER BANKS
You'll find an abundance of shelling opportunities throughout North Carolina's Outer Banks. Staying in one of the oceanfront beach house rentals that line portions of the shoreline in Emerald Isle gives you easy access and ample opportunities for shelling. Ambitious shellers who are looking for a more diverse set of seashell treasures will want to visit some of the more secluded and remote beaches and islands along the coast.
Here are some of the most popular shelling beaches located along the southern portion of North Carolina's Outer Banks where you're sure to find something truly special on your next shelling adventure.
Cape Lookout
Cape Lookout National Seashore is one of the best spots for shelling on the Outer Banks. The southernmost point is the preferred spot for beachcombers due to its proximity to the Gulf Stream and Labrador currents. The spot is virtually unspoiled with an abundance of shells washing up on the shoreline daily.
In addition to shelling, the beaches at Cape Lookout are also great for swimming, snorkeling, fishing and soaking in the glorious sun.
Getting there: Cape Lookout National Seashore is only accessible by private boat or ferry. Island Express Ferry Service offers daily ferry rides to Cape Lookout from Harkers Island and Beaufort. Truck shuttles are available on the island to get to the point. Island Express Ferry Service also offers ATV rentals that you can rent to explore the beach at your own pace.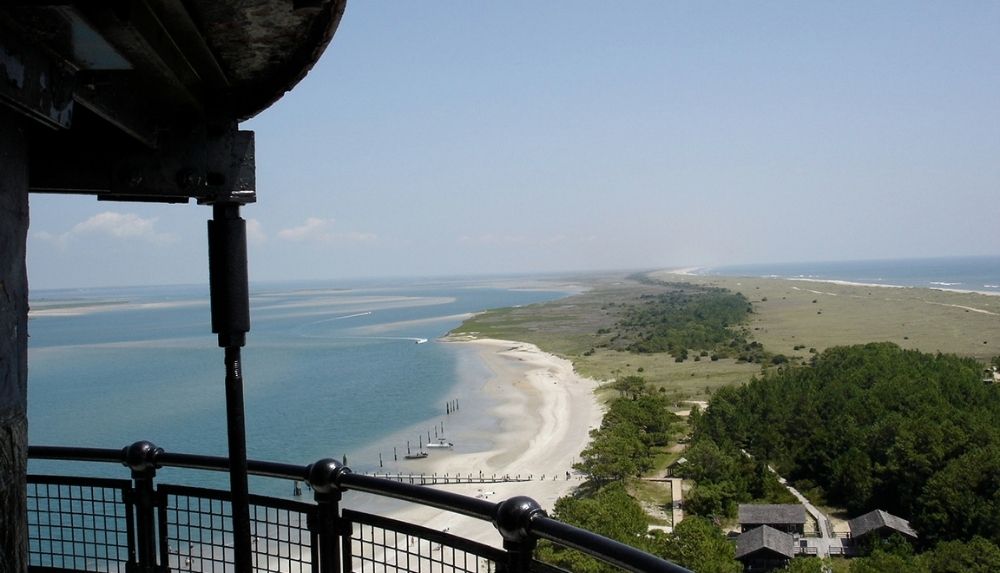 Shackleford Banks
Shackleford Banks is another hot spot for shelling and beachcombing since it's only accessible by boat. The barrier island is located between Beaufort Inlet and Cape Lookout, with more than nine miles of shoreline to explore. Shells can be found on both the sound and ocean side, although you may find larger shells by wading into the water on the ocean side. The island is a great spot to find some of the rarer shells like scotch bonnets and sand dollars.
Shackleford Banks is also home to more than 100 wild Banker horses that roam and graze the island freely. Go hiking around the island to catch glimpses of the horses or take a dip on the sound side of the island where currents are much calmer.
Getting there: Shackleford Banks is only accessible by private boat or ferry. Island Express Ferry Service offers daily ferry rides to Cape Lookout from Harkers Island and Beaufort.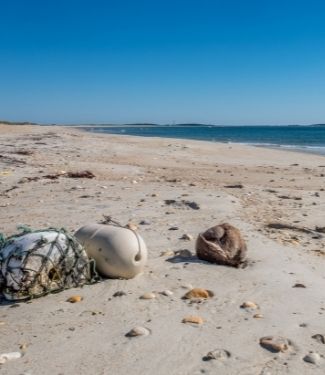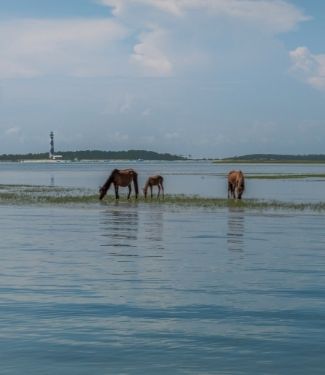 Bird Shoals Island near Beaufort
Another great shelling spot on the Outer Banks is Bird Shoals Island, off the coast of Beaufort. This uninhabited island is not as well known, making it a great place to relax, or enjoy shelling and swimming in the shallow tidal pools that connect the island to Carrot Island. Bird Shoals offers over two miles of pristine beach where shellers are likely to find sand dollars, as well as smaller shells. As part of the Rachel Carson estuary, it's also a great spot to catch a glimpse of the famous wild Banker horses that roam the islands. 
Getting there: Bird Shoals Island is only accessible by private boat or ferry.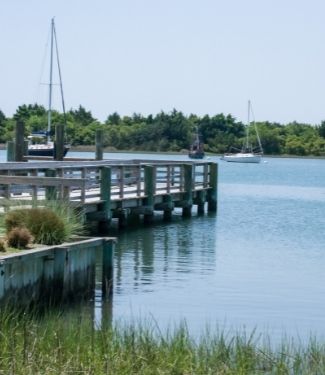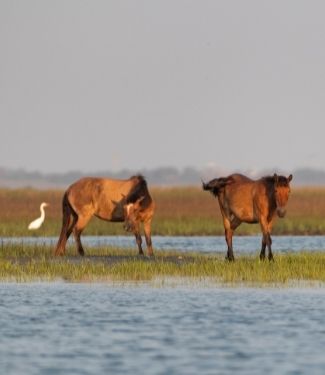 Sand Dollar Island
Those interested in sand dollars, specifically, should plan to visit Sand Dollar Island. The island is located between Carrot Island and Shackleford Banks and is known for having plenty of sand dollars along its shoreline. There is one thing you must keep in mind; however, the island is typically only visible and accessible during low tide. So, a visit to the island is dependent upon the timing of the tides that change daily.
Getting there: Sand Dollar Island is only accessible by private boat or ferry. Morehead City Ferry Service, which operates out of Morehead City, NC, offers an exclusive cruise to Sand Dollar Island to scavenge for sand dollars and take in the beautiful sights.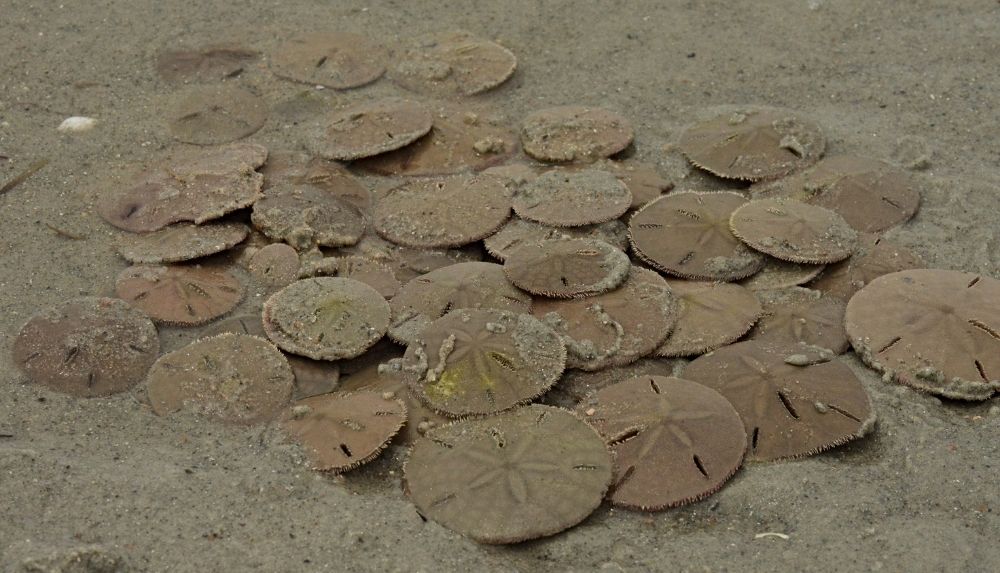 Bear Island and Hammocks Beach State Park
Another unspoiled and almost untouched stretch of beach is Hammocks Beach State Park. Located on Bear Island, off the coast of Swansboro, lies four miles of shoreline just begging to be explored.  The beaches are peaceful and uncrowded, so you'll likely find some shell piles to sift through.
Getting there: The only way to get to Bear Island and Hammocks Beach State Park is by passenger ferry, private boat or by canoe or kayak if you're up for a day of adventure.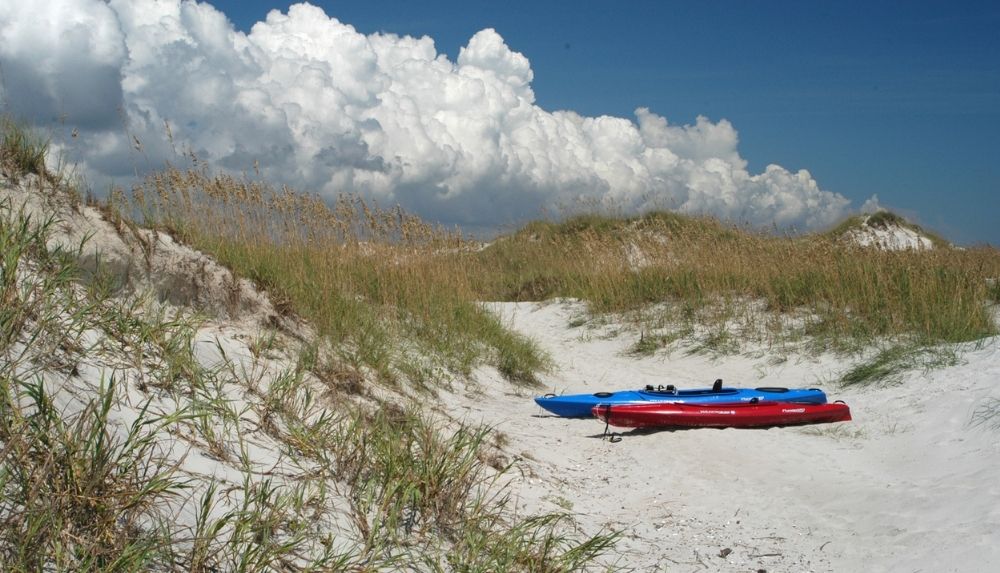 The Point on Emerald Isle
A stay in Emerald Isle wouldn't be complete without a visit to The Point. Located on the westernmost portion of Bogue Banks in Emerald Isle, near the end of Coast Guard Road, the island transitions into a sandbank with stunning views of Bear Island and the emerald green waters of the Atlantic Ocean. It's also one of the best places on the Crystal Coast to watch a sunset, watch for dolphins and do a little fishing.
Getting there: Take Coast Guard Road in Emerald Isle to Channel Drive where there is a small free public parking lot near the intersection of the two roads.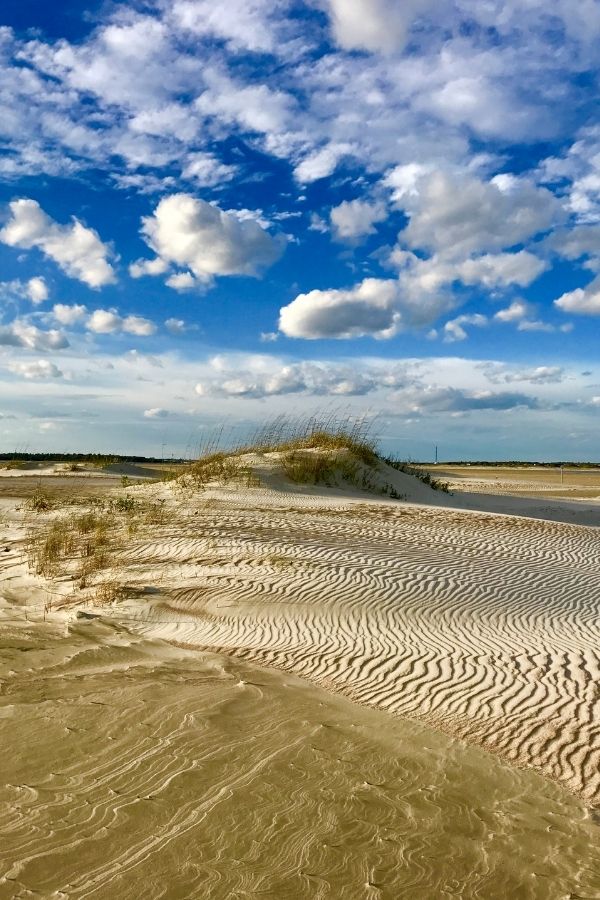 Fort Macon State Park
Fort Macon State Park is a historic landmark where a reconstructed fort stands guard over Beaufort Harbor, just as it did during the Civil War. The park is surrounded by water on three sides with more than a mile and a half of unspoiled shoreline that is perfect for beachcombing and other activities including swimming and fishing. Shelling is typically best near the jetties, but you may also be able to uncover a few shells on the channel side as well.
Getting there: Fort Macon State Park is located on the east side of Bogue Banks in Atlantic Beach, NC. The park is free and open to the public, and parking is available.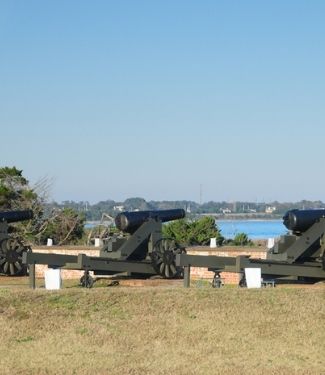 .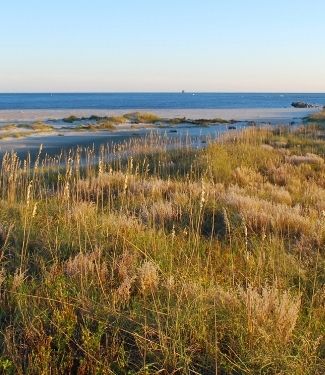 Shelling Tours
In addition to ferry services such as Island Express Ferry Service and Morehead City Ferry Service, you'll find several other options for shelling cruises and tours of the various islands that make up the Southern Outer Banks of North Carolina.
Shackleford Wild Horse and Shelling Safari features boat tours where guides assist you in tracking the wild horses on Shackleford Banks and then allow time for groups to shell their way down the beaches to find conchs, whelks, queen's helmets, scotch bonnets, sand dollars and more. H2O Captain Eco-tour Boat Excursions offers several unique boat tours as well as customized excursions where you choose the sights and activities based on your family's interests.
Discover even more great Crystal Coast cruises and boat tours that are available.
WHERE TO STAY FOR YOUR SHELLING ADVENTURE
Emerald Isle is located on the southern portion of North Carolina's Outer Banks in the area known as the Crystal Coast. Its wide, sandy beaches, array of beach house rentals and laid-back atmosphere have made it a popular family beach destination for many years.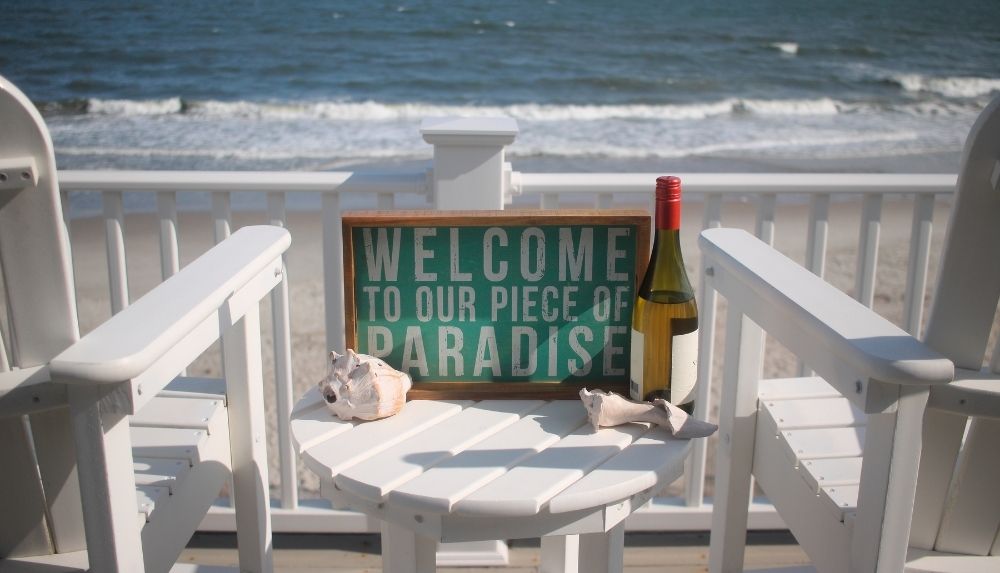 Like finding the perfect seashell, finding the perfect vacation rental property can take time and diligence to find what you want, but as always, we've made it easy! Emerald Isle Realty offers an extensive selection of vacation rentals ranging from oceanfront to soundfront and everything in between. Search to find the perfect rental based on the location, amenities and types of properties you're interested in.
You'll even find vacation homes with names that were inspired by seashells themselves. From Shell Cove, a 6-bedroom oceanfront beach house with private pool to Figura Scotch Bonnet East and West, an oceanfront duplex with connecting door perfect for families renting both sides.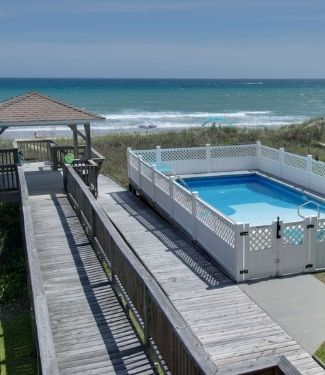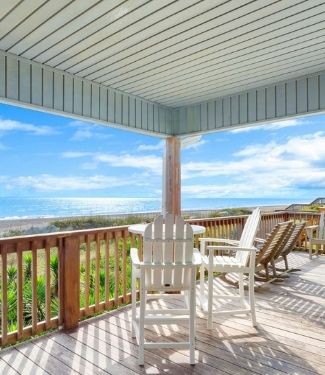 There's no better place for a fun family shelling adventure than on North Carolina's Crystal Coast. Regardless of what shells you uncover, they are great for crafts, home decor, or special mementos of a great day at the beach. You're in for a shell of a time!
You May Also Like:
Hidden Gems on North Carolina's Crystal Coast
Fun DIY Seashell Craft Ideas that Make Great Vacation Keepsakes
Save it for Later