Ensure your trip to the Crystal Coast is one you will never forget when you spend a day exploring the spectacular Shackleford Banks. This isolated barrier island is located between Beaufort Inlet and Cape Lookout, and is only accessible by boat.
With the allure of wild horses, various sea animals, hiking, swimming and more, you can escape reality and experience nature like never before. Be sure to bring your camera because you'll want to capture these picturesque moments and treasure them forever!
The Wild Horses of Shackleford Banks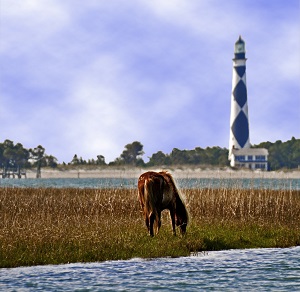 When you step onto the banks, spend a moment taking in everything mother nature has to offer. As you explore the barrier island, you will be greeted by the local inhabitants—the island's famous wild horses. The Island is home to around 110 Shackleford horses that are closely monitored by the National Park Service.
How the horses arrived is still a mystery, but it is said they could be descendants of Spanish Mustangs that swam ashore after surviving a shipwreck. Finding ground to graze, fresh water, and shelter from storms in the wooded areas, the horses were able to survive and adapt to life on the island. But horse watching is just one of the activities to experience. Once you've had your fill of horseplay, head to the beach to relax your day away.
If you're going for a drier approach, or once you're finished with your swim, stroll down the coastline and take in the sounds of seabirds and crashing waves. Go for a leisurely ramble, and be enveloped by an array of shells that have washed up on the shore. The Shackleford Banks are known for some of the best shelling North Carolina has to offer. Make sure to keep your eyes peeled for the North Carolina State Shell, the Scotch Bonnet, and for the always coveted Sand Dollars. The most fruitful time to go shelling is the day after a storm, but the island is always filled with unique finds any day you're up for an adventure.