Ensure your trip to the Crystal Coast is one you will never forget when you spend a day exploring the spectacular Shackleford Banks. This isolated barrier island is located between Beaufort Inlet and Cape Lookout, and is only accessible by boat.
With the allure of wild horses, various sea animals, hiking, swimming and more, you can escape reality and experience nature like never before. Be sure to bring your camera because you'll want to capture these picturesque moments and treasure them forever!
The Wild Horses of Shackleford Banks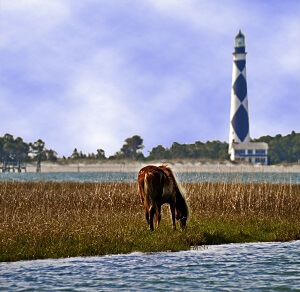 When you step onto the banks, spend a moment taking in everything mother nature has to offer. As you explore the barrier island, you will be greeted by the local inhabitants—the island's famous wild horses. The Island is home to around 110 Shackleford horses that are closely monitored by the National Park Service.
How the horses arrived is still a mystery, but it is said they could be descendants of Spanish Mustangs that swam ashore after surviving a shipwreck. Finding ground to graze, fresh water, and shelter from storms in the wooded areas, the horses were able to survive and adapt to life on the island. But horse watching is just one of the activities to experience. Once you've had your fill of horseplay, head to the beach to relax your day away.
Things to Do at Shackleford Banks
Marvel at the remote beauty of the island as you explore the banks on your hiking journey. With over 9 miles to discover, you can choose to take a nice stroll along the beach or head through the dunes following paths made by the wild horses. In between the dunes, you will be encompassed by low flat areas that are perfect spots for camping. During your hike, you'll find relief from the sun on the north side of the island where the trees turn into a thick maritime forest, or head back to the shoreline for a quick dip to cool off.
With the breathtaking natural beauty that Shackleford Bank has to offer, it's easy to enjoy the entire day here while keeping cool in the pristine waters that surround the banks. If you are looking for a relaxing dip, the Bogue side of the island is soothing and calm with barely a current. The sound waters are ideal for anyone, but groups with small children or dogs will especially enjoy the safety and tranquility. If you're more of an adrenaline seeker, the shore side is an adventure for experienced swimmers, but take caution, as the currents can be quite strong. Make sure to always swim with a buddy and check out the Cape Lookout swimming safety tips.
If you're going for a drier approach, or once you're finished with your swim, stroll down the coastline and take in the sounds of seabirds and crashing waves. Go for a leisurely ramble, and be enveloped by an array of shells that have washed up on the shore. The Shackleford Banks are known for some of the best shelling North Carolina has to offer. Make sure to keep your eyes peeled for the North Carolina State Shell, the Scotch Bonnet, and for the always coveted Sand Dollars. The most fruitful time to go shelling is the day after a storm, but the island is always filled with unique finds any day you're up for an adventure.
Visitor Information
Ferry Services to Shackleford Banks
Half of the adventure of going to the barrier island is how you get there. Start your day by taking an exciting 15–20 minute passenger ferry ride, where you have a chance to see dolphins swimming alongside as you make your way across. The experienced local captains and crew pick your group up from either Harker's Island or Beaufort. These can fill up fast, so make sure to book your passenger ferry services as soon as your date is narrowed down.
What to Bring?
Bring Lots of Water (No drinking fountains or fresh drinking water available)
Snacks or Picnic Lunch
Sunblock
Bug Spray
Beach Shoes (No Flip Flops)
Canopy for Shade
Bag for Seashells
Bag for Trash
Camera
Insider Tips:
Plan to go on a weekday when it's less crowded
Bring Ziploc bags to keep phone and camera dry
Arrive 30 minutes early to catch your ferry
Plan shorter trips if you're taking small children
If you're planning on bringing your pup bring a 6-foot-long leash
Start planning your visit to see the wild horses of Shackleford Banks and to experience all that this enchanting Island has to offer!
Related Content:
The Wild Horses of Shackleford Banks
Best Places to Go Shelling & Shell Décor Ideas
Out & About in Carteret County: Harker's Island, Cape Lookout and Shackleford Banks