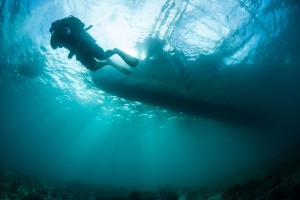 The ocean is full of mysteries and secrets. Many of these can be found in the Atlantic waters just off the Crystal Coast. These waters are referred to as "The Graveyard of the Atlantic." With so many wreck sites, you could dive a different one each day for a month and still not see them all.
An array of war tankers and merchant ships line this area; a majority of which were sent plummeting to the ocean floor by German U-boats during World War II. Ships would go through the shipping lanes while the submarines would sit waiting for them as they passed and would sink them.
The best way to experience these historic sites as well as the marine life is to dive! When it comes to shipwreck diving, there are several dive companies in the local area, such as Olympus Dive Center, that can help you discover what lurks below. Most charters are full day or can even be extended day charters depending on the size of the ship and if you want to explore the entire wreckage.
Wrecks to Dive:
U-352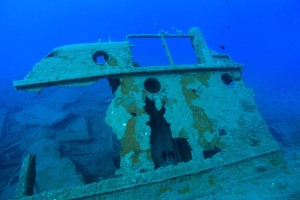 At 110 feet below the surface you will find the German submarine U-352 that sunk on May 9, 1942 after being struck by the Coast Guard Cutter Icarus during the U-boat attacks of World War II. This site is a great Full Day Charter and is one of the most intact vessels out there. The dive skill level is intermediate and resides in an area of Sand Sharks. A special exhibit featuring a scaled down replica of the U-352 can be found at the North Carolina Aquarium at Pine Knolls.
Ashkhabad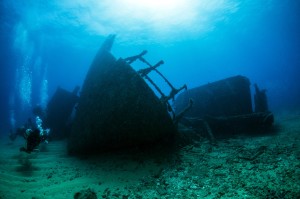 A Russian freighter that was in charge of reporting torpedo sightings, Ashkhabad was struck by the U-402 on April 29, 1942. It has fallen 60 feet below the sea which makes this a perfect location for the beginner diver. There is very good visibility (30-50 feet on average) plus a wide variety of aquatic life to see such as sheepshead fish, trigger fish, sea bass and spade fish.
Normannia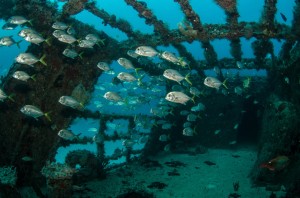 With a length of 312-feet, this freighter fell 115 feet to its resting place after a strong storm caused leaking in the engine room, which then spread to the ship's hull on January 17, 1924. This wreckage is referred to as an extraordinary site with an area visibility range of 60 feet and the wildlife that lives both inside and outside the ship such as spade fish, barracudas, lobster, hog fish and more. The dive level of the Normannia wreckage is listed as intermediate.
Proteus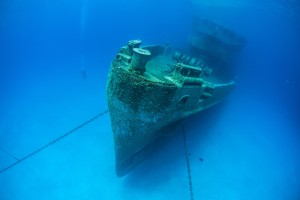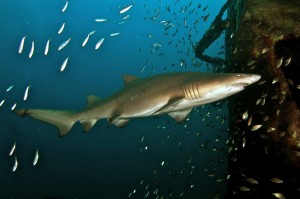 The Proteus was a 406-foot passenger-freighter that collided with the S.S. Cushing on August 19, 1918 to end up sitting 120 feet below the sea with its highest point at 90 feet. The ship is generally in good condition with several parts still intact such as the brass wheel on the stern deck.  There is an average visibility of 60+ feet and marine life that include sea bass, pompano, and several tropical fish. The wreckage lies in an area heavily populated with Sand Tiger Sharks so use caution when diving. The dive level is set at intermediate.
Dive into the waters of the Crystal Coast and see, experience and touch a piece of history. Our waters of full of stories just waiting to be told.