Emerald Isle, North Carolina is a coastal destination that allows every visitor to curate their own dream vacation. From nature trails to family-friendly attractions, this Crystal Coast community is always buzzing with activities for travelers of all ages.
While trekking the trails and visiting the North Carolina Aquarium at Pine Knoll Shores is enticing, the beach is what brings visitors back to Emerald Isle year after year. With emerald waves on repeat and miles of golden sand, it's obvious why this dreamscape has received national recognition. But it's more than a relaxing view—it's an aquatic playground for salt-washed adventure. Here are nine fun things to do on the water in Emerald Isle.
1. A Refreshing Dip
Imagine swimming in crystal-clear waters; the sun is shining; the waves are crashing gently on the shore and the sand is soft beneath your feet. Boasting miles of shoreline, the beautiful beaches and clear waters are the reason why many have named Emerald Isle as their favorite vacation destination. The beaches are known for being pristine, spacious and providing gentle waves that make a day in the water ideal for wading and swimming.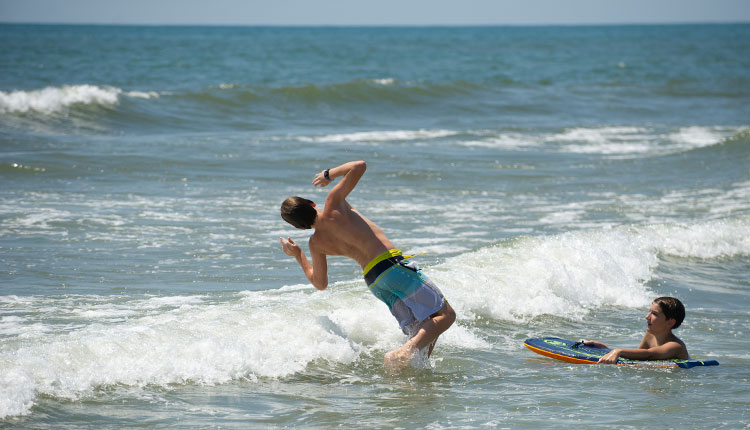 After your swim, you can relax on the beach, bask in the sun or build a sandcastle.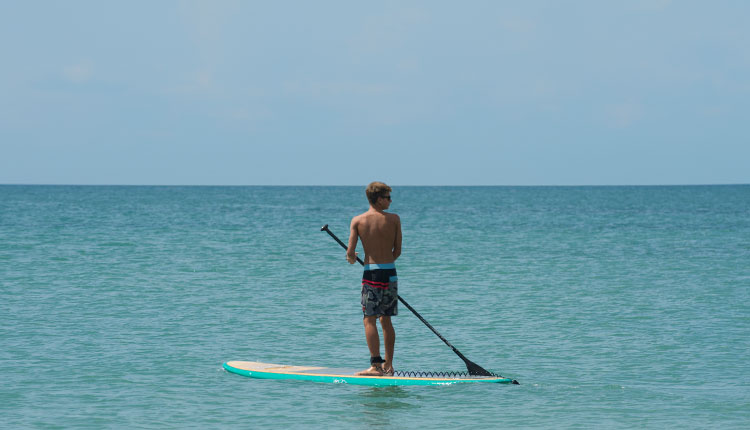 Swimming in Bogue Sound is a refreshing and relaxing experience as well. The water is calm and clear, and the sound is protected from the ocean by the barrier islands of Emerald Isle and Salter Path. This makes Bogue Sound a perfect place for swimming, kayaking or paddleboarding. If you're looking for a more relaxing activity, you can simply sit on the shore and enjoy the view.
No matter what you choose to do, swimming in Emerald Isle is a great way to enjoy the beauty of North Carolina's Crystal Coast. You feel the warm sun on your skin and the cool water on your face. You're surrounded by beauty and peace.
2. Catch a Memory
Fishing is a great way to take in the views, find peace and create memories. Some catch for sport, food or even to have a good time. Whether you are fishing offshore, inshore, from the surf or pier, the Crystal Coast is a true angler's paradise.
The Southern Outer Banks has miles of waterways just waiting to be explored, as well as the playground of the Atlantic Ocean. With plenty of public access points, grabbing your tackle box and rod will become second nature whenever you start your day.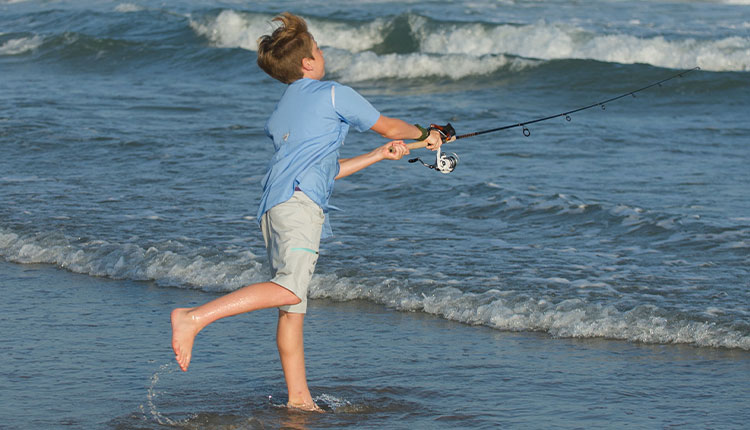 Charter a boat and get in on some offshore fishing. The Crystal Coast is home to a variety of offshore fish species, including marlin, tuna and sailfish. Or stay inshore in the surf of by walking out on Bogue Inlet Pier. The pier is open daily, so you can enjoy the scenery while you're fishing, and you're not feeling up to reeling in a record breaker, you can always take a walk along the pier and enjoy the elevated views of Emerald Isle.
3. Grab a Paddle
Kayaking is a great way to explore the Crystal Coast. Emerald Isle and the surrounding barrier islands offer a variety of kayaking opportunities that will allow you to enjoy your time on the water.
If you're looking for a calm and relaxing kayaking experience, head to Bogue Sound. Bogue Sound is a protected body of water that is home to a variety of marine life, including dolphins, pelicans and sea turtles. You can also kayak through the marshes and explore the salt marsh ecosystem.
For an even more immersive experience, head to the White Oak River. This waterway offers miles of paddling through wetlands filled with wildlife. Keep your eyes peeled for eagles, herons and even sea turtles! Several landing points along the river can serve as campgrounds for those who wish to enjoy a snack before getting back on the water.
So come, launch your kayak and let the natural beauty of the Crystal Coast enchant you! No matter what your skill level or interests, there's a kayaking adventure waiting for you on the Crystal Coast. So, grab your kayak and hit the water!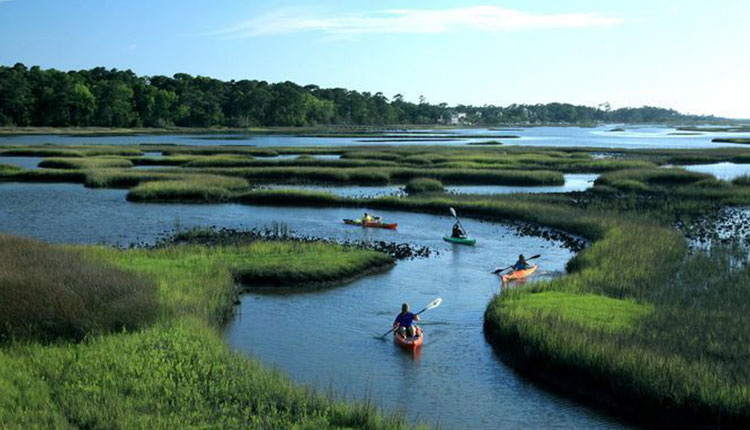 4. Rent a Boat
Emerald Isle is enveloped by crystal-clear waters and stunning scenery! The surrounding islands of the Crystal Coast are a boater's paradise, and sometimes, you need a jet-ski to take in the best of the views. With endless opportunities for exploration and adventure, boaters of all experience levels will find something to enjoy.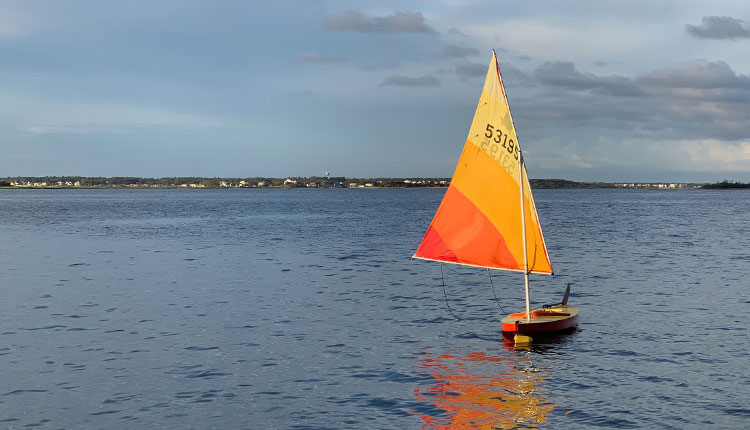 Or, for a truly unique experience, book an eco-tour and learn about the fascinating marine life that calls Emerald Isle home. You can also unleash your inner pirate when you set sail with Pirates Revenge! Take a drive over to Beaufort and join the crew aboard The Revenge for interactive voyages filled with fun and adventure for swashbucklers of all ages.
Choose from the Pirate Treasure Cruise or the Ghost Float. The Pirate Treasure Cruise features sword fighting, face painting, a chase on the high sea and a water cannon battle for treasure. The Ghost Float is a fun and frightening tour aboard The Revenge on a historic haunted pirate cruise.
No matter what your interests are, you're sure to find the perfect boating adventure on the Crystal Coast.
5. Parasailing
Not every traveler's ideal vacation involves sitting back and soaking in the sun. Some need to get on the water to get their blood pumping. That's why you should consider the thrill of parasailing while you visit Emerald Isle.
There are not many activities on the water as fun as being pulled behind a motorboat hundreds of feet in the air, feeling the wind whip through your hair as you soar above the beautiful coastline. You'll get amazing aerial views of the sparkling emerald waves, golden-sand beaches and lush green marshes. It's an experience you'll never forget.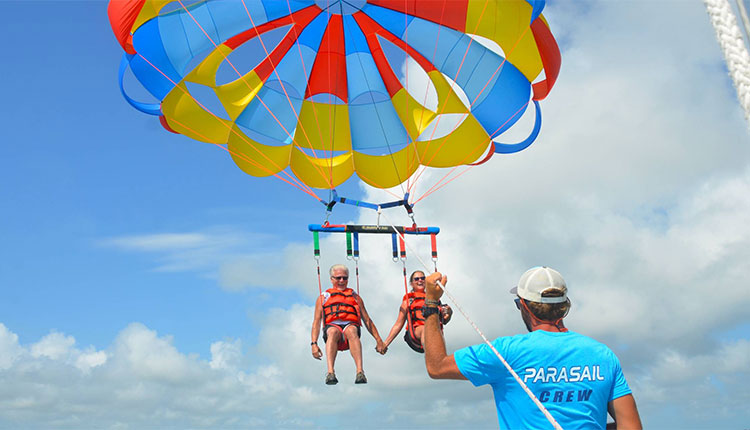 Parasailing is a great way to see the Crystal Coast from a different perspective. You'll get a bird's-eye view of the area's stunning natural beauty, and you'll also get a sense of the excitement and adventure that Emerald Isle has to offer. If you're looking for a thrilling and unforgettable experience, parasailing in Emerald Isle is the perfect activity for you.
6. Cruise the Coast
If you're looking for a fun and relaxing way to get on the water and explore Emerald Isle, a cruise is a great option. There are many different types of cruises available, from short scenic tours to longer excursions that include fishing, kayaking and more.
Lookout Cruises offers a great way to explore the Crystal Coast of North Carolina. Sail up Newport River to watch dolphins play or take a cruise out to the Cape Lookout Lighthouse and enjoy swimming, snorkeling and shelling. They also offer sunset sails and moonlight cruises, which are a great way to wrap up the day!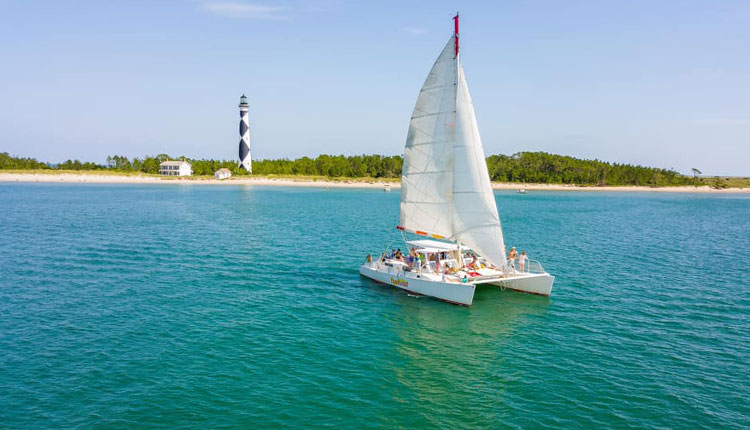 If you're looking for a more adventurous experience, try the Pirate Treasure Cruise. This cruise takes you on a fun and exciting journey through the history of the Outer Banks. You'll learn about the pirates who once sailed these waters, and you might even have the chance to find some buried treasure! No matter what your interests are, you're sure to find a cruise that's perfect for you on the Crystal Coast.
7. Catch a Wave
With a bounty of choice waves, Emerald Isle's beach conditions are a surfer's dream. Miles of soft sands and shoreline provide ocean lovers of the family with plenty of opportunities to ride the waves.
Surfing is a fun and popular water activity for kids of all ages, especially older kids who are looking to try something new. If you don't own a surfboard or are looking to get some lessons, check out Hot Wax Surf Shop or South Swell Surf for all the gear you need to hang ten!
8. Dive a Shipwreck
Emerald Isle, North Carolina is a place where water enthusiasts and history buffs can combine two of their interests into one trip on the water! The Crystal Coast is also home to a fascinating history of shipwrecks. These shipwrecks along the coast have become intriguing sites for exploration and discovery. From the remains of vessels that have met their fate to the stories of the brave sailors who sailed these treacherous waters, the Crystal Coast shipwrecks offer a glimpse into the region's maritime past.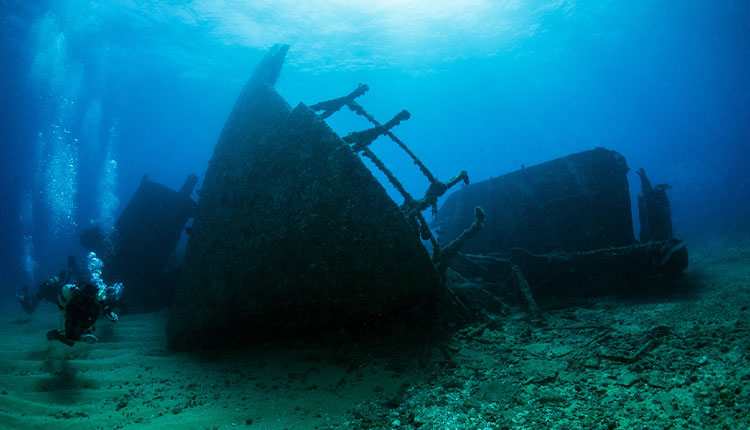 You and your vacation crew can embark on a captivating journey to explore these shipwrecks, immersing themselves in the rich history and underwater wonders. With wrecks dating back to the 18th and 19th centuries, adventurers can witness the remnants of merchant ships, steamers and even Civil War vessels.
Each shipwreck tells a unique story and provides a window into the challenges faced by sailors navigating the unpredictable waters of the Crystal Coast. Whether snorkeling, diving or taking a boat tour, visitors can engage in an extraordinary experience, uncovering the secrets of these submerged time capsules and paying homage to the maritime heritage of the area.
9. Race Down a Water Slide
Who said that all the good times happen at the beach? If you've never experienced the pure joy of splashing around in a waterpark during your vacation, it's high time you give it a go! Waterparks are another way to stay cool under the sun, but they also guarantee a day filled to the brim with fun and laughter.
The Salty Pirate Waterpark of Emerald Isle is a hotspot for locals and visitors alike! This packs a punch when it comes to fun for adventurers of all ages. Get ready for an adrenaline rush as you brave the elevated platforms and zoom down an array of thrilling water slides and skim into pools with an exhilarating splash! The sheer excitement will leave you craving for more, guaranteed.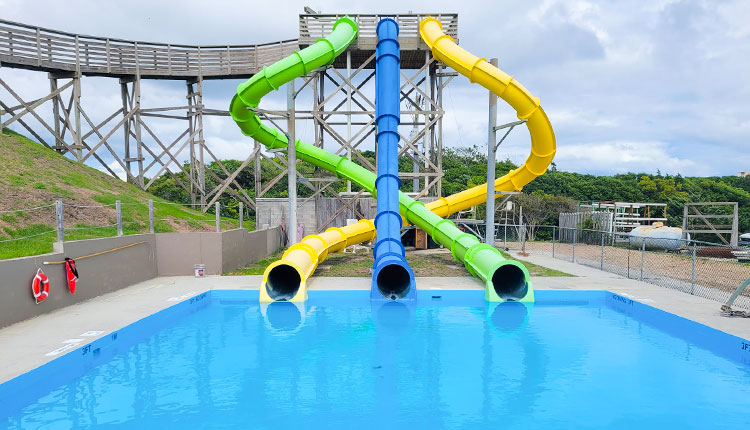 But hey, let's not forget about the little pirates in your crew! The Salty Pirate has got you covered with wading pools featuring awesome splash pads and safe swimming areas, all carefully watched over by vigilant lifeguards. And if you need a breather from all the water-filled action, fear not! The park also boasts an arcade to keep the good times rolling, along with a snack bar where you can refuel and recharge.
So, seize the moment, grab your swimwear, and dive into the unforgettable fun awaiting you at the Salty Pirate Waterpark. It's a splash-tastic adventure you won't want to miss.
Start Planning
There's a whole lot of fun waiting to be discovered in Emerald Isle! Get ready to craft your dream vacation on the water with the help of Emerald Isle Realty. With over 600 vacation properties, we are dedicated to providing you with the ultimate experience of comfort and relaxation.
Whether you're seeking a vacation rental for many or a small group, we have the perfect getaway waiting for you. It's time to dive into a world of unforgettable memories and make the most of your time in Emerald Isle!