Emerald Isle is known for combining southern charm with the coast for a laidback and relaxing atmosphere and lifestyle. But there's so much more that the Crystal Coast has to offer, especially for families and vacationers of all ages.
Get ready to unleash your inner child and check out some of our favorite amusement parks, arcades and go-kart tracks in Emerald Isle!

Professor Hacker's Lost Treasure Golf and Raceway
This amusement park combines miniature golf, a go-kart race track and bumper boats, making it big on both excitement and family fun. Professor Hacker's is located in Salter Path and is surrounded by beautiful palm trees and different water features, providing a stunning backdrop for your day of fun.
If mini-golf is your game, then you'll want to check out the two challenging and adventurous 18-hole courses. Whether you're settling who the master golfer is or who's paying for dinner, these golf courses are the perfect battlegrounds for doing just that – all in good fun, of course!
Professor Hacker's also is big on adrenaline rushes with a go-kart track that will get your blood pumping and bumper boats that will help you beat the heat with some epic water fun! Team up to take on the kids or every person for themselves and you're in for some friendly competition while cooling down. The fun doesn't stop there though! Be sure to check out the family-friendly arcade and the kiddie rides for the little ones.

Mac Daddy's & Golfin' Dolphin
If you're passing through Cape Carteret, you'll definitely want to stop by Mac Daddy's Entertainment Center. This entertainment center is your one-stop shop for a variety of family fun and is open from 10 a.m. to 11 p.m. on Sundays through Thursdays and 10 a.m. to 12 a.m. from Friday to Saturday.
The main floor of the arcade spans more than 4,000-square feet with games of all types including the classics like Skeet-Ball and modern games that the kids will love. Mac Daddy's also has some stellar bowling lanes if you're looking to play a few games with your group. Billiard tables are also available for use.
You might work up an appetite exploring all of the fun, but Mac Daddy's has you covered. The sports bar & grill provides beverages and has a full menu available filled with tasty appetizers and delicious meals.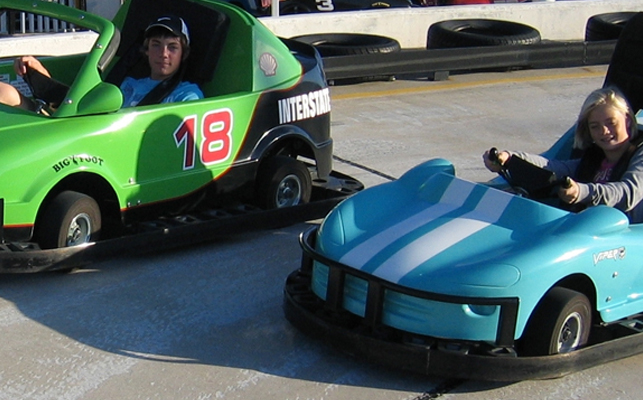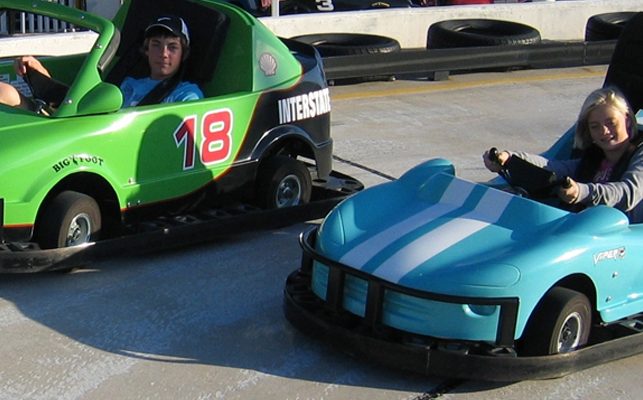 Golfin' Dolphin is another entertainment complex that combines go-karts, miniature golf and a game of water wars. The go-kart track at Golfin' Dolphin features 24 karts on one track that has windy turns and a large bridge that gives you an expansive view of the entire park. You have five minutes to win the race, so buckle your seatbelt and push the pedal to the metal.
Sand traps, water hazards, caves, waterfalls and multilevel shots – the golf course at Golfin' Dolphin has it all and is jam-packed with excitement! At Water Wars, you'll be given a bucket of eight water balloons and split up into two teams. You can throw em' or you can launch em' but at the end of the game, the driest team wins! Golfin' Dolphin also has a driving range and batting cages!
Salty Pirate Waterpark of Emerald Isle
If you have never visited a waterpark while you're on vacation, now is the time! Not only are waterparks a great way to spend a day, but it's also a fun activity to do if you're looking to beat the heat.
The Salty Pirate Waterpark of Emerald Isle is one of the hotspots on the Crystal Coast and a great way to still have fun in the water without the nit-and-grit of the sand. A smaller waterpark, the Salty Pirate still packs a fun punch and has something for vacationers of all ages!
There are a variety of water slides that are elevated on platforms that will shoot you in pools while providing you with an exhilarating rush.
For the younger guests on your trip, you can hit the wading pools that have different splash pads and places for kids to safely swim with lifeguards on duty. The park also has an arcade to keep the fun going when you need a break from the water and a snack bar is also available.

Start Planning the Fun!
The options are endless when it comes to picking out the perfect vacation rental for your stay in Emerald Isle, where the fun will continue after some time spent at the parks mentioned above.
No matter what you're looking for in a vacation rental, you are sure to find all of the luxuries of home while still enjoying an authentic coastal getaway.
Start planning your Emerald Isle getaway today and check out more of our recommendations for different area attractions like movie theaters, area parks or art galleries and museums!