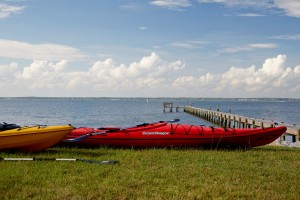 Numerous unoccupied islands and inland waterways make Emerald Isle an ideal location for kayaking. Ocean, estuaries, tidal waterways and still water paddling are just a few of your options. Kayaking allows you to explore waterways that you could not reach in a boat. You can explore into the natural habitats of the numerous wildlife species occupying the Crystal Coast. There are many locations to explore. Here are a few of our favorites.
Bear Island – Hammocks Beach State Park
Take a short paddle trip from The Point at Emerald Isle and head west to uninhabited Bear Island. Home of Hammocks Beach State Park, Bear Island is one of the most unspoiled beaches on the Atlantic Coast. Kayakers can explore the marsh on the designated canoe trail equipped with markers placed along the route to indicate points of interest. The island is a popular camping location for those who enjoy "roughing it." Feel free to load up your gear and spend the night on the beach.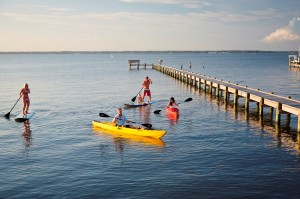 Bogue Sound
Get ready to experience miles of tidal estuary paddling when you hit the waters of Bogue Sound. The shallow waters of Bogue Sound is the perfect setting for beginners to learn the required skills of kayaking or  for advanced kayakers who enjoy exploring its many estuaries.
A variety of birds nest along the shallow waters of Bogue Sound making this an ideal place to stop and bird watch. Many species including Carolina Chickadees, Indigo Buntings, Brown Thrashers and Northern Cardinals can be spotted in the area. If you are a fan of birding be sure to bring your waterproof camera along. Don't forget to pack a picnic lunch, as you'll be able to dock at one of the many islands for a break.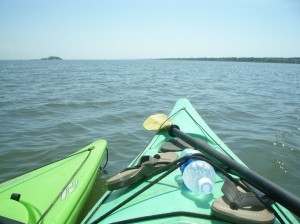 White Oak River
The White Oak River provides miles of paddling wetlands as you head into areas of dense vegetation and still waters where common wildlife like eagles, herons and even alligators can be seen. The river also has several landing points that can serve as campgrounds for those who wish to spend the night.
Grab a paddle
Need to rent a kayak? Most outfitters allow for hourly, daily or weekly kayak rentals and will deliver the kayaks right to your vacation rental. You can also ask Emerald Isle Realty's Activity Coordinators who can assist you during your trip with rentals and guided excursions. Whether you are an expert or beginner, you will find when it comes to kayaking; Emerald Isle is the place to be. So grab a kayak and a paddle and hit the water!