The Crystal Coast of North Carolina is a true gem for outdoor enthusiasts, offering breathtaking natural scenery and endless opportunities for adventure. When it comes to taking in the coast, there are a variety of unique and exciting ways to explore. However, launching a kayak into your favorite waterway is hard to beat!
With miles of shimmering shoreline, tranquil sounds, estuaries and crystal-clear waters teeming with wildlife, kayaking on the Crystal Coast is an unforgettable experience that offers a chance to connect with nature and discover the hidden beauty of this spectacular region. Whether you're a seasoned kayaker or a novice paddler, there's something for everyone on the Crystal Coast, making it the perfect destination for an unforgettable kayaking adventure. Here is some insider insight for kayaking on North Carolina's Crystal Coast.
Getting Your Hands on a Kayak
The Crystal Coast is home to a variety of businesses ready to sell or rent you a kayak for your coastal adventure. And, many of our vacation properties have the land storage space or docks needed to park your kayak.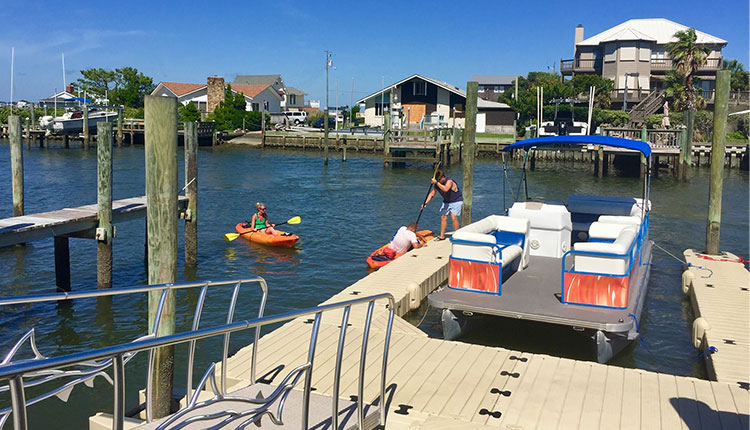 One of the most convenient options for renting kayaks in Emerald Isle is through local outfitters. There are several rental companies that offer a variety of kayaks, from single sit-on-top models to tandem kayaks and even stand-up paddleboards. Many of these outfitters will deliver the kayaks directly to your vacation rental home, so you don't have to worry about transporting them yourself.
A Coastal Dreamscape
Whenever you embark on a kayaking adventure to the Crystal Coast, you will be transported to a world of pristine beauty and wonder. Imagine gliding through waters of crystalline purity bordering golden sands that have seen centuries of history and legendary tales of swashbuckling pirates.
Depending on where you choose to paddle along your aquatic journey, you might even catch a glimpse of the exotic wild horses that have roamed these shores for generations, a sighting that many hope to experience along this beloved region. You'll feel the tranquil sea breezes gently blowing across glassy waters and hear the soft lapping of the waves against your kayak, creating a sense of serenity that's hard to find elsewhere.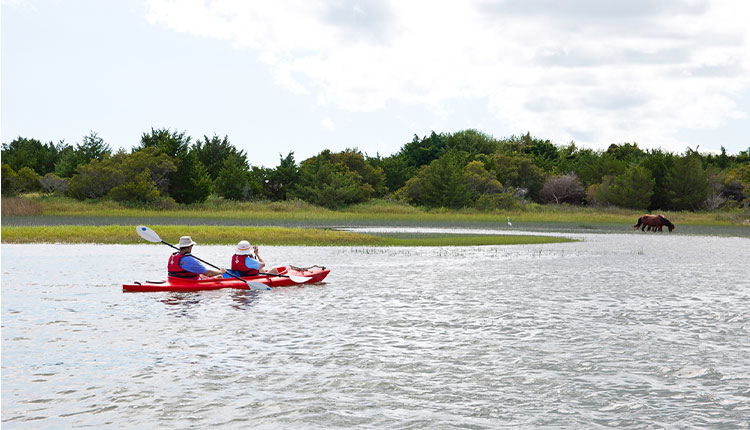 Kayaking the natural locations of North Carolina's Southern Outer Banks is a true departure from the ordinary and a welcome arrival at the extraordinary. With 85 miles of silken coastline, including the protected unspoiled beaches of Cape Lookout National Seashore, you'll have endless opportunities to row through miles of lush maritime forests that edge the coast like emerald jewels. Whether you're a seasoned kayaker or a novice paddler, the Crystal Coast is the perfect destination for an unforgettable kayaking adventure that you'll remember for a lifetime.
Hot Spots and Ideas
If you're planning an unforgettable kayaking adventure for your coastal getaway, you want to be sure to include the local hot spots! The Crystal Coast is home to many small islands that are accessible only by boat, making them the perfect spot for a secluded picnic or a quick swim. Some islands have sandy beaches where you can relax and soak up the sun, while others have hiking trails that lead to scenic overlooks. Take your time exploring these hidden gems and enjoy the peace and quiet that comes with being surrounded by water.
Go on a sunset or sunrise paddle. The Crystal Coast has some of the most beautiful sunsets and sunrises in the country, and there's no better way to enjoy them than from a kayak. Paddling during the early morning or late evening can be a magical experience, with the sky painted in hues of orange, pink, and purple. You may even spot some wildlife during these quiet hours, such as dolphins or sea turtles.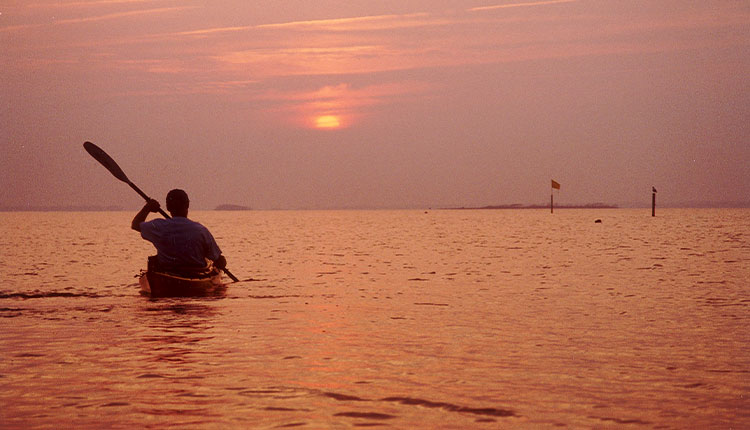 Embark on a short paddle trip from The Point and discover the natural wonderland of Bear Island, home to the breathtaking Hammocks Beach State Park. As you paddle westward, you will be able to soak up the serenity of one of the most natural beaches on the Atlantic Coast. Keep your eyes peeled— there's a designated trail marked with points of interest. While rowing, you can explore the marshland and spot a variety of wildlife along the way.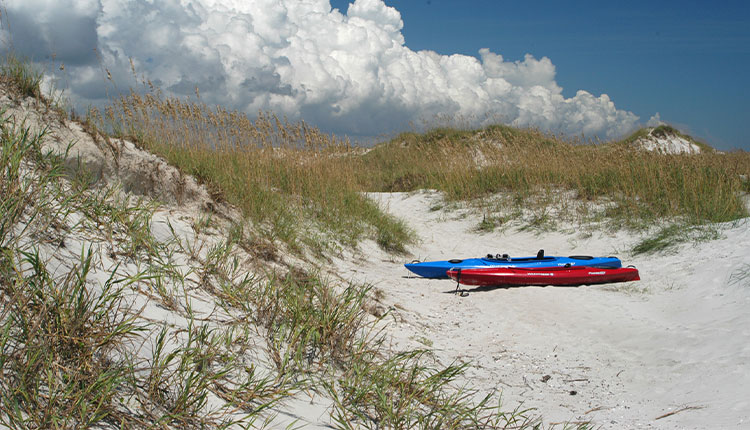 Whether you're a beginner or an advanced kayaker, the shallow waters of Bogue Sound are the perfect place to hone your skills or discover new routes to explore. Be sure to toss in a pair of binoculars! Birdwatching enthusiasts will be thrilled to know that the area is a haven for nesting birds, including Carolina Chickadees, Indigo Buntings, Brown Thrashers and Northern Cardinals. Bring along your waterproof camera to capture some unforgettable moments. Pack a picnic lunch and take a break on one of the many islands that dot the landscape.
For an even more immersive experience, head to the White Oak River. This waterway offers miles of paddling through wetlands filled with wildlife. Keep your eyes peeled for eagles, herons and even sea turtles! Several landing points along the river can serve as campgrounds for those who wish to enjoy a snack before getting back on the water. So come, launch your kayak and let the natural beauty of the Crystal Coast enchant you!
Kayaking Safety Tips
Kayaking is a fun and exciting way to explore the great outdoors, but it's important to keep in mind some essential tips to ensure a safe and enjoyable experience. Be sure to check the weather and tides before starting your day. While the weather on the Crystal Coast can be favorable most days, there could be sudden changes in wind speed and direction and fog if you're heading out early. Additionally, keep in mind that the wind can affect the tide, creating choppy and tougher conditions. Always check the forecast before heading out and be prepared to change your plans if conditions become too dangerous. Pay attention to the tide charts. The tidal range on the Crystal Coast can be significant and you'll want to avoid paddling against a strong current, and instead take advantage of the incoming or outgoing tide to help you along.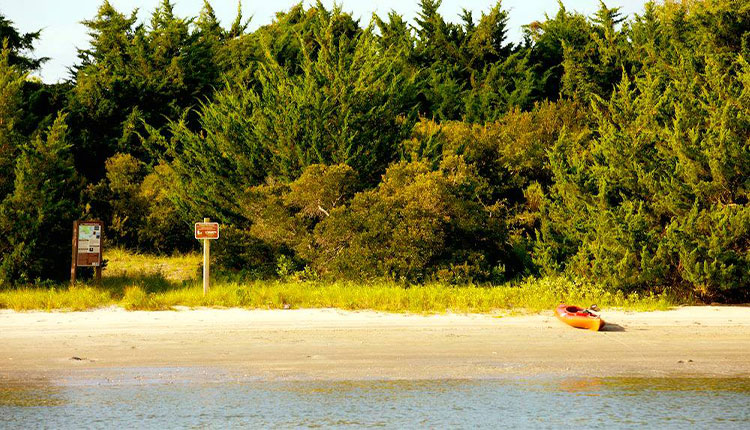 Wear the appropriate gear. The water on the Crystal Coast is refreshing but can be colder than you might expect during different times of the year, so it's essential to dress for the water temperature, not the air temperature. A wetsuit or drysuit will help keep you warm during those cooler days. Always wear a properly fitting personal flotation device (PFD), like a lifejacket, that's suitable for kayaking. A PFD will keep you afloat in case of an emergency and can provide additional insulation against cold water. Additionally, bring a waterproof bag or container to store your valuables, such as your phone, camera and wallet.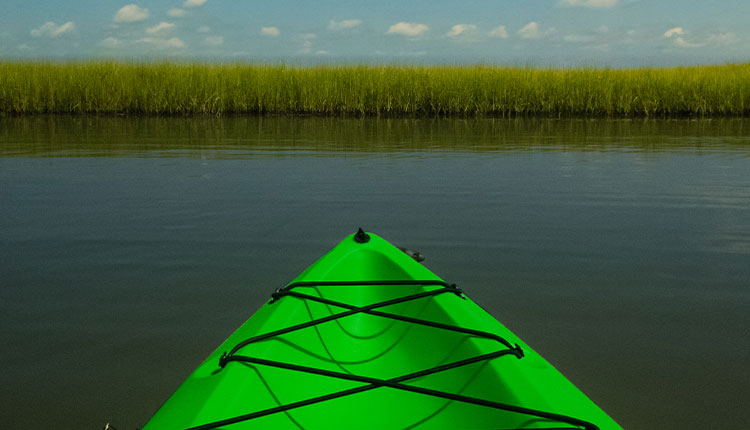 Know your limits and stay within them. Kayaking on the Crystal Coast can be a fun and relaxing experience but can be challenging at times. Be honest with yourself about your skill level and physical fitness and choose a paddling route that's appropriate for your abilities. Avoid paddling in strong currents or choppy conditions if you're not confident in your skills. Always paddle at a pace that you're comfortable with and take breaks when needed. Stay alert for any changes in weather or tide conditions and be prepared to adjust your plans accordingly. If you're new to kayaking or unsure of your abilities, consider hiring a guide or taking a lesson to improve your skills and confidence on the water.
Plan Today
You've just learned some new information about kayaking on the Crystal Coast. Now, on your next getaway, you can escape the ordinary and experience a memorable coastal adventure. Emerald Isle Realty boasts more than 600 vacation properties in Emerald Isle, NC and the surrounding communities. Start planning your vacation with us, and let's get outdoors!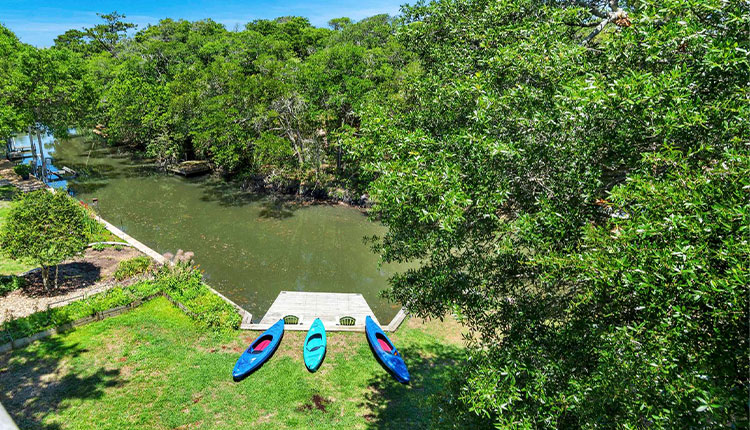 Save it for Later