Make the most out of your trip with this five-day Emerald Isle family vacation itinerary.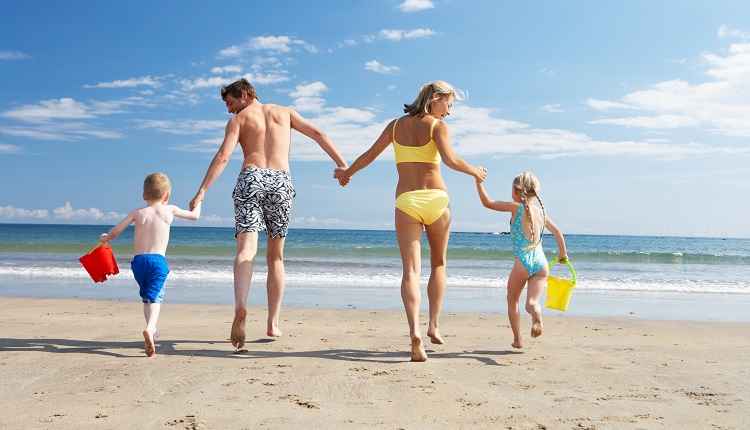 North Carolina's Crystal Coast has been a popular family beach vacation destination for many years. With miles of pristine beaches and emerald waters, an abundance of activities both on and off the water, some of the freshest local seafood and one of the best selections of vacation rentals on the coast, this seaside paradise has just about everything a beach vacationer could ask for!
Check out this fun family itinerary filled with some of the best things to do and places to eat during your stay in Emerald Isle.
DAY 1: AQUARIUM THEN BEACH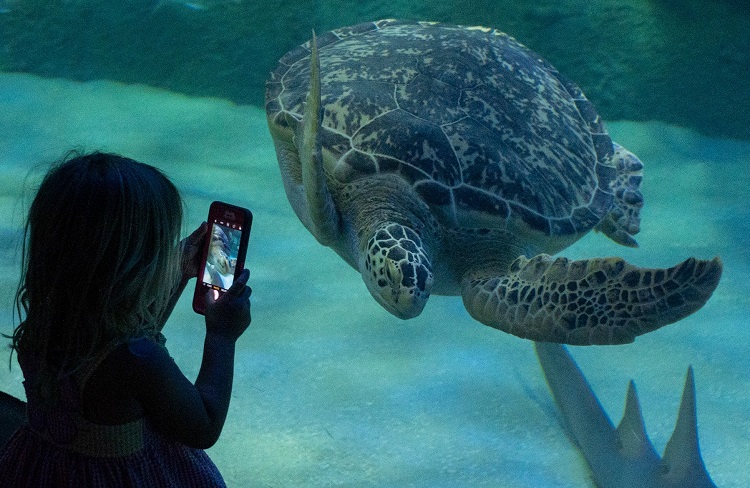 Enjoy hands-on fun at the North Carolina Aquarium at Pine Knoll Shores
Families will love the North Carolina Aquarium at Pine Knoll Shores. From the colorful array of fish on display and the popular baby alligators to eye-catching exhibits such as the Marsh Walk or Living Shipwreck, there is something to please everyone!
The aquarium also has guided tours allowing visitors to go behind-the-scenes to see animal holding areas, labs and even get to feed the fish. There's even a playground area outside near the start of the Alice Hoffman Nature Trail with slides, climbing net, treehouse platform and swinging bridge that the kids are sure to love!
The North Carolina Aquarium offers plenty of fun things to do for kids of all ages. Almost everything at the aquarium is hands-on and at the perfect height for even younger ones to view!
Lunch at The Crab Shack in Salter Path
On your way back to Emerald Isle, stop and have lunch at The Crab Shack in Salter Path. This family-owned business run by commercial fishermen delivers the freshest seafood in town. Enjoy blue crabs, mahi, lobster tails, or even a burger or steak, all while taking in the amazing water views. Make sure to ask about their daily lunch specials. This is one local favorite you must try!
Get beach supplies from Island Essentials
If you need supplies such as beach chairs or umbrellas, be sure to check out Island Essentials. You'll find just about anything you need for a fun day at the beach.

Hit the beach in Emerald Isle
After lunch it's time to hit the beach! North Carolina's Crystal Coast offers 85-miles of pristine beaches and emerald waters, so there's plenty of shoreline to go around. And our oceanfront vacation rentals sit directly on the beach, making it quick and easy to change into beach attire, grab your beach gear, and in just a few steps, you're feeling sand beneath your feet.
Spend the afternoon relaxing on the beach and dipping your toes in the water as you look for seashells, catch a wave or even toss in a line. There's virtually no better way to spend an afternoon than by basking and playing on some of the East Coast's most beautiful beaches.
Dinner at Big Oak Drive-In & Bar-B-Q
After an afternoon of sun and fun, food will be top of mind. Another local favorite is the Big Oak Drive-In & Bar-B-Q in Salter Path, home of the best shrimpburger on North Carolina's Crystal Coast. There is almost always a long waiting line, especially during summer months, so call your order in ahead of time. Whether you choose to dine at one of the picnic tables or grab take-out to enjoy back at your cozy vacation rental, this is one spot you won't soon forget!
Dessert at The Sweet Spot
Your visit would not be complete without a stop at The Sweet Spot. Indulge the family's sweet tooth with delicious homemade fudge, truffles, ice cream, old fashioned milkshakes, gourmet foods and more. After all, you are on vacation; why not splurge a little – we won't tell.
DAY 2: DAY TRIP TO BEAUFORT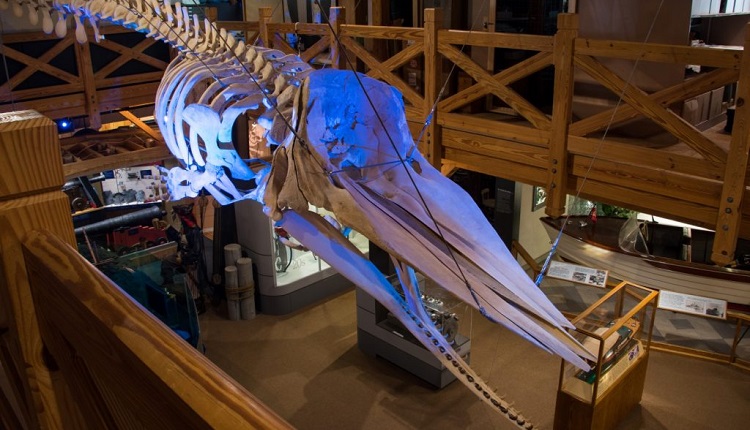 Learn about maritime history at the North Carolina Maritime Museum
Explore coastal maritime history on a visit to the North Carolina Maritime Museum in Beaufort. Learn about the notorious pirate Blackbeard and his infamous ship, Queen Anne's Revenge, in this interactive, must-see exhibit. The shipwreck was discovered in 1996, and all artifacts have been on display at the museum since 2011 to provide insight and knowledge of the role pirates played in North Carolina.
Your museum experience continues across the street at the Harvey W. Smith Watercraft Center, where you can see handcrafted shipbuilding in action.
Lunch at Clawson's 1905 Restaurant & Pub
The historical flow of the day doesn't have to stop after the museum. Have lunch at Clawson's 1905 Restaurant & Pub! From house-smoked baby back ribs to grilled mahi salads to half-pound angus burgers, you won't be disappointed. Aside from the variety of food on their menu, the restaurant has tried to preserve the history of the building by displaying memorabilia and era decorations from Beaufort's past.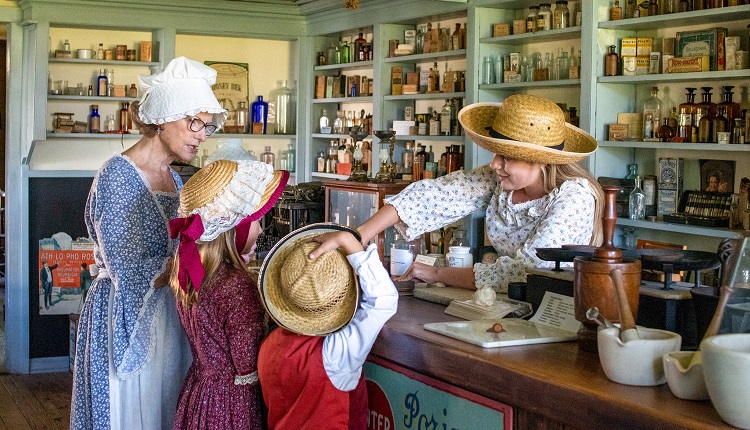 Tour Beaufort Historic Site and Burying Ground
After lunch, spend the afternoon on a tour of Beaufort Historic Site. See the historic homes of Josiah Bell, John C. Manson and more. Guided tours of the county jail, apothecary shop and doctor's office are available year-round.
If you don't want to walk, hop aboard the double-decker bus for a narrated tour of the historic district. A guided tour of the Beaufort Burying Ground is also available. Hear the tales of the many colorful characters that were laid to rest in the old cemetery. Before you leave, make sure to stop at the Old Beaufort Shop to browse for gifts, souvenirs and handmade items from local artisans.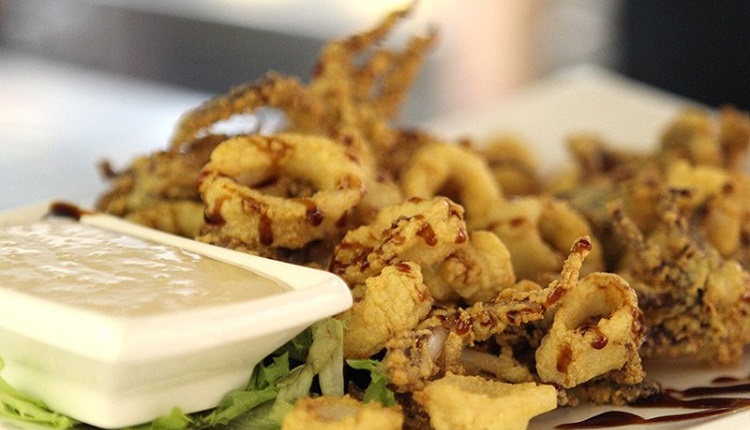 Dinner at Amos Mosquitos in Atlantic Beach
Enjoy more local flavors for dinner at Amos Mosquitos, located in Atlantic Beach. This upscale family restaurant offers daily features made with only the freshest seasonal ingredients. From seafood to steak to their famous meatloaf, you'll find something on the menu to please everyone in the family. For dessert, order the s'mores so the kids can roast marshmallows over their very own campfire!
DAY 3: A DAY AT CAPE LOOKOUT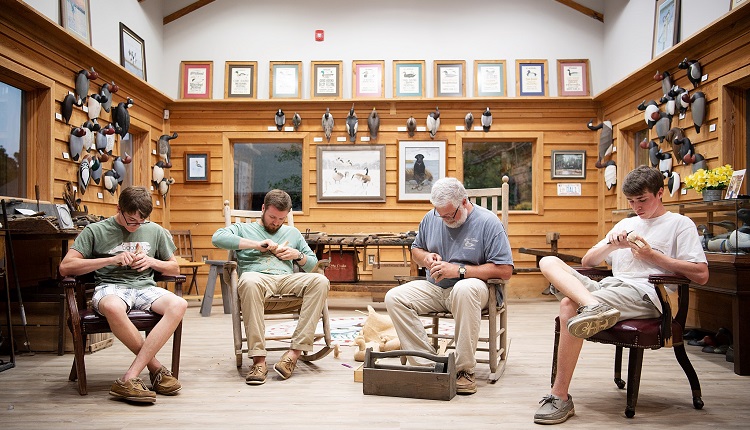 Make a stop at the Core Sound Waterfowl Museum & Heritage Center
We're going on a road trip for some good ol' fashioned sightseeing throughout the Crystal Coast. Make sure your camera (or phone) has plenty of space to capture the amazing photo opportunities that await. Harkers Island, located less than an hour drive from Emerald Isle, is a peaceful and charming community, and one of the major access points to get to Cape Lookout National Seashore.
Make a stop at the Core Sound Waterfowl Museum & Heritage Center to learn about the tradition of decoy carving and the types of waterfowl that are found along the national seashore. Watch decoy carving and quilting demonstrations. Take in the magnificent views from the Lookout Tower. Or go for a hike on the Willow Pond Trail that winds through the maritime forest. Just make sure to keep an eye on the time so you don't miss your ferry ride to Cape Lookout.
Pack lunch for a picnic at Cape Lookout
To spend as much time as possible enjoying your visit to Cape Lookout, plan to pack a lunch for the trip and have a picnic on the beach. There are also two covered pavilions with picnic tables available for use on the national seashore.
Whether you grab food the night before or in the morning on your way to Harkers Island will depend on your ferry schedule. The Village Market in Emerald Isle is the perfect place to grab sandwiches, wraps and pretty much anything else you'll need to fill your basket. Be sure to check out their gift selections with creations from local artists and vendors.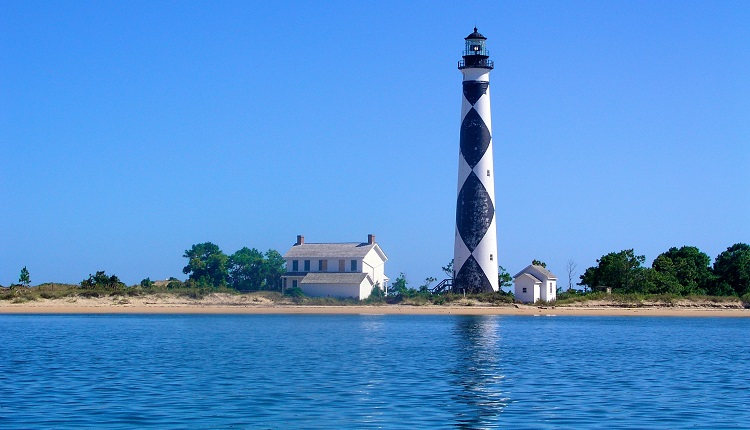 Make the journey to Cape Lookout National Seashore
Your fun-filled day of adventures at Cape Lookout National Seashore starts with a ferry ride. The island is only accessible by private boat or the ferry systems that run between Beaufort, Morehead City and Harkers Island to its shores. View the rates and schedule for the Island Express Ferry Service.
Along the way, break out the binoculars to check out Core Sound and the different islands. As you pass by Shackleford Banks, look to see if you can spot some of the island's most popular residents, the wild Banker horses. Descendants of Spanish horses that swam to shore from shipwrecks in the 16th century, the horses survive on native vegetation and freshwater provided by the Banks and are protected by federal legislation to ensure their presence for years to come. You may even spot dolphins frolicking in the coastal waters along the way too!
When you get to Cape Lookout, take a moment to take in the sights and learn a little bit about the lighthouse's history. The Cape Lookout National Seashore Visitors Center offers maps, exhibits and a lot of great information about the islands. Spend the day relaxing on the shores as you take in the beauty. It's also a great spot for swimming, shelling, fishing and birding.
If you're feeling adventurous, climb to the top of the Cape Lookout Lighthouse for some of the most amazing panoramic views of North Carolina's Crystal Coast. Just be mindful of your time, so you don't miss the ferry back.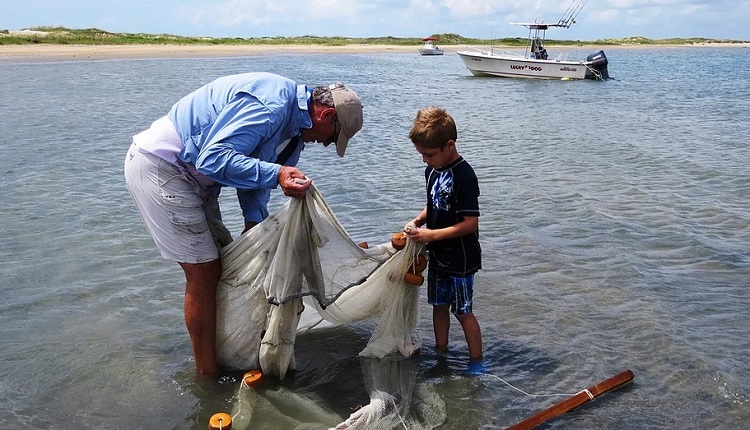 For an even more memorable experience for your visit to Cape Lookout, customize an ecology tour that includes something for everyone in the family. Crystal Coast Ecotours offers personalized, guided ecotours that include the activities your family will enjoy most. Fun hands-on experiences include clamming, crabbing, fishing and more so you can make the most out of your Crystal Coast adventure. Tours can be scheduled for full-day (6 hours) or half-day (4 hours).
Dinner at Caribsea in Emerald Isle
Caribsea is another local favorite restaurant in Emerald Isle, serving exceptional steaks and delicious local seafood prepared with a Southern flair. Order small plates so you can sample a variety of foods such as the crab cakes, shrimp and grits, sushi and more. And make sure to try one of their beautifully-crafted, signature cocktails.
DAY 4: WATER SPORTS FUN FOR EVERYONE
Grab some snacks before heading out
4J's Café and Bake Shop is the perfect spot to stop and grab a cup of coffee and some snacks before heading out for the day's adventures. Located right on Emerald Drive, this café is a convenient stop no matter where you're headed.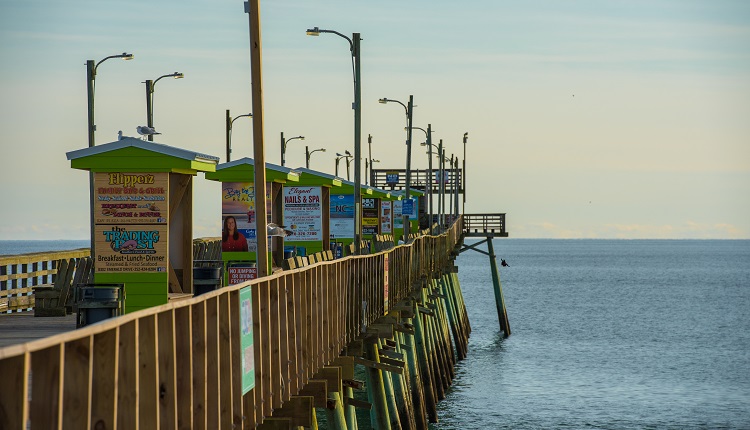 Catch a wave or cast a line
Since the most memorable part of every beach vacation is the beaches themselves, you'll definitely need another beach day on the list. While you could choose to spend the day basking in the glorious sun, it's time to get out on those beautiful emerald-colored waters and try your hand at a few water sports.
From fishing and surfing to kayaking, paddle boarding, and even scuba diving, North Carolina's Crystal Coast offers countless options for getting out on the water. Want to catch a wave? You'll find surfboard rentals, as well as surfing lessons you can take at South Swell Surf Shop. So, even if it's your first time on a board, you'll be hanging ten in no time!
Fishing is one of the most popular pastimes on the Crystal Coast. Go surf fishing pretty much anywhere you want on the beaches. Take a guided charter to fish for Spanish mackerel, speckled trout, red drum and more species of fish. Half and full-day fishing charters are available. Another popular fishing spot is Bogue Inlet Pier, located in Emerald Isle. Cast a line to try and catch a Spanish mackerel or a king mackerel. The pier is also a great place to take a stroll and enjoy the beautiful ocean views.
Check out our guide to outdoor activities and things to do along the coast. There are literally options for everyone!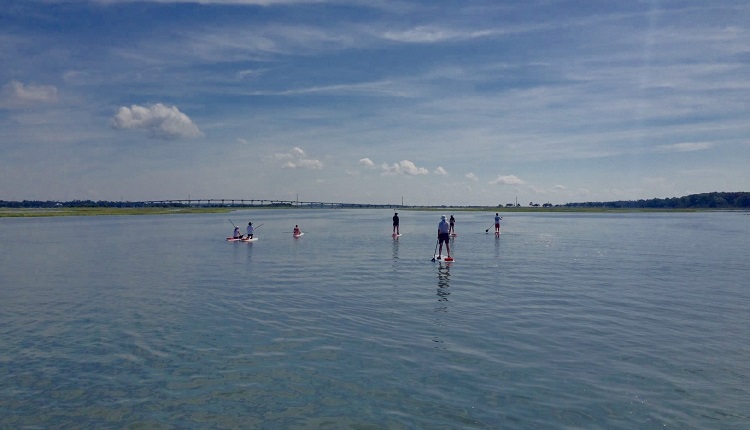 Go on a guided paddle boarding tour of Bogue Sound
Whether you're a novice or just a beginner, a paddle boarding tour of Bogue Sound is a great way to get out and enjoy the fresh air, get some exercise and take in some of the scenic natural beauty of North Carolina's Crystal Coast. Emerald Isle Paddle Tours offers paddle board rentals, as well as guided paddle boarding tours that take you through the marshes and estuaries of Bogue Sound. The wind and tide help to slowly propel paddlers through the coastal waters, so all you have to do is just show up and paddle!
Grill up a fresh seafood dinner at your vacation rental
One of the key benefits to staying in a vacation home is the kitchen, making it easy for you and your vacation buddies to cook rather than going out-to-eat for each meal. Check out some of our vacation rentals featuring some of the most exquisite chef's kitchens. Many of our vacation rentals also feature outdoor grills, and a few even have fully-equipped outdoor kitchens.
You'll need to grab ingredients for dinner, so make a stop at the Willis Seafood Market for fresh fish or steaks, crab cakes and anything else your heart desires.
DAY 5: SIGHTSEEING THEN SOUVENIR SHOPPING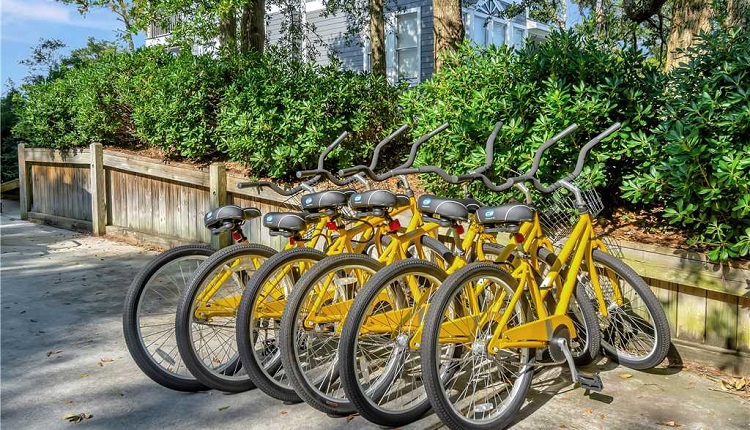 Go exploring on a family bike ride
Get out and do a little more exploring before it's time to head home. Isle Cycle – Emerald Isle offers a wide assortment of bike rentals and other cycling gear with free delivery and pick-up at your vacation rental. Enjoy a family bike ride along Emerald Isle's gorgeous coast or down the Emerald Path, a biking trail that runs from Indian Beach all the way to The Point at Bogue Inlet in Emerald Isle.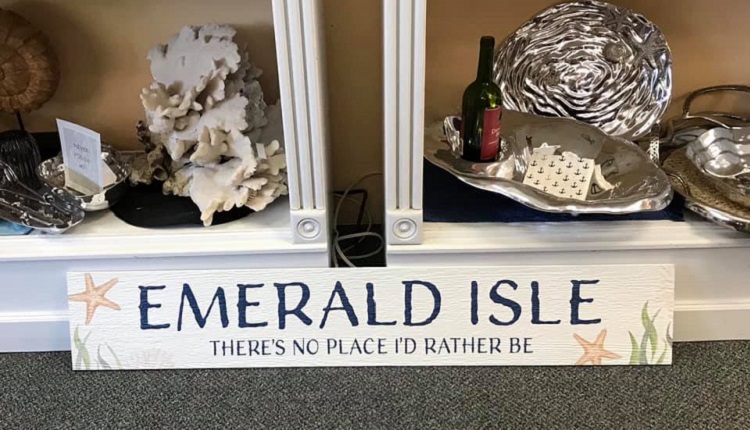 Shop for gifts and souvenirs to take home
Your vacation is coming to an end. Before you leave your happy place and go back to your daily routines, go ahead and do a little shopping along Emerald Drive for those souvenirs for your friends and family.
Elly's Gifts is a quaint shop that offers beach apparel, gourmet foods, t-shirts, unique one-of-a-kind gifts, plus it's Christmas year-round in their Christmas shop. You can also get personalized gifts, jewelry and home-made fudge. Yummy!
Flip Flops Gift Shop is also a great choice for one-of-a-kind gifts. They specialize in flip flops, clothing, candles, home décor and much more!
Dinner at Flipperz
Wrap the trip up with a final dinner at Flipperz Family Bar & Grill in Emerald Isle. This family-friendly restaurant boasts exceptional food, excellent ambiance and great entertainment. Enjoy an extensive menu featuring everything from seafood and steaks to sandwiches, salads and gourmet burgers.
BOOK YOUR FAMILY VACATION TODAY
Use this fun-filled family vacation itinerary to make the most out of your week-long vacation in Emerald Isle. Emerald Isle Realty offers hundreds of amazing vacation rentals ranging from cozy beach cottages to grand oceanfront villas and condos, making it easy to find a place that fits your style and your budget. Don't wait…start planning your trip today!
Save it for Later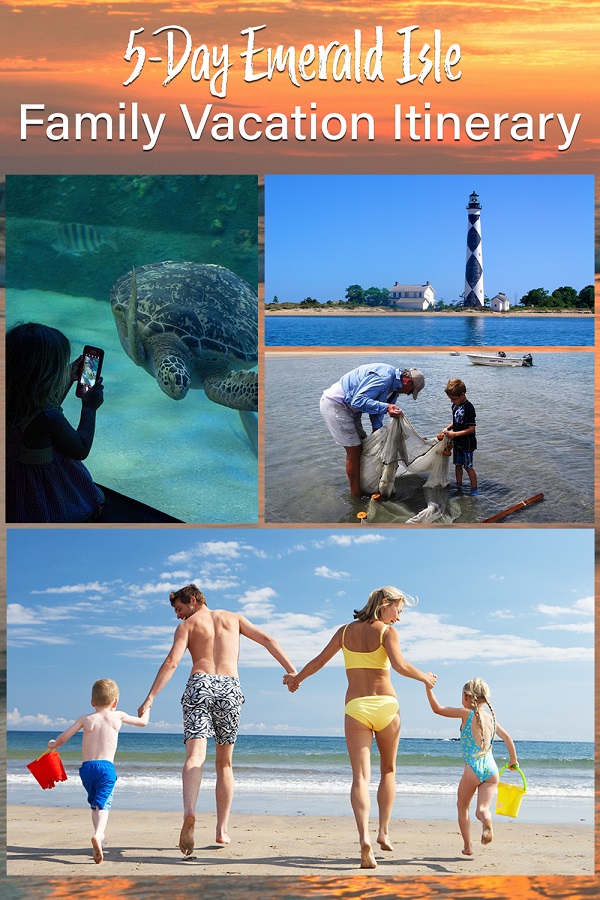 You May Also Like:
10 Bucket List Ideas for Your Next Emerald Isle, NC Vacation
14 Things to Do at the Beach in Emerald Isle, NC This Summer
How to Find the Perfect Crystal Coast Vacation Rental for Your Getaway