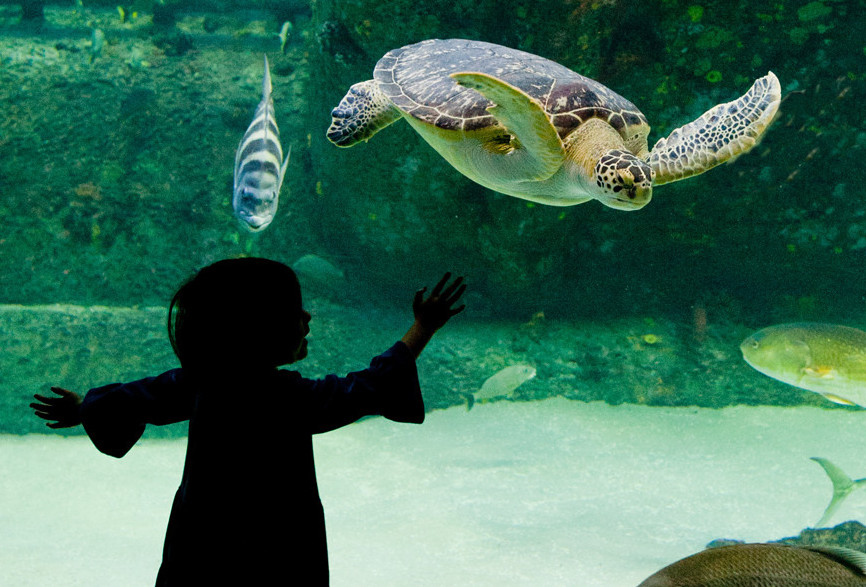 Day One:
One of our favorite things about the Crystal Coast is the North Carolina Aquarium at Pine Knoll Shores. There is something to please everyone here from the colorful array of fish on display to the popular baby alligators – check out a couple of their eye catching exhibits such as the Marsh Walk or Living Shipwreck! And while you're here, don't forget to ask about their guided tours. On these tours, you'll get to visit food preparation and animal holding areas, labs and even get to feed the fish! Our favorite is the Shark Snack tour that gives you a behind the scenes look at the aquarium, an overhead view of the Living Shipwreck exhibit and a live viewing of the aquarists feeding the sharks! The tours range from 45 minutes to 3 hours so plan ahead with the aquarium to make sure of availability and pricing. And don't worry if you're visiting with younger ones; almost everything at the aquarium is hands on and at the perfect height for them to view!
For lunch, on your way back to Emerald Isle, stop at The Crab Shack in Salter Path, a 15 minute drive, where you can not only enjoy some delicious sea food but views of the bay. This is definitely a place the locals go, so you know it's good!
Hopefully you packed some swimsuits for the day for you and your family, because right about now is the perfect time to hit the beach in Emerald Isle. Catch some sun, waves or just relax – virtually one of the best ways to spend any afternoon.
After an afternoon of sunning and jumping the waves, food will be top of mind. If you want to dine like a local, Big Oak Drive-In & Bar-B-Q is the place to go. It is typically packed, so you might want to call in your order. One important thing to note is that Big Oak Drive-In and Bar-B-Q is cash only. We also recommend their mouth watering shrimp burger.
Your visit would not be complete without a stop at The Sweet Spot. Indulge that sweet tooth of yours with delicious homemade fudge, truffles, ice cream, old fashioned milkshakes, gourmet foods and more. After all, you are on vacation; why not indulge a little – we won't tell.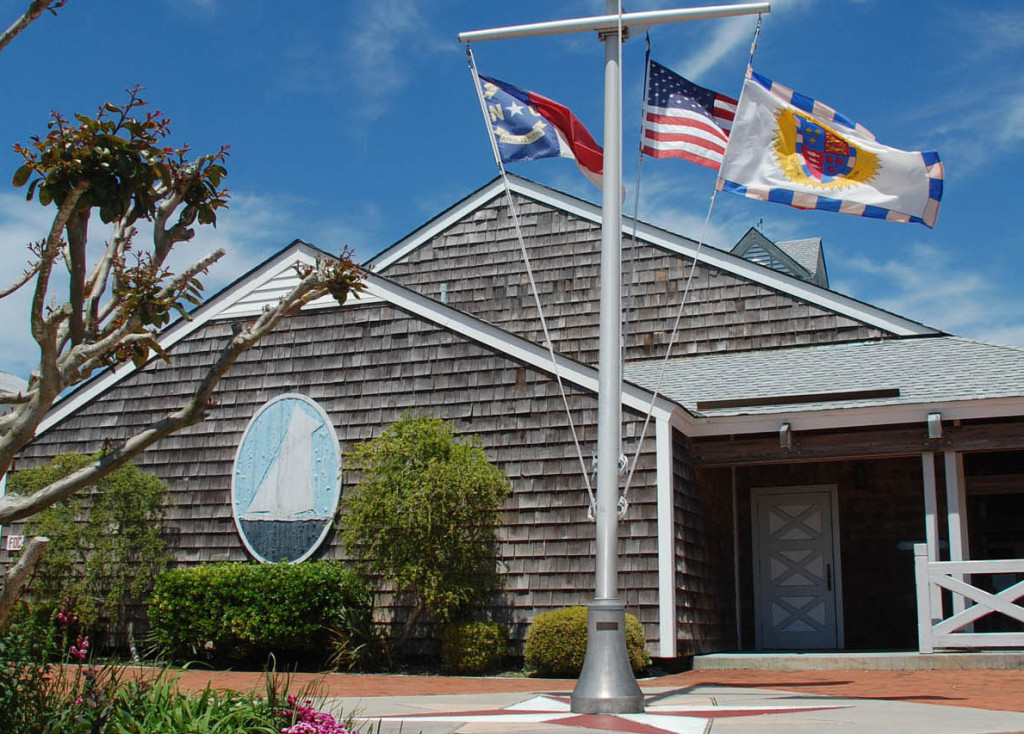 Day Two:
Take a trip back in time to the age of peg legs and eye patches, and come aboard Blackbeard's Queen Anne's Revenge. Learn about the notorious pirate Blackbeard and the pirate life during the golden age in this interactive, must see, free, permanent exhibit at the North Carolina Maritime Museum in Beaufort. The shipwreck was discovered in 1996, and all artifacts have been on display at the museum since 2011 to provide insight and knowledge of the role pirates played in North Carolina. Don't forget the museum continues across the street where you can see handcrafted shipbuilding in action. Plan on spending anywhere from 1.5 to 2 hours here.
The historical flow of the day doesn't have to stop after the museum. Have lunch at Clawson's 1905 Restaurant & Pub! Aside from the variety of food on their menu, the restaurant has walls filled with old newspapers, antiques and photos that help tell the history of downtown Beaufort. You will enjoy their collection; the old wooden phone booth is a real good conversation starter. Also for the 21 and up crowd, any North Carolina beer is just $2 extra to your meal.
After lunch, spend the afternoon in the historical district to tour old homes, the old city jail and more. If you don't want to walk, you can always take a double-decker bus to tour the area!
Be sure and take a tour of the Beaufort Burying Ground, which is an old cemetery enveloped in beautiful scenery of aged oak trees and ferns. You can do a self guided or guided tour. Be sure to get a brochure if you do the self guided tour, as you'll get insight into the graves and bios of the individuals buried there.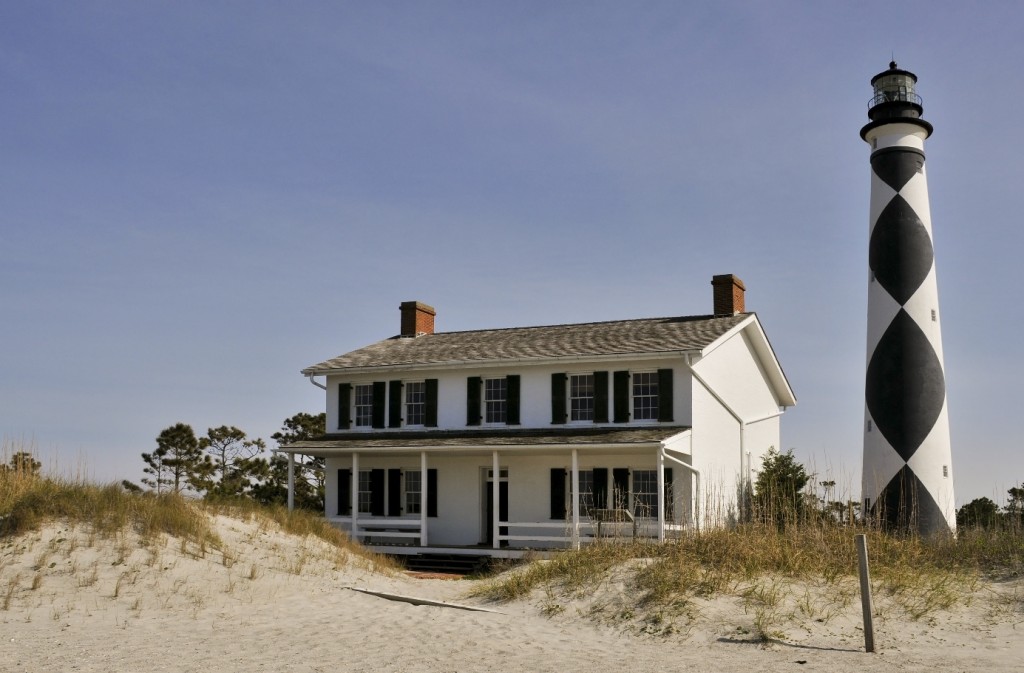 Day Three:
We're going on a road trip for some good 'ole fashion sightseeing throughout the Crystal Coast. Make sure your camera (or phone) has plenty of space because you'll be hitting up some of the most scenic spots in the area.
First, make your way over to Harker's Island, a peaceful and charming community a little less than an hour away from Emerald Isle. Be sure and visit the Core Sound Waterfowl Museum & Heritage Center, for an inside look at the area culture and community. But don't spend too much time here, because you'll be heading over for a ferry ride to Cape Lookout Lighthouse right after.
Take the Island Express Ferry Service (view rates and schedule) over and plan to spend the day on the island. If you have binoculars, now would be the time to break them out and check out the Core Sound and the different islands along the way. Who knows, you might even catch sight of some dolphins on your ride over to Cape Lookout! Depending on your ferry schedule and the times you want to head out, you'll want to pack a lunch for this trip and have a picnic at Cape Lookout.
When you get to Cape Lookout, take a moment to take in the sights and learn a little bit about the lighthouse's history, and if you're feeling adventurous, climb to the top and view the amazing panorama of the island, you won't regret it! Be mindful of your time, so you don't miss the ferry back.
Once back, you're next stop will be food! The Village Market is the perfect place to grab some sandwiches or wraps on your way back to your rental in Emerald Isle. After a long day in the fresh air, cooking will not be at the top of your list! Be sure to check out their gift selections with creations from local artists and vendors.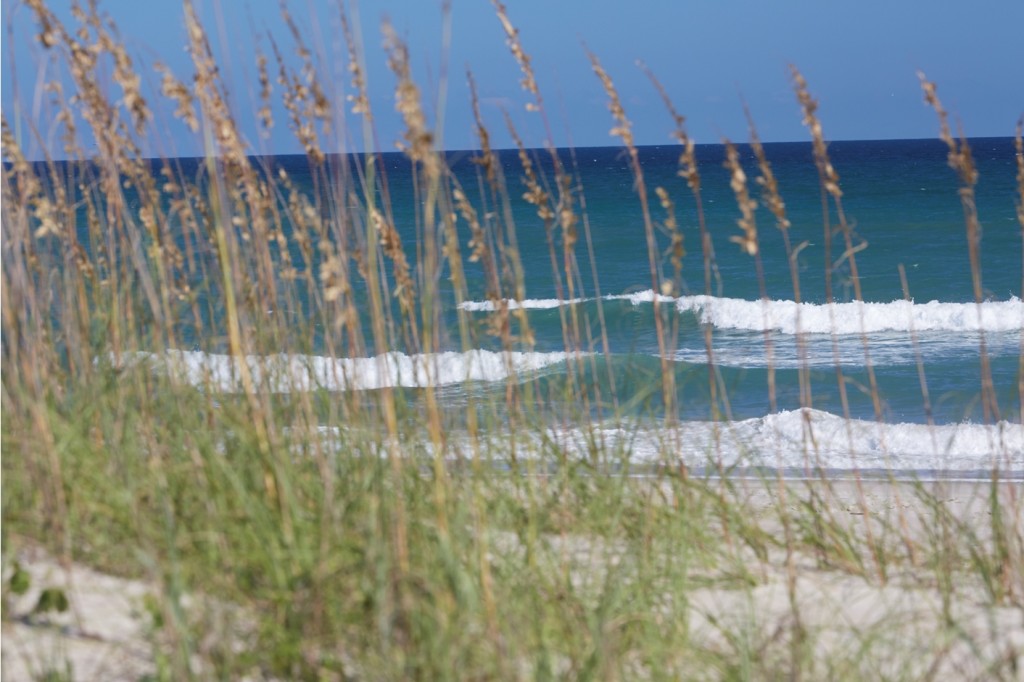 Day Four:
Nothing says Emerald Isle vacation like a beach day! The sun is always brightest in the early morning, so go ahead and sleep in. Find yourself an ice chest and fill it with plenty of water and whatever else you like to drink, pack some sandwich supplies, chips, sunscreen, beach hats, towels and walk out the door. Your day has started! Depending on how adventurous you are, you might decide just to lie on the beach, take in some sun and quick a dip in the water or try your luck at surfing, scuba diving, fishing or even parasailing. There are literally options for everyone! If you need supplies such as beach chairs or umbrellas, be sure to check out Island Essentials, as they offer a variety of beach essentials.
Day Five:
Your vacation is coming to an end. Before you leave your happy place and go back to your daily routines, go ahead and do a little shopping along Emerald Drive for those souvenir's for your friends and family. Elly's Gifts is a quaint shop that offers beach apparel, gourmet foods, t-shirts, unique one-of-a-kind gifts, plus it's Christmas year-round in their Christmas shop. You can also get personalized gifts, jewelry and home-made fudge. Yummy! Flip Flops Gift Shop is also a great choice for one-of-a-kind gifts. They specialize in flip flops, clothing, candles, home décor and more!
P.S. If you loved your rental this year, go ahead and reserve it for next year as well!