With its sparkling waters, pristine beaches and unmatched views, Emerald Isle is at the top of the list for family-favorite vacation destinations. With no shortage of things to do, it's easy to find enjoyment splashing through the waves or kicking back to take in one of our unforgettable sunsets. To make your next trip to the Crystal Coast even more unforgettable, we've put together 10 bucket list ideas that you'll be itching to experience!
1. Explore Cape Lookout National Seashore
Hop aboard a private boat or ferry and set sail to the hidden gems of Cape Lookout National Seashore. This 56-mile stretch of the Crystal Coast is jam-packed with exciting activities that will make your vacation one for the books!
Cape Lookout's most iconic attraction is the Cape Lookout Lighthouse. This iconic lighthouse is known for its striking black and white diamond pattern exterior and offers a challenging climb of 207 stairs – that's equivalent to climbing up a 12-story building! While climbing is on hold until 2025, the breathtaking panoramic views from the top are worth every step.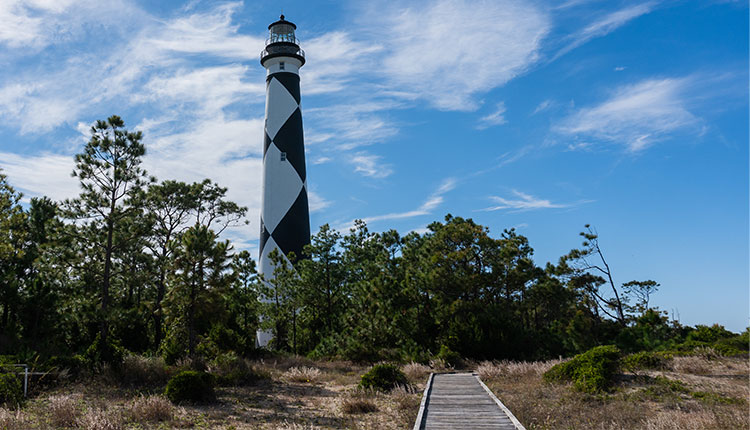 From the pinnacle of the tower, you would gaze upon vast stretches of unspoiled beaches, the boundless horizon of the open ocean, and neighboring coastal towns shimmering in the distance. It's a view you'll never forget! Either way, enjoying the park grounds and unspoiled surroundings is a grounding experience that takes you back to what the area was like in its natural state.
Come explore the magnificent Cape Lookout National Seashore and visit again to conquer the Cape Lookout Lighthouse climb!
2. Try to Paddleboard
In Emerald Isle, the possibilities for watersports are endless! Whether you want to play in the sand, float in the water or just sit back and relax, Emerald Isle has it all.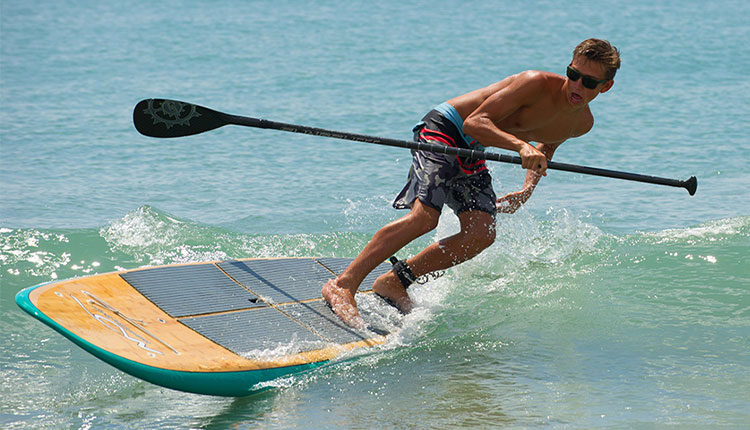 But you're working on your vacation bucket list! Go beyond the classic beach activities and take on something truly exhilarating. Get ready to experience the rush of stand-up paddleboarding, or "SUP." Feel the wind in your hair as you glide over the rolling waves or embark on a tour of the stunning island scenery. It's an unforgettable way to explore Emerald Isle like never before! Don't have your own paddleboard? No problem! Rental services are readily available to help you make your paddleboarding dreams a reality.
3. Take to the Skies
Looking for an adrenaline-fueled adventure that will leave you breathless and exhilarated? Try parasailing! Take to the skies and soar high above the crystal-clear waters of the Atlantic Ocean with the stunning coastline stretching out below you. It's an experience like no other — a thrill that will leave you feeling alive and invigorated.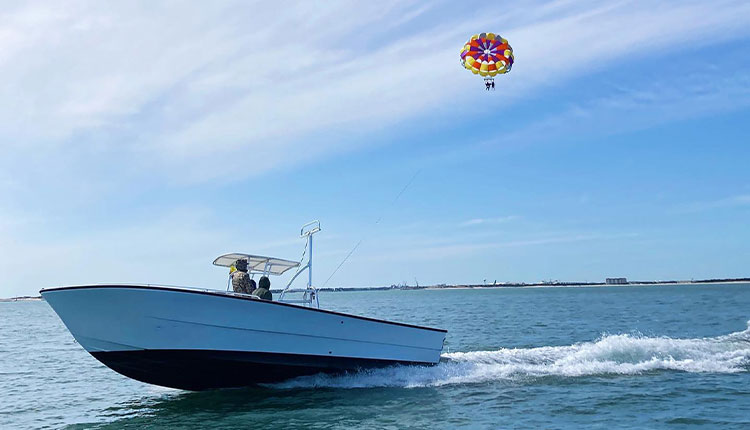 With expert instructors and top-of-the-line equipment, parasailing in Emerald Isle is a safe and unforgettable way to see the area from a whole new perspective. You'll feel the rush of wind against your skin as you fly through the air, taking in the breathtaking views of the North Carolina coast. And with flexible scheduling and affordable prices, there's no reason not to try parasailing during your trip to Emerald Isle.
4. Fishing Folklore
Reel in the ultimate catch on the Crystal Coast! Emerald Isle is an angler's paradise! With its prime coastal location on the Atlantic Ocean, anglers can expect to catch a variety of fish year-round, from cobia in the spring to flounder in the summer and redfish all year long.
But why settle for ordinary fishing spots when you can experience the thrill of catching your next big one in the waters surrounding Bogue Inlet Pier? The depths attract a wide range of fish, making it the perfect spot for beginners and experienced anglers alike. And if you're craving a true deep-sea fishing adventure, why not plan a day with one of the local charters? You'll have the chance to fish the day away and focus on landing the big one while the captain leads the way.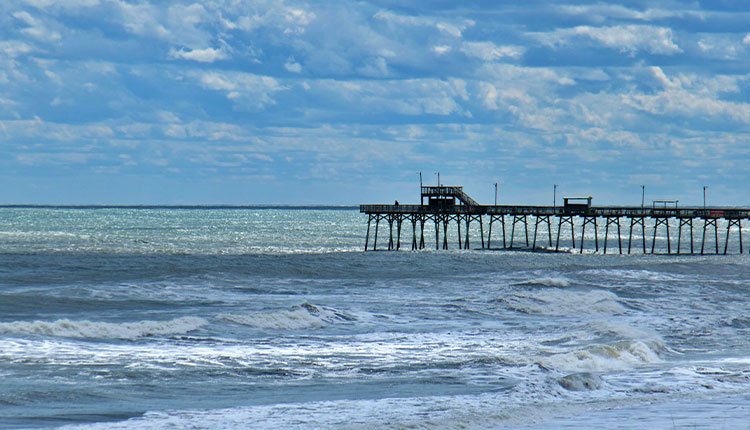 Don't forget to obtain your North Carolina fishing license before heading out on your next big catch. Whether you drop a line from the pier or embark on a fishing charter, the waters of the Crystal Coast promise an exhilarating and rewarding experience that you won't soon forget. So come on, grab your gear, and get ready to reel in the adventure of a lifetime in Emerald Isle!
5. Celebrate the Moon and Stars
Plan an unforgettable evening of dining under the stars! After a day packed with adventure and excitement, picture yourself and your loved ones gathered around a freshly prepared dinner and enjoying each other's company as the sun dips below the horizon. The sound of the waves crashing against the shore and a sky of twinkling stars will serve as the perfect backdrop to your evening of laughter and memories. With oceanfront rentals available from Emerald Isle Realty, you can take your dining experience to the next level and create unforgettable moments with your family and friends.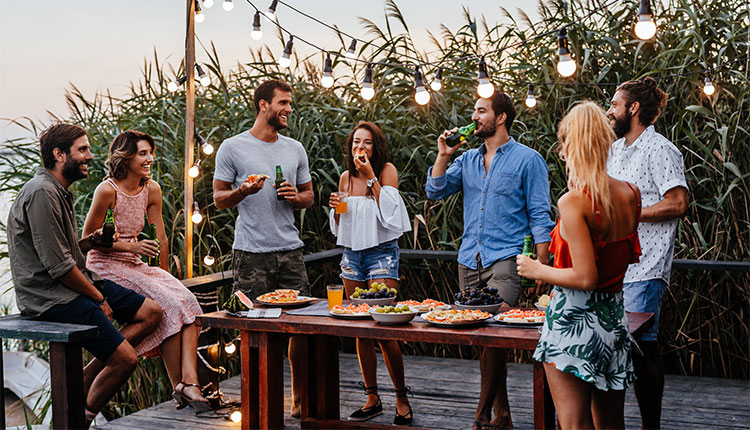 As you bask in the glow of the stars above, take a stroll on the beach and feel the soft sand between your toes. The moonlight reflecting off the rolling waves is a sight to behold and sets the tone for a magical evening. And if you have kids, they'll love scouring the sand for crabs and other treasures under the moonlight, making this a night they'll never forget.
For couples, this is the perfect romantic way to end the day on the Crystal Coast. The peaceful sounds of the ocean and the twinkling stars above provide the ultimate backdrop for a magical moment with your loved one. And don't forget to capture this moment forever with a few photos to remember your time in Emerald Isle.
6. Experience the Freshest Seafood
Are you a seafood lover searching for your next culinary adventure? Be sure to add Emerald Isle's freshly caught seafood to your vacation bucket list! From local markets to award-winning restaurants, this coastal paradise is a must-visit destination for foodies and travel enthusiasts alike.
One spot you can't miss is Cap'n Willis Seafood Market, located in the heart of Emerald Isle. This seafood lover's haven boasts a mouth-watering selection of fresh seafood, from jumbo shrimp to succulent sea bay scallops, and everything in between. Take your pick and head back to your rental for a coastal feast that will leave you craving more.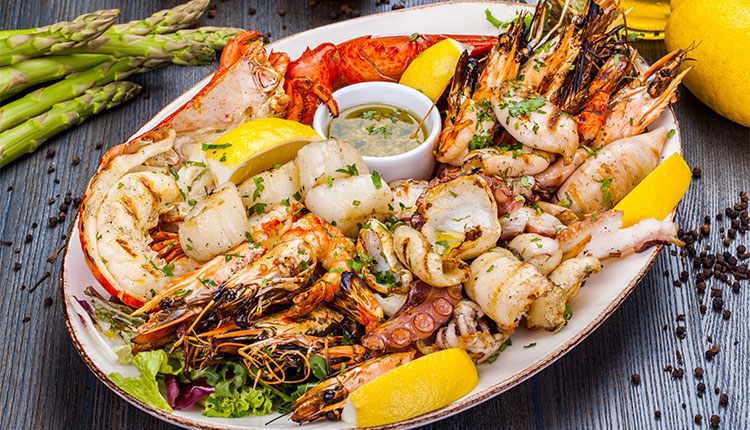 But if you're in the mood for a night out, Emerald Isle's local chefs have got you covered. They've perfected the art of pairing the freshest catch of the day with delectable sides that will tantalize your taste buds. And with so many notable restaurants to choose from, the hardest part will be deciding which dish to order!
Whether you're a seasoned seafood connoisseur or a curious culinary adventurer, make sure to add Emerald Isle's local fare to your bucket list. Experience the true taste of the coast and indulge in the freshest seafood around. Your taste buds will thank you!
7. Embark on a Local Shopping Spree
The Crystal Coast is the perfect destination for shopping enthusiasts to find the ultimate souvenirs and treasures to take home and share with family and friends.
Start your shopping spree on Emerald Drive in downtown Emerald Isle, where you can browse through beach-inspired souvenir shops. Find tasteful beachwear and your new favorite coffee mug and take home a piece of the coast with you.
But the shopping adventure doesn't stop there. Step into one of the many antique shops in Emerald Isle and surrounding towns and get lost in a world of unique finds. From vintage treasures to one-of-a-kind pieces, you're sure to find the perfect item to bring the flair of Emerald Isle back to your hometown.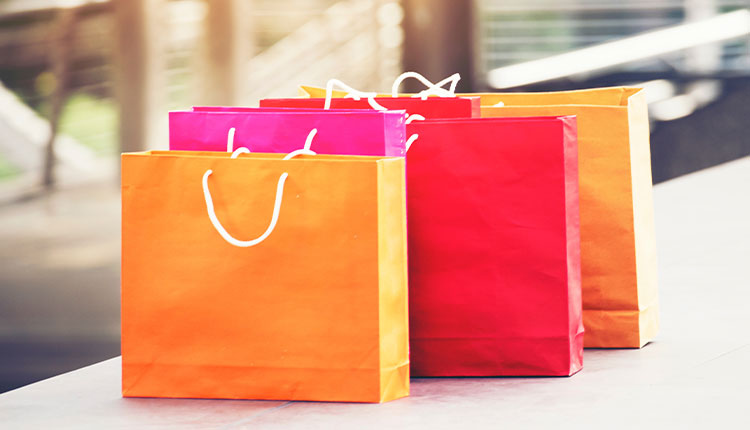 And if you're an art lover, make sure to check out the local galleries. Here you can stroll through coastal-inspired artwork and find the perfect piece to hang in your home. It's a great way to bring a little piece of the coast back with you and remember your unforgettable vacation on the Crystal Coast.
Add a shopping excursion to your vacation bucket list and discover the hidden gems of Emerald Isle. With so many unique shops and boutiques to choose from, you're sure to find the perfect souvenir to cherish for years to come.
8. Sail into the Sunset
Get ready to set sail on a boating excursion of a lifetime on the Crystal Coast! Boating on Bogue Sound and the surrounding islands has been a favorite pastime for locals and visitors for years, and it's not hard to see why. This North Carolina boating paradise offers endless opportunities for exploration and adventure.
So why not schedule a private charter for an unforgettable tour of Crystal Coast hot spots? Take in the breathtaking scenery as you cruise along the sparkling waters of the coast. Or, if you're feeling brave, be the captain of your own ship! You'll have the freedom to explore the sound at your own pace, and the possibilities are endless.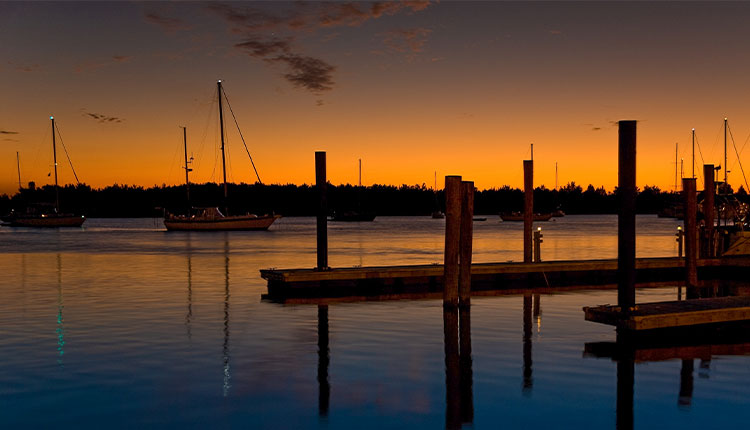 If you happen to bring your own boat, cast off from the Emerald Isle Boating Access Area, located at 6800 Emerald Drive. And make sure to cruise by Cape Lookout to catch a glimpse of the Wild Horses of Shackleford Banks. It's a once-in-a-lifetime experience you won't want to miss!
After a day spent exploring the sound, venture out into the Atlantic or head inland up the White Oak River for even more water expeditions. The crystal-clear waters and stunning landscapes will take your breath away. With so much to discover on the water, you'll never want to leave. Be sure to add a boating excursion to your Crystal Coast bucket list and experience the ultimate adventure.
9. A Palace on the Coast
Attention history buffs and travelers looking to dive into North Carolina's culture! Get ready to step back in time and immerse yourself in the rich history of Tryon Palace, formerly known as the Governor's Palace. This grand structure, built in the late 1760s, was the first permanent capital of North Carolina and served as the home for Royal Governor Tryon and his family.
Today, visitors can enjoy the rebuilt structure and explore the 14 acres of exquisite gardens. Get lost in the grandeur of the palace's halls and imagine what life was like for the governor and his family. Marvel at the stunning architecture and intricate details that have been preserved for centuries.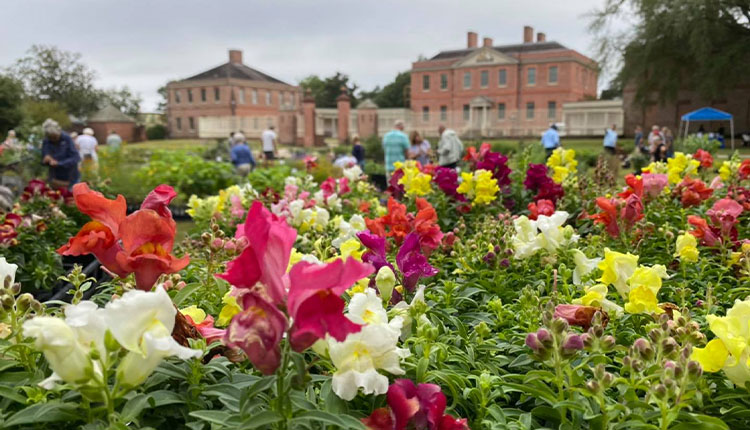 But that's not all. Tryon Palace is also surrounded by lush gardens that are sure to take your breath away. Stroll through the gardens and take in the colorful blooms, fragrant herbs, and serene water features. It's the perfect way to escape the hustle and bustle of everyday life and connect with nature. This North Carolina treasure is certainly a piece of history that you won't want to miss.
10. A Sand Castle of Your Own
Indulge in the ultimate beachfront experience with Sand Castle luxury vacation rentals! These properties are more than just a place to rest your head, they are an oasis of relaxation and luxury. Imagine waking up to the sound of the waves crashing against the shore, taking a few steps to feel the sand between your toes and then coming back to your private pool for a refreshing dip.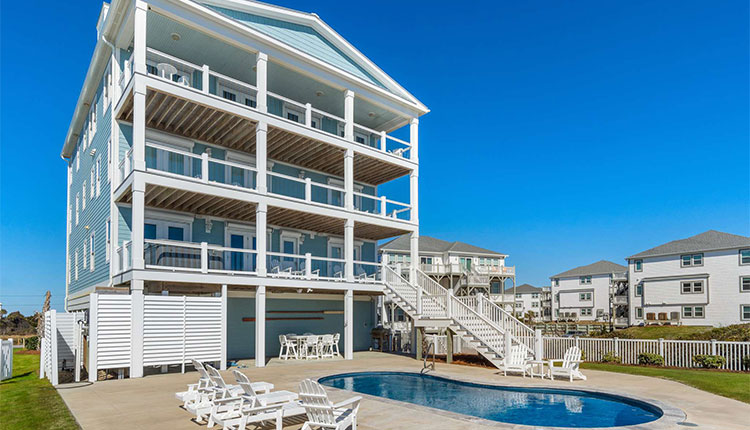 Our hand-picked selection of luxury vacation homes will exceed your expectation. Each property features top-of-the-line amenities such as fully equipped gourmet kitchens, cozy living areas and spacious bedrooms with breathtaking views. Your family will love having plenty of space to spread out and relax in style. Treat yourself while on the coast, experience the luxury you deserve with a Sand Castle property!
Plan Today
Don't wait any longer to start planning your next trip to the Crystal Coast with Emerald Isle Realty! With so many unforgettable experiences waiting for you, it's time to add this stunning beach town to your travel bucket list.
Save it for Later