Experience the ultimate coastal getaway on North Carolina's breathtaking Crystal Coast, where luxury and comfort meet in perfect harmony. If you're looking to indulge in the beauty of the coast, relax on pristine beaches, and satisfy your wanderlust, look no further than the charming island community of Emerald Isle.
Nestled within this idyllic coastal haven is this week's featured property, Atlas Bay. A truly luxurious soundfront cottage that promises to elevate your vacation to new heights of comfort and relaxation. A new build, with six bedrooms, four bathrooms and a host of exceptional amenities, is the perfect retreat for families and friends seeking to create timeless memories in style.
So why wait? Start planning your family's greatest trip of all time today and experience the ultimate in coastal luxury and comfort at Atlas Bay. With a range of captivating photos available for you to explore, there's no better time to book your stay and discover the magic of this extraordinary vacation home.
Your Coastal World
From the moment you step inside, you'll be swept away by the charm and elegance of this exquisite property. Boasting spectacular views of the sound, Atlas Bay is the ideal place to unwind and recharge. Whether you're enjoying a glass of wine on the deck, or gathering with loved ones around the fire pit, you'll be surrounded by the natural beauty of the Crystal Coast.
Indulge in the ultimate coastal vacation experience at Atlas Bay, where every amenity has been thoughtfully crafted to exceed your expectations. With its charming coastal décor and open concept living and dining area, this spacious home provides the perfect blend of comfort and luxury. And, with breathtaking views of the sound visible through the large windows, you'll feel like you're living in a postcard.
The living area is a cozy and inviting space that's perfect for spending quality time with your loved ones. With plenty of plush seating options, this area provides the perfect setting for a lazy afternoon spent swapping stories or enjoying a movie night on the large Smart TV mounted over the fireplace. Sign in to your favorite streaming services and you'll never run out of entertainment options.
Prepare your favorite meals in the fully equipped kitchen that features stainless steel appliances and plenty of counter space. The dining area, which can accommodate up to eight guests, provides the perfect setting for a family meal or an intimate dinner with friends. And, with three stools at the kitchen island, you'll never have to worry about running out of seating options.
Step outside onto the deck and enjoy a meal alongside gorgeous views of the pool. Spend the evening under the stars while enjoying the gentle breeze and the night sky reflecting off Bogue Sound. With access to the laundry room and high-speed internet, you'll have everything you need to stay comfortable and connected during your stay.
Sleep At Last
Indulge in a luxurious and comfortable vacation with your family or friends at Atlas Bay! You can enjoy a refreshing and rejuvenating slumber after a day of adventure kayaking in the sound or lounging by the pool. With six beautiful bedrooms, you can be assured that everyone will sleep soundly and wake up refreshed.
The rooms at Atlas Bay are fit for royalty. Four of the bedrooms are designed with your utmost comfort in mind, offering king-size beds that will make you feel like you're sleeping on a cloud. These rooms are the perfect retreats for guests who want to unwind and take in the stunning views while enjoying their morning coffee or evening nightcap.
The remaining rooms are just as comfortable and welcoming. One room features a queen-sized bed that is perfect for anyone wanting to snuggle up and enjoy a restful night's sleep. For those who prefer a more playful sleeping arrangement, another room boasts a queen-sized bottom bunk bed and a twin-sized bed, perfect for families with children or groups of friends.
Each of the six rooms is beautifully decorated with coastal accents, adding to the serene ambiance of the space. With ample storage for all your belongings, you can make yourself right at home in these spacious rooms. You and your guests will have separate retreats for rest, ensuring privacy and relaxation for all.
The Luxurious Outdoors
Experience the ultimate waterfront vacation at Atlas Bay, located on the picturesque Bogues Sound of Emerald Isle, NC. This stunning property offers direct access to the peaceful shoreline of Bogue Sound. Wake up to breathtaking views and make your way to the gated stairs that lead to the water. Launch your kayak or paddleboard from the water's edge and explore the tranquil sound at your own pace. With Atlas Bay, you can discover a hidden gem on North Carolina's Crystal Coast and create unforgettable memories that will last a lifetime.
But that's not all! The beach is just a short drive away and offers endless opportunities for relaxation and adventure. Take a dip in the refreshing waves or stroll along the sand collecting seashells. With so many options to choose from, the beach is your paradise. And when you're ready to head back to your vacation property, you can enjoy the rest of your day in your private oasis. Atlas Bay boasts entertainment options for guests of all ages.
The yard is a beautiful outdoor space that provides the perfect luxury getaway. The large private salt-water pool is the ideal spot to float on the water and soak in the sun while admiring the stunning sound front views. The pool is surrounded by plenty of seating options and a gas grill will inspire you to plan a poolside cookout! The pool's turf deck is a safe gathering spot for all visitors in the house at any time of the day.
But don't forget to venture out and explore the nearby attractions. Take a day trip to the charming Emerald Isle, where you can browse local gift shops and savor delicious meals at one of the many restaurants serving up the best surf-and-turf dishes along the Crystal Coast.
Plan Now
Book your stay at Atlas Bay with Emerald Isle Realty! Get ready to indulge in the ultimate soundfront vacation at this exquisite coastal cottage. Whether you're looking to unwind and relax or explore the stunning surroundings, this property has something for everyone. With its exceptional amenities, you can enjoy endless hours of fun and relaxation with your loved ones.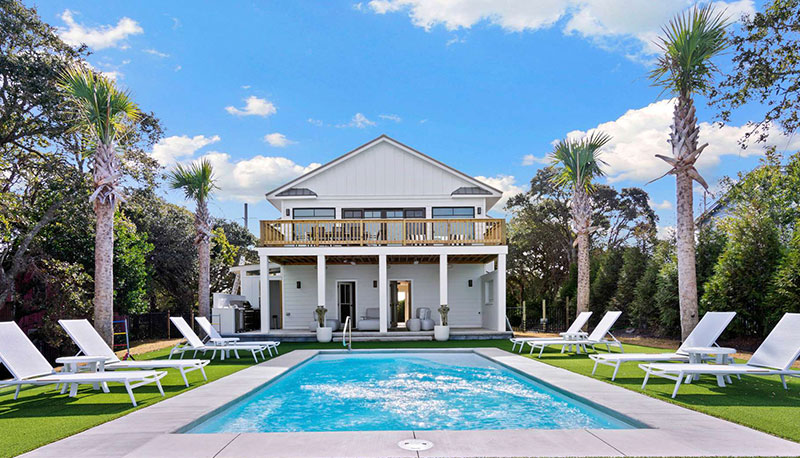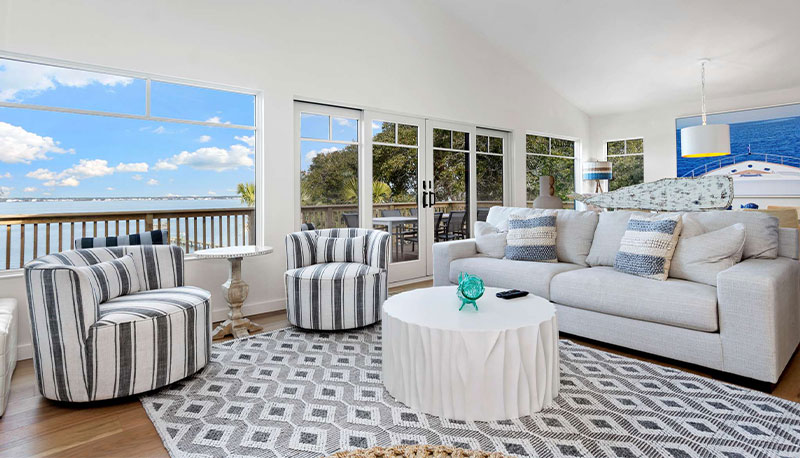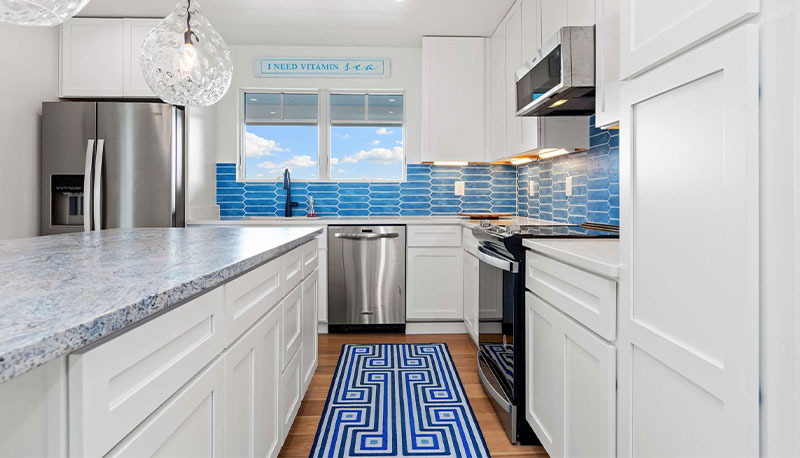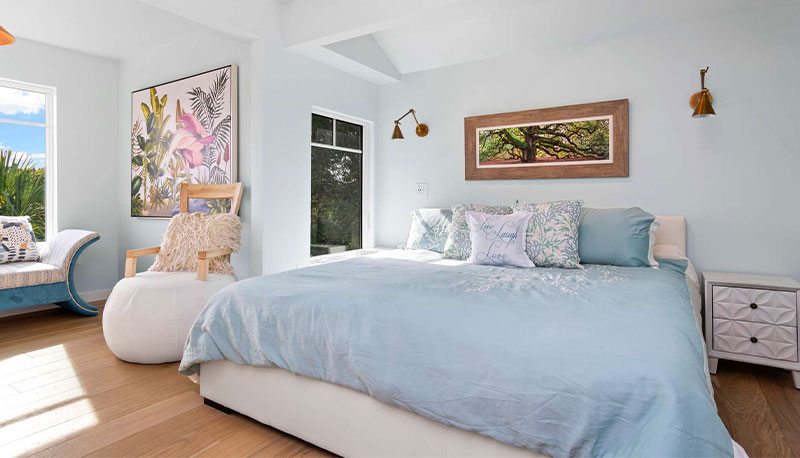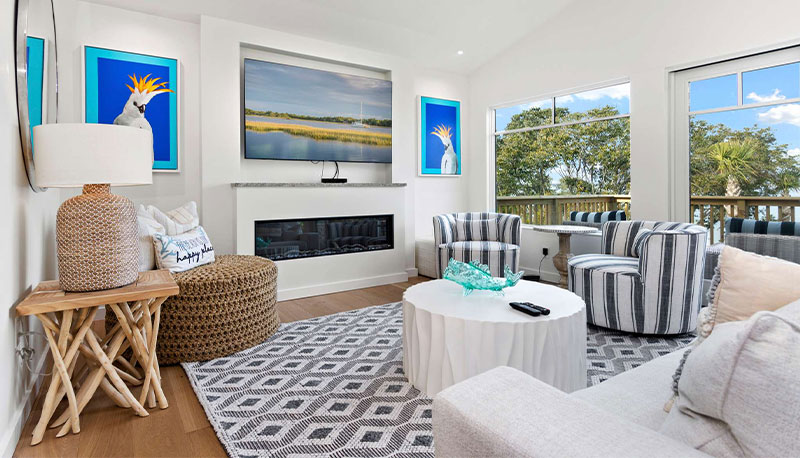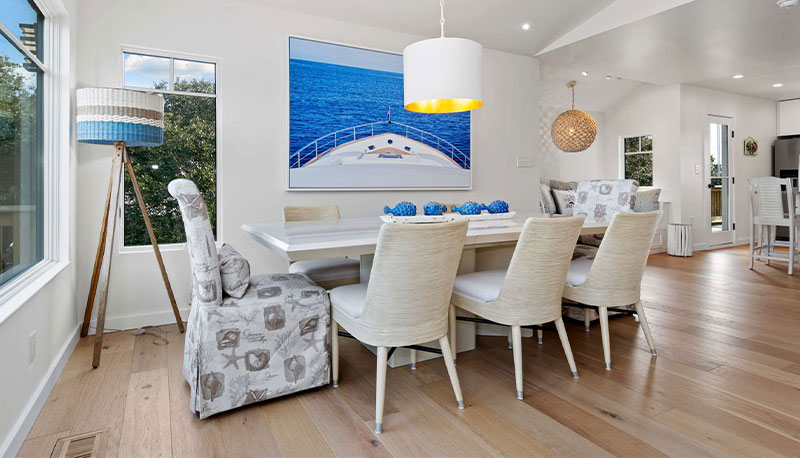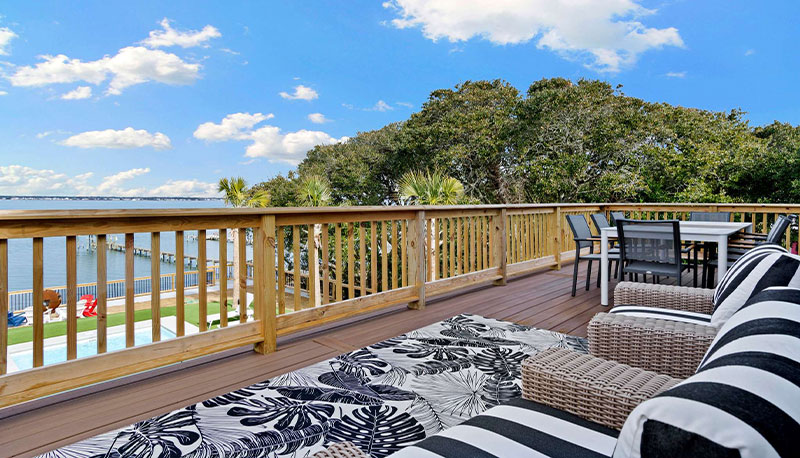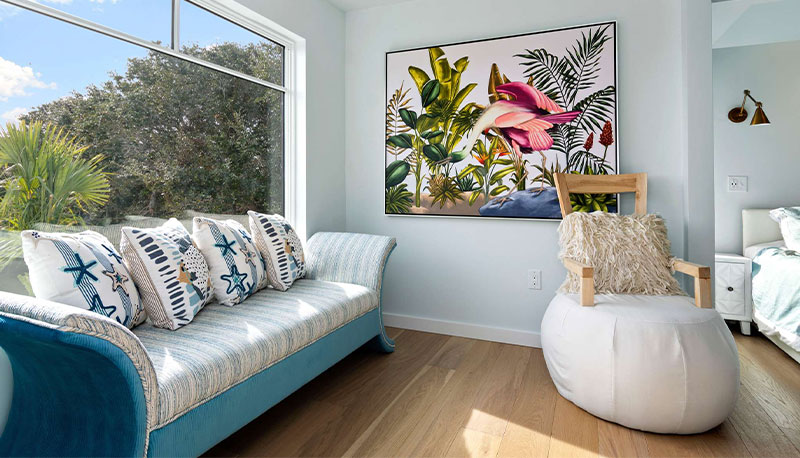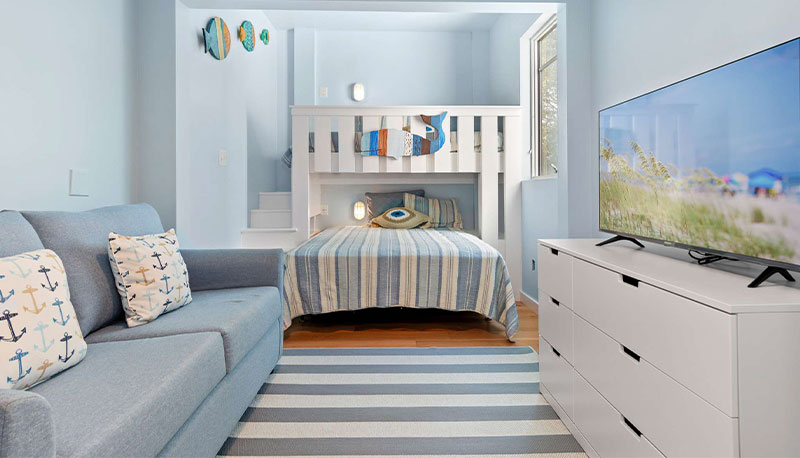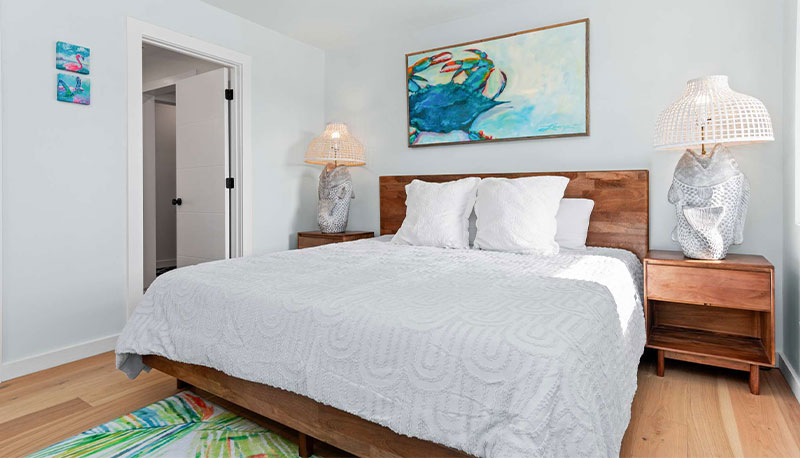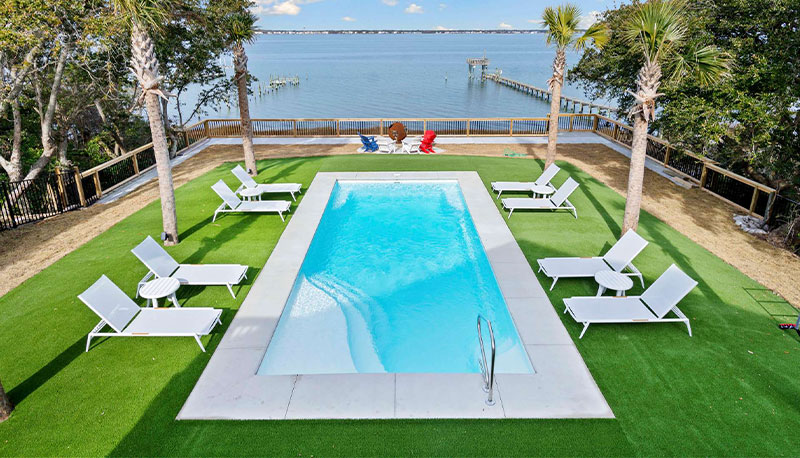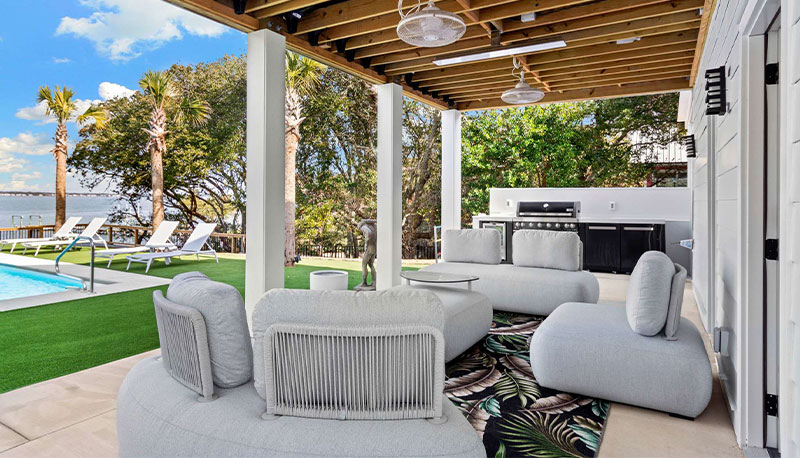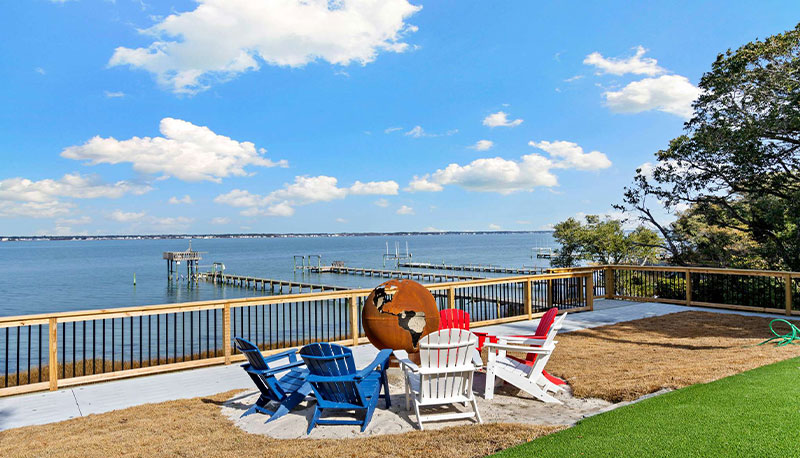 Save it for Later