Are you planning a memorable family adventure that involves everyone from the newest adventurer to the wisest traveler? Don't let the thought of accommodating everyone's needs overwhelm you. At Emerald Isle Realty, we've learned a few tricks that can make your multigenerational travel experience smooth, stress-free and unforgettable for everyone.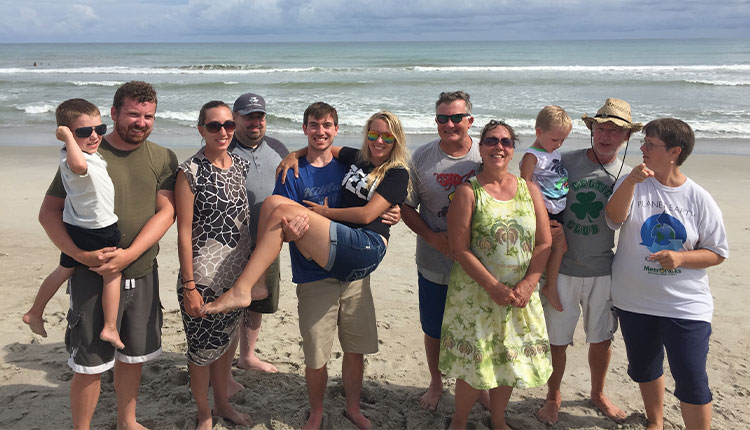 Get ready to create memories with your extended family that will last a lifetime! As you explore North Carolina's Coast with your favorite people, you will discover many exciting activities. From attractions for the kids to leisurely strolls for the grandparents, there's something for everyone on a big family trip.
Get your bags packed, buckle up and prepare for the vacation of a lifetime! Here are tips for planning multigenerational beach vacations. Let's go!
Affordable and unforgettable go hand-in-hand
Looking for a budget-friendly vacation that doesn't skimp on fun is easy! North Carolina's beautiful Crystal Coast boasts stunning beaches, alluring communities and plenty of outdoor activities! This destination offers something for everyone, without breaking the bank.
If your vacation crew is searching for lower prices on accommodations, consider visiting during the off-season! During this time, you'll find lower rates on properties and milder weather that's still perfect for outdoor activities like hiking and fishing.
You should also consider a vacation rental instead of staying in a hotel. This option can save you money, especially if you're traveling with a group that can split costs. Plus, vacation homes often come with amenities like full kitchens, pools and game rooms! Just a few perks that can help you save even more by allowing you to prepare your own meals instead of dining out or searching for new attractions.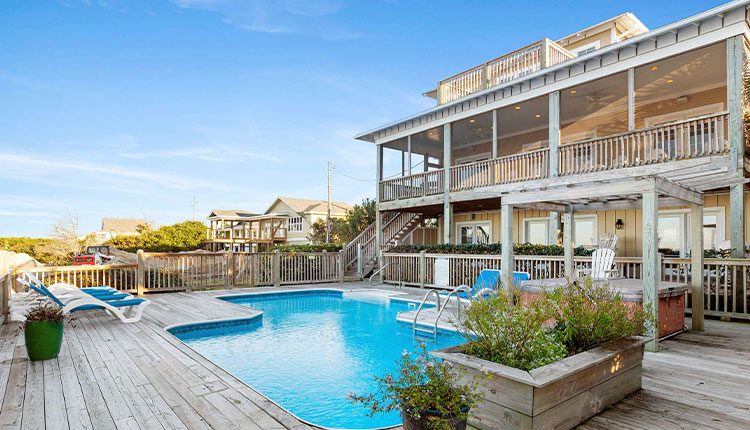 Be sure to take advantage of the many free or low-cost activities the Crystal Coast has to offer. Spend a day at the beach, explore the area's many parks and nature reserves or visit a local museum or historic site. You'll find plenty to do without spending a lot of money.
These are just a few tips to help you plan a budget-friendly Crystal Coast vacation that will leave you with memories to last a lifetime. There are plenty of ways to make your trip both affordable and unforgettable.
Give your family the space it desires
Choosing a spacious vacation rental can make all the difference when it comes to enjoying your vacation to the fullest. At Emerald Isle Realty, we offer a wide selection of vacation properties that are perfect for large families and anyone who values plenty of room to relax and unwind.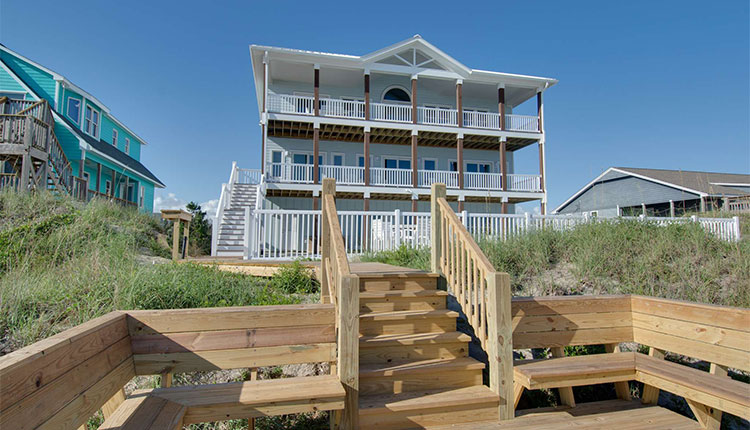 Our inviting properties come in a variety of sizes and styles, from cozy condos to sprawling oceanfront Sand Castles. No matter what your needs are, we have the perfect rental to accommodate every member of your group and provide the space and comfort each traveler deserves.
When you choose a spacious vacation rental with Emerald Isle Realty, you'll also enjoy all the amenities and conveniences of your home. Our rentals provide you with comfortable living areas and outdoor spaces like decks and patios where you can enjoy the coastal breeze and take in stunning views of the Atlantic Ocean or Bogue Sound. Plus, with a spacious rental, you'll have plenty of room to spread out, relax and make unforgettable memories with your loved ones.
Renting duplexes or properties that are close together offer a new vacation experience for families. Renting a duplex with Emerald Isle Realty offers families and groups the opportunity to enjoy a vacation rental that is essentially two houses in one, with two separate living areas that share a common wall. With two kitchens and multiple bedrooms and bathrooms, there is plenty of room for everyone to spread out and relax while still having their own space and privacy.
Best of all, many of our duplexes can be booked together, making them perfect for larger groups or families. By renting properties that are close together, you can still enjoy the company of your loved ones while having your own space and privacy. This flexibility allows you to customize your vacation experience to suit your needs and preferences, making for a comfortable and enjoyable stay on the beautiful Crystal Coast.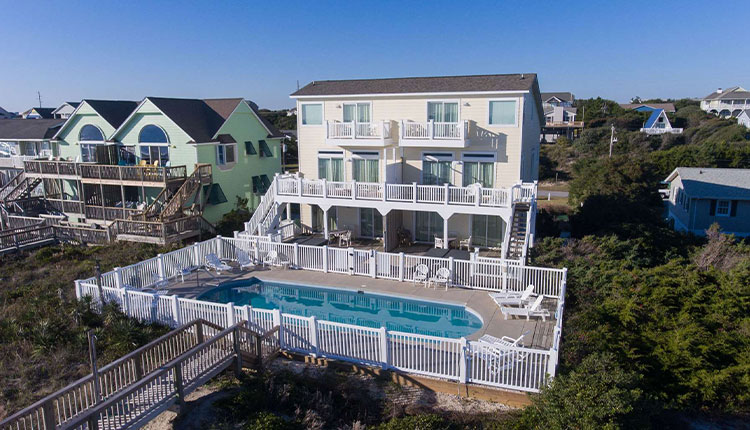 You can enjoy all the space and comfort of a spacious vacation rental with Emerald Isle Realty. Browse our selection of vacation rentals today and find the perfect rental for your next beach getaway!
Find the right sleeping arrangement for everyone
One of the most important aspects of any vacation is getting a good night's sleep, but figuring out the sleeping arrangements for your group can be a challenge. Here are some tips for handling sleeping arrangements at your vacation property.
Consider the size and layout of your vacation property. Be sure it has enough bedrooms and sleeping areas to accommodate everyone comfortably. If not, you may also want to consider renting a larger property or multiple properties.
Be clear about the sleeping arrangements when you're making reservations or booking your vacation rental. Make sure you know exactly what types of beds are available and ask about any additional sleeping arrangements that may be necessary, such as sleeper sofas. Some of our properties provide guests with multiple primary suites, so there's enough space for seasoned travelers to get their rest.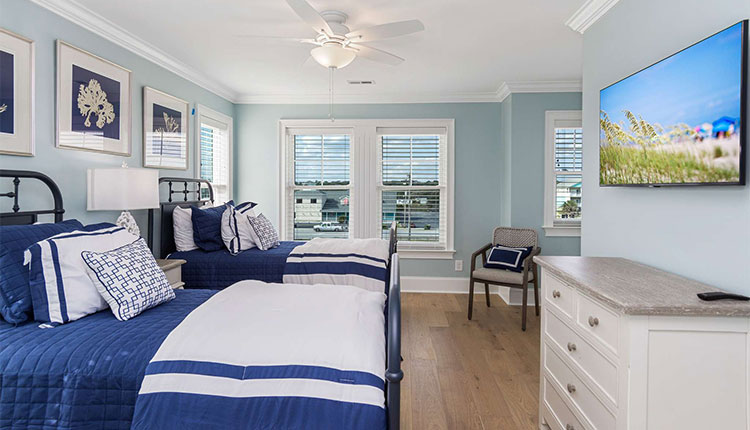 By considering the size and layout of your vacation property, being clear about sleeping arrangements, and staying flexible and creative, you can ensure that everyone in your group gets a good night's sleep and enjoys their vacation to the fullest.
Plan your meals ahead of time
Get ready for an exciting way to enjoy your coastal vacation with your family! Planning meals with your loved ones can be a fantastic and rewarding experience that will bring you all closer together. Here are some tips for making the most of mealtime at your vacation property on the Crystal Coast that will leave your taste buds dancing.
Start by planning and creating a menu for your stay. This is the perfect opportunity to consider everyone's dietary needs and preferences and to plan meals that are easy to prepare and share. Planning breakfasts, lunches and dinners can take decision fatigue out of your vacation itinerary. Want to add some fun? Assign different family members to be responsible for certain meals or tasks and give your dinners a theme! This will make mealtime a creative and memorable experience for everyone and could even start a new multigenerational family tradition.
Make sure to take advantage of the local seafood and produce that Emerald Isle and the surrounding coastal communities have to offer. Visit the local seafood markets to pick up fresh ingredients for your meals or try a local restaurant that specializes in seafood and other coastal cuisine. The flavors and freshness of the local produce will elevate your meals to a whole new level!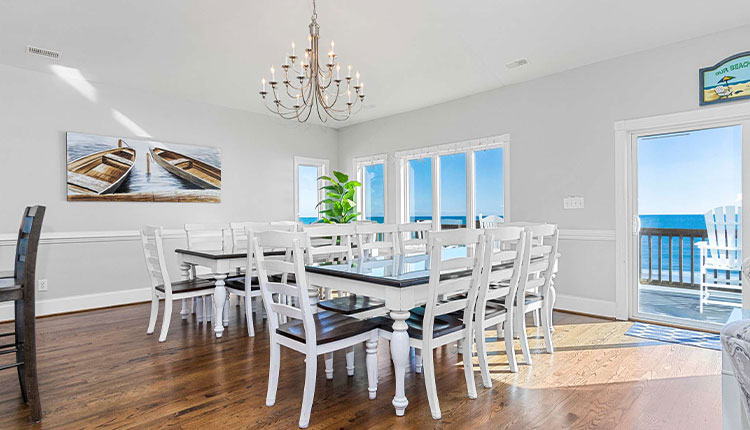 Lastly, enjoy your meals together as a family. Use mealtime as an opportunity to catch up, share stories, and create unforgettable memories. Imagine dining al fresco on your rental's outdoor patio or deck or planning a beach picnic or barbecue for a fun and casual mealtime experience. With a little bit of thought and a lot of excitement, you can make mealtime at your vacation property with Emerald Isle Realty the highlight of your beach vacation!
Let everyone plan an activity
Visiting North Carolina's Crystal Coast is an exciting and fun-filled experience. To make the most of your vacation, it's important to plan your activities ahead of time and let everyone have a say in what they want to do. Here are some tips to help you plan your vacation activities on the Crystal Coast.
Make sure to involve everyone in the planning process. Let each family member have a say in the activities they want to do, and plan activities that everyone can enjoy. Start by researching the area's top attractions and activities.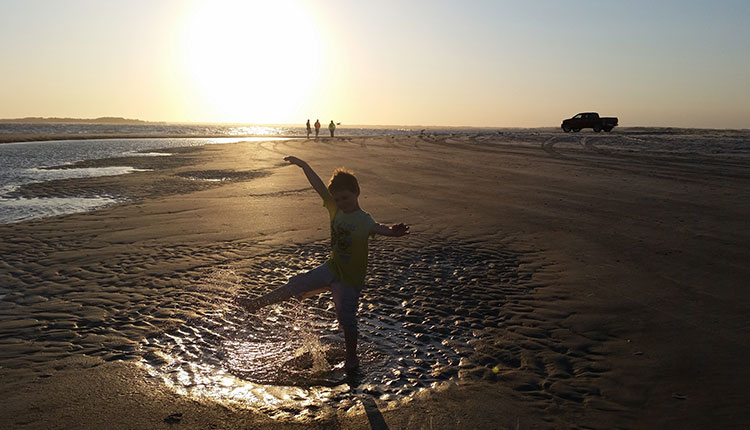 Visiting the beach on North Carolina's Crystal Coast is a breathtaking experience that will leave you in awe of the natural beauty that surrounds you. With miles of pristine beaches, crystal-clear waters and picturesque sunsets, it's no wonder why the Crystal Coast is a top vacation destination. Take a stroll along the shoreline, hunt for seashells, or jump into the surf for a refreshing swim. And don't forget about the stunning sunsets, watch as the sky transforms into a kaleidoscope of colors, creating a picturesque backdrop for your vacation memories.
A must-visit attraction is the North Carolina Aquarium at Pine Knoll Shores. Here you can explore the wonders of the ocean and get up close and personal with sea creatures from around the world. Another popular destination is the Cape Lookout National Seashore. This stunning area features miles of unspoiled beaches, a historic lighthouse and plenty of opportunities for water activities!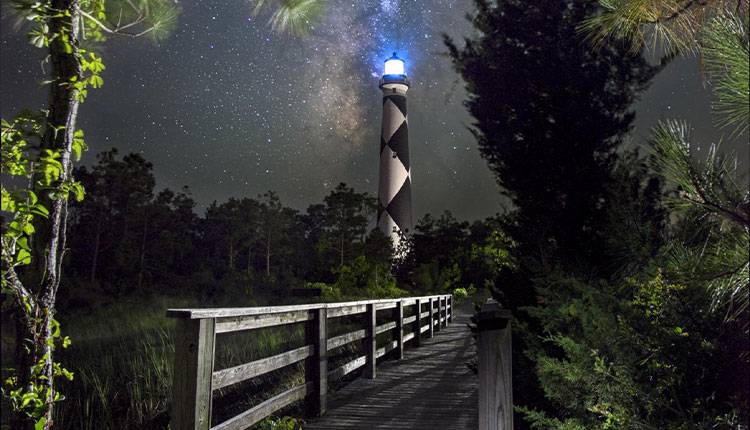 If you're interested in local flavor, be sure to check out the Crystal Coast's many breweries. These breweries offer tours and tastings, giving you the chance to sample some of the area's best craft beers. With a little bit of planning, you can easily create a brewery itinerary that will take you to some of the best breweries in the area. Some locations, like Crystal Coast Brewing Company, provide you with games and eats that everyone can enjoy. Read more about the best breweries around Emerald Isle to see which ones you want on your list.
Planning a visit to Bogue Inlet Pier is another must-do when visiting the Crystal Coast of North Carolina. This iconic pier offers stunning views of the Atlantic Ocean and is a popular destination for fishing, strolling and taking in the sights and sounds of the coast. Bogue Inlet Pier offers both daily and weekly fishing passes, as well as rod rentals and bait sales, making it easy for anyone to try their hand at fishing. Whether you're an experienced angler or just looking for a relaxing day at the beach, Bogue Inlet Pier is a must-visit destination for anyone visiting the Crystal Coast.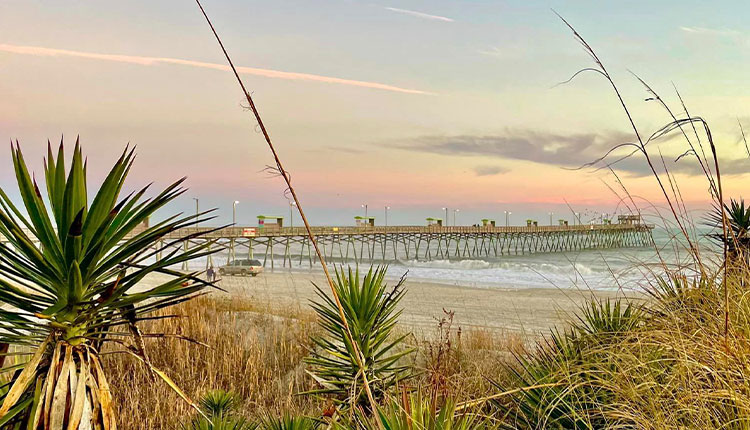 Whether you're exploring the aquarium, hiking at Cape Lookout, or sipping on local brews, the key is to create a vacation that is memorable and enjoyable for everyone. By planning and involving everyone in the decision-making process, you can create a vacation that will leave lasting memories for years to come.
Ensure your property has all the amenities you want
Picking the perfect vacation rental with fun amenities can be the key to creating an unforgettable getaway with your families on the Crystal Coast. At Emerald Isle Realty, we offer a wide variety of rentals that come equipped with some of the best amenities you'll find on the coast. Whether you're looking for a pool to lounge by, a game room to keep the kids entertained or a BBQ pit to cook up a delicious meal, we have you covered.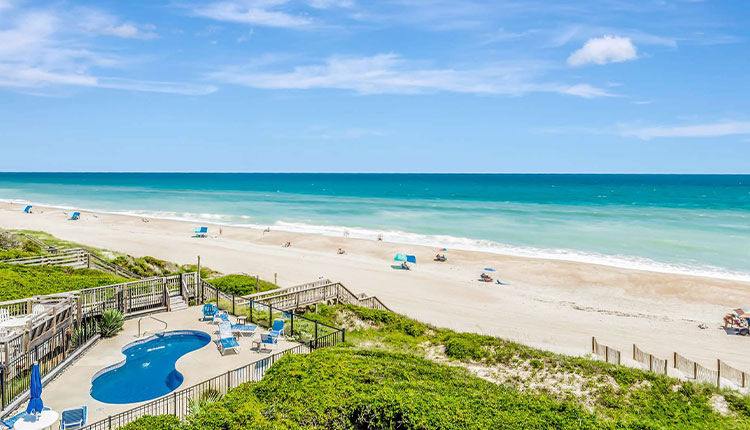 One of the most popular amenities our guests love is our selection of pools. With options ranging from private pools to community pools, you can easily find the perfect pool for your needs. Imagine soaking up the sun on a comfortable lounger while sipping on your favorite drink, all while taking a refreshing dip in the pool to cool off. Some of our properties even provide you with hot tubs, perfect for the well-traveled visitor to relax their muscles after hiking through their favorite trail.
Another amenity that is sure to make your vacation unforgettable are our game rooms. Perfect for families with kids or groups of friends, game rooms offer hours of entertainment and fun. With options like pool tables, air hockey, and arcade games, you'll never run out of things to do.
Finally, don't forget about our outdoor BBQs. What's better than grilling up some delicious local seafood while enjoying the fresh sea breeze? Many of our vacation rentals come equipped with BBQs, making it easy for you to cook up a feast for each member of your family.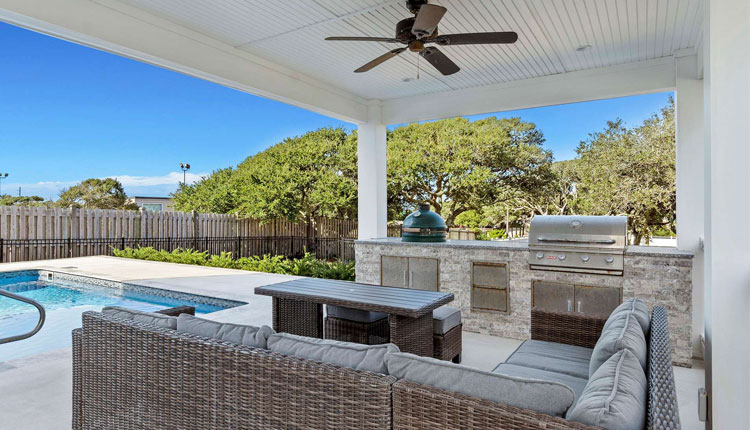 Overall, picking a rental with fun amenities is a great way to create lasting memories with your loved ones. At Emerald Isle Realty, we make it easy to find the perfect rental with everything you need to make your vacation unforgettable.
Schedule enough time for rest and relaxation
Planning downtime on your multigenerational vacation on the Crystal Coast is just as important as planning your activities. After all, it's important to take a break and recharge during your vacation. Luckily, there are a variety of relaxing and fun activities that are perfect for downtime. Take a leisurely walk on the beach, go shelling or simply lounge by your rental's pool with a good book. Or, if you're feeling adventurous, plan a quiet day paddleboarding or kayaking in the tranquil waters of the Bogue Sound.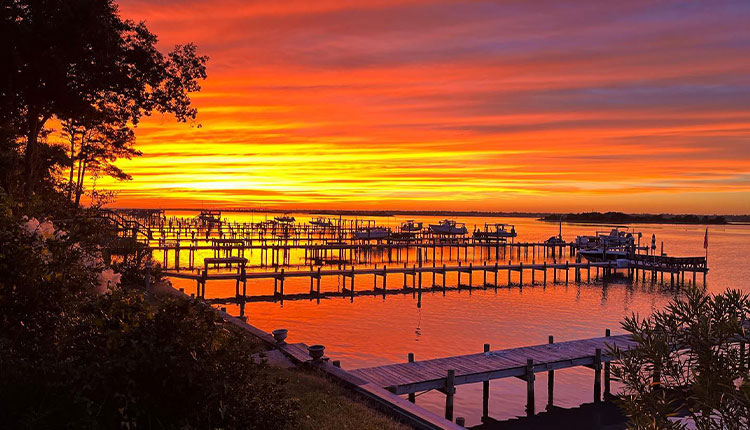 For those looking to unwind indoors, consider a friendly game of cards or board games. If your vacation rental has a game room, take advantage of it and challenge your family members to a game of pool or foosball. Alternatively, gather the family and watch a movie together on the couch. With The Parent Trap playing and popcorn popping, you and your extended family will be creating memories that will last a lifetime.
Another great way to unwind during downtime is to indulge in some self-care. Try your hand at yoga or meditation on the beach for a rejuvenating experience. By planning downtime into your multi-family vacation, you'll be able to return home feeling refreshed and recharged, ready to take on the world.
Plan your multigenerational trip early for the best availability
We hope these tips for planning your ultimate beach vacation have inspired you to start packing and getting ready for an unforgettable adventure. At Emerald Isle Realty, we understand the importance of family time and we are committed to helping you create memories that will last a lifetime. Whether you're looking for a spacious rental with fun amenities, or separate vacation properties close together, we have something to suit every family's needs. So, book your vacation with us today and get ready to soak up the sun, explore the coast, and create cherished memories with your loved ones.
Save it for Later