From dolphins to birding, the Crystal Coast offers a variety of wildlife viewing opportunities. Here are a few of the more common animals you can expect to find while on your area vacation. 
Sea Turtles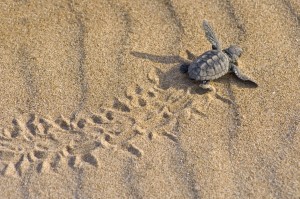 Did you know that Emerald Isle is a designated Sea Turtle Sanctuary? Loggerhead sea turtles visit the beaches of Emerald Isle every year between May 1 and August 31 to lay their eggs. Nesting usually occurs at night. If you happen to see a nesting turtle, stay back at least 30 feet and do not use any flash cameras or lights as these frighten the turtles and result in them abandoning the nesting effort. Please contact the Emerald Isle Sea Turtle Protection Program as they will aid in making sure the nest is protected.
Wild Horses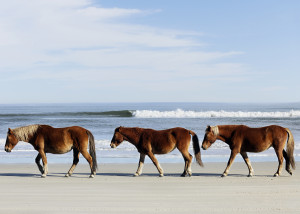 Descendants of the Spanish mustangs brought by European settlers, the wild horses of the Outer Banks have been captivating onlookers with their grace and majesty for years. The wild horses of Shackleford Banks are isolated from human development and roam freely on the nine-mile long barrier island of Shackleford Banks. If you have been lucky enough to visit the Cape Lookout Lighthouse, then you probably have seen these horses while on your ferry ride. For those of you wanting to get up close and personal, there are several charter services to choose from that will bring you near these beautiful creatures.
Dolphins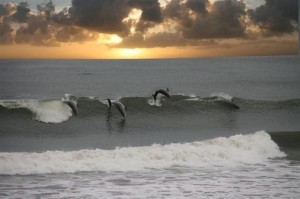 One of the most interesting animals you can see along the Crystal Coast is the Atlantic Bottlenose Dolphin. You might be lucky enough to see these creatures by just looking out your beach house window in the morning. For others who want to get close to these dolphins, there are several charters out of Beaufort and Morehead City. These are typically morning charters that will take you and your family and friends out to view these beautiful animals. The best time to see these dolphins is typically the winter season when they come to the inland bays.
Birds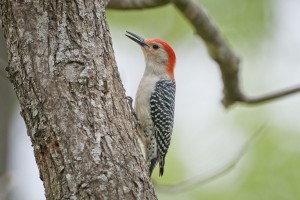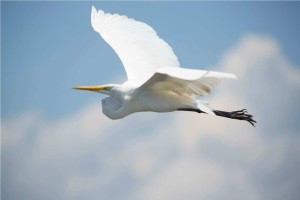 A variety of birds can be spotted along the Crystal Coast including the endangered Red-Cockaded Woodpecker in the Croatan National Forest. Along Bogue Sound within the Theodore Roosevelt Nature Trail, you can also spot a variety of species including Brown Thrashers, Northern Cardinals, Indigo Buntings and Carolina Chickadees. Emerald Isle Woods, a 40-acre preserve also provides ample bird viewing opportunities. One can spot a variety of birds including the Prothonotary Warbler, Great Crested Flycatcher, Red-bellied Woodpecker, Pine Warbler and many more.
Brown Pelican can also be found along the coast. Seeing a pelican fish is an amazing sight, even more when they are fishing in numbers. The brown pelican grows up to 40 inches with a wingspan of 90 inches. Mature brown pelicans are identified by their white head and neck. The population of these birds has been recovering since the ban of the pesticide DDT that weakened the shells of their eggs after eating infected fish.
So the next time you're visiting the Crystal Coast be sure to take a dolphin site seeing tour or visit some of the area's national parks and forests to catch of a glimpse of the abundance and variety of the area's wildlife.