When you think of a beach vacation, sunny days, endless waves and sand between your toes come to mind. North Carolina's Crystal Coast is a popular beach destination for many travelers craving sun-kissed days year after year. And Emerald Isle, North Carolina, is the perfect place to experience all of that and more.
During the day, you can bask in the sun on one of the island's many beautiful beaches. Or, if you're looking for something more active, you can go fishing, kayaking or stand-up paddleboarding. There are also plenty of opportunities to explore the island's natural beauty, such as biking through or visiting the Emerald Isle Woods Park.
Yet, as twilight blankets the island, Emerald Isle reveals a hidden enchantment that captures the heart. The night awakens with a symphony of possibilities, offering a variety of activities to ignite your senses and create lasting memories.
Prepare to be captivated as the island transforms into a mesmerizing canvas of nighttime wonders. For those seeking to extend their vacation adventures beyond daylight, here are a few of our favorite nighttime activities in Emerald Isle.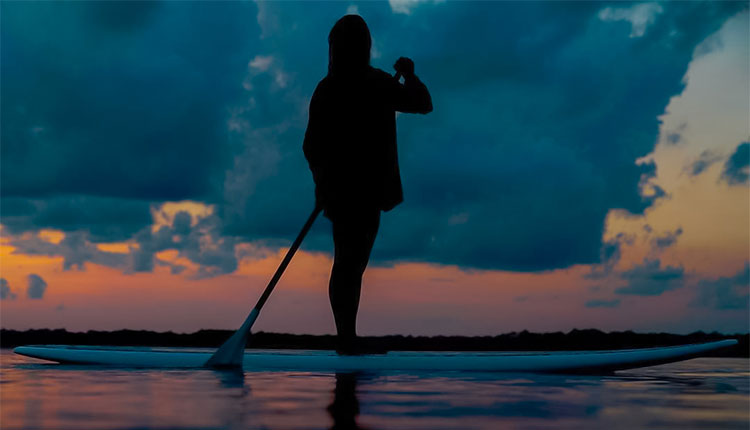 Moonlight Skies and Sparkling Shores
The beach in Emerald Isle is beautiful during the day, but there's something truly magical about it at night. The sunset is a sight to behold, with the horizon glowing a beautiful array of purples, pinks and golden colors. As the sun sets, the temperature begins to cool down, making for a perfect time to stroll along the beach with only the sound of crashing waves as your soundtrack.
Once the moon takes over, the beach takes on an entirely new look. The sand is bathed in moonlight, and the waves seem to become reflections of the stars. It's like being on a different beach, but one just as beautiful. And, on clear nights, you can catch a glimpse of stars you have never seen before. It's truly a cosmic experience.
One of our favorite activities at night is ghost crab hunting. These small, nocturnal crabs are quick and camouflaged, so it's a lot of fun to try to spot them. All you need is a flashlight, and you can be on your way to an evening of adventure.
If you're looking for a more relaxing experience, we recommend taking a seat near the Bogue Inlet Pier. The pier lights up the beach just enough to enjoy the nighttime and serene darkness. With a blanket or some comfortable seating, you can spend hours just taking in the beauty of the coast with a special someone. No matter what you're looking for, you're sure to find something to enjoy in Emerald Isle at night.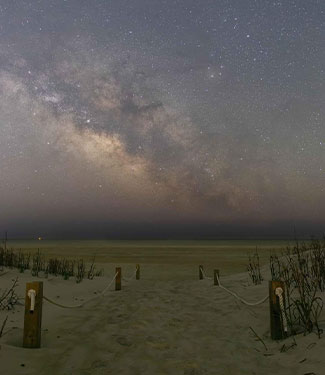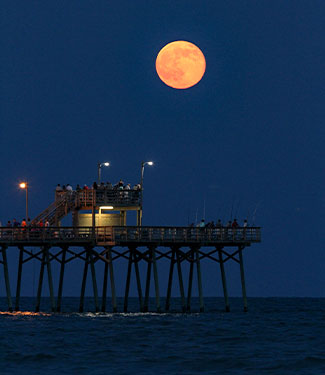 For the Angler
If you're looking for a great fishing experience in Emerald Isle, it's no mystery that you'll want to head to the Bogue Inlet Pier. However, this iconic pier is open until midnight, so you can fish during the day or night.
Many seasoned anglers swear the best time to fish at the pier is when the moon is shining. As the sun goes down, the surface temperatures in the water cool, drawing in more fish to the shore. This is a great time to catch a variety of fish including bluefish, cobia, croaker, flounder, speckled trout and tarpons.
The pier is also lit up at night, so you can enjoy the scenery while you're fishing. And if you're not feeling up to fishing, you can always take a walk along the pier and enjoy the elevated night views of the illuminated coast.
There are a few things to keep in mind if you're planning on fishing at the Bogue Inlet Pier. First, you do not need an NC Coastal Recreational Fishing License if you fish from the pier and parking is always free for anglers. Second, rod rental packages and multiple daily fishing passes are available if you plan on spending some time out there.
And finally, if you get hungry while you're fishing, there's a restaurant on the pier called Surf's Up Grill and Bar that's open until 9 PM. They serve delicious platters including seafood, burgers, and larger plates.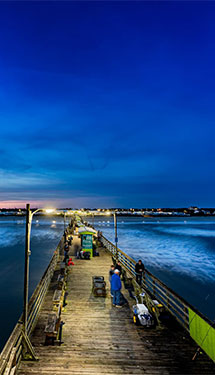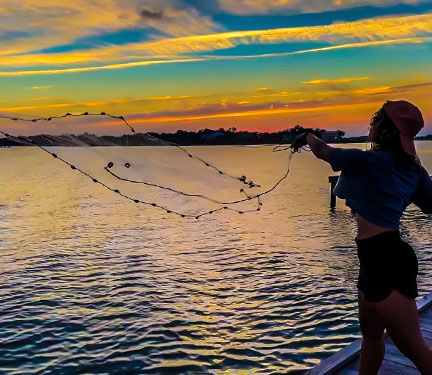 Nightly Dining
If your days in Emerald Isle are spent trekking through the coast, you might be thinking about sitting down and enjoying a meal. But when the sun goes down, it's your chance to really dig into Emerald Isle's culinary expertise.
Emerald Isle has some of the best chefs and restaurants along the Crystal Coast, and with ocean views, you know you're getting your hands on some of the freshest seafood you can get.
Whether you're looking for simple fare like burritos and shrimp burgers, or more fine-dining experiences like seafood and steaks, you're sure to find something to your taste in Emerald Isle.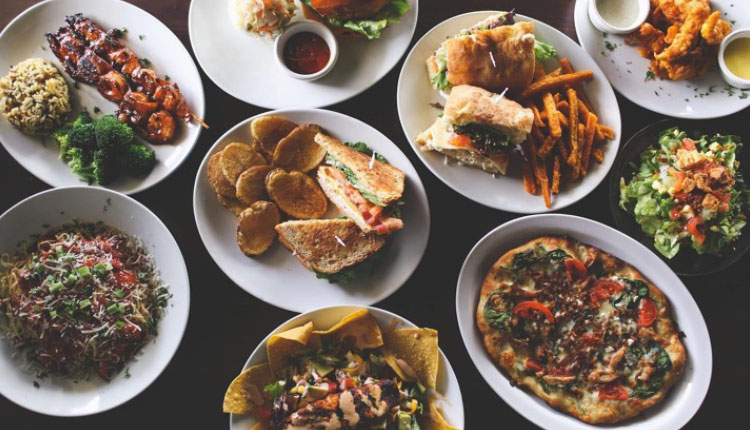 A Classic Night at the Movies
Embrace the unexpected and embark on a cinematic adventure that adds a touch of magic to your vacation. While many may not consider visiting a cinema during their getaway, it's a delightful endeavor that promises an unforgettable night out.
Emerald Isle provides visitors with a charming movie theater that will inspire many memories! Immerse yourself in the latest blockbusters, where the silver screen comes alive with captivating stories and mesmerizing visuals. Whether you find yourself in Emerald Isle or Atlantic Beach, these theaters offer a gateway to cinematic wonder, ready to transport you to realms both familiar and extraordinary. As you step inside, you'll discover a treasure trove of classic movie theater delights, ensuring that your experience is extraordinary.
Step outside the boundaries of traditional vacation plans and embrace the allure of a cinematic adventure. Let the magic of movies inspire your travel plans, adding a touch of whimsy and excitement to your Emerald Isle getaway. It's time to venture beyond the ordinary and script unforgettable moments in the heart of this coastal paradise.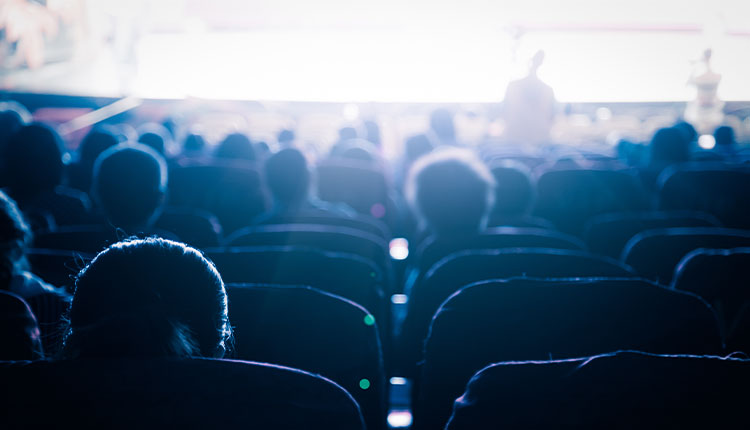 The Comforts of Your Vacation Property
Embrace the allure of relaxation and create your own nocturnal haven in the comforts of a remarkable vacation rental. At Emerald Isle Realty, we offer more than 600 properties that redefine the essence of a home away from home, providing an extraordinary setting for nights filled with enchantment.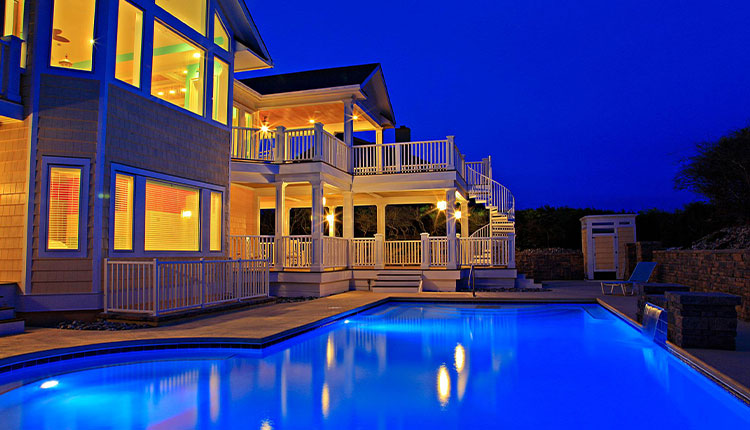 Imagine being just steps away from the beach, overlooking Bogue Sound or ending the night at the lounge of our coastal condo. Whatever your style may be, you will be nestled in a vacation rental that becomes your sanctuary during the late hours. Our inventory of properties is thoughtfully curated to exceed your expectations, boasting a wealth of amenities that might tempt you to indulge in blissful seclusion. Embrace the allure of your private oasis as you uncover homes adorned with luxurious features, ensuring that the perfect night out becomes a perfect night in.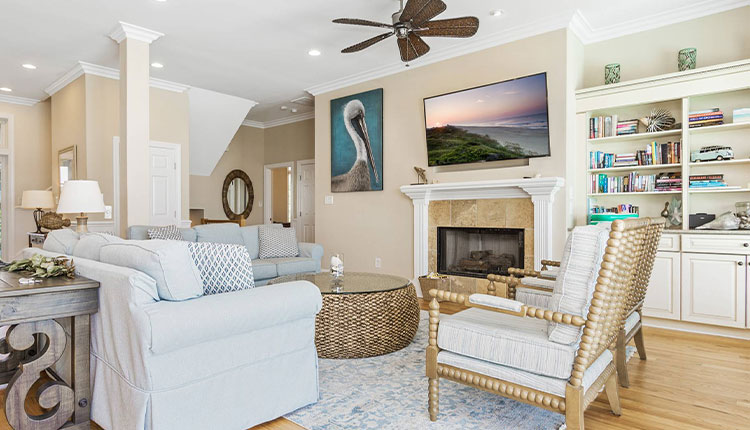 Let the tranquility of a vacation rental become the backdrop to nights illuminated by laughter, serenity and cherished connections. The allure of Emerald Isle beckons you to embrace the limitless possibilities that await when the sun takes its nightly slumber.
Start Planning
No matter what your interests are, you're sure to find something to enjoy in Emerald Isle. So, pack your sense of adventure and embark on a journey where Emerald Isle reveals its true magic beneath the moonlit sky. Start planning your next unforgettable escape today and let the magic of the night unfold in the embrace of your perfect home away from home.
Save it for Later