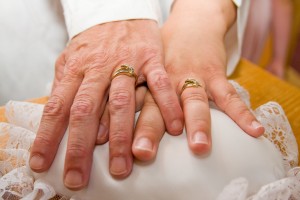 Saying "I do" all over again. It can be a joyous occasion, a reminder of all you've gone through and the promises you made on your original big day. But planning a vow renewal shouldn't be a stressful experience. It's much easier than your original wedding, especially if you have the right help.
There are many questions that arise when planning a vow renewal ceremony. Here are some suggestions to make saying "I do" again a memorable experience.
How much time should pass before we renew our vows?
There is no designated time of when you should renew your wedding vows, so there is no right or wrong time. Most people choose to renew on a special occasion, while on a once-in- a-lifetime vacation or on a milestone anniversary.
Is there a host for the renewal?
The common thing is for the children of the couple to host the renewal. However, if your children are still young, you might take on the responsibility yourself.
What's included in a vow renewal?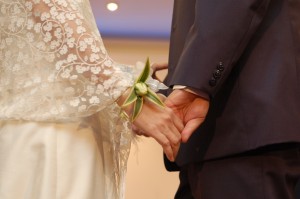 The world is your oyster! Vow renewals aren't legally binding ceremonies so you can opt for the same officiant you used before, or have a close friend lead the ceremony. You can write your own vows, have your friends say a few words, or just celebrate your love as a family. This is a great time to upgrade your wedding rings and exchange those during the event.
Who should we invite?
As friends and family change over time, so will your guest list. If you want to plan a big bash then pass the word to your many social circles. For an intimate gathering, consider inviting only your close friends and family – those you keep in contact with via phone, email or text.
What do I wear?
If you can still squeeze into your wedding dress – go for it! But for the rest of us, it's an excuse to go shopping! Depending on your taste you can choose from a nice cocktail dress, evening gown or even a nice suite. Above all, lose the veil and keep the flowers.
Where do we go for the renewal?
Wedding vow renewal ceremonies have been gaining popularity over the past couple of years, and both destination and beach front ceremonies are prime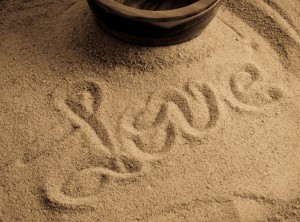 choices. One location that embodies these two ideas is the beautiful shores of Emerald Isle. Emerald Isle Realty has ample choices when it comes to picking out a beachfront cottage that can hold up to 200 guests, or even hold a small secluded ceremony on the beach. Whatever your desires, Emerald Isle Realty's Event Services Department can help you make your second special day a magical one with one of our lovely vow renewal packages.