Our friends are like our family and making memories with them is what keeps friendships strong for years to come. That said, Emerald Isle is the perfect destination for planning your next friends' getaway with plenty to do and much to see, so unforgettable memories will come easily. We can't help but mention not to mention the unique and coastal-themed vacation rentals that take your trip to the next level.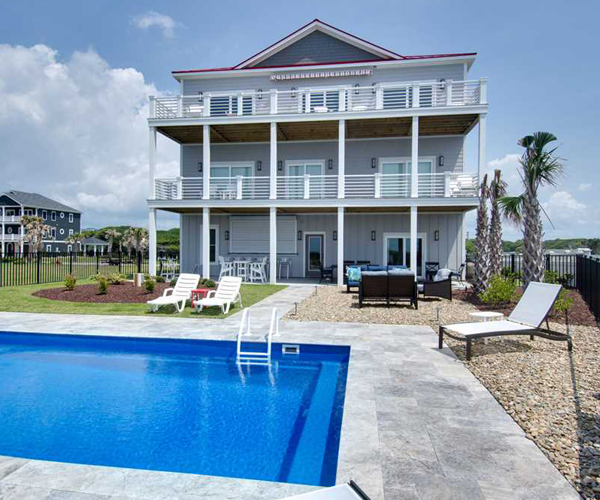 Check out our top 5 tips for planning your next friends' getaway and start getting excited for a trip of a lifetime.
Finding the Perfect Vacation Rental
You and your friends want an oceanfront cottage, with a private pool, with a hot tub and beds made upon arrival? No problem! Using our simple property search tool, you can search for your dream rental, down to the amenity at any location or community in the area.
The first thing to consider when finding the perfect vacation rental is the size of your group. This will determine where you might want to start your search. Whether it's four friends or fifteen, there are plenty of options that can accommodate everyone comfortably.
For larger groups, we recommend cottages that will have plenty of space to sprawl out and still have privacy, but that also have common spaces for you all to come together and relax. If your friend's circle is a little smaller, you might want to consider a condo, a duplex, or a single-family home that overlooks the beach.
Whichever property works best for your group, we can also help you pinpoint specific amenities like game rooms, wrap-around porches and more!

Navigate Fun Area Festivals and Events
You and your friends certainly know how to have fun together. Whether your crew are music lovers or experimental foodies, Emerald Isle has events lined up year-round that include local eats and tunes or seasonal activities like Halloween and Christmas.
You can visit our events page where we have compiled some of the coolest and unique festivals and events that provide coastal charm and hospitality. One of our favorites is the Emerald Isle Beach Music Festival, which is set to take place at the end of September. Ocean breezes, good music, gorgeous views of the coast, all for FREE – it doesn't get better than that.
On the foodie side of festivals, we definitely recommend events like the Mullet Festival of Swansboro and the North Carolina Seafood Festival. Both provide free admission and some of the best seafood the east coast has to offer along with other fun activities including parades, rides and live music.

Maximizing Beach Time with Your Friends
The beach is the most versatile vacation hot spot to visit in Emerald Isle and probably the main reasons to get away for many people. Whether your group is more active or just looking to kick back and relax, the beaches of Emerald Isle provide a little something for everyone. Work on your tan, give shell combing a try or enjoy a picnic with everyone with the soundtrack of the crashing waves in the background.
If you and your friends are feeling adventurous, Emerald Isle is a great destination for some pretty exhilarating water sports like surfing, parasailing and paddle boarding. There are also some great rental shops in town where you can find all of the equipment you'll need at a reasonable price.
The beaches also provide a great spot to set up camp for a day of fishing. The shoreline has a lot of interesting catches from drum to flounder and will satisfy anglers of all levels of experience who are looking for their next big catch or their first!

Dine Out and Dine In
Everyone knows that food brings us together, and in Emerald Isle, we have some of the best restaurants and chefs cooking up some delicious meals for any palette. Of course, the seafood in Emerald Isle is going to be delicious and cooked to perfection, but we'd also recommend checking out some other local fare that includes quaint bistros and gourmet restaurants. Plan a night out, get dressed up, and get ready to send your taste buds on a tasty ride as you and your friends reminisce over inside jokes, catch up on each other's lives and just enjoy each other's company.
However, sometimes the best meals are ones made with love and as a group. Luckily, our rental properties have amazing kitchens that give you a chance to let your inner culinary expert run wild and serve up a delicious meal.
PRO TIP: If you and your group are staying for a week, split up head chef responsibilities each night. This will help everyone to have to equal amounts of relaxing and cooking. Or, your group can pick a dish each night making for a nice mix of comradery and fun.
Nothing says relaxing and a good time like cooking with your friends, enjoying some drinks and just talking and laughing with each other. Be sure to pack up your favorite recipes and get ready to make some memories.

Exploring the Crystal Coast
The beauty of the Crystal Coast lives in Emerald Isle and the surrounding communities. Plan a day trip with the group and hit the different small towns that are all unique in their own right. From Beaufort to Swansboro, many of the communities have small-town charm great ways to spend a day trip. There are local shops and antique stores along the way where you will find interesting souvenirs to take home with you that will remind you of your special trip with some of your closest friends.
In Beaufort, we recommend checking out the town via Hungry Town Tours which provides visitors with fourteen different walking, bike, culinary and history tours. They're also open year-round. A trip to Swansboro, just 5 miles from Emerald Isle provides a town with colonial charm and waterfront views at every turn.
If you really want to immerse your group into the Crystal Coast with a different perspective, be sure to check out one of the many guided tours including ecology tours, kayaking, or even a chartered cruise!
Friendly Vacation
Get your friends together, by text, email, video chat or whatever means necessary and start planning your next friend's vacation together! Visit our search tool and find the perfect vacation property that you and your friends will enjoy while making a ton of new memories.