When you start dreaming about your wedding day, you fantasize about an event unlike any other. An enchanting occasion with your favorite people that you'll remember for the rest of your life. This memorable day is more than a party or family get-together, and our wedding team at Emerald Isle Realty wants to fulfill your desire to go all out. Escape the hometown hassles with a destination wedding in Emerald Isle.
The wedding location establishes the event's character, sets the mood and serves as an unforgettable setting for one of the most unforgettable moments in any couple's life.
While you begin planning your beach wedding, finding accommodations with the right amount of space to spread out will be essential, especially with extended family in tow. Luckily, Emerald Isle Realty has a variety of charming vacation rentals ready to accommodate groups, large or small. Each luxurious property provides guests with desirable amenities, comfortable rooms and of course, boundless ocean views.
We're highlighting some of the perfect wedding homes with stunning ocean views for your big day. These properties will sweep you off your feet, just like your future spouse!
1 Impossible Dream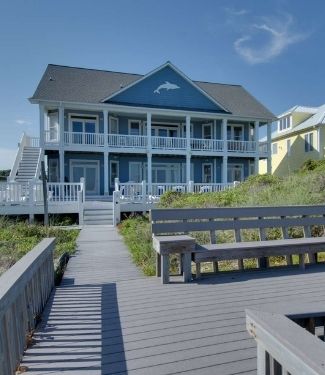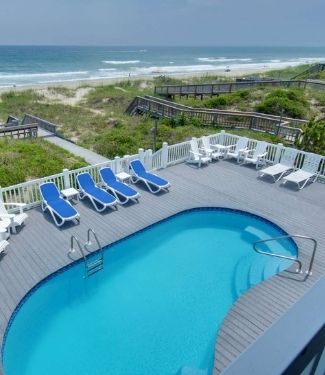 1 Impossible Dream: A beautiful oceanfront cottage ready to accommodate up to 50 guests. This quaint, coastal property boasts six bedrooms and six bathrooms with all the amenities and space needed to make you and your guests fully relaxed leading up to your special day. It's a home filled with dozens of options for entertainment. Some of the show-stealing features include a private pool, an elevator to move easily between floors, a recreational game and media room, and much more. Plus, you're sure to enjoy the private boardwalk that leads right to the beach.
A Gathering Place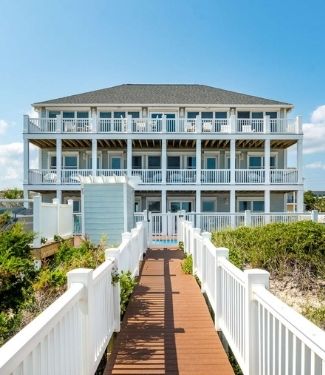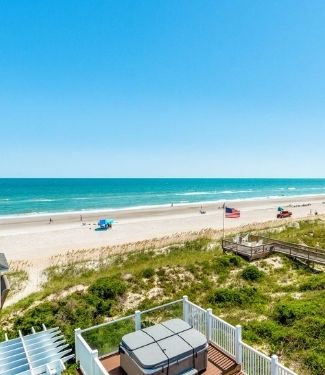 A Gathering Place: A luxurious Sand Castle boasting features that will whisk you away into relaxation before you walk down the aisle. With eight bedrooms and eight and a half bathrooms, there's more than enough room for your family, and even your new in-laws, to comfortably prepare for your big day and relax after the celebration. This vacation home can accommodate up to 50 guests and provides three floors of comforting quarters. A Gathering Place is also equipped with an elevator for you and your guests to easily move between floors. Other amenities include a gorgeous pool that overlooks the beautiful Atlantic Ocean, a bubbly hot tub and a covered gazebo with seaside seating as well as covered patios on all levels.
Atlantis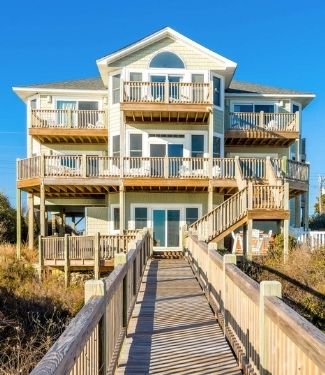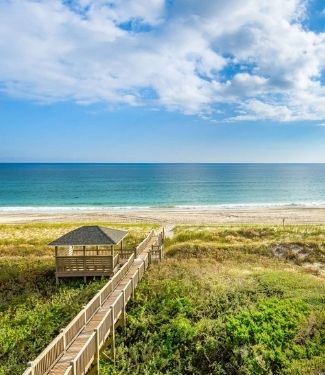 Atlantis: You are sure to be the star attraction at your wedding, but this amazing home will be a memorable aspect of your ceremony as well. A castle in the dunes, Atlantis boasts all the desirable amenities needed to make a bride feel as beautiful as she truly is. This oceanfront property provides six bedrooms and five and a half bathrooms. Atlantis boasts two spacious master bedroom suites that provide you with picturesque ocean views. Each suite comes complete with a whirlpool tub and a private balcony or deck. If you feel like hosting a rehearsal dinner, Atlantis has the perfect accommodations. Atlantis boasts a gourmet kitchen with granite countertops and all of the appliances needed to prepare a delicious meal. While the wedding party plans for the big day, the younger crowd will stay entertained in the ground-level game room. With a ping-pong table in the garage, an extensive library and a private pool, there's no shortage of entertainment or relaxation. When it's time to walk down the aisle, just take the private boardwalk directly to the beach and start the next chapter of your love story.
Celebration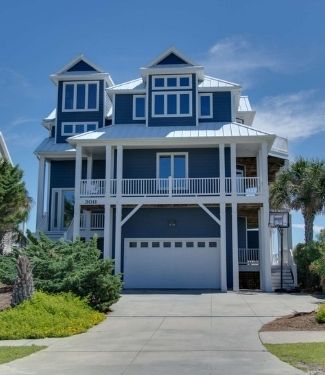 Celebration: Can you think of a better name for a house to host your family on your wedding weekend? Celebration is a stone's throw from the beach and was designed with coastal relaxation in mind. You will easily feel at peace while staying here. This three-story, five-bedroom and five-and-a-half-bathroom cottage located in Emerald Isle features breathtaking taking ocean views from the top floor. This coastal cottage's outdoor amenities take this property to the next level. Celebration's top two stories boast a covered and open deck complete with a variety of seating options to take in the views. Guests are sure to enjoy the large picnic table with enough seating for six plus the private pool and hot tub.
Celebration has two master bedroom suites with king size beds, tall windows and separate private bathrooms. One master bedroom, which will be yours no doubt, provides you with a whirlpool tub to relax before the big day. Before saying "I do", enjoy brunch with your wedding party, as one master suite features direct access to the covered deck. There's nothing like starting your wedding day on the Crystal Coast with a celebratory toast.
Dune View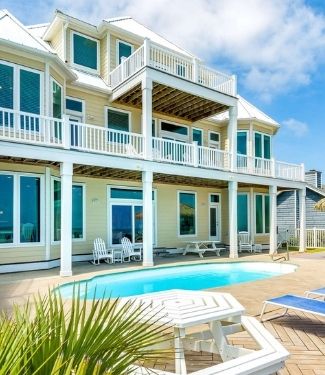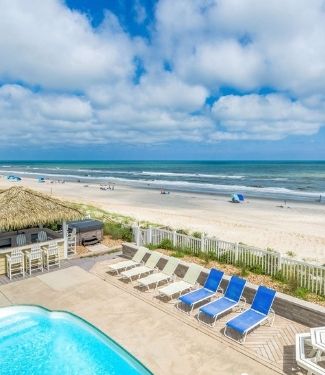 Dune View: Imagine a beach destination wedding: you're glowing, your family is cheering, and the backdrop of the endless ocean is the cherry on top. Dune View is an oceanfront cottage that exudes classic beauty and provides eight bedrooms and ten and a half bathrooms. This beachfront hideaway will easily accommodate up to 50 guests and will never fall short on entertainment. Dune View boasts a private pool, hot tub and its very own tiki bar for you and your party to enjoy during your special time together. Best of all, at the end of every day at Dune View, you'll be treated to a sunset painted sky as vibrant as the love between you and your spouse.
Emerald of the Isle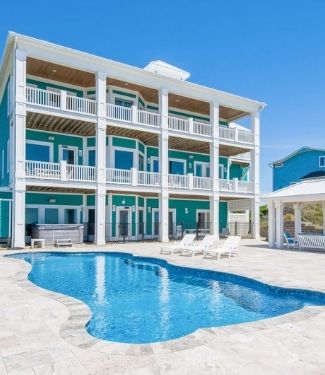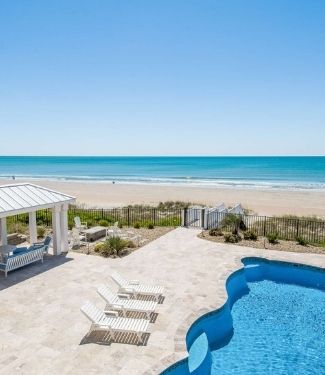 Emerald of the Isle: This luxurious oceanfront property is more than your average cottage. Emerald of the Isle is the precious stone that adorns the jewels of royalty. With twelve bedrooms, eleven bathrooms and three half-baths, every member of your family will be provided with the space needed to prepare and relax for your big day. The home is beautifully decorated and painted with nearly every hue of blue and features hardwood flooring throughout. Five spacious master suites boast king beds, private baths and stunning oceanfront balconies. All bedrooms feature unique custom features and Smart TVs for streaming everyone's favorite movies or TV show.
Everyone will enjoy the living space! A fully equipped kitchen provides everything needed to prepare a banquet for your special day and the comfortably furnished living area boats boundless views of the Atlantic Ocean through the crystal-clear windows. There's also an elevator from ground to top-level and an exercise room for anyone looking to squeeze in a workout before the big day. The ground-level game room opens to the pool deck to allow in some fresh ocean air. This entertainment hub comes complete with a large TV, full-size kitchen, pool table and arcade games to keep everyone busy! The outdoor cooking area will be the ultimate chill zone. A gazebo, bar and gas grilling station create the perfect setting to gather for lunch or a sunset rehearsal dinner with the family. With direct beach access and a large private pool, you'll want to keep this hidden gem of a property a secret.
Surf Du Soleil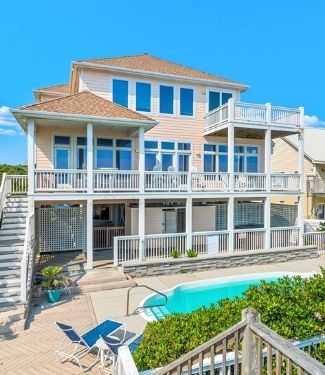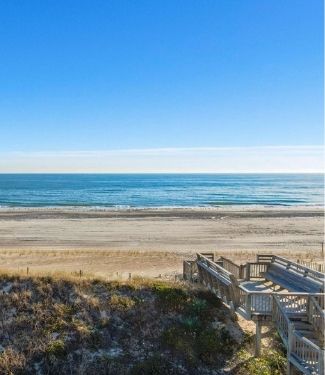 Surf Du Soleil: Oceanfront cottages in Emerald Isle are known for breathtaking design, desirable amenities and more importantly, their exclusive location directly on the Crystal Coast. Your beach wedding will be filled with memorable moments when you stay at this fabulous vacation rental. Surf Du Soleil has five luxurious bedrooms and five and a half bathrooms. Four of the five bedrooms at Surf du Soleil are master bedroom suites with their own bathrooms and jaw-dropping views of the emerald-green ocean. A true coastal retreat, this cottage is just steps away from the sand and surf of the beach and can accommodate up to 50 guests. The outside of Surf du Soleil is just as great as the vibrantly colored inside. This coastal cottage boasts three levels of patios that overlook the Crystal Coast. On the first level is the large, heated pool accompanied with lounging furniture, perfect for a pool day with a beach background. There's also a private boardwalk to the beach that will have your guests ready and excited for your Emerald Isle beach wedding!
Make the fantasy a reality
You've said yes to the dress, now it's time to say "I do" to the venue. Explore more vacation rentals, wedding venues and contact our Events Director to start planning your special day!
Save it for Later