When envisioning your dream wedding day, you'll picture a celebration that stands out. It's an occasion filled with loved ones, etched in your memory forever. At Emerald Isle Realty, our wedding team is dedicated to making your dreams come true. Consider a ceremony on North Carolina's Crystal Coast, a popular location for destination weddings, and leave behind hometown hassles.
Your wedding location sets the stage for the entire event, creating a unique backdrop for one of life's most precious moments. When planning your beach wedding, finding accommodations with enough space is essential, especially for those with large or extended families. Fortunately, Emerald Isle Realty offers charming vacation rentals, perfect for large or small groups. These luxurious properties come with sought-after amenities, comfortable rooms, and stunning ocean views.
Emerald Isle Realty offers a great selection of North Carolina wedding homes that are sure to make your big day even more magical. Let these properties sweep you off your feet, just like your future spouse! Make your wedding day unforgettable on North Carolina's Crystal Coast.
Sunshine Estate
Step into the serenity of Sunshine Estate, a picturesque oceanfront cottage ready to welcome up to 30 cherished guests for your wedding ceremony. This charming coastal abode showcases eight inviting bedrooms and six well-appointed bathrooms, providing ample space and all the comforts needed to ensure relaxation in the lead-up to your momentous day.
Within these walls, you'll discover a treasure trove of entertainment possibilities. This home boasts an array of standout features, including a secluded private pool, a sprawling deck for poolside relaxation, a captivating recreational game room, a cozy media sanctuary and so much more. And, as if that weren't enough, a private boardwalk beckons, guiding you straight to the sandy shores of the beach.
Your wedding journey begins here, where comfort and enjoyment merge seamlessly in the embrace of this coastal retreat.
A Gathering Place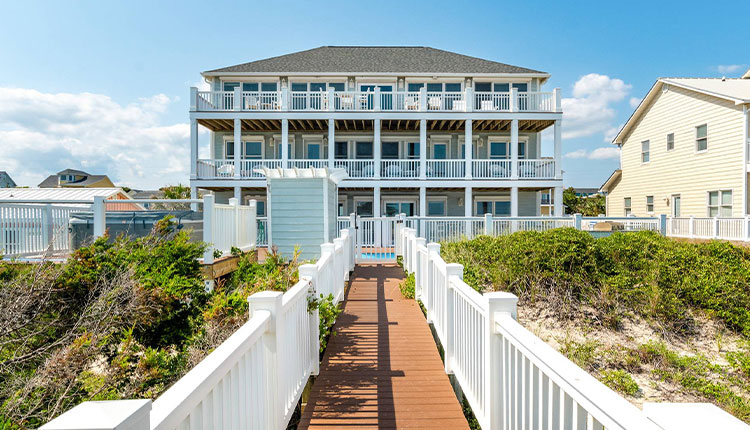 Discover the opulent retreat of A Gathering Place, an oceanfront venue designed to whisk you away into pure relaxation before you take that momentous walk down the aisle. This lavish coastal cottage boasts an impressive eight bedrooms and eight and a half bathrooms, ensuring ample space for your family, and even your new in-laws, to comfortably prepare for your big day and unwind after the festivities.
With the capacity to accommodate up to 50 guests, A Gathering Place spans three floors of inviting space. For your convenience, an elevator graces this charming retreat, making it effortless for you and your guests to seamlessly transition between levels. Additional amenities include a stunning pool that offers breathtaking views of the serene Atlantic Ocean, a soothing hot tub perfect after a night of dancing and a covered gazebo with idyllic seaside seating. You'll also find covered patios on each level, providing perfect spots to savor the coastal ambiance.
A Gathering Place couldn't have received a better name, a setting where relaxation and celebration converge effortlessly. It's a wedding home that promises to set the stage for the most memorable moments of your special day.
Atlantis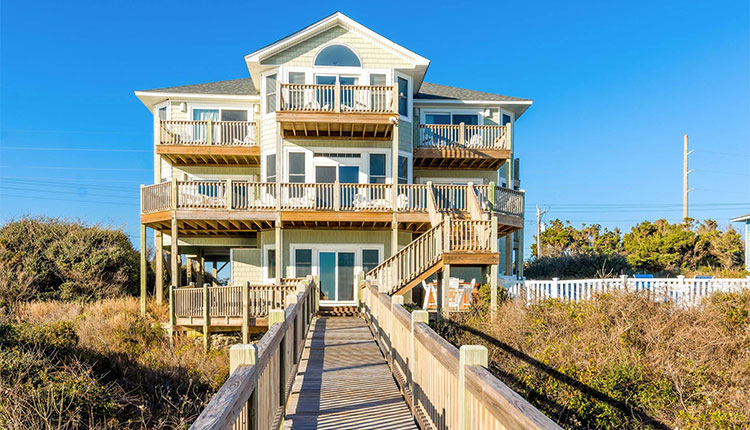 Prepare to shine as the star of your wedding with Atlantis. This incredible home will serve as a remarkable backdrop to your ceremony and comfortably welcome up to 40 guests. Nestled like a castle amidst the dunes, Atlantis is the epitome of luxury, designed to ensure that every bride feels as radiant as she truly is. This oceanfront gem features six bedrooms and five and a half bathrooms, offering the utmost comfort and convenience for your special day.
What truly sets Atlantis apart are its two expansive primary bedroom suites, each offering breathtaking ocean views. These suites are your private sanctuaries, complete with whirlpool tubs and private balconies or decks, perfect for taking in the scenic beauty.
If you're considering a rehearsal dinner, Atlantis has you covered with its gourmet kitchen boasting granite countertops and top-of-the-line appliances, ideal for crafting a delectable meal to remember. While the wedding party is busy planning the big day, the younger crowd can revel in the entertainment options of the ground-level game room, featuring a ping-pong table in the garage, an extensive library and a private pool for both relaxation and fun.
When the moment arrives to walk down the aisle, simply step onto the private boardwalk, which leads you directly to the sandy shores, allowing you to begin the next chapter of your love story with the breathtaking backdrop of the ocean. Atlantis is your fairytale destination, where dreams become reality.
Celebration
Could there be a more fitting name for your family's wedding weekend haven than "Celebration"? This coastal gem is mere steps away from the beach, thoughtfully designed to immerse you in the tranquility of the coast. Your stay here promises a profound sense of serenity and relaxation.
This three-story, five-bedroom, five-and-a-half-bathroom cottage, nestled in the heart of Emerald Isle, offers stunning ocean views from its top floor. What truly elevates this property is its outdoor amenities. Celebration boasts expansive covered and open decks across its top two stories, adorned with a variety of seating options to savor the breathtaking vistas. Guests will relish gatherings around the generously sized picnic table with seating for six, as well as the private pool and inviting hot tub.
Two primary bedroom suites, each adorned with king-size beds and tall windows, beckon you to unwind in style. Each suite features a separate private bathroom, and one of them, undoubtedly yours, offers the luxury of a soothing whirlpool tub to prepare for your big day. Before you say, "I do," why not indulge in brunch with your wedding party, conveniently hosted on the covered deck of one of the primary suites? Picture starting your wedding day on the Crystal Coast with a celebratory toast, surrounded by 30 of your nearest and dearest!
Embrace the spirit of "Celebration" on your wedding journey, where the coastal beauty and comfort merge seamlessly to create cherished memories. This is the idyllic setting for the most joyous moments of your life.
Ocean View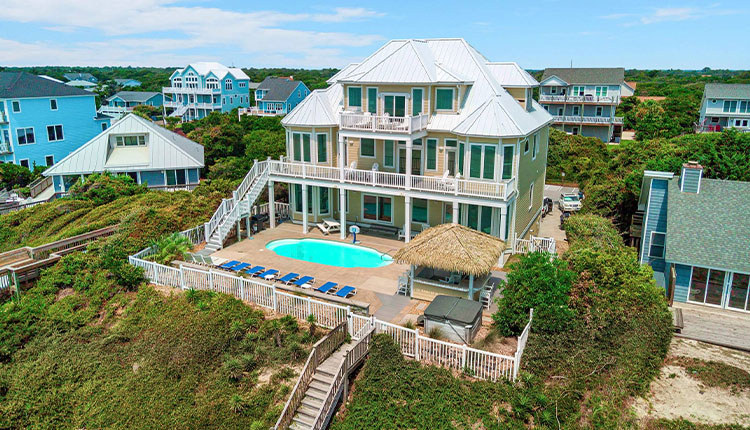 Envision a breathtaking beach destination wedding: you radiate with joy, your family's cheers fill the air, and the endless ocean stretches out as the perfect backdrop. Enter Ocean View, an oceanfront cottage that exudes timeless elegance, offering eight bedrooms and a remarkable ten-and-a-half bathrooms. This beachfront sanctuary effortlessly accommodates up to 50 guests, promising an abundance of entertainment and relaxation.
Dune View takes center stage with its private pool, inviting hot tub and charming tiki bar, all dedicated to enhancing special moments with your loved ones. Yet, the crowning jewel lies in the evening sky – each day at Dune View closes with a sunset-painted canvas as vibrant as the love shared between you and your spouse.
At Dune View, your wedding dreams find their perfect coastal canvas. It's where unforgettable memories are made, against a backdrop of classic beauty and endless horizons. Let the allure of this oceanfront oasis set the stage for your love story.
Emerald of the Isle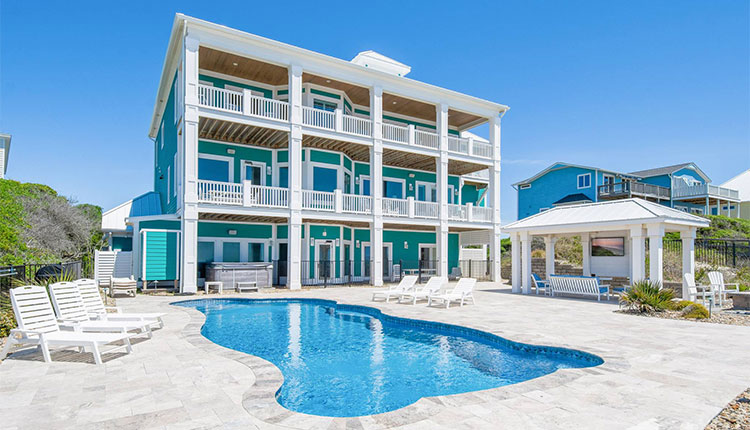 This oceanfront retreat transcends the ordinary cottage experience. Behold Emerald of the Isle, a true gem among the jewels of royalty, offering lavish accommodations for up to 50 of your cherished wedding guests. With a total of twelve bedrooms, eleven bathrooms, and three half-baths, this exquisite haven ensures that every member of your family finds the space and comfort they need to prepare and unwind before your big day.
As you step inside, you'll be greeted by a beautifully decorated interior adorned with a mesmerizing palette of blues and elegant hardwood flooring. The five expansive primary suites, each graced with a king-sized bed, private baths, and captivating oceanfront balconies, provide unparalleled luxury. All bedrooms feature unique custom touches and Smart TVs, perfect for streaming everyone's favorite movies and TV shows.
The living spaces are designed for enjoyment and convenience. A fully equipped kitchen stands ready to prepare a banquet fit for your special day, while the comfortably furnished living area offers boundless views of the Atlantic Ocean through crystal-clear windows. An elevator seamlessly connects all levels, and an exercise room provides an ideal spot for those seeking a pre-wedding workout.
The ground-level game room opens onto the pool deck, allowing the fresh ocean air to invigorate your celebrations. This entertainment hub boasts a large TV, a full-size kitchen, a pool table, and arcade games to keep everyone engaged and entertained. Step into the ultimate chill zone at the outdoor cooking area, complete with a gazebo, bar, and gas grilling station – perfect for gathering for a leisurely lunch or a sunset rehearsal dinner with your family.
With direct beach access and a generously sized private pool, you may be tempted to keep this hidden gem all to yourself. Emerald of the Isle is a rare treasure that promises to make your wedding celebration a memory to cherish forever. Let the allure of this property remain your little secret, a slice of paradise awaiting your special day.
Surf du Soleil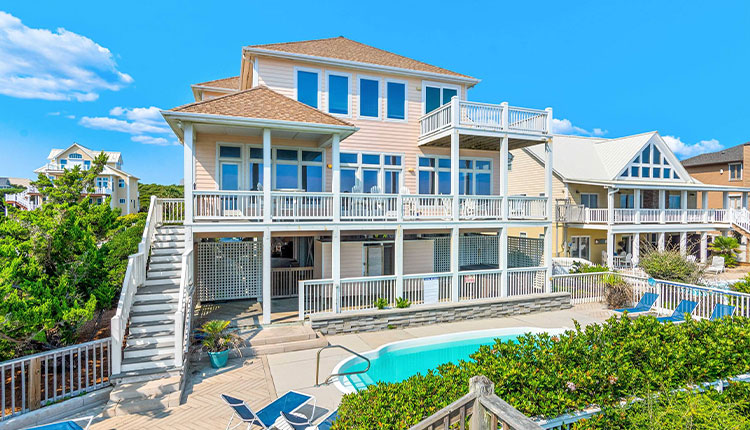 When it comes to oceanfront cottages in Emerald Isle, expect nothing less than breathtaking design, coveted amenities, and, most importantly, an exclusive location gracing the pristine shores of the Crystal Coast. Your big day promises to be a trove of unforgettable moments when you choose the exquisite Surf du Soleil as your wedding home.
Surf Du Soleil boasts five opulent bedrooms and five and a half bathrooms, offering the utmost comfort and luxury. Four out of the five bedrooms are lavishly appointed master suites, each with its private bathroom and awe-inspiring views of the emerald-green ocean. This true coastal retreat stands just steps away from the sun-kissed sands and the gentle surf, ready to accommodate up to 50 of your beloved guests.
The exterior of Surf Du Soleil is as spectacular as its vibrantly adorned interior. This coastal gem showcases three levels of patios, offering commanding vistas of the stunning Crystal Coast. On the first level, you'll discover a generously sized heated pool, complete with inviting lounging furniture – a perfect setting for a relaxing pool day against the backdrop of the beach. Additionally, a private boardwalk leads you directly to the beach, ensuring your guests are not only prepared but also thrilled for your Emerald Isle beach wedding!
At Surf Du Soleil, you'll find the quintessential coastal haven for your wedding celebration. It's where cherished memories are crafted against the canvas of stunning design and exclusive oceanfront beauty. Let this beachy retreat become the setting for the most magical moments of your life on the Crystal Coast.
Make The Fantasy a Reality

You've found the perfect dress, now it's time to say "I do" to the ideal venue. Dive deeper into our vacation rentals and wedding venues, and reach out to our Certified Wedding Planner to start planning your special day.
Save it for Later