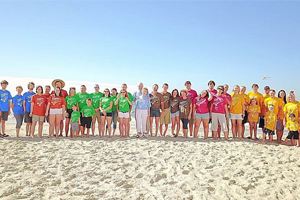 Traditions usually revolve around unforgettable experiences and cherished moments. Although these experiences may seem small, they carry great significance with them for a lifetime. These fond memories often lay the foundation for creating new family traditions. The Smetana-Rama Family is no exception, learn more about our 2017 Family Traditions Contest winner below.
For the last 22 years, I told everyone that my favorite place is in North Carolina. Not the Outer Banks that most people go to, but a special place a little more south and tucked away. This place has the most beautiful, clean and peaceful beaches that are never crowded and always welcoming. Many times, the water is so warm and calm like a bathtub, which makes it easy to float and relax – leaving reality and its demands behind. This place is Emerald Isle, a hidden gem so full of precious memories for all that visit.
When I was 12 my grandparents (and life-long cheerleaders) decided to leave New Jersey and retire here at the beach. I cried when they moved 12 hours away, as I hated to lose them. Visiting most all spring breaks and summers quickly became a tradition. At the beach, we learned to collect seashells to make Christmas ornaments and jewelry boxes. We learned to hunt ghost crabs by flashlight. We learned to ride waves and bury each other in the sand. We learned to slow down and enjoy the beauty in each other and all around us.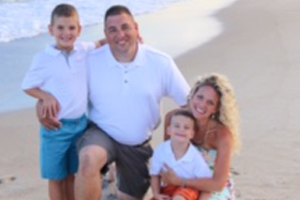 As the years passed, I always made time to visit my grandparents. It was my escape. So many memories fill the roads, beaches, shops, and walkways. I shared my first kiss and summer loves here. I brought friends and had family reunions. Many years later, my husband and I now bring our boys to Emerald Isle. At age 4 and 6, they have visited more times than they are old. The tradition is contagious and is now passed down to them, as it is now their favorite place too! We play mini-golf, ride the race cars, cruise on jet-skis and play games at the pool. We kayak and paddle board in the sound while looking for nature's beautiful creatures all around. We learn about North Carolina's precious landscapes and animals at the aquarium. We soak up the sun, swim, and play along the beach. We take naps while listening to the waves crash with the refreshing ocean breeze. We feast on pig pickin's with hushpuppies and sweet tea. We cheer on fishermen with their latest catch at the piers. Emerald Isle is our paradise, a precious time capsule of memories.
While I thought I was just vacationing and filling up on the sunshine, I now realized that I was learning life lessons that would carry me through the years. I learned to enjoy the beauty all around us while reflecting and enjoying this life. I learned to be present and disconnect from distractions and rushed schedules. I learned how to play golf and make spaghetti sauce with my Grandpa. I learned how to cut french green beans, how to really listen to someone, and how to give and value unconditional love from my Mom-mom. And that is why Emerald Isle will always be full of love.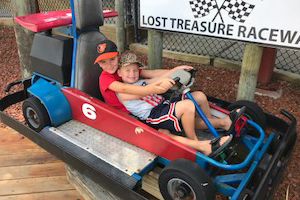 This is my story, but the stories are infinite as four generations of our family now gather here. Our whole family not only visits throughout the year but gathers for Smetana-Rama Family Reunions every other year. Just last month we had 40 of us at the beach together. All of us have made and cherished our own precious memories throughout the years. My Aunt could tell a story about how her wedding was almost canceled due to Hurricane Fran, but how the whole family fought to make it down anyway. The beach houses in Emerald Isle are our gathering spot where we come from Maryland, New Jersey, Pennsylvania, Texas, and Tennessee. Our week together is full of swimming, shopping, nightly meals, and games. We sing karaoke, go on neighborhood scavenger hunts, and really take the time to enjoy each other.
Unfortunately, life also is full of its hardships too. My stepmom and grandfather were both hospitalized this summer. My grandfather, who is one of the strongest, smartest, and caring men I know, cannot read due to a stroke this year. He continually practices his letters and frustrates at his deteriorating health. He is always smiling and most happy watching all his kids, grandkids and great-grandkids loving and being together at the beach house. In July, right before our planned family reunion, my stepmom passed at age 51. My dad, siblings, and the whole family were devastated. But we came to the beach. We came to heal, to be with each other, and to soak up the love. We came to make memories and carry on the tradition of being at our favorite place together. No matter what life throws at us, the beach is always there waiting, listening, and giving us peace of mind. I am forever grateful for this vacation spot for it has molded me into the woman, wife, mother, sister, teacher, and friend I am today. It will always be our most precious and cherished tradition!
Congratulations to our 2017 Family Traditions Contest winner we always love seeing and hearing about our guest's traditions and sharing them. If you have made a tradition of visiting Emerald Isle over the years, we want to hear about it. We invite all Emerald Isle Realty guests to enter for a chance to win a free one-week vacation to Emerald Isle during our Islander or Sports season!
Submit your story here, the deadline is September 1st, 2018.