Planning a trip to Emerald Isle is easy, but planning what beach gear to bring can be tough! It's sometimes hard work just deciding what beach chairs, umbrella, or tents to take to make everyone comfortable.
Before your next visit, use this easy cheat sheet to remind yourself of what you need to pack for a successful day at the seashore. With proper planning you can spend your vacation relaxing and not running errands.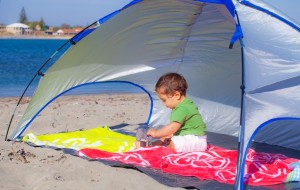 Beach Packing List:
Beach chairs
Sunblock
Beach towels
Sunglasses
Camera
Umbrella
Sun hat
Beach toys
Bodyboard
Kayak
Beach Tent*
Pop-up beach sun shelter for kids
Cooler for all your snack and drink basics
Beach cart to get all your essentials to the beach

* Just be sure and follow the beach regulations.
Don't want to worry about packing some of these items? Thankfully, we can help in that regard! Instead of packing up the car – rent all the essentials to make your stay with us easier – from beach chairs to beach umbrellas, and coolers to cabanas. Our partner, Island Essentials, makes it easy for you with free delivery and pickup at your Emerald Isle Realty beach house or condo! Plus, daily or weekly rates are available.
Staying at Grande Villas? Remember, our Grande Villas condo rentals include complimentary beach chair and umbrella service in season, so a trip to Indian Beach means you can leave your beach cart at home!
For even more help before you arrival to Emerald Isle, check out the Guest Services section of our website.