Fast food may be convenient and easy to find, but you can enjoy fast food at home. You're on vacation, you're visiting some place new and you should be making the most to relax and enjoy the area as much as possible.
One of the Crystal Coast's best secrets would be its culinary expertise. And with various restaurants and chefs participating in recognized food and wine festivals, it's no wonder that this area is perfect for finding great places to eat.  Here's our list of some of our favorite restaurants ranked from casual to formal:
Casual Dining Options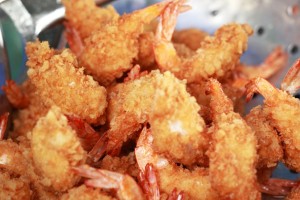 Talk about a place that just feels like a good time. Rucker John's is more of a casual dining experience, a family friendly environment and whole lot of good food. Think Cheddar's with a North Carolina coastal twist. And if we're talking comfort food, you have to try the Hickory Seared Tuna – the best of the sweet and spicy worlds makes this dish savory till the last bite. Rucker John's also has an excellent selection of appetizers, salads, sandwiches and burgers if that's what you're in the mood for.
Sometimes, you're just looking for something light and delicious. Head over to The Village Market in Emerald Isle. This gourmet deli has 20 different sandwiches to choose from and has some great choices of salads as well. It's also a great place to get breakfast and start your day off right! A favorite would be The Village Sampler: two eggs, sausage, bacon and a village pancake served with home-style grits and toast. And no good breakfast would complete without a good coffee. Choose either house drip, Americano, latte or even cappuccino!
Moderately Priced Dining Options
Thinking about dressing up and going for something a little more gourmet? Check out Beaufort Grocery Company. Here they serve some of the best seafood in the land and pride themselves on having a more than ample wine selection. Here, you'll be able to really immerse yourself into the culture of coastal cuisine, and you're taste buds will thank you.  And with a wide assortment of salads, gourmet sandwiches and entrees, it's difficult even for us to pick a favorite.
Fine Dining Options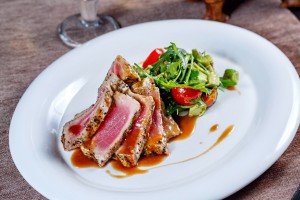 Because why not treat yourself? You're on vacation after all! Blue Moon Bistro is serving up some exquisite dishes ranging from seafood to Italian, but the overall feeling here is relaxation. Blue Moon really knows how to capture that North Carolina comfort food and Southern hospitality.  A favorite dish from here would be the fresh-from-the-water shrimp scampi with linguini that gets us hungry just talking about it or any of their fresh fish selections are excellent. And feel free to also get adventurous over their beer and wine selection – like we said – you're on vacation.
Other Dining Options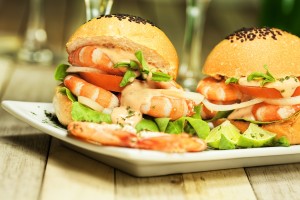 ChowdaHeads:
Family-friendly and a casual atmosphere, ChowdaHeads is the perfect place for a quick bite to eat before or after your day at the beach (they also offer take-out). Here they serve up some delicious casual restaurant staples like sandwiches, wraps, salads, fish tacos and fried shrimp/clams/etc.  but it's their desert menu that will have your mouth watering. But if you want a sandwich that really digs into the coast, you need to try the "Smitty's Big Fish" sandwich, you won't go away hungry!
Big Oak Drive-in BBQ:
So you just came from the beach and maybe sitting down to have a fancy meal is not really on your mind. Welcome to Big Oak Drive-in BBQ. It doesn't get better than this when you can drive up and order your food to go or to eat in your car. Their signature would be their famous shrimp burger: fried shrimp, tartar sauce, ketchup, and slaw on a warm bun. It's like biting into heaven itself. Not looking for seafood? BBQ isn't in their name for nothing; they serve it up like no one else!
Who doesn't like a restaurant that has a friendly atmosphere and great food? Flipperz menu boasts a load of options and each one is delicious all the same. First start with Patrick's Firecracker Shrimp. Sweet and spicy and fried, these are awesome. For your meal, surprise yourself with their catch of the day! The freshest seafood served up with soup or salad and your choice of vegetable or potato! And to drink, why not try their Flippin' Sweet Tea: Jeremiah Weed Sweet Tea Vodka with lemonade served in a mason jar!