Knowing the ropes can be a little tricky on a vacation, especially if it's you're a first timer in the area. If this is your first time to the Crystal Coast, here's our list of Insider Tips to help make your vacation a little bit easier and a little more enjoyable.
Shackleford Banks: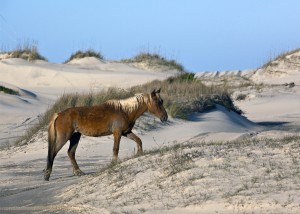 A secluded gem along the Crystal Coast, Shackleford Banks is the perfect destination for getting away on your vacation. Only accessible by boat or ferry, you'll not only find the famous wild horses here, but you'll also find some pristine unspoiled beaches that are mostly empty and have panoramic views of the Atlantic.
The best time to get here is after the high tide recedes and leaves behind small, crystal clear tidal pools.
Use the Island Express Ferry Service if you're looking for a reliable ride from Beaufort to Shackleford Banks.
The ferry runs from 9 A.M. to 4 P.M. in thirty minute increments departing from Beaufort and departs from Shackleford Banks from 10 A.M. to 4:30 P.M. and round trips cost $15 for adults, $5 for children 11 and under.
Timing is KEY:
With so much to do on your vacation, you're going to want to plan things to do in advance, what time though?
The beach is particularly nice in the morning time, early enough to catch the sunrise over the Atlantic. (Trust us, it's magnificent)
Plan on some late lunches too if you want to beat the rush in Emerald Isle.
If hitting up the beaches in the morning doesn't sound too appealing, try the later afternoon when summer beach goers start to pack up. You'll get cooler temps and awesome views of the coast as the sun goes down.
Cape Lookout Lighthouse: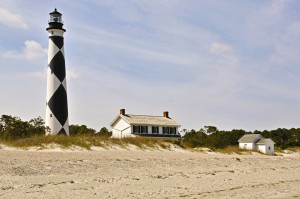 Located on the Cape Lookout National Seashore is the Cape Lookout Lighthouse. This lighthouse is almost 12 stories high and was once a beacon for ships looking to make port along the Crystal Coast (it's also a great place for looking for shells and photographing wildlife).
Bring some good shoes and a camera too as the lighthouse is open for climbs and tours.
Right now, till August 10, the National Parks Services are holding Moonrise Tours from 8 P.M. to 8:45 P.M., a great opportunity to see the lighthouse in its full glory at night time.
Parking in Emerald Isle:
You're here. You're ready to get to the beach. You don't know where to park? Not a problem; there are plenty of locations on Emerald Isle that offer parking, boardwalk and sand path access. The following page outlines beach parking and access locations throughout Emerald Isle as well as fun parks you and your family can enjoy.
Additional parking and access point information.
Bike Ride through Emerald Isle: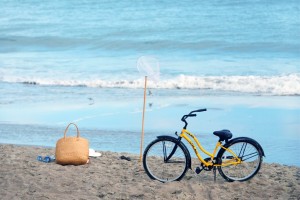 From your rental, take your bike (or rent one) and take a ride through Emerald Isle. Most middle row properties can make the most of bikes with easy access through town and to beaches. Emerald Isle even has several biking trails that allow you to get a little more intimate with the area. And we can't think of a more fun activity than riding a bike on the beach by the shore.
Fishing along the Crystal Coast:
You mean to tell me you were going on a vacation by the coast and you weren't going to try your hand at fishing? Whether it's by charter or by pier, it's always good time to kick back, take in the view and wait till you get the perfect bite. For North Carolina in particular, you're looking for fish that are typically going to be hanging around cooler, deeper waters such as puppy drum and bluefish; but don't rule fishing off the surf altogether.
The best time to head out to fish is to catch the incoming tide, so if you have a pair of waders, BRING THEM, you won't regret it.
Weight can be tricky, but go for what you feel comfortable with staying with around 4 oz. in light surf and around 12 oz in heavy surf.
For bait, this area gets the most bites typically with squid and bloodworm.
As a precaution though, you should pack extra sunblock; you may plan on staying out there a while.
Check out what fish are running each month along the Southern Outer Banks
Swansboro NC: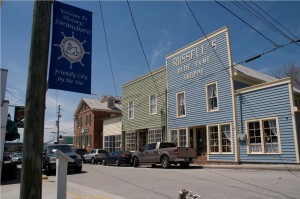 A small town that makes the most of North Carolina hospitality is Swansboro. Known as the "Friendly City by the Sea," this town is a hot spot for hopping, dining or just spending the day in. There's so much to do here, but a favorite among visitors would be a visit to Hammocks Beach State park or attending one of the towns' many festivals throughout the year. Swansboro also makes for the perfect afternoon hangout spot, whether you are walking through the downtown or visiting one of the great local dining spots.