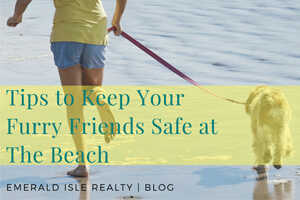 More and more Emerald Isle vacation-goers opt to bring their furry friends along during a family vacation to the beach. With more than 100 pet friendly rentals available, we at Emerald Isle Realty, want to give you some great tips for keeping your beloved friends safe at the beach.
Swimming & Salt Water
Contrary to many beliefs, the doggie paddle doesn't always come naturally to every dog. Some breeds, like bulldogs, corgis and pugs have a harder time swimming than most. So, if your pup hasn't been exposed to swimming in the ocean or if you're unsure if they can swim at all, start by having them follow you into the water slowly assisting them along the way. Another great way to provide some additional help is investing in a doggy life vest!
Ocean currents, waves, and rip tides can take a lot out of Fido. Luckily, there are plenty of life vest options out there for dogs of all sizes. When shopping around, be sure to find one that has three sturdy buckles along with a handle on the back for added support and a quick access point to grab them just in case.
Don't let them drink the water! Generally, dogs know not to drink ocean water, but it doesn't hurt to take extra precautions by keeping an eye on them while in or near the shoreline.
Fun in The Sun with Protection 
Us humans aren't the only ones affected by the harmful rays of the sun. There are specialty sunscreens for dogs you can purchase that should be applied to their noses and ears every 30 minutes. Since they're always good dogs, don't forget to reward them with a treat after application! Your pup will also get tuckered out from all the excitement of playing in the sun and sand so be sure to have a dedicated "cool zone" for your pup. A shady spot and a beach towel should do just the trick. If you don't own or forget your umbrellas or beach chairs, be sure to stop by Island Essentials for all your beach equipment and comfort needs.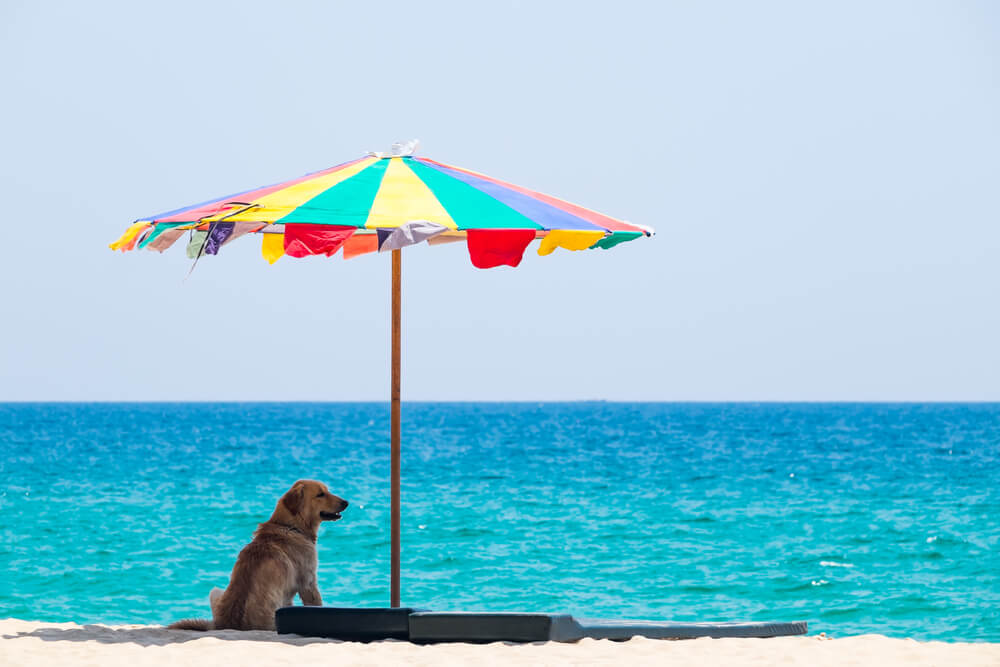 Keeping your dog hydrated is also very important if you're planning on staying at the beach throughout the day. While the typical water bowl works just fine, consider bringing a container that can be replenished with water and ice. This is the perfect thirst quencher your pup will thank you for!
Other Tips & Tricks 
Something to consider during a week at the beach is renting one of our oceanfront properties. With a property, beachgoers can easily give their furry friends a break from the sun with a quick trip to their vacation rental for a nap in the cool air conditioning. This is one of the many luxuries you receive when booking a pet friendly property.  Before taking Fido back to your rental be sure to give them a good rinse, dry their ears and check their paws for abrasions.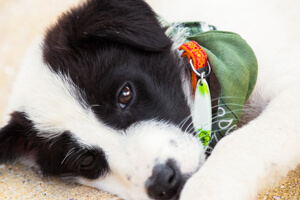 Use these tips and tricks during your next beach vacation to Emerald Isle with your furry friends and your summer vacation.
Your faithful, furry companion would love to come on vacation with you. Finding a property that will accept them on vacation doesn't have to be difficult or a hassle. Think of Emerald Isle Realty for your next four-legged friendly beach getaway. After all, your dog is family too!