The Crystal Coast may be known as a place for serene beaches and family vacations, but at one time it was the stomping ground of pirates. In the 1700s the ports of Charleston, SC and those northward were attractive to piracy, including the most infamous of pirates, Blackbeard.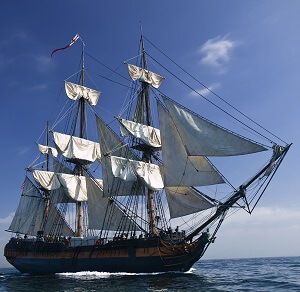 For those with a curiosity of the pirate life, the Crystal Coast is wrought with opportunities to learn more. After Blackbeard's pillaging in France and the Caribbean, he headed north with his swashbuckling crew and were known to be along the coast in 1718. After a successful hostage exchange for medicine in the Charleston, SC ports, Blackbeard and his crew headed further north.
His plan for Beaufort is unknown but was soon halted when the Queen Anne's Revenge ran aground three miles off the shore. There he divided his loot, and settled down for a bit residing among the Beaufort banks. But piracy was in his blood and he once again sailed the high seas until his piratical career ended at Ocracoke Inlet. The wreckage of legendary pirate Blackbeard's infamous ship, the Queen Anne's Revenge, was found just off the shores of Beaufort in 1996. Its relics can be found in a permanent exhibit at the North Carolina Maritime Museum.
Blackbeard was undoubtedly the most famous of pirates with his 400+ crew and command of vessels. It is said he captured 45 vessels in his career which made him a force to be reckoned with.
If you have interest in this legend or your kids are just fans of the Pirates of the Caribbean trilogy, be sure and include some of these famous sites during your Emerald Isle vacation:
Beaufort Historic Site – FREE


Beaufort is North Carolina's third-oldest town and home to Blackbeard. The

Beaufort Historic Site offers tours of the pirate sites by land and sea.

North Carolina Maritime Museum – FREE


A free tour of the

North Carolina Maritime Museum 

will take you into a permanent Blackbeard exhibit including a model of the

Queen Anne's Revenge

, pop culture takes and a display of the relics found so far from the

excavation.

Blackbeard's House


This home, now known as Hammock House, dates to the early 1700s and was the residence of Blackbeard during his stay in Beaufort. The home is now privately owned so digging for hidden treasure is not permitted.

Pirates & Ghost Tours – $$


An interactive tour for adults and kids alike. Includes a tour of the historic buildings of Morehead City and learning to live as a pirate with sword lessons and cannon instruction. Find

official tour information

.

Beaufort Pirate Adventures – $$


Kids can become pirates (well for the day anyway) with a trip along the

Crystal Coast Lady Cruises

direct from

Beaufort

.