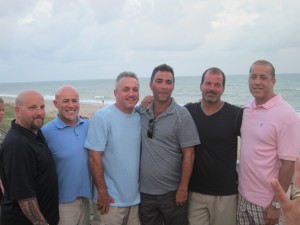 It all started with 5 friends – Steve K., Pablo, Steve Z., Gary, and Dave…..five boys who became friends in Jr. High in Queens, NY. They stayed friends through high school, then some went to college and others didn't, but they continued to grow together. As each found their wife, they broadened the size of their circle – and kept growing as friends. Some moved away from the city but weddings kept bringing them together. Even with the changes they remained the best of friends spanning the East Coast. Then the unthinkable happened in 1997 – Dave died. A heart attack changed the circle forever. It was the worst reason to come together that year – one of the shining lights was gone forever.
Dave's sister, Dawn had grown up with these boys and had loved them all as brothers. She had always been part of their circle – but now her circle was completely broken forever. The next year was a struggle for everyone coping with a loss we had never expected, then the birth of an idea – vacation together. Dave's sister knew of friends who had vacationed in Emerald Isle and knew that it was beautiful, so she began planning the trip.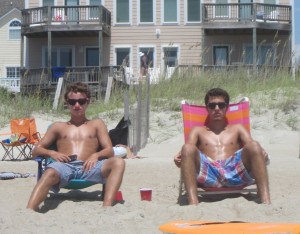 Emerald Isle was the perfect place in every way – exactly in the middle to bring the boys from Albany, Queens, Orlando and Miami back together. Large duplexes were affordable for everyone just starting out allowed us to all stay together. Your beautiful sandy beaches and relaxing atmosphere provided the perfect spot for catching up, remembering and moving forward. Dawn had her adopted brothers surrounding her… the boys were back together, and the greatest tradition began – our annual journey to Emerald Isle.
New babies came almost every year and our circle grew. Over the years special friends have joined our tradition. This was our 14th year to vacation in your paradise. Our families have grown up on your beaches, in front of your beautiful homes – over the years, each more beautiful and larger!!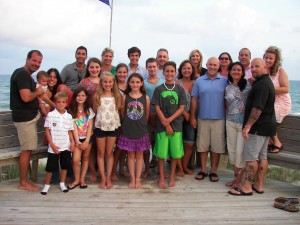 Your homes have become our homes and a vacation that we would not trade for anything. We have become even closer friends over the years by sharing our ups and downs, the good and the bad and often looking to this trip as our one escape. Our children have grown up together and become friends just like their fathers – a bond that would never have happened if we had not found Emerald Isle 14 years ago. We have been a core group of 6 families that come together for one wonderful week, one family – as sisters, brothers, cousins, aunts, uncles– not by blood but by friendship.
Our chosen family! Thank you Emerald Isle for being home to 'our' family.