We've said it once, we've said it twice, and we'll say it again: there is no better place for your family reunion than the beautiful setting of the Crystal Coast. Emerald Isle and the surrounding beach communities offer a unique atmosphere for celebrating, relaxing, and enjoying the company of your loved ones.
At Emerald Isle Realty, we'll help you find the perfect vacation rental for your family reunion or group gathering, starting with some of the featured properties below.
Sandhurst Cottage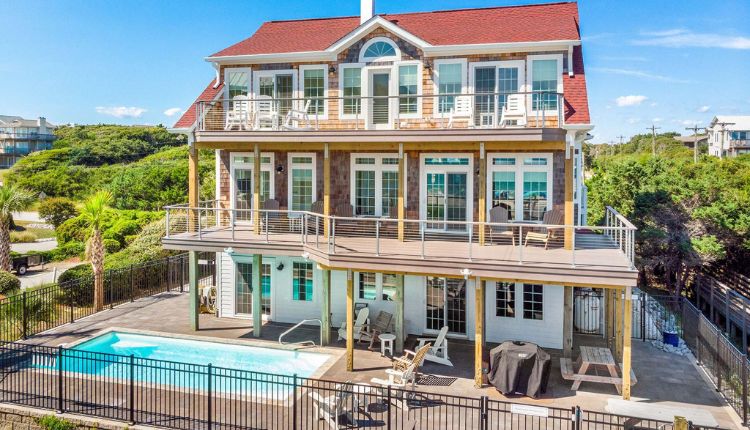 Sandhurst Cottage is just one of our stunning oceanfront vacation rentals in Emerald Isle with 6 bedrooms and 7 ½ baths, and has just about every amenity you could want. It can sleep more than 15 people and has 4 master suites, 3 with ocean views, plus 2 with private jacuzzis. Spend you down time indoors playing pool in the rec room, or take in the sea air on one of several furnished decks. Plus, you'll have no problem getting around this spacious cottage with an elevator that can take you to all levels. View more photos and check the availability of Sandhurst Cottage for your family reunion next year.
Neptune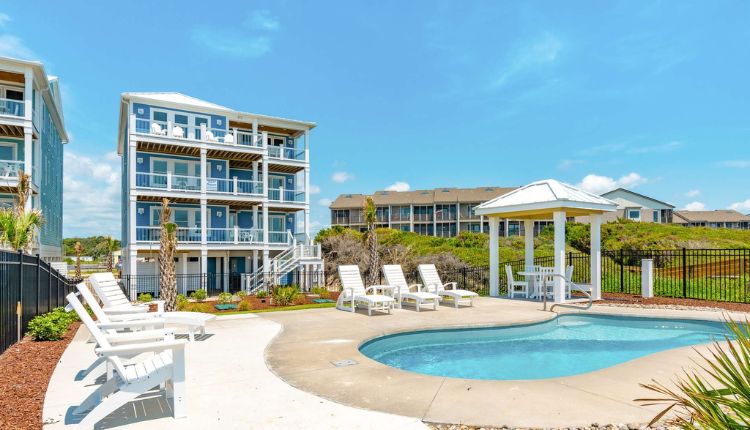 Neptune is a beautiful oceanfront vacation rental perfect for multigenerational vacations or family reunions. Located in Atlantic Beach, NC, this recently constructed home features 8 bedrooms with five primary suites. The spacious gourmet kitchen offers all the comforts of home and more and there's plenty of seating to enjoy movie night with the whole family in the surround-sound theater room. There's also a large recreation room with a wet bar, pool table and huge Smart TV. The fenced back yard features a gazebo and spacious patio areas that surround the oceanfront pool. Enjoy magnificent views of the ocean shoreline, from Emerald Isle to Cape Lookout, on the large covered and open decks. View more photos of Neptune and start planning your family reunion today!
Sea Heaven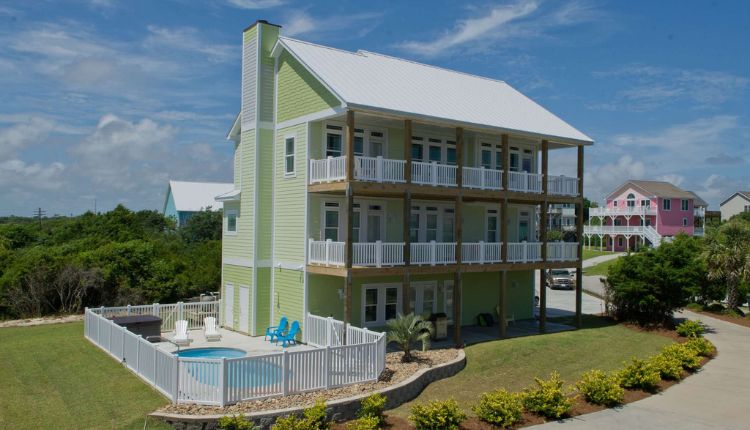 You'll find heaven on Earth in this lovely second row cottage in Emerald Isle, one of our many vacation rentals with private pools. Sea Heaven sleeps 13 guests in 6 bedrooms. It also has 6 full baths plus 2 additional half baths. Each bedroom has its own private bath and flat screen television. The cottage boasts almost 4,000 sq. ft. with panoramic second and third level ocean views. You have so many opportunities to enjoy the outdoors, whether in your own private pool, a short walk down to the beach, or enjoying the views from over 890 feet of covered decks and porches, all furnished. View all the photos of Sea Heaven on our website, and see if it's available for your next family gathering.
Blue Turtle Landing
This house has it all. Blue Turtle Landing is an oceanfront cottage with 6 bedrooms and 6 bathrooms and can comfortably sleep 17 brothers, cousins, or in-laws. You'll have panoramic views of Emerald Isle and beyond from both covered and open decks with a variety of porch furniture. Stay and play inside with a rec room that includes both a pool and foosball tables, or gather around one of two large dining tables for a hearty meal. Take advantage of the outdoors with your own private walkway to the beach, or take a dip in the pool or hot tub, both of which are available year round. You'll also be close to a boat ramp and walking and biking paths. Check out more photos and amenities for Blue Turtle Landing, and don't let this one pass you by.
Carolina Sunshine East & West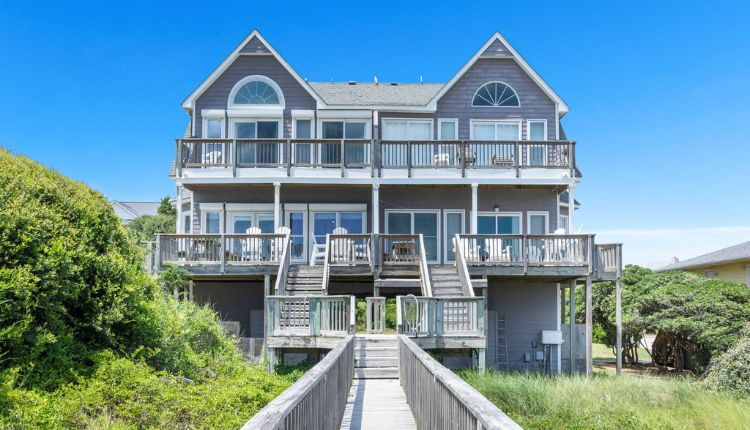 Our Emerald Isle duplex rentals offer the perfect setting for your family reunions and large group gatherings. Carolina Sunshine East and West are both spacious 4 bedroom, 3 bathroom oceanfront duplex rentals in Emerald Isle, where you have the option to rent both sides of the property to make it easier to keep the family together during your stay. Enjoy beautiful ocean views from virtually anywhere in the home. Carolina Sunshine is located at the end of a quiet street so the family can enjoy spending time together. Explore more photos and amenities for each of the properties using the links below.
Carolina Sunshine East: K * K * Q * Q, S. 3 cable TVs, 3 DVD players, picnic table, porch rockers. Four-night minimum.
Carolina Sunshine West: K * K * K * S, B (D down, S up) * QSS. 2 cable TVs (1 Netflix ready), 2 DVD players.
With over 600 properties to choose from at Emerald Isle Realty, we're confident there's a property that will suit your every need and wish for the perfect family gathering. From finding the perfect rental to accessing a wide variety of local vendors to assist with all the details, we're here to help you plan a reunion that will be remembered for years to come. Our family can't wait to welcome your family to North Carolina's Crystal Coast!