Recipes from the Sea
For several years now Emerald Isle Realty has pulled together all our favorite recipes for an annual calendar sent out to previous guests. We've gotten some great feedback on the delicacies we described including a few "how did you get my aunt's recipe?!" questions!
Here a few of the top most talked about ones from this past year: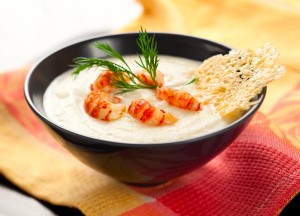 Crab Bisque
2 sticks butter
1/3 cup chicken base
1 cup flour
1/2 gallon milk
1 quart half & half
1/2 tsp white pepper
1/4 cup dried, minced parsley
1 lb lump crabmeat
 
In a heavy pot over medium heat, melt the butter and chicken base. Stir in flour until mixture begins to bubble. Add milk, half & half, white pepper and parsley. Stir often; cook until the mixture comes to a gentle boil and has thickened. Simmer for about one minute, then stir in the crabmeat. Continue cooking just until the bisque starts to simmer again; do not boil.
– Nancy Willis Lewis, Davis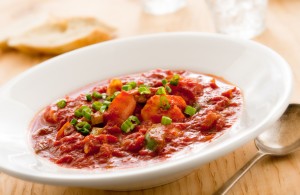 Shrimp Creole 
40 to 50 small to medium shrimp, peeled and deveined
6 slices bacon, cooked and crumbled
1/3 cup flour
1 large green pepper, chopped
2 large onions, chopped
2 stalks celery, chopped
8 oz can diced tomatoes
8 oz can tomato sauce
1 Tbsp sugar
1 Tbsp Worcestershire sauce
1 tsp Tabasco sauce
1/2 tsp cayenne pepper
4 to 6 servings cooked rice
 Fry bacon; set aside. Add flour to hot bacon grease. Stir until a caramel color. Add green peppers, onions and celery. Stir until tender; add a little water if needed. Add tomatoes, tomato sauce, sugar, Worcestershire sauce, Tabasco sauce and cayenne. Simmer for 30 minutes. Add shrimp; stir until pink. Remove from heat. Serve over cooked rice. Sprinkle crumbled bacon on top.
– Gay Piner Mason, Davis