One of the best ways to get your mind off the daily grind is to do a little cooking! And what better way to really experience the coast than by treating yourself to some delicious seafood. Enjoy a little coastal living from the comforts of your own home with these tasty seafood recipes from Emerald Isle Realty.

Seafood Burros
Ingredients:
8 large shrimp
8 medium sea scallops
Salt and pepper to taste
Vegetable oil for sautéing
1/2 cup thawed frozen chopped spinach, well-drained
1 small red onion, sliced
4 (8-inch) flour tortillas
1/2 cup (2 ounces) shredded mozzarella cheese
1/2 cup salsa verde
1/2 cup pico de gallo
2 Tbsp sour cream
Instructions:
Peel and devein the shrimp.
Sprinkle the shrimp and scallops lightly with salt and pepper.
Sauté in a small amount of vegetable oil or grill just until cooked through.
Sauté the spinach and onion in a small amount of vegetable oil in a sauté pan for 3 to 5 minutes or until tender.
Add the seafood; mix well and keep warm.
Sprinkle the tortillas with the cheese and warm on a flat griddle or in the microwave until the cheese melts.
Top the tortillas with the seafood mixture; roll to enclose the filling.
Spoon the Salsa Verde onto four serving plates.
Place the tortilla rolls in the salsa and top with the Pico de Gallo and sour cream. Serves 4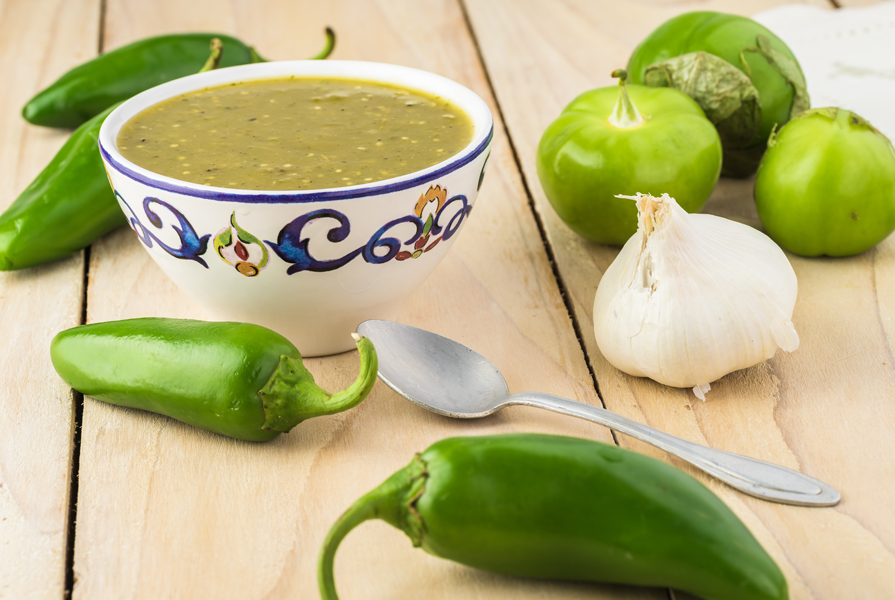 Ingredients for Salsa Verde:
1 lb. tomatillos, peeled
1 large yellow onion, cut into quarters
2 large jalapeño chiles, cut into halves lengthwise and seeded
6 garlic cloves
1 Tbsp olive oil
1 bunch cilantro
Juice of 3 limes
Salt and pepper to taste
Instructions:
Place tomatillos, onion, jalapeno chiles and garlic in a roasting pan and drizzle with the olive oil.
Roast in a preheated 400-degree oven for 20 minutes or until the vegetables begin to brown.
Remove the browned vegetables to a blender and add the cilantro and lime juice; season with salt and pepper.
 Process until smooth. Serve warm. Makes 3 cups

Crab Bisque
Ingredients:
2 sticks butter
1/3 cup chicken base
1 cup flour
1/2-gallon milk
1-quart half & half
1/2 tsp white pepper
1/4 cup dried, minced parsley
1 lb. lump crabmeat
Instructions:
In a heavy pot over medium heat, melt the butter and chicken base.
Stir in flour until mixture begins to bubble.
Add milk, half & half, white pepper and parsley. Stir often; cook until the mixture comes to a gentle boil and has thickened.
Simmer for about one minute, then stir in the crabmeat.
Continue cooking just until the bisque starts to simmer again; do not boil.

Shrimp Creole
Ingredients:
40 to 50 small-to-medium shrimp, peeled and deveined
6 slices bacon, cooked and crumbled
1/3 cup flour
1 large green pepper, chopped
2 large onions, chopped
2 stalks celery, chopped
8 oz can dice tomatoes
8 oz can tomato sauce
1 Tbsp sugar
1 Tbsp Worcestershire sauce
1 tsp Tabasco sauce
1/2 tsp cayenne pepper
4 to 6 servings cooked rice
Instructions:
Fry bacon; set aside.
Add flour to hot bacon grease. Stir until a caramel color.
Add green peppers, onions and celery. Stir until tender; add a little water if needed.
Add tomatoes, tomato sauce, sugar, Worcestershire sauce, Tabasco sauce and cayenne. Simmer for 30 minutes.
Add shrimp; stir until pink. Remove from heat.
Serve over cooked rice. Sprinkle crumbled bacon on top.
And for dessert….

Apple Galette
Ingredients:
10 large apples, peeled and sliced
1 cup packed brown sugar
1/4 cup fresh lemon juice
3 Tbsp cornstarch
1-1/2 tablespoons cinnamon
1 Tbsp vanilla extract
1 unbaked (10-inch) pie shell
1-1/2 cups all-purpose flour
1-1/2 cups granulated sugar
3/4 cup (1-1/2 sticks) cold butter, sliced
Instructions:
Combine the apples with the brown sugar, lemon juice, cornstarch, cinnamon and vanilla in a large bowl and toss to mix well. Spoon evenly into the pie shell.
Combine the flour, granulated sugar and butter in the bowl of a standing mixer fitted with a paddle attachment and mix until crumbly. Sprinkle over the apple mixture.
Bake in a preheated 350-degree oven for 1 hour. Serves 8
Enjoy a night together with your family sampling some of these tasty dishes. And for even more great recipes to try at home, check out the Recipes section of our Crafts and Activities page.
Pin it for later
If you enjoyed this article, share it with your friends on Pinterest!