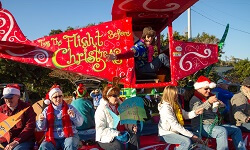 If you're in the area during the holiday season, you won't want to miss the Emerald Isle Christmas Parade and Tree Lighting that takes place along Hwy 58 through Emerald Isle.
Watch as amazing holiday-themed floats go by and catch a glimpse of Santa Claus at the end of the parade. After the parade, hang around for snacks and cider while the Christmas tree is lit up at Merchant's Park.
When does the event take place?
The Saturday after Thanksgiving, November 30th at 3 pm
Where does the event take place?
The parade route will begin at the town government complex and end at Mangrove Drive, near CVS.