The season of renewal is upon us and we couldn't be more excited! Days are getting longer, flowers are blooming and warmer weather is returning. We're ready to spend more time outside and at the beach. Springtime in Emerald Isle is best spent with the ocean breeze blowing through hair, your toes in the sand and the sun kissing your skin.
If you are looking for reasons to start planning your next vacation, we've put the spotlight on five fun ways to spend your spring vacation in Emerald Isle.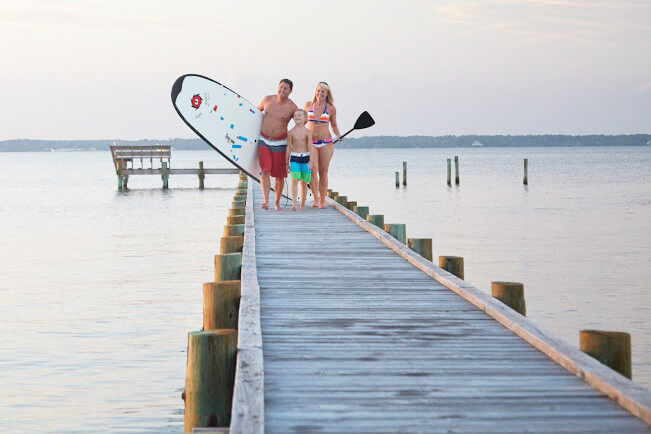 Vacation homes packed with amenities
The best part about preparing for your spring getaway on the Crystal Coast is picking your vacation rental. Emerald Isle Realty boasts more than 700 unique rental properties located throughout the island and nearby communities, with all the amenities you and your family need for a perfect beach vacation.
How you plan on experiencing Emerald Isle plays a big role in the location of your home away from home. If spending many sun-filled days on the beach with your family is on the top of your list, check out one of our oceanfront beach homes! Along with direct beach access, these coastal properties also feature a variety of desired amenities like hot tubs, private pools, and outdoor BBQ grills. Spend your days playing in the surf or building sandcastles, then walk back home to enjoy an evening BBQ and a night of pure relaxation.
Perhaps your slice of paradise looks more like the calm, reflective waters of Bogue Sound. The Intracoastal Waterway stretches from Emerald Isle to Atlantic Beach and provides the perfect setting for anglers, watersports enthusiasts or visitors looking for a peaceful time on the water. Emerald Isle Realty's soundfront vacation rentals also give you many amenities and easy access to the water. With Bogues Sound as your backyard, you will be inspired to start your day kayaking or casting a line, creating the Crystal Coast memories of your dreams.
With Emerald Isle Realty's vacation rental search, you can search for the perfect rental in the location you prefer, with all of the amenities you want.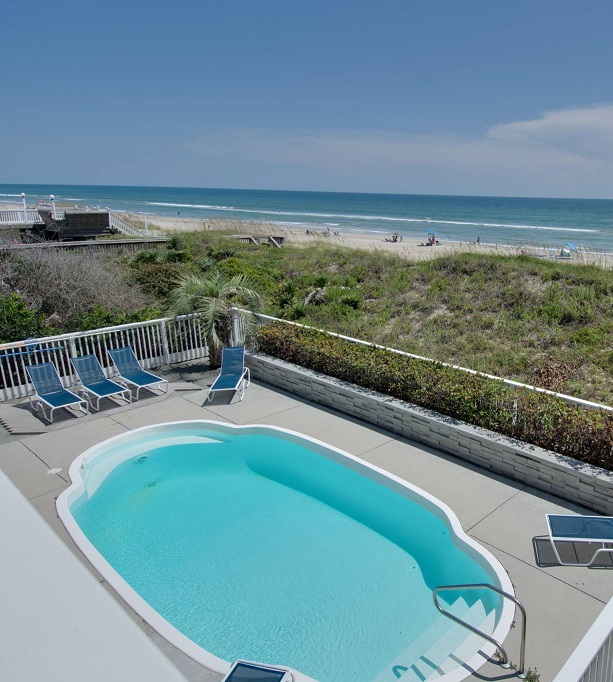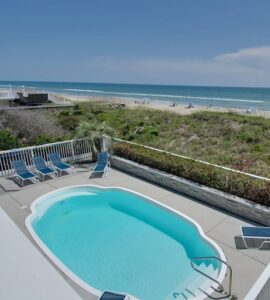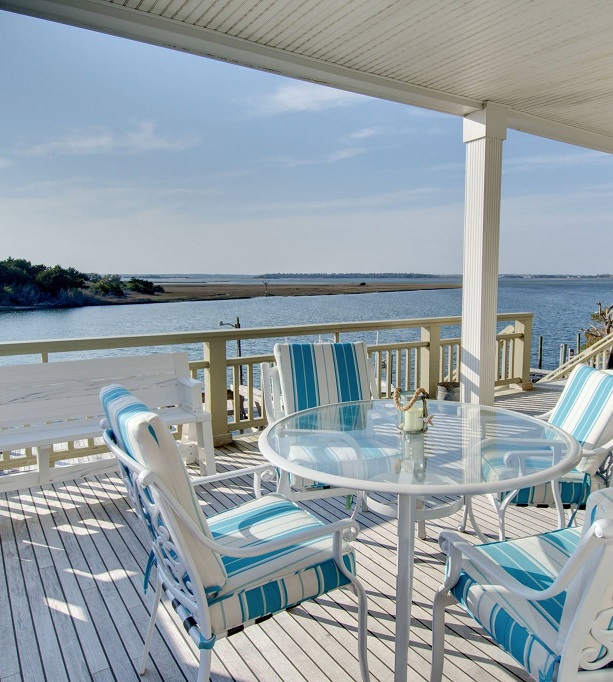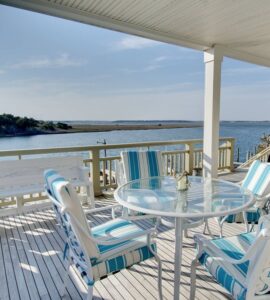 Oceanfront home (Surf du Soleil) on left and Soundfront home (Grand View Villa) on right
Fun family attractions and activities
There are many activities for you and your family to enjoy while visiting Emerald Isle. Wash off the sand and head into town to check out the many local attractions our island has to offer.
Get up-close with marine life at the North Carolina Aquarium at Pine Knoll Shores! At the aquarium, there is something for all ages. Discover different ecosystems with exhibits that highlight the island's natural, marine habitats. You and your family can also pet a stingray at a touch-tank, see the otters in action in their river exhibit and get a closer look at sea turtles.
If your family has some history enthusiasts, schedule a visit to Fort Macon State Park! Located on the eastern end of Bogue Banks in Atlantic Beach, this historic landmark includes a tour of a reconstructed Civil War fort. Check the park's calendar and plan your visit during one of their battle reenactments that take place throughout the year. After catching up on some local history, spend some time exploring the miles of shoreline nearby. Go for a swim or see if you can find any new treasures while combing the beach.
Don't forget to pay a visit to Bogue Inlet Pier, a local hotspot that is loved by locals and visitors alike. It's a prime location for fishing, excellent for birdwatching and it's also a great place to relax and enjoy the view with an ocean breeze. The pier provides you with breathtaking views of the shoreline that you can't find anywhere else. Wake up early and catch the sun rising over the island, or stay until sunset and witness Emerald Isle light up as the night sets in. The pier house conveniently sells snacks, drinks and beach necessities.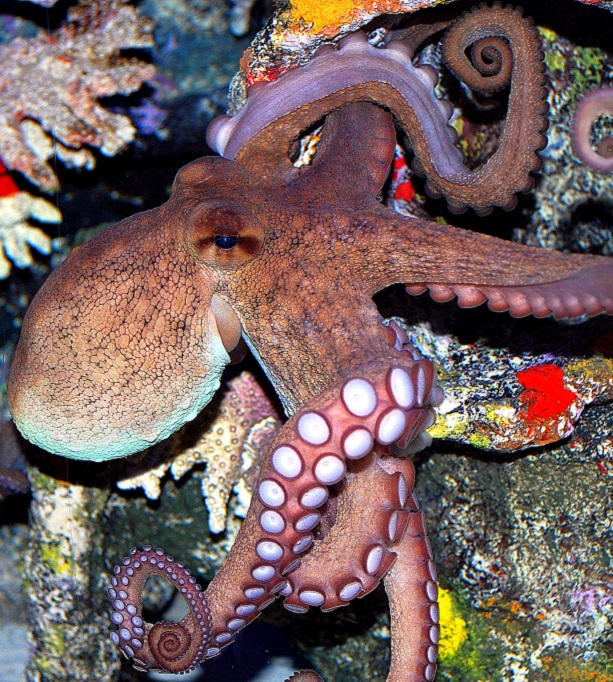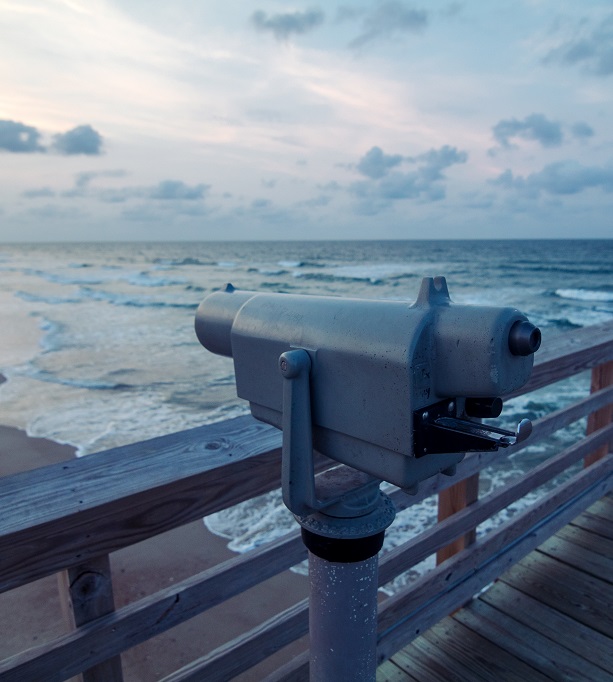 A getaway just for two!
Emerald Isle is more than just a family destination, couples can enjoy the fun as well by taking a couples getaway! A trip for two on the Crystal Coast will have you feeling relaxed and stress-free.
Emerald Isle and the surrounding areas provide some of the most breathtaking views and enjoying a bike ride through the island is one of the best ways to admire the sights! Rent a bike and cruise down Ocean Drive to feel the fresh, sea breeze while admiring the endless views of the ocean. Be sure to cruise down Emerald Path! This 11-mile, multi-purpose trail begins in Indian Beach and leads you to The Point at Bogue Inlet Pier. Traveling this route will take you through a variety of breathtaking landscapes, including beautiful, wooded areas and will help you discover new shops and restaurants located throughout the heart of downtown.
Plan to spend a day in one of Emerald Isle's neighboring communities or head over to New Bern and learn about Tryon Palace. This grand structure was the first permanent capital of North Carolina and served as the home for Royal Governor Tryon and his family. The palace is also home to one of the most beautiful gardens in North Carolina and the spring season brings blooming daffodils, tulips and many other seasonal flowers. Imagine you and your partner taking a self-guided tour on sixteen acres while a fresh, seasonal breeze rustles the lush, green shrubs and carries the sweet scents of the garden's flowers.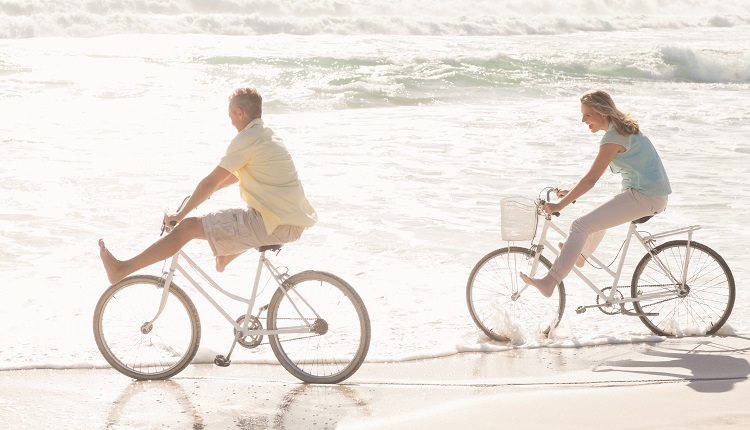 Plenty of ways to get outdoors
With spring's sunnier days gracing your vacation, you will be inspired to get out and explore all the natural areas of the island. It's the perfect opportunity to check out some new ways to explore Emerald Isle.
The best part of visiting Emerald Isle is hitting the water! Whether you are touring the waterways on a paddle board or skimming along the coastline in a kayak, spring is a great time to stretch your sea legs and take in the scenery. If you don't have your board or kayak, don't worry, there are plenty of local rental services ready to help you venture out on the water.
If soaking up some sun and coastal vibes is on your vacation to-do list, then carve out some time and go fishing. There's nothing like cooking up some freshly caught seafood. There are plenty of spots to go fishing along the Crystal Coast. Cast a line on Bogue Sound, drop a line from Bogue Inlet Pier or venture into deeper waters by booking an exciting fishing charter.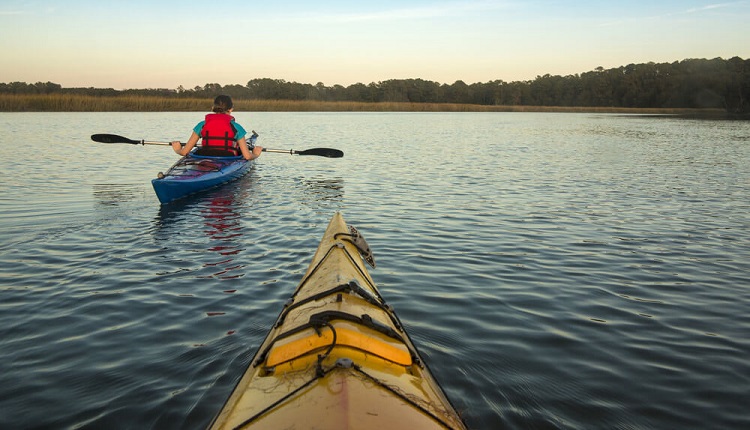 Coastal cuisine at its finest
One of the rewards of a vacation is taking a break from your normal routine and indulging in local delicacies. While visiting Emerald Isle, be sure to visit some of the local restaurants that are serving up some of the freshest seafood along the east coast.
Treat your tastebuds to gourmet meals at fun family-style waterfront eateries or exquisite gourmet restaurants serving the finest food and wines. The Crystal Coast is notorious for having some of the best oysters around, so be sure to make this local favorite part of your next coastal dining experience. There are also steakhouses and burger joints, as well as ice cream shops and dessert parlors to remedy your sweet tooth.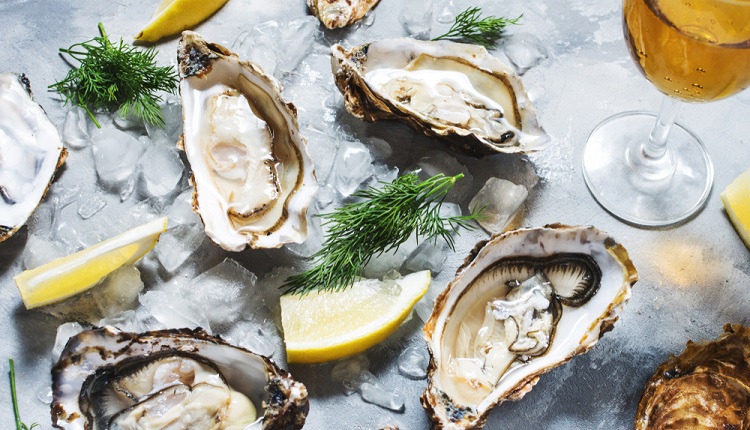 Book your spring vacation to Emerald Isle
Spring is approaching quickly and there's still time to book your vacation in Emerald Isle! From week-long vacations to last-minute weekend getaways, Emerald Isle Realty is here to help you plan a fun-filled spring vacation on North Carolina's Crystal Coast.
Save it for Later