I set out on a mission with an empty stomach and an open mind with one goal: to find the best shrimp burger in the area and to relay that information. There are many great restaurants on the Crystal Coast, but I limited myself to five: Captain's Kitchen, Big Oak Drive-In, Crab Shack, El's Drive-In, and Bogue House. Unfortunately, I'm not a fan of coleslaw and tartar sauce. My ratings are based solely on the bread, the shrimp, and the customer service.
Prior to this quest for the best, I had never had a shrimp burger. I told myself there was no way they could taste any different from each other, but I was completely wrong. Due to my lack of experience eating shrimp burgers, I had no idea where to get one. I turned to my fellow coworkers for advice on where to get a shrimp burger and which place they favored. A whopping 12 people claimed that Big Oak was the best, there was a four-way tie between Captain's Kitchen, Crab Shack, El's Drive in, and Flipperz. Bogue House had two recommendations. I figured Big Oak would be the best—but Captain's Kitchen/the new kid on the block took home the win for me. But don't take my word for it! Go out there and get one!
A fun fact is that when Emerald Isle Realty first opened in 1962 it was located at 201 Emerald Drive, not far from the Big Oak Drive In. One of the owners of Emerald Isle Realty is Mrs. Wax. She and her father, Jim Batten, would buy Big Oak shrimp burgers and hamburgers for the whole EIR staff every Saturday. There were about 20 employees back then, and that is when Mrs. Wax fell in love with the Big Oak shrimp burger. She told me, "I still get mine All the Way, but hold the tartar sauce which means a softly steamed hamburger bun, fresh local shrimp fried perfectly spilling out the sides, coleslaw, and cocktail sauce."
Captain's Kitchen
1500 Salter Path Road, Indian Beach
(252) 723-3100
Website
This food truck was absolutely poppin' when I arrived! The man that greeted me once I got to the front of the line was very friendly and had a grin on his face. There were at least five people lined up ahead of me, but the service was fantastic. I didn't have to wait more than three minutes for my burger. The burger was awesome. I'd have to say it was my favorite. I was told that the shrimp they use is locally caught. The shrimp was battered very well, and probably the freshest tasting of all the shrimp I tried. I loved how packed it was with shrimp!
Big Oak Drive In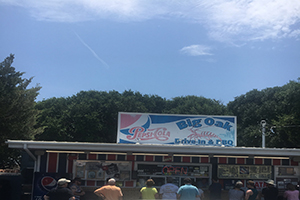 1167 Salter Path Rd, Salter Path, NC 28575
252-247-2588 
Website 
You should have seen the line here! I have never seen such a crowded parking lot at a food establishment. Big Oak Drive In is just a little brick shack in Salter Path. Being a drive-in, you park, walk up to the window and order, a server writes your name on a white paper bag and you hang out under the big oak trees until your name is called. The service was good, but it took a while for me to get my food. Many customers cleverly called in their order prior to their arrival. As crowded as Big Oak was, on the day I was there, someone was directing traffic, so there was no problem parking or getting out of the driveway. By the time I got home, my burger was still very warm. The shrimp were a decent size, and I could taste a hint of butter in the bread. Big Oak is a close second to Captain's Kitchen in my book. The key is to remember cash; they do not accept credit cards.
Bogue House
410 Cedar Point Blvd, Cedar Point, NC 28584
(252) 393-3030
Website 
I entered Bogue House and was quickly greeted by a cashier at the front desk. She took my take out order, and I only had to wait about five minutes to get my burger. The burger itself was a good portion, the shrimp tasted fresh, and was served at a good temperature. This family-owned business is definitely recommended for your next vacation to the Crystal Coast and if you're planning on having a large family gathering at your Emerald Isle vacation rental, they also provide catering!
El's Drive In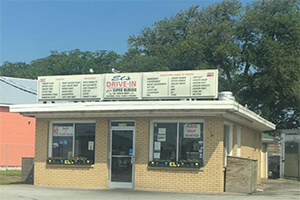 3706 Arendell St, Morehead City, NC 28557
(252) 726-3002
Website 
It was a very cool experience to have waitstaff come right up to my car. I didn't have to move a muscle!  I was greeted by a very kind waitress. She walked out to my car with a big smile on her face and assured me my burger would be out shortly. So many people have told me great things about El's Drive In. Maybe my expectations were too high, but I think the burger overall was simply good. The waitress told me I should get everything on it next time, but coleslaw and tartar sauce are not my favorite. "I don't like coleslaw or that sauce either," admitted the waitress. The shrimp wasn't my favorite, but the experience was.